Fun ideas for creative no-candy Valentine's Day cards & ideas for kids!
Valentine's Day is right around the corner!
For kids, there's always excitement about giving sentimental (or funny) cards to their friends & family. We've always loved the creative valentine cards for classmates that double as a fun activity — a coloring page, game to play or have some adorable non-candy item attached that my kids then treasure and use for the rest of the school year.
So today we've rounded-up some of the BEST free printable Valentine card ideas for YOU!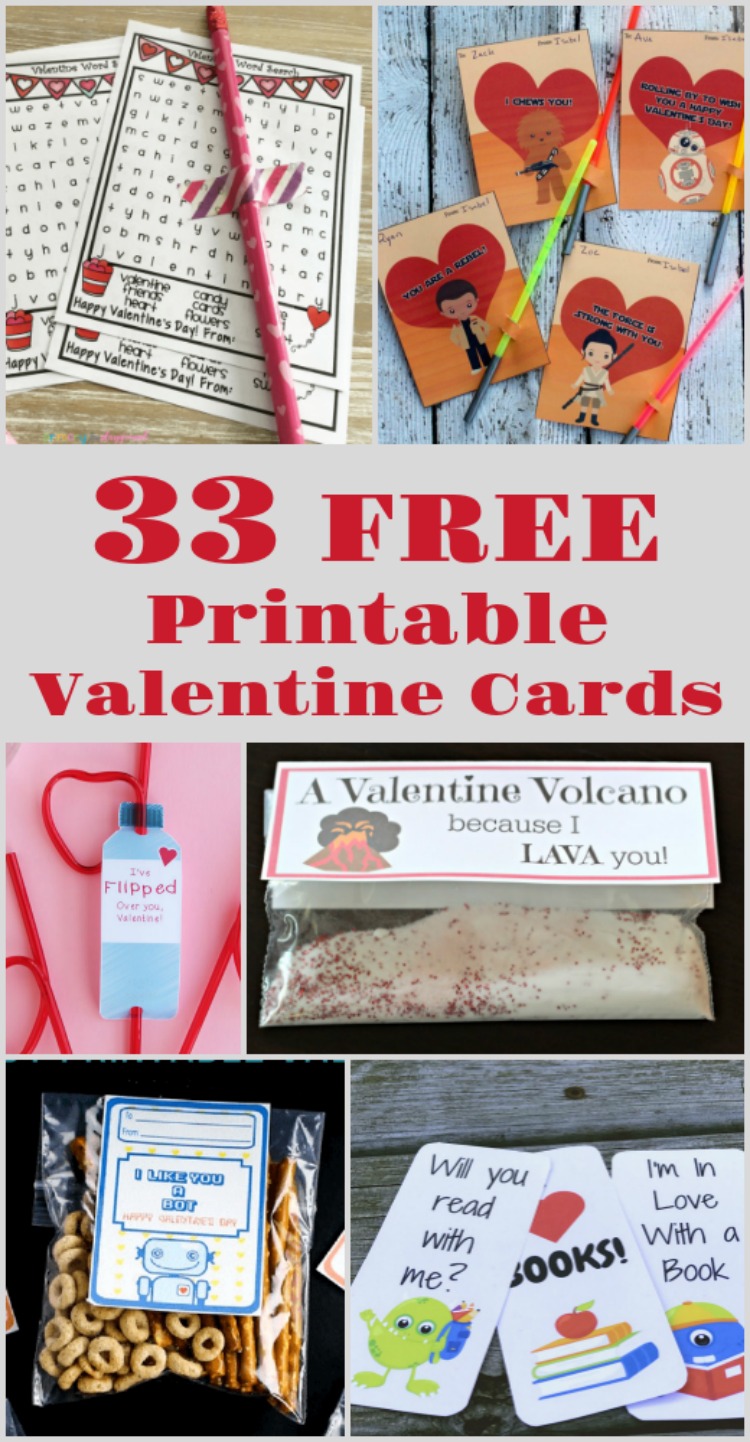 33 Non-Candy Valentine's Day Cards
Even though I love a good piece of chocolate and enjoy those candy heart games, variety is the spice of life!
Valentine's Day isn't just about the candy!
Take our Valentine Scavenger Hunt & Activities Pack for Kids — all fun activities that kids LOVE without the sugar high 😉
These non-candy Valentine cards are great to give to classmates and friends — print off one you love and add to snacks, science experiments that kids can do, bookmarks, word games and a few more creative surprises!
Non-Candy Valentine Ideas & 'Treats'
Remember, there are quite a few edible treats you can attach to cards for something extra — mini packs of fruit snacks, pretzels, raisins, applesauce pouches, granola bars, small water bottles, etc.
If you're looking for fun but inexpensive items to attach to your valentines, here are a few we've given over the years that have been a BIG hit with friends along with affiliate links to each:
PLUS, more creative ideas –> 35 Non-Candy Valentine Treats for Kids too!!
Now browse all the cool FREE cards below, choose the ones your kids like best, print what you need and spread some love!
Free Printable Science & STEM Valentines
These cards are perfect for a little 'nerdy' fun and many would be a great gift for teachers to give to students too!
Valentine Volcano cards & Science Activity || Edventures with Kids
Printable Science Valentine Cards || Little Bins for Little Hands
Heart Tangram Valentine Cards || JDaniel4's Mom
LEGO Heart Valentines || Schooling a Monkey
LEGO Valentines || Thrifty Jinxy
Animal Valentine Cards for Kids
So many animals! Kids can choose cute, quirky or scary 😉
Farm Animal Valentine Finger Puppets || Wondermom Wannabe
Giraffe Valentine Cards || Midwestern Moms
Penguin Valentines || The Letters of Literacy
Llama Valentine Cards || Artsy-Fartsy Momma
Adorable Animal Valentines || Artsy Momma
Animal Themed Valentine Cards || Homeschool Preschool
Shark Valentines || Crafts on Sea
Preschool Animals Valentine Cards || Natural Beach Living
Free Printable Book Lover & Movie Fan Valentines
Got a book or movie fan at your house? Try one of these! Or if you're a teacher & have the budget, add one of the bookmarks to a book for your students!
Printable Valentine Bookmarks || Growing Book by Book
Harry Potter Valentines || The Quiet Grove
Valentine's Day Bookmarks || For Modern Kids
Star Wars Valentines || Real Life at Home
Star Wars Valentines || Everyday Savvy
Free Printable Non-Candy Snack Valentines
Each of these cards has been created to add to an edible 'treat' — that's not candy!
Goldfish Valentine Cards || One Creative Mommy
Water Bottle Valentines || Books and Giggles
Cute Kids Applesauce Pouch Valentines || The Search for Imperfection
Creative Coloring & Game Cards
Just attach a pack of crayons or a set of colored pens or pencils to these for a fun valentine surprise!
Valentine's Day I-Spy || Simple Play Ideas
Valentine's Day Coloring Cards || Artsy Craftsy Mom
Color Your Heart Out || Crystal and Co.
More Free No Candy Valentines
Washi Tape Bubble Valentines || Moneywise Moms
Bouncy Ball Valentine || Capri +3
Retro Robot Valentines || Lemon Lime Adventures
Non-Candy Valentine Cards || Happy Family Blog
Straw Valentine Printable || Ruffles and Rain Boots
Superhero Valentines || Spaceships and Laser Beams
You can also give your kids this free printable Valentine Scavenger Hunt or these free Valentine Coupons for Kids as a way to tell them time together is special!
PLUS check out last year's set of 17 Creative & Free Valentine Ideas too for more fun ideas!
More Valentine Ideas: