Celebrate not so great weather with these fun umbrella stories for kids!
February 11th is National Umbrella Day!
I know that you might be asking "What is National Umbrella Day?" — it's one of those little-known holidays that might not make it on your calendar but can be lots of fun to celebrate!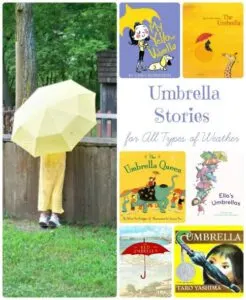 10 Umbrella Books for Kids
National Umbrella Day celebrates one of the most useful inventions for keeping us dry (and keeping the kids entertained on a rainy day). Umbrellas date back more than 4,000 years to Ancient Greece and China. The Chinese were the first to make them waterproof. (If you have a future inventor in your house, be sure to see these 12 Kids Movies about Inventors!)
The kids might like to know some of the other names used for umbrellas: folks in Britain and Australia call them 'Brolly', in 19th century American they were called 'Bumbershoots' and many places around the globe refer to them as 'parasols'.
One thing we know is that kids LOVE to go walking with an umbrella! Whether sunny or rainy, taking along an umbrella turns a boring walk into a fun adventure! Throw in a pair of rubber boots and they're likely to play in the rain for hours 🙂
Enjoy some of our favorite books (along with a few movies) featuring umbrellas! I've included affiliate links so you can learn more about each of our featured selections too.
My Yellow Umbrella by Chris Robertson is a beautifully illustrated book about a young girl and her love for her yellow umbrella. More of an inspirational read than a story, the book shares the affection a child can have for an object and how it brings them pure joy! Kids will love the brightly colored illustrations. Enjoyable read for kids ages 2 – 6 years.
Umbrella by Taro Yashima is the story of Momo, a three-year-old girl who can't wait for the next rain storm so she can wear her new boots and use her umbrella. Kids will identify the anticipation Momo feels and will relish in her enjoyment when the rain comes. A classic read for kids ages 2 – 7 years.
And check out this awesome online Applique Umbrella Craft – kids, tweens & teens can design their own umbrella design!
In this oh-so-familiar tale, Ella, Of Course! by Sarah Weeks will ring a bell with many children. Ella's comfort object is her umbrella. But when her dance teacher doesn't allow umbrellas at an upcoming recital, Ella decides to hatch a creative plan so she can bring it along. Perfect for kids ages 3 – 7.
Ella's Umbrellas by Jennifer Lloyd is a story about having too many umbrellas. Ella collects umbrellas and they fill the house! There's only one problem – her aunt is coming to visit soon and Ella's mother has asked that she get rid of some of her umbrella's. But which ones should she part with? Kids will recognize the storyline that has probably taken place in their own life — it's hard to give up something you love. Excellent read for kids ages 3 – 10 years (or anyone who needs to clean our their closets!)
Un-Brella by Scott E. Franson is a wordless picture book about magic umbrella that allows a young girl to wish for any weather she'd like that day. The illustrations include bright pictures with layered graphics so each page has lots of detail. Kids will enjoy making up the story as you read along. A fun story for ages 2 – 5 years.
Many parents might remember Big Max by Kin Platt from their childhood. Big Max, the world's greatest detective, helps the king find his elephant. The book is an Easy Reader and can be used as a read-aloud or one that kids can learn to read on their own. Big Max has been in print since 1965 and is a childhood favorite. A wonderful read for kids ages 4 – 7 years.
The Umbrella by Dieter Schubert is a wordless picture book with fascinating illustrations! A little dog finds an umbrella on a windy day and the wind blows him into the air and around the world! Kids will delight in his travels across the continents — across deserts, oceans and even the North Pole. A non-stop adventure that's easy to narrate even for the youngest reader! Gorgeous read for ages 2 – 6 years!
Set in Thailand, The Umbrella Queen by Shirin Bridges is the story of Noot, a young girl who is finally allowed to paint umbrellas like her mother. Instead of painting the traditional flowers and butterflies, Noot decides to paint elephants on her umbrella. However, this new design might not bring enough money to the family. Older kids will emphasize with Noot's predicament as sometimes society and family may not recognize the value in creativity — but the story is told beautifully and has a nice ending for all. I also really liked the cultural aspects woven throughout the book. A worldly read for kids ages 4 – 10 years.
Umbrella Summer by Lisa Graff is definitely a book for older kids. After her brother Jared dies, Annie is worried about lots of things in daily life – bike riding, bug bites, chicken pox. She plans to be extra careful all the time but plans don't always work out the way you'd like them to. Definitely a story that will bring tears but well worth the read. Best for kids ages 8 – 12 who don't mind some sad parts along the way.
The Red Umbrella by Christina Gonzalez is a wonderful read for teens. This is the story of a 14 year old girl who moves from Cuba to Nebraska during the 1960s when families sought refuge for their children during unrest in the country. It's a great story about the differences between cultures and how important family is for a child. Excellent for kids ages 9 – 14 years.
I'm sure you are very familiar with the famous umbrella in Mary Poppins! Who wouldn't want an umbrella that talks back and helps you to fly! If the kids haven't seen this movie, it's a wonderful family favorite with lots of songs and tons of imagination.
If you have a dance fan in the house, Singin' in the Rain is another umbrella musical that tweens and teens would enjoy. Gene Kelly's famous song-and-dance routine in the rain has some great umbrella dance steps 🙂
And just in case you don't have a kid-sized bumbershoot in the house, here's a few that make nice birthday gifts (seriously, my kids LOVE getting rain gear for their birthday – crazy, but I think they view it as permission to go out and play 🙂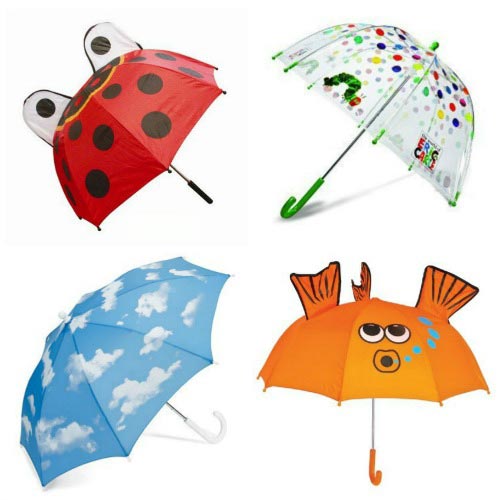 The Very Hungry Caterpillar Bubble Umbrella
Here's to the next rainy day!
More Spring Stories for Kids

12 Beautiful Kids Books about Spring