Movies about science & inventors is the focus of this week's kids' movie list!
There are a number of wonderful films that will inspire children to tinker and create new things — check out these 20 kids movies that inspired science and engineering activities!
My daughter's current idea is to build a robot that will do all her chores (wouldn't we all love one of those!) Kids always come up with the most amazing ideas when given the chance and these movies are sure to inspire!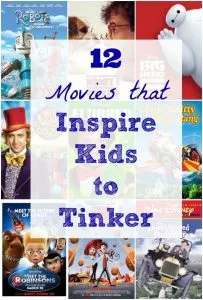 12 Movies about Inventors
Our list includes movies for kids & teens of all ages! In addition to some very creative inventions, these movies also offer a peek into the process of trial & error.
No one gets it right on the first try — being an inventor is all about not giving up which is a great message and important life skill for kids to understand.
A few of them have some edge-of-your-seat scenes so we're including affiliate links to more detailed reviews for your information.
So pop some popcorn and turn down the lights — reminding the kids that both of those things were created by some awesome inventors!
And do remember to let your child's imagination run wild as they watch and explore on their own —
"To invent, you need a good imagination and a pile of junk."
– Thomas Edison
One of our all-time favorite inventor's is Lewis, an amazing tinkerer and also an orphan who finds a family with the Robinsons. Meet the Robinsons shares a number of cool inventions but more than that, it shows how important it is to have others who support your wild ideas!
And we LOVE the soundtrack for this movie too!
Watch NOW! Meet the Robinsons
Sometimes an invention can take on a life of it's own — which is what happens when a science professor creates a new substance. The original Disney film, The Absent-Minded Professor
is a classic and enjoyed by tweens but might be a bit dated for younger kids. The newer version, Flubber starring Robin Williams, is just as good with more animated creativity.
No matter which one you choose to watch, the lesson of how staying focused on your idea will pay off in the long run is one that viewers will enjoy seeing play out. Then offer the kids the opportunity to do some inventing of their own with some of the hands-on tinkering activities!
Watch NOW! Flubber
There are TONS of inventions in this family favorite! Robots is the story of Rodney (an invention himself) who grows up to invent the 'Wonderbot' to help his father at work. Rodney believes in his invention and decides to take it to Robot City where he tries to get a job as an inventor so he can support his family.
The characters in this movie have loads of personality and persistence — so important for anyone trying to blaze a new trail! And it's perfect for younger kids.
Watch NOW! Robots
I'm sure most parents will remember this as being one of the first invention movie we ever saw as kids. Caractacus Potts is a father, toymaker and inventor who creates Chitty Chitty Bang Bang, a car that can fly! He and his children have a number of amazing adventures as a result. This is a long-time family favorite!
If you're a fan of old Disney movies, be sure to see our list of 23 Disney Movies for your Watch List!
Watch NOW! Chitty Chitty Bang Bang
Who doesn't love the man who created edible wallpaper?! Willy Wonka & the Chocolate Factory is the amazing story of a candy inventor who decide it's time to retire and he needs to find someone to take over his candy factory.
A number of children are brought to the Chocolate Factory to see if they might be the 'one' but Mr. Wonka is clearly looking for someone who not only has imagination but also a heart of gold!
Watch NOW! Willy Wonka & the Chocolate Factory
One of the newest movies on our list, the main star of Big Hero 6 (Baymax) is the invention of genius and big brother Tadashi Hamada. When Tadashi dies in a fire, his little brother Hiro (another amazing tinkerer) finds Baymax and tries to learn how he works.
There's lots of adventure in this film as Hiro and his brother's friends become modern day 'super heroes' using their own inventions to save their city.
Watch NOW! Big Hero 6
I'll admit that at first, I was really disappointed in this film because the book (Cloudy with a Chance of Meatballs) by the same name was my favorite as a child. Even though it's not a great remake of the book, it is an inspiring invention movie!
Cloudy With A Chance Of Meatballs is the story of Flint, an aspiring scientist who invent a machine that changes water into food. Although his intentions are good, there are quite a few set-backs as the invention gets out of hand and Flint has to figure out a way to save the town of Chewandswallow.
Watch NOW! Cloudy with a Chance of Meatballs
Another oldie but goodie is Honey, I Shrunk The Kids which I think of as a dual-invention film. First, we meet Rick Moranis who plays a forgetful but lovable father & inventor. His newest creation just happens to shrink his kids down to the side of ants much to his wife's chagrin.
The second part of the film shows how the kids need to tinker and create in order to make their way back to safety and try be become 'unshrunk'. Kids who enjoy this movie will really like these 20 Science Experiments You Can do in a Jar!
Watch NOW! Honey I Shrunk the Kids
Doc Brown is the crazy inventor in Back to the Future who creates a car that can travel to the past (and is also powered by flux capacitor). When Marty, a modern-day teenager, accidentally takes a trip in the car, he finds himself stuck in the past and needs to find a creative way to get "back to the future".
Lots of scientific talk and creative imagination can be found in this movie which will be enjoyed by the whole family.
Watch NOW! Back to the Future
Raise your hand if you remember these adorable creatures 😉
When struggling inventor Randall Peltzer is looking for a special Christmas gift for his 21-year-old son Billy, he discovers a small, furry creature called a "Mogwai". The furry, lovable creatures in Gremlins come with 3 rules — don't get them wet, don't feed them after midnight and keep them out of the light.
Needless to say, Billy's not so careful about following the rules and life quickly gets out of hand. (As a sidenote, this movie falls under the old movie rating system so even though it carries a PG rating, I would suggest it's PG-13)
And I can't forget Tony Stark, who many kids see as a superhero but Iron Man is a true inventor! Any kid who sees the movie would love to create an awesome suit of armor like this one 🙂 And if you follow the Marvel movies, Tony continues to create amazing inventions that help to save the world.
Creative Inventor Ideas for Kids
Explore some of these creative hands-on activities after you watch your favorite tinkering film:
Create Your Own Tinker Box & Make Robot Puppets
Engineering Books & Resources for Kids
A Teacher's Guide to Inventions from Kids DISCOVER
More in our Movie Series for Kids
10 Kids Movies about Scientists