Inspire kids to learn about the past with these great history movies that are perfect to us in the classroom or at home!
In last week's kids' feature films list, we featured 12 Inspring Science Movies about Inventors — this week, we're focusing on movies that make learning history FUN!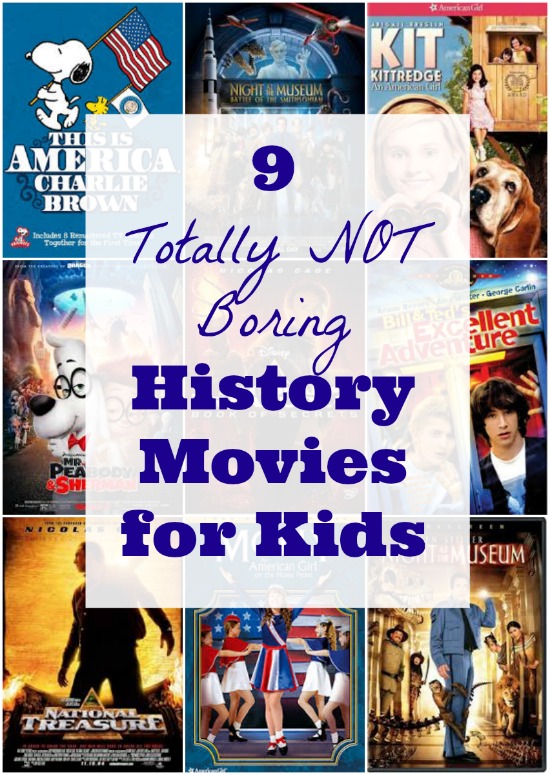 The Best History Movies for Kids
When I was younger, I would complain to my Grandmother about my history homework all the time!
I hated memorizing all those dates.
I never understood why we had to know what happened in the past.
It was all so boring to me.
But there was a method to my madness — you see, my Grandmother LOVED history!
When I started complaining, she would tell me super cool stories about the topic — things they never taught us in the classroom! I was instantly intrigued and wanted to know more.
And I quickly learned THAT was the key — find a way to make learning about the past interesting for kids!
In addition to sharing some of our favorite history movies, we're also listing some super FUN hands-on activities that will inspire kids to dig a little deeper and learn about some of the historical events and people introduced in each film. These films can be used in the classroom, with homeschool units or as a fun activity for family movie nights!
We've included choices for kids of all ages (preschool, elementary, middle & high school) along with affiliate links for each of our recommendations so you can easily check to see if the movie meets your guidelines.
History Movies for Preschool & Elementary Kids
Now you might be thinking "How is Mr. Peabody & Sherman
a history movie?" if you haven't yet seen the film.
The movie is actually based on the original cartoon series of Mr. Peabody's Improbable History — Mr. Peabody is a dog who's a genius. He adopts Sherman (an orphan) and together they travel through history to meet famous people and experience amazing events.
The new movie has a very similar plot — Mr. Peabody and Sherman travel though time where they meet Marie Antoinette and Leonardo daVinci. They also visit Ancient Egypt and the Trojan War along with a few other cool places.
WATCH NOW! Mr Peabody & Sherman
Hands-On History ACTIVITY: I love sharing movies like this with the kids — historical events and people are briefly introduced, just enough to make kids curious!
With a film like this, my goal is to have kids choose 3 people, events or places that are mentioned in the film and learn more about each one. We use the internet and books from the library to research fun facts about the things they've chosen.
If you're looking for more Science-based Movies for Kids, visit our 20 STEM Activities Inspired by Kids' Movies!
These are a few of our favorite history films! In the first movie, Night at the Museum,
we are introduced to Theodore Roosevelt, Sir Lancelot, Attila the Hun, Sacagawea and many other figures from history.
During the second film, Night at the Museum: Battle of the Smithsonian, additional historic figures are introduced including Amelia Earhart, Al Capone and Napolean Bonaparte (plus a few more!).
There's also a Night at the Museum 3: Secret of the Tomb and while it's not as great as the first two movies in the series, it continues to introduce new events and people from history. The original characters travel to the British Museum in London where they meet Sir Lancelot, experience the volcano explosion in Pompeii and interact with people and places in world history!
Hands-On History ACTIVITY: There are SO many famous people introduced during these films that a great hands-on activity is to have the kids create a timeline, listing each of the movie characters at their appropriate point in time!
Leave it to Charlie Brown and Snoopy to make history entertaining!
If you ask my kids which Charlie Brown cartoon is their favorite, they'll tell you it's the one where the Peanuts are pilgrims and taking the Mayflower to the New World. If you haven't seen it, it's a really impressive story of the Mayflower's voyage and how the pilgrims settled in America!
This is America, Charlie Brown: The Complete Series
includes a number of great mini-movies that cover The Mayflower, the Wright Brothers, the Transcontinental Railroad, the Constitution, NASA's Space Station and a few more! Peanuts characters walk kids through historical events while sharing interesting facts about the past.
Hands-On History ACTIVITY: In most of these episodes, something new has been created — the pilgrims had to start from scratch in a new world, the Wright Brothers were the first to fly, etc. Challenge your kids to come up with an invention — what would they create to make life easier, better or just more fun!
While there are quite a few American Girl movies, two are definately worth mentioning for their historical significance. Kit Kittredge: An American Girl
introduces us to life during the Depression. Kids will have a better understanding of what families experienced during the 1930's and learn many new phrases and words that were common to that time period.
The second films, Molly: An American Girl on the Home Front
portrays life during World War II. Viewers learn about victory gardens, why certain foods were scarce and how families pulled together to help each other during the war.
If your kids enjoy the American Girl movies, check out Amazon Prime for more historic titles too!
An American Girl Story: Maryellen: 1955
An American Girl Story – Melody: 1963
An American Girl Story – Ivy & Julie: 1976
Hands-On History ACTIVITY: both of these movies have awesome interactive websites where kids can learn more about each historical time period:
All Things Molly shares real stories, letters and activities that explain more about the 1940's
Kit Kitteridge highlights crafts, recipes and volunteer ideas that were popular in the 1930's
History Films for Middle School & High School
Tweens and teens will really enjoy these modern day treasure hunts!
National Treasure
is the story of a historian and amateur cryptologist who finds a secret map on the back of the Declaration of Independence that leads to a number of clues about a huge hidden treasure. However, each clue is based on something that happened in US history and the treasure hunters must visit a number of historic locations in Boston to solve the various riddles.
In National Treasure 2: Book of Secrets
, they go on to explore some famous American monuments and locations with a new mystery.
There are so many interesting facts that are introduced during the films — some might be recognized by kids who have already learned their US history while other facts will be new to kids & adults!
Hands-On History ACTIVITY: Since both films take the viewer to a number of famous places in the US, have tweens & teenagers grab a map of Boston (for the first movie) and one of the US (for the second movie) and locate all of the places the treasure hunters visited during the films!
Teens will love this time travel comedy (that I'm sure many parents will remember too)!
Bill and Ted's Excellent Adventure
is about two not-so-talented high school students who need to do a book report for history class. They meet Rufus, a time traveler, who takes them into the past & future in order to experience history with people like Joan of Arc, Napolean, Genghis Khan and Socrates.
This is definately a silly look at history but there are quite a few historical figures and events that are discussed in the movie — and sometimes silly is what it takes to get their attention 😉 And the fact that the movie was made in the late 1980's means that you can also introduce that era to teens too.
Hands-On History ACTIVITY: Since most teens have had a few history classes, ask them who else they would have Bill & Ted meet on a trip to the past — which historic figures would be most interesting if there was ever a sequel to the movie?
For more fun travel movies, check out these 10 Terrific Road Trip Movies for Kids!
What are your favorite history movies for kids?
More in the Kids' Movie Series:
The 25 Best Kids Books Made into Movies
12 Movies that Inspire Kids to Tinker
Movie Activities for Kids:
Create Your Own Tinker Box & Robots with Big Hero 6
23 Movies to See Before Visiting Disney World
Want more family-friendly movies? Click on the images to find more great films!