This FREE printable Nature Texture Scavenger Hunt is a great outdoor sensory activity that inspires kids to touch and find each item!
The newest of our scavenger hunts for kids takes them outside to for a hands-on look at nature.
The outdoor scavenger hunt can easily be done in your yard or on a walk. And it includes three fun ways to play — print the FREE worksheet, draw or collect each item on the challenge or use playdough to inspire a colorful treasure hunt!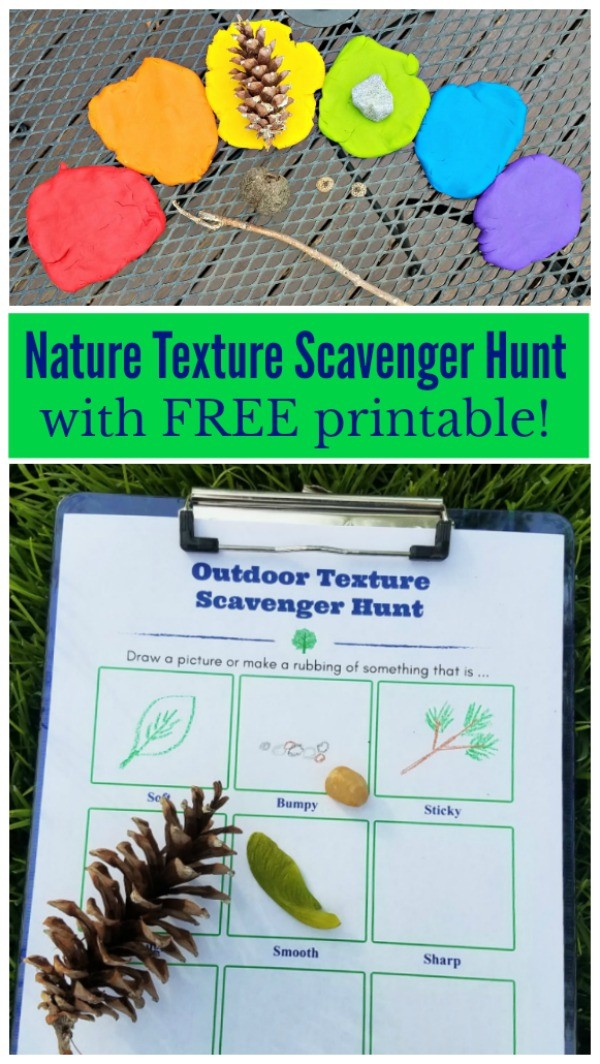 Nature Texture Scavenger Hunt (with FREE printable!)
This sensory scavenger hunt is a great option for any season of the year but I especially love it in the spring and fall when there are a lot of natural items lying about in the yard. Much like our Free printable Nature Scavenger Hunt which is great for a hike or walk — this activity also fits a wide age range — younger kids will love the playdough component of the hunt while older kids and tweens will enjoy sketching each item or creating an impromptu nature collection during the activity.
The easiest way to explain 'texture' to kids is to tell them it's how something feels when they touch it. But texture can also be something that you see too before you even feel an item.
We've included nine descriptions on the hunt so kids will need to find something …
soft
bumpy
sticky
rough
smooth
sharp
hard
slippery
scratchy
I would encourage you to have them find one item for each category instead of finding one item that fits multiple categories (unless you're short on time 😉
For example, a leaf can be both soft and smooth. And a stone can feel bumpy, smooth and hard.
It might also be a fun challenge to see if they can find 1 item that fits the MOST catergories too! The closest we can to this was the bark on a pine tree — it's sticky, rough, scratchy, hard and (sometimes) sharp on the corners.
And if you're looking for a good book to pair with this activity, we highly recommend Nature Anatomy (great for all ages!) and also the Smithsonian's Trees, Leaves, Flowers and Seeds Visual Encyclopedia! Both can be used to help identify items you find and to answer all those amazing (and sometimes challenging) questions your kids will ask you 😉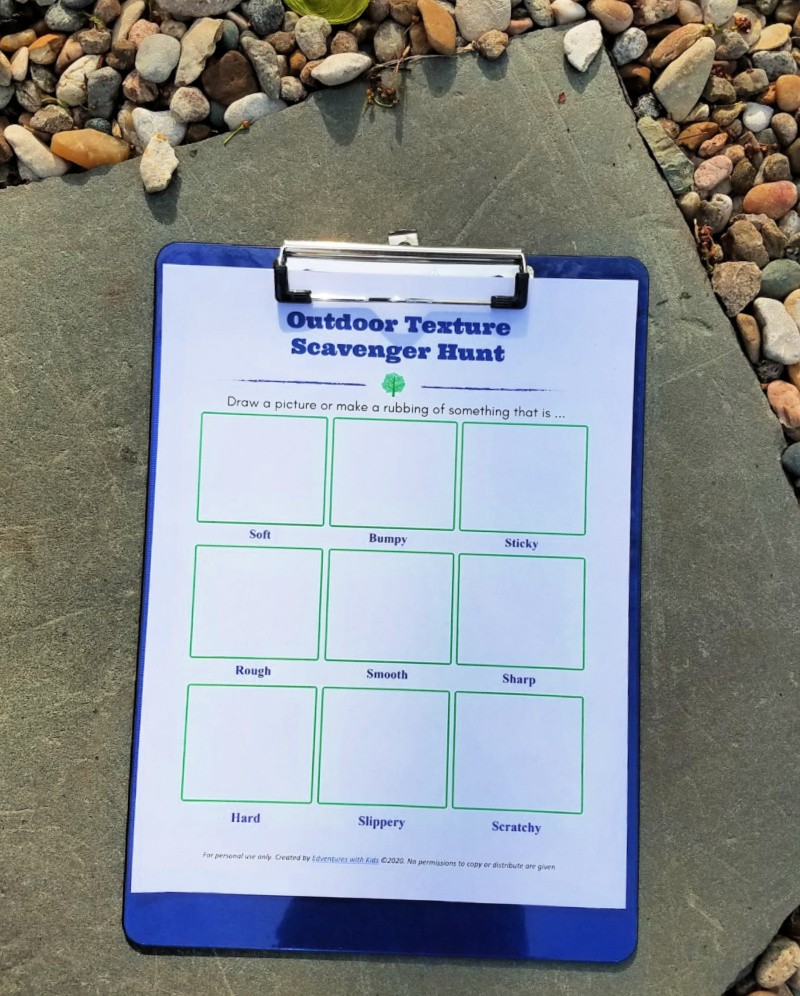 Outdoor Texture Scavenger Hunt: Draw Each Item
The first option is to print a copy of the free scavenger hunt printable below and have kids draw natural items that fit each of the clues.
They can also use the printable to create nature rubbings (similar to how to make a leaf rubbing post we've shared in the Fall) by placing the paper over the natural item and then using the side of a crayon to rub over the paper.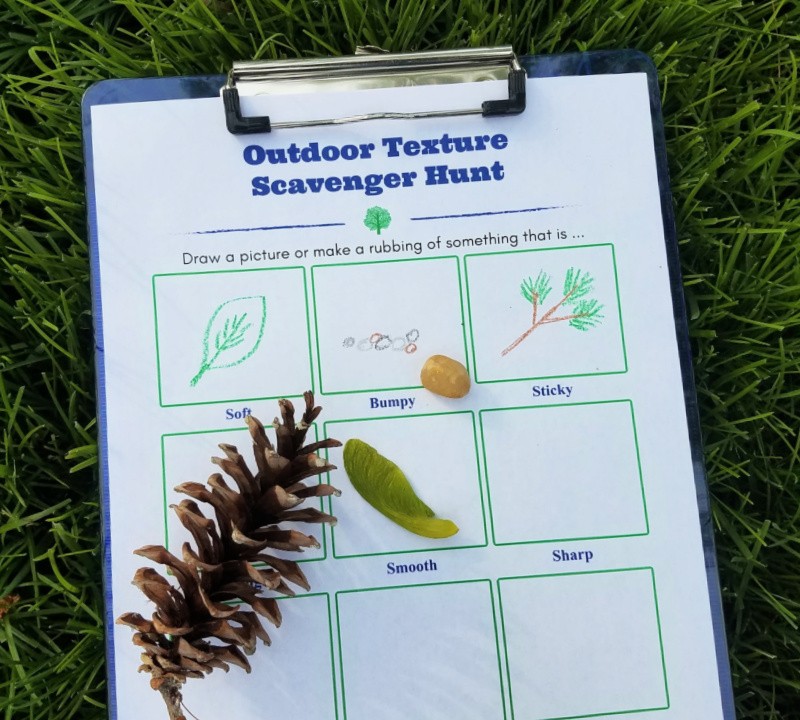 Nature Scavenger Hunt Collection
If you have loose nature items lying on the ground, another fun way to play is to find small items that fit each texture category and place them in each of the boxes.
You can quickly turn this into a STEM activity by adding in some categorization (math) to it too. Once you have items for each texture area, have kids sort those items by height, by weight, etc.
This is also a wonderful way to get kids interested in starting a nature collection too!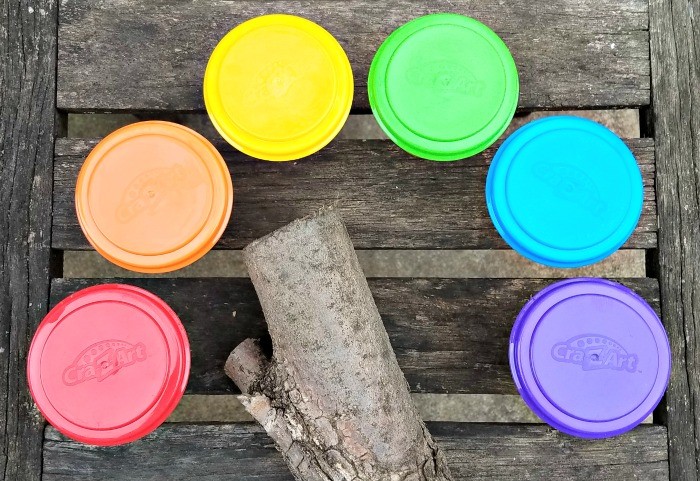 Nature Texture Sensory Science Activity
To turn this hunt into even more of a sensory experience, grab some various colors of playdough before you head outside.
First, choose one color for each type of texture or nature item you want to include in the hunt. We decided to include a number of trees with different types of bark. It's interesting to have kids look at various parts of a tree to notice how they different they feel. Kids usually notice that leaves have different shapes (and colors) – this activity helps them to see that bark also changes depending on the type of tree.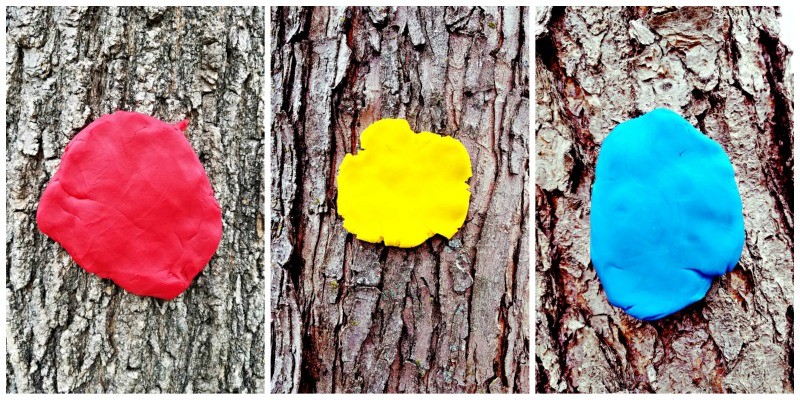 I found 5 types of trees in our yard so I attached a different color of playdough to each tree. By doing this, the first part of the activity becomes a colorful treasure hunt!
Kids can search their yard for the playdough, carefully peel it off the tree and place it on a table with the flat side down, imprinted side up. It's also a great lesson in the variety of items you can find in your yard (see this fun Backyard Biodiversity science activity with FREE printable if you want to explore more!)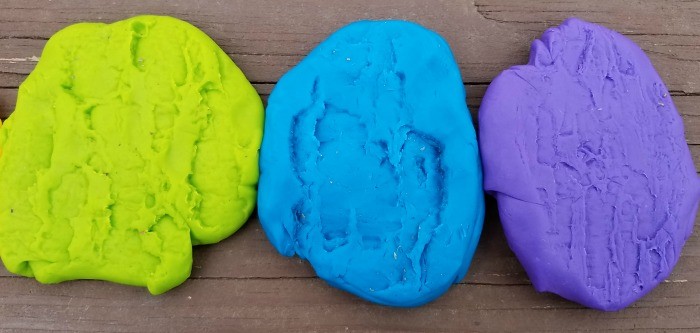 You can see in the photo above, that when you place the playdough side by side, the impression that was left by the tree bark looks very different. Some imprints have deep, wide grooves while others show shallow and thin textures.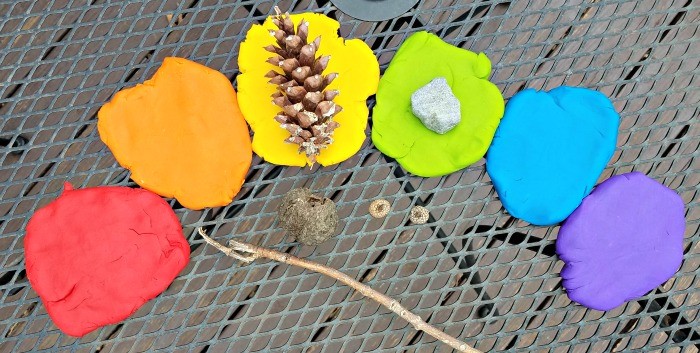 Nature Print Scavenger Hunt
Another fun way to use the playdough for a scavenger hunt is to make nature prints using items from around the yard.
Collect natural items such as tree seeds, leaves, sticks, rocks, etc. Then use each item to make an imprint in a different color of playdough. Once the prints are made, remove the natural items and place them in a pile or scatter them around the yard.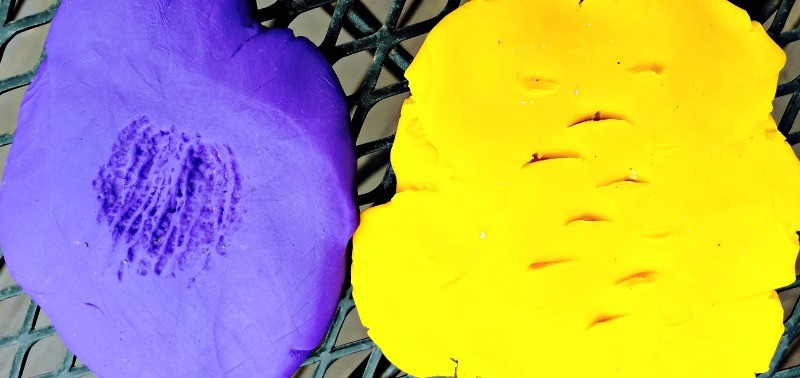 Now show your kids each of the playdough imprints and challenge them to find the item that would make that print!
In our photo, the yellow playdough has a print from a pinecone. A black walnut (tree seed) created the print in the purple playdough. Kids love being able to pick up each item, turn it around in their hands and try to get a mental picture of what the print might look like – it's a great activity for expanding mental imagery!
Grab a copy of your FREE Nature Texture Scavenger Hunt and get outside this week!
More Outdoor Scavenger Hunt Ideas
40 Outdoor Scavenger Hunts for Kids
Outdoor Photo Scavenger Hunt (with free printable!)
After Dark Scavenger Hunt with free printable – fun idea for evening or night walks!