Get kids outside with this FREE printable Backyard Scavenger Hunt that can be done in any yard, from your patio or balcony or around the neighborhood!
When you've got kids, you know outdoor time is a must! We are always looking for easy ways to inspire more time in our yard (like these 20 backyard science experiments!) And our *newest* scavenger hunt is a great way to get kids out of the house for a while.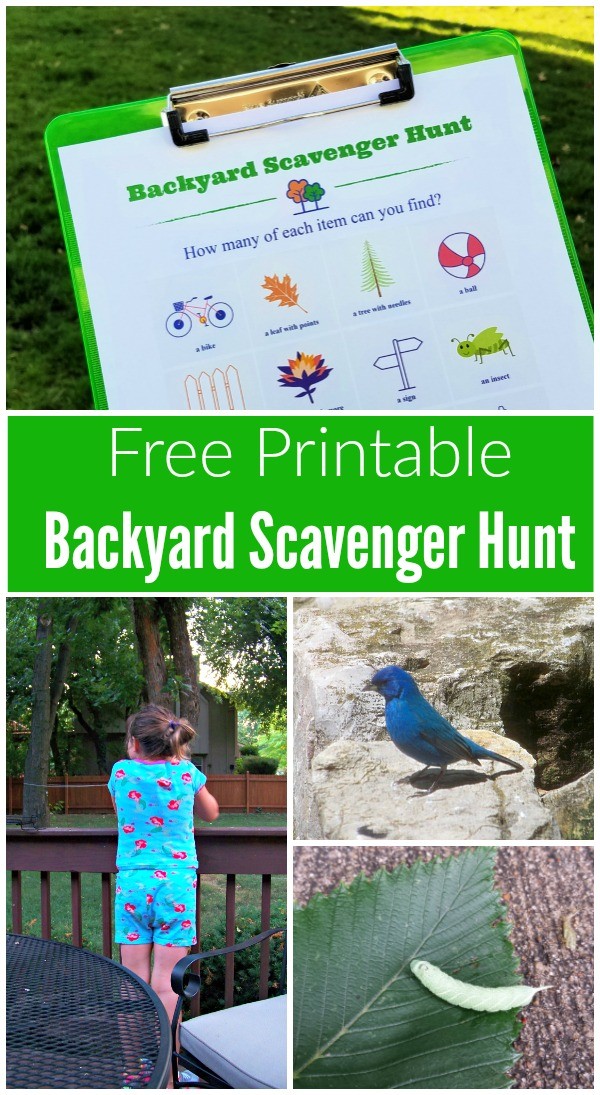 Backyard Scavenger Hunt (with FREE printable list!)
When I was growing up, my grandmother lived with us. She's the one who walked us to the bus stop each morning, and the person who made sure we got our homework done after school.
She's also the one that said (on a very frequent basis) — "Go outside and play!"
We had a great backyard play area — a large grassy yard surrounded by 10 foot hedge bushes, a blacktopped area where we could jump rope, play hopscotch and rollerskate, and lots of small animals who would visit frequently.
As parents, many of us had less scheduled lives than our kids do these days. So we naturally had more time to explore and observe what was taking place around us.
And that's just what this scavenger hunt is meant to do — encourage kids to look up in the sky and down in the dirt, to notice the small details, to peek over the fence and be patient while trying to spot some of the items!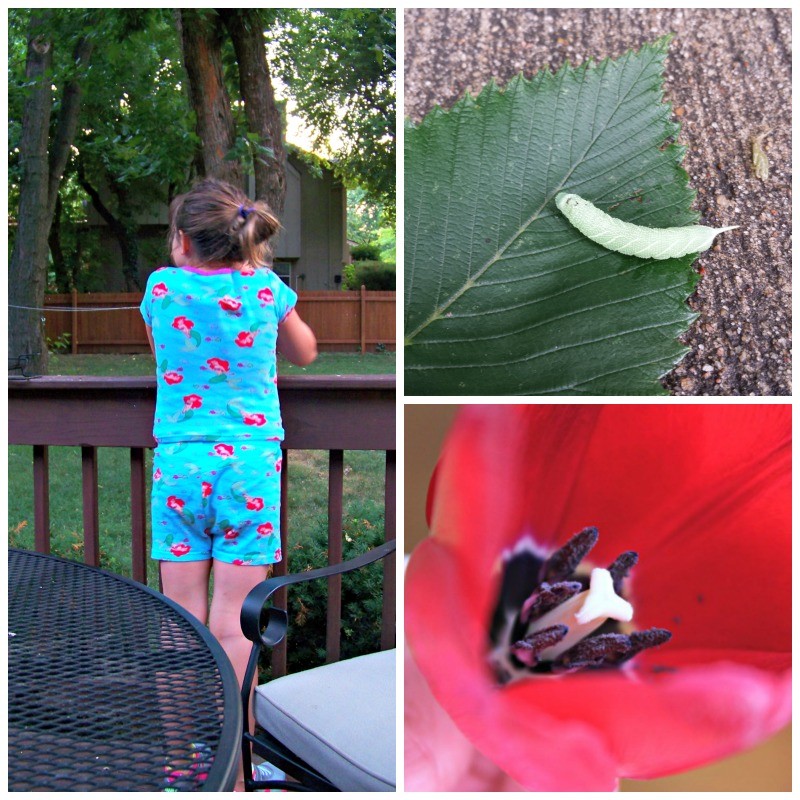 Items Needed for a Backyard Scavenger Hunt
While you really only need the FREE printable list below, I would encourage you to have a few other items on hand — especially if you want to inspire a longer time outdoors! Here are things we like to have with us including affiliate links for some of our favorite items:
clothing that's appropriate for the weather (nothing ruins a hunt faster than wet feet or a cold kid 😉
a sturdy clipboard to hold the hunt
a pencil to check off items (if you have more than one child, use a different color crayon for each person)
a small kid-friendly magnifying glass so kids can get a closer look at any 'treasures' they might find
a pair of binoculars since kids will have to look further than your yard for a few of the items
And as with all our activities, take along a book! Here are a few that are perfect for backyard exploring:
Dover Children's Science has a wonderful book called My First Book about Backyard Nature! It's a wonderful coloring book that includes 45 pages of facts about backyard plants and animals.
100 Backyard Activities was written by my friend Colleen Kessler and is chocked full of awesome nature, science & play ideas that are perfect for kids ages 5 – 10 years!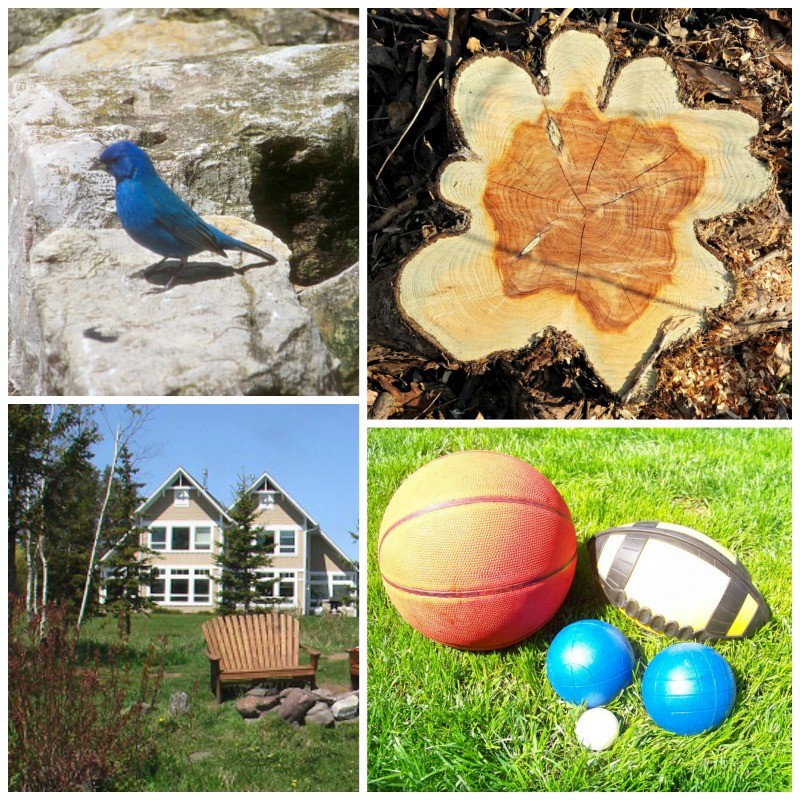 Things to find on a Scavenger Hunt in your Yard
We've included both easy and challenging items on the scavenger hunt list! And you don't even need a backyard to play this game — you can do the hunt from your patio, balcony or front porch too.
The hunt allows toddlers and preschoolers to identify new items and even learn new words. Older kids will enjoy going off on their own to find each of the clues.
Like I mentioned earlier, the goal of this outdoor scavenger hunt is to encourage obervation of details! For example, you'll find items like:
a leaf with points – great time to show kids that not all leaves have the same shape
a bird flying over head – this may take some patience to spot one
a flower with more than one color – hint: almost all flowers have more than one color if you look inside the petals. Take a peek at this easy Flower Dissection science activity too!
a barking dog – something you need to use your ears to find instead of your eyes 😉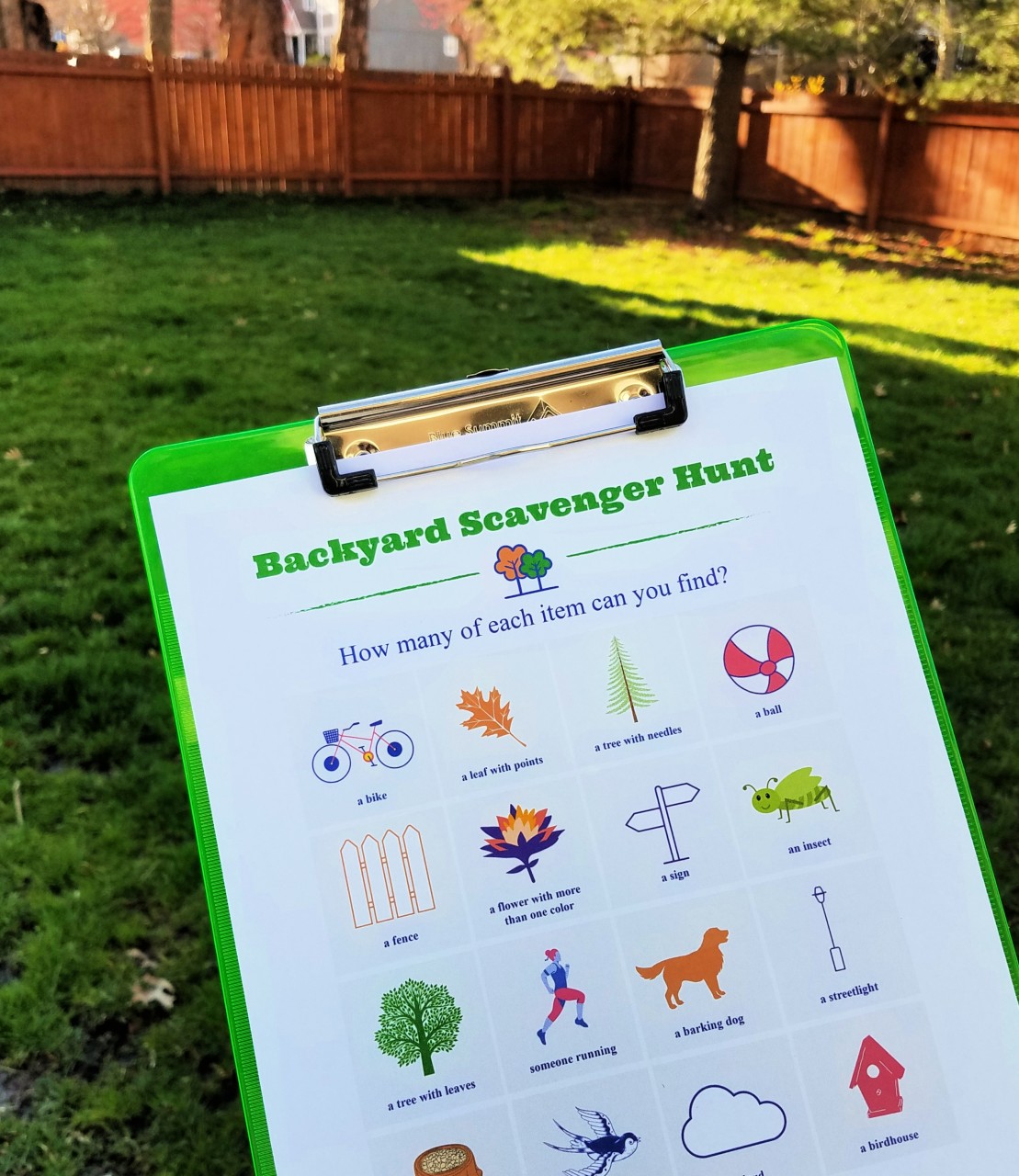 And even easier items turn into an adventure if you have a magnifying glass or binoculars for kids!
Grab a copy of your FREE printable Backyard Scavenger Hunt and enjoy some time outside this week!
Looking for more backyard hunts? Try this Nature Texture Scavenger Hunt with FREE printable too!
More Fun Backyard Activities:
6 Retro Backyard Games for Families
Backyard Biodiversity Science Activity (with FREE printable!)
7 Activities for a Backyard Camp-out