Enjoy time together with this list of 50 fun things to do at home with kids!
Like most of the world, we are staying home this week. We are, in fact, on Spring Break; however, all our libraries, museums and local attractions are currently a no-go. So for the next week (or who knows how long), we will be finding other fun things to do this Spring.
Unlike most of the world, we've been through long stints at home. There was the time I was placed on bedrest for six weeks during one of my pregnancies. And the month that BOTH our kids got chicken pox (at home for two weeks per doctor's orders for that one) plus a few broken bones over the years when the kids had not choice but to stay home, rest and elevate.
So, I thought I would share some of our tips for FUN things to do when you're home with kids since we've had some experience with that – easy activities & creative ideas that will save your sanity and help make your days more enjoyable!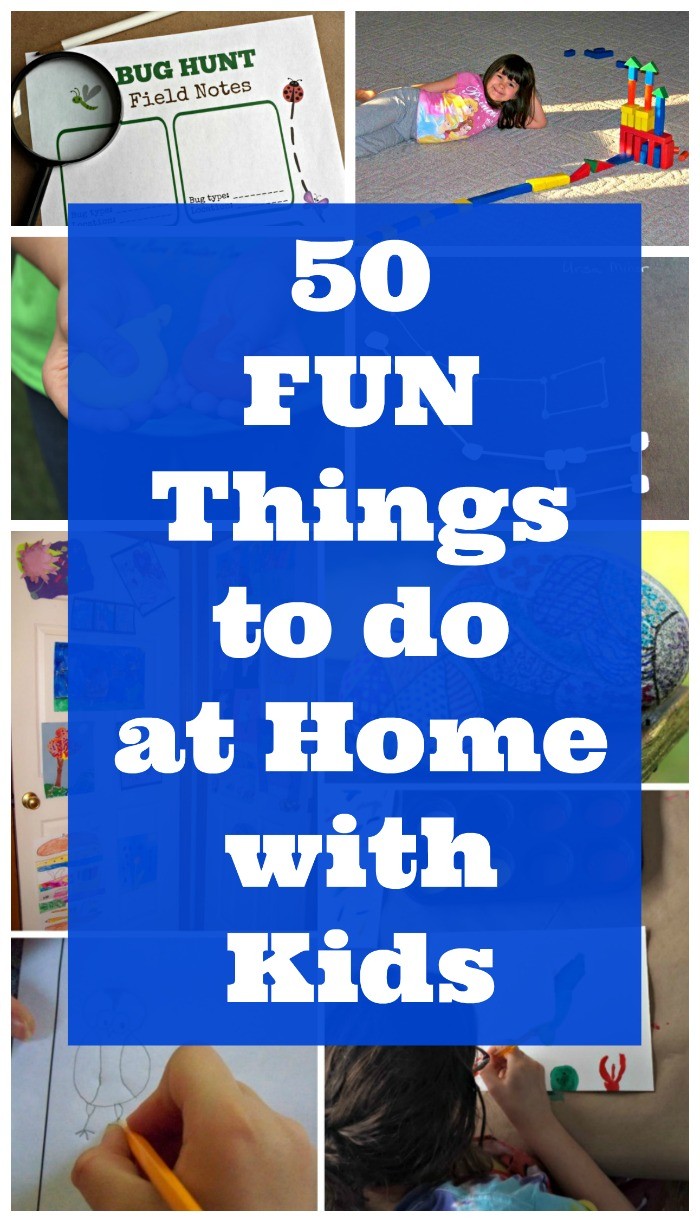 50 Fun Things to Do at Home with Kids
I'm not going to lie to you, being stuck at home can be somewhat challenging when you have kids.
But we all know that with the current state of the world, we each have a choice — do this with a positive attitude knowing that we are all in this together, or trudge thru things. I'm going with the first option 😉
Remember, just because you're sticking close to home doesn't mean you have to be cooped up indoors the whole day – be sure to get outside for a bit too! Our ideas include easy & FUN activities that can be done inside, in the backyard, on your patio or while out taking a walk. We're also including links to some of our FREE printables and affiliate links for items we've used during our 'stuck at home' stays.
1. Have a Camp-out at home
A super fun family activity — try these ideas for a great indoor camp-out or if you have good weather, set up a tent & enjoy some backyard camping activities!
2. Watch a movie together
Grab a favorite snack & enjoy a family movie day or night! The key word here is 'together' — maybe a new movie you haven't yet seen (psst… Did you see that Frozen 2 is being added to Disney+ a whole 3 months early?!!)
It's a great time to sign up for that FREE trial of Amazon Prime, watch some of thos old Disney films we all enjoyed as kids, or inspire some learning — try these 10 Family Friendly Environmental movies or 12 Science Movies that Inspire Kids.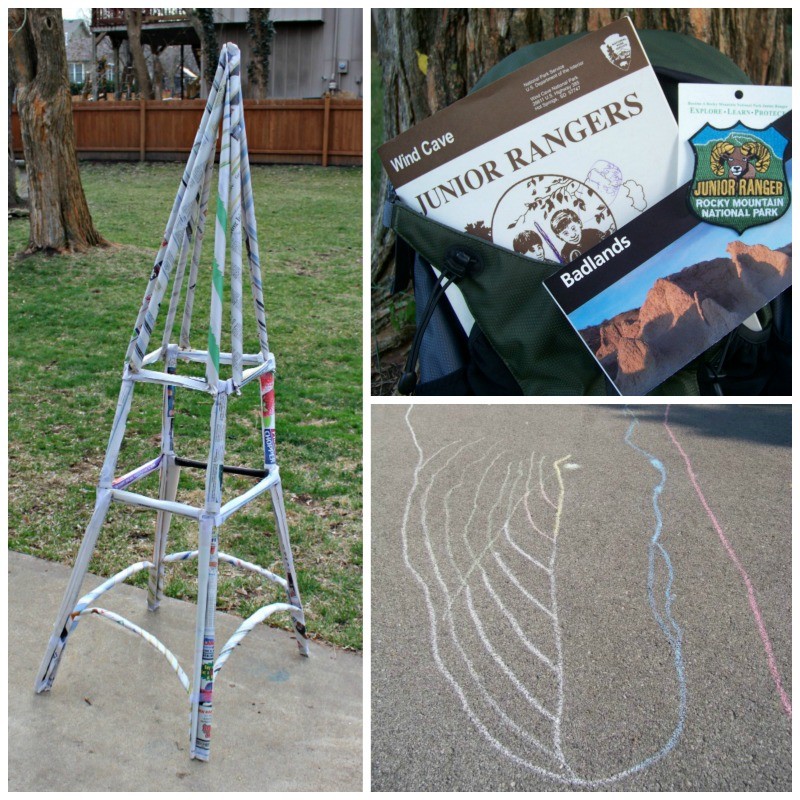 3. Do Something Memorable
Think outsidethe box and try something that will make a big impression. Try one of these ideas:
4. Become a Junior Ranger
Did you know that kids can complete Junior Ranger programs & earn a badge right from home?!! These are awesome programs & they are FREE — kids can become junior archeologists, paleontologist, underwater explorers and more! Visit the US National Park Junior Ranger website, choose your program, downlad & complete the booklet and mail it in to the park system.
5. Try some Deconstruction STEAM
Find some old electronic items that no longer work and let your kids take them apart! Seriously, lots of fun! Kids LOVE to use a screwdriver or set of pliers and get an inside look at electronics. Here's an example of how you can deconstruct an item and create your own tinker kit at home!
6. Teach Kids Something Retro
Have you ever heard the phrase "everything old is new again'? That totally applies to the way we lived as kids in the 70's and 80's. What did you try to master as a kid? Here are a few fun ideas:
7. Make Marshmallow Constellations
Not only fun but tasty too – create these marshmallow constellations and do a little star gazing one evening!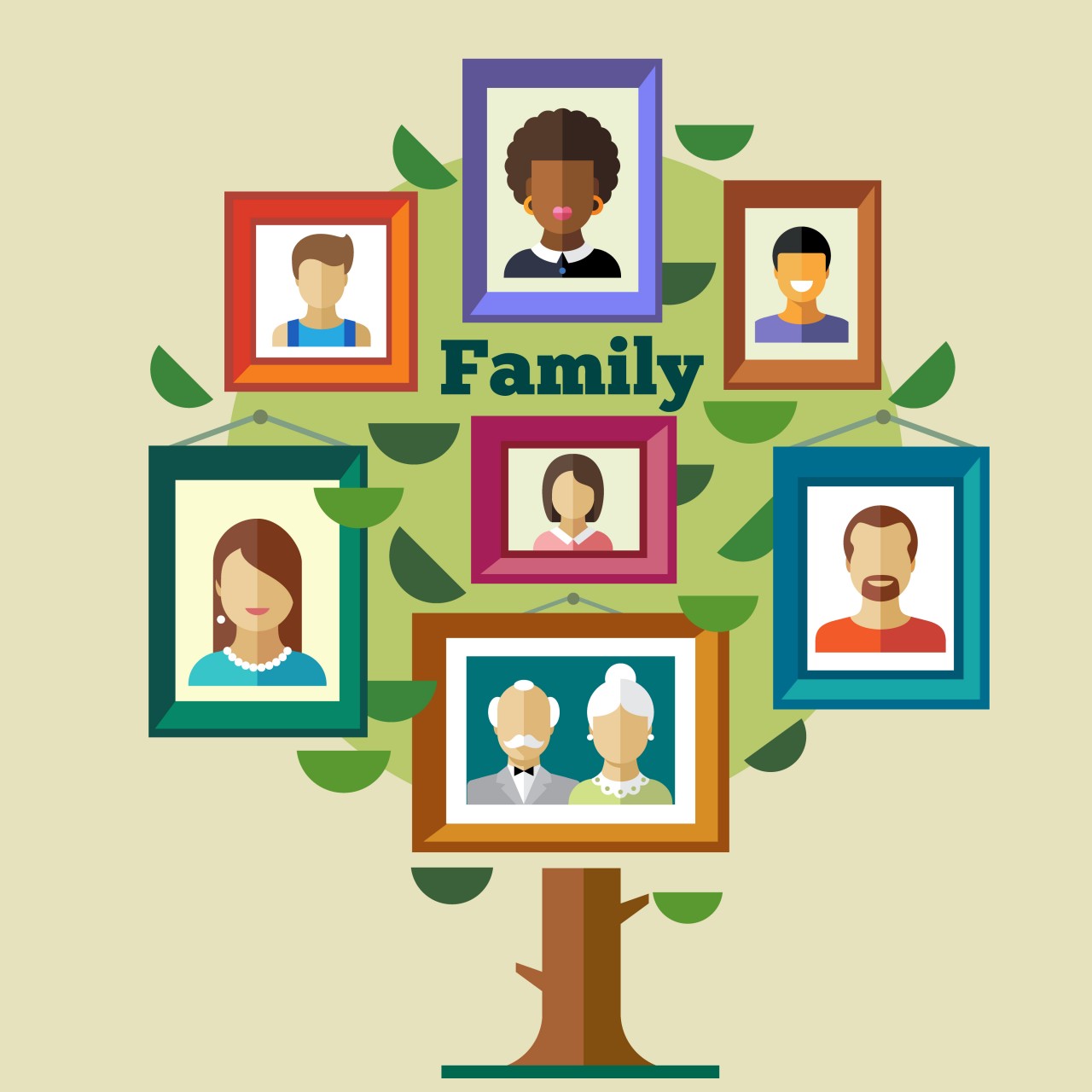 8. Trace your Family Tree
Learn more about relatives by creating a family tree. Call, text or email older family members to see if they can help fill in some of the names or join one of the online websites (sometimes available via your local library's online resources) to see if you're related to any famous historic figures.
9. Surprise Kids with an Unexpected Activity
Kids love to get mail! This is a great time to order an activity box to be delivered as a fun surprise!
If you love the outdoors, try the THiNK OUTSiDE BOXES! These are perfect for kids ages 8 to 16 and families who enjoy outdoor activities. They're also great for homeschool families who want to enhance their nature & outdoor curriculum.
For kids who enjoy science, crafts & engineering, we highly recommend Kiwi crates! There are a lot of creative science, engineering & craft activities for kids ages 3 thru teenagers!
10. Enjoy a Scavenger Hunt
We've got a HUGE list of both indoor & outdoor scavenger hunts to choose from – find a few and send kids off for the challenge!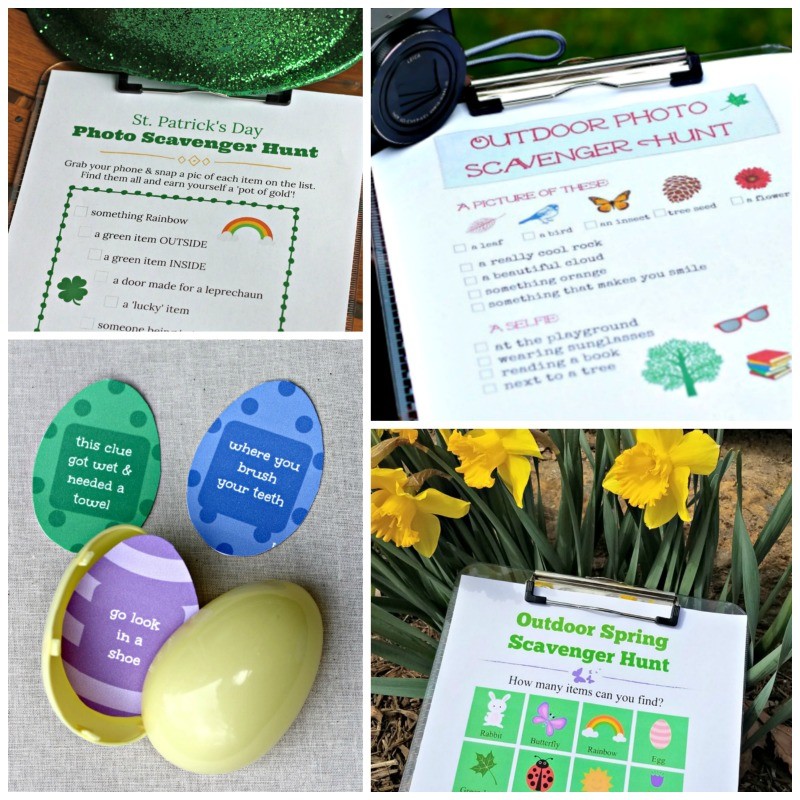 11. Explore your Attic or Basement
This was one of my FAVORITE things to do as a kid and both my kids love it too! Kids enjoy poking through old crates of family treasures — browsing through Dad's old yearbook, finding long-lost items from childhood and discovering fun never-before seen things.
12. Create an Obstacle Course
This is easy to do in the backyard by setting up some creative challenges. Or try an 'in each room' course if you're inside. For example, do 6 jumping jacks in the playroom, slitter like a snake through the kitchen and do a headstand in the bedroom.
13. Go on an Egg Hunt
They're not just for Easter — grab a set of these FREE printable Egg Hunt Clues that work in any home!
14. Enjoy a Read-aloud Session
Grab a book and cuddle up for some family reading time. Try one from this list of 50 Memorable Read Aloud Books. And if you have a library card, check out their online books too!
15. Build something!
Pull out all of your blocks, Legos, magnatiles or whatever you have on hand and build something awesome!
16. Learn Something New Together
Take an online course! Udemy offers TONS of great online classes for kids & families!! Choose from coding, photography, art and more. Tween & teen girls might enjoy the online Nail Art classes. Tweens & teens who are interesting in gaming would enjoy the coding & programming classes.
17. Do a Weather Project
Make a tornado in a bottle, or engineer your own barometer to see what's up with the weather.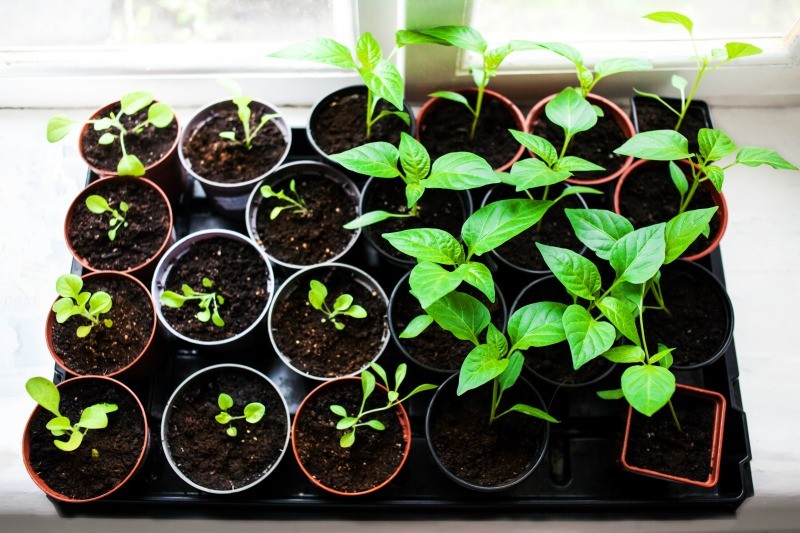 18. Start Seedlings
Get ready for spring by staring some seeds indoors. Visit our 30 Gardening Activities for Kids to learn more about gardeing with kids.
19. Create an Art Project
If your a family that enjoys art but never seems to have the time for it, now is the perfect time! How about creating a rainbow pour pot (great idea for a teacher gift or colorful addition to spring planting). Or grab a few stones from outside and create zentangle rocks! Or learn about the science behind watercolor & crayon resist with this art project.
20. Play a Board Game or Card Game
Pull out a game one afternoon. A few fun ones for families include:
21. Make a Family Movie
Kids love to see what everyone looked like 'when they were younger' or go thru pictures and videos from past family vacations. If you have older kids, have them help you create a slideshow using all your old photos or make a movie using videos everyone has on their phones.
22. Explore Your Backyard's Biodiversity
Learn a little about plant & animal life in your own backyard with this FREE printable Biodiversity Activity! Or print off this FREE printable Nature Texture Scavenger Hunt and explore natural items in your yard.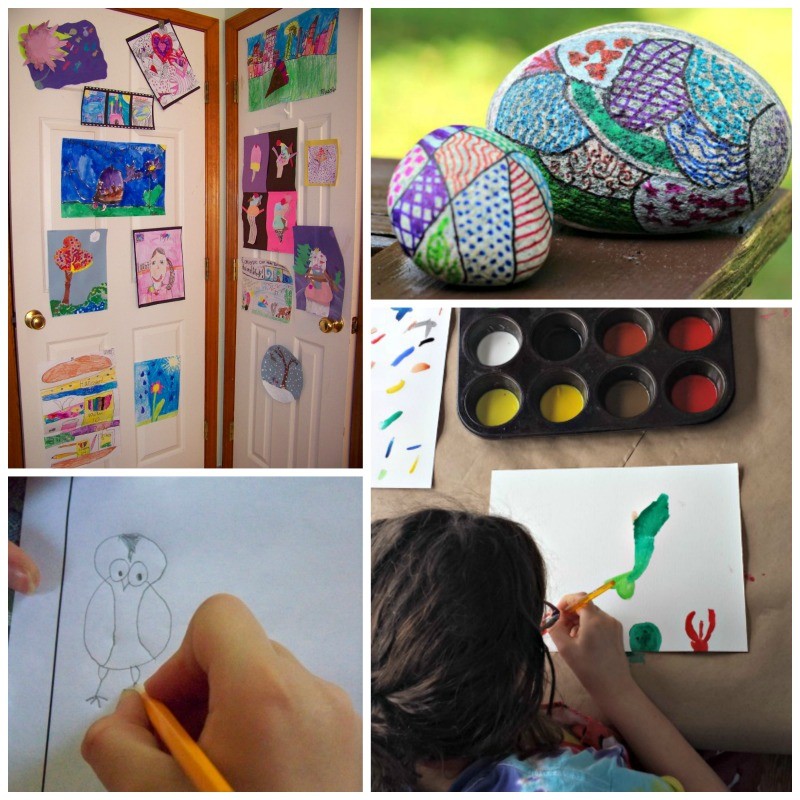 More Creative Activities to Do at Home with Kids
23. Build a Fort
Pillow fort, blanket fort, outdoor fort with a clothesline and tablecloth — great engineering activity that keeps kids busy during the building and long after.
24. Try an Easy Ecience Experiment
Got 5 minutes? That's all you need to do one of these cool experiments:
25. Start a Collection
Or work on an existing collection! If kids don't yet have a collection, think about items they might like to collect — stamps, coins, rocks, postcards, etc. – sorting, categorizing etc.
26. Play a Backyard Game
Get outside and enjoy some of these classic backyard games! If you don't have any in your garage, see if you can borrow one from a neighbor.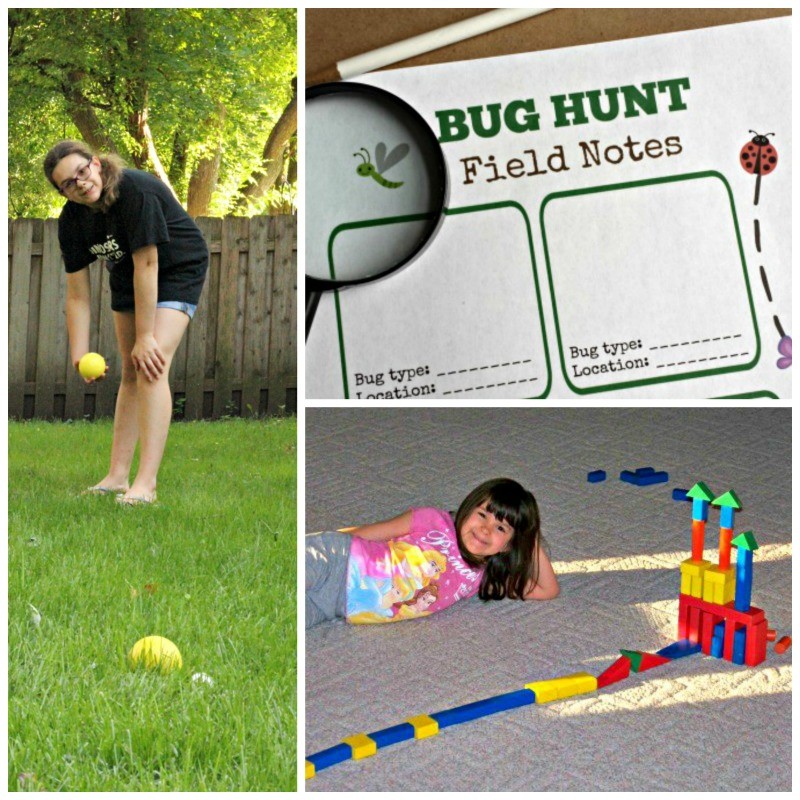 27. Play Detective
Kids will love this CSI/detective fingerprint science activity that can be done using baby powder & tape!
28. Go on a Bug Hunt
A fun idea to get everyone out of the house — check the garden, look under rocks and browse tree trunks. Use this FREE printable Bug Hunt Notes to track what you find!
29. Try some Popcorn Math
Another tasty idea — try a little math using this easy popcorn math activity.
30. Play Hide and Seek
Young kids love this! Our son hid from us so well one time that it took us 20 minutes to find him 🙂
31. Read a Book then Watch the Movie
Use this list of 25 Kids Books made into Movies for some inspiration!
32. Write a Letter to Someone
Grandparents, far away friends, military members, a favorite teacher — people love to get mail! Send a letter or draw a picture to brighten someone's day.
33. Animal Observation Journal
Use this FREE printable Animal Observation Journal to track who's visiting your front or back yard this week!
34. Visit a Park
If you're area is not in any type of restriction or quarantine, then head out to a local park! Try some of these 17 Fun Things to do at the Park
35. Sort closets
I know what you're thinking – this is not fun! But it can be — kids always seem to find long-lost items stashed in the back of their closets. Plus, once the closet is clean, my kids like to camp out under the clothes with flashlights and a book or two.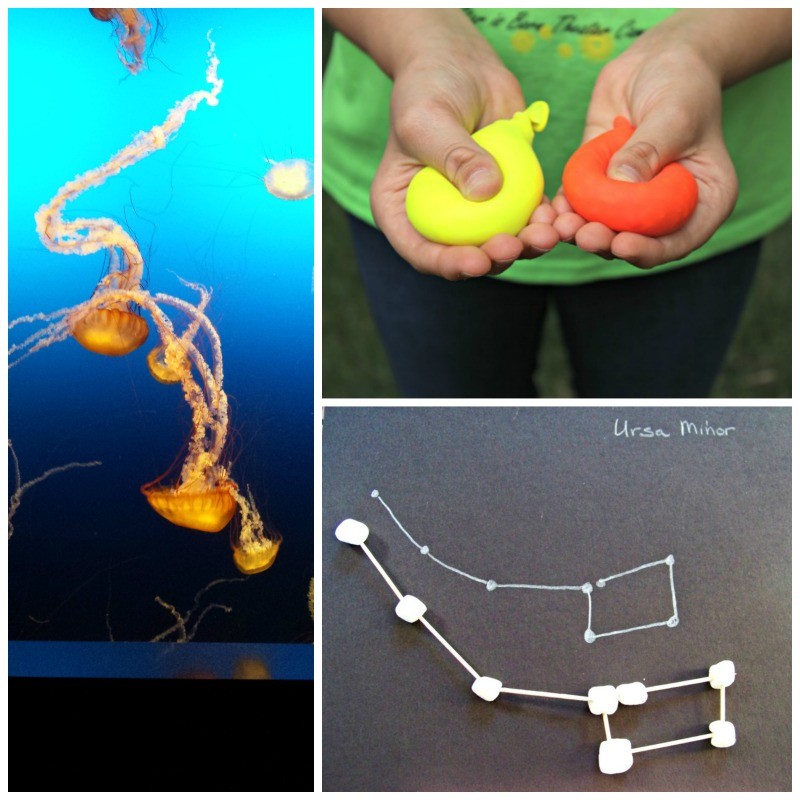 36. Make Sensory Balloons
Yep, you can create your own squishy, sensory items with things you have around the house! Here's how to make sensory balloons.
37. Bake Something
Time at home is perfect for trying a new recipe or teaching kids some some cooking skills!
38. Learn about Someplace in the World
We hosted a DIY Around the World Camp this past summer – some creative ideas for kids to learn about countries & people around the globe!
39. Plan your Next Vacation
Make a list of some possible places and have the family weigh in on what they'd like to do! We connect a computer to one of our tv's and search for attractions we'd like to visit.
40. Facetime with Family
Sometimes a face-to-face call with Grandma or Granpa or faraway friends are exactly what's needed to perk up spirits!
41. Learn a 'secret' language
Teach your kids how to communicate or write notes using morse code, pig latin or the phonetic alphabet!
42. Peek in on some Wild Animals
Did you know you can watch animals in the wild?!! Yep, a bald eagle on it's nest, marine animals swimming in the ocean, elephants and lions on an African plain! Visit Explore webcams to see animals in their native habitats.
43. Dissect a Flower
This is a really neat science activity — all you need is a fresh flower!
44. Have a "Can You …" Competition
Family friendly competitions are always a fun way to get to know each other a little more. For this game, each person challenges the rest of the family to do something. So "can you do a headstand?" or "can you sing all the verses of xxx song?" Kids might say "Can you name all the state capitals?" if they've just learned that at school. The goal is to think of something you can do well and see if your family can keep up 😉
45. Put on a bathing suit & 'swim' in the tub
Yes, it's a little crazy but this is one of those things I did when my kids were little and we had a bad weather day. They loved it! Toss in a bunch of bath toys & let them wear their swim goggles too 😉
46. Teach Kids a Life Skill
It seems that we never have enough time for thing like this and yet, passing on life skills are so important. Younger kids can learn how to memorize their address, give a compliment or set a table.
Teach older kids how to fix their own lunch or use a hammer or screwdriver to fix something small. And for teens (who will soon be out on their own) skills like sorting and washinig laundry, how to shave and how to cook a meal are things they may be worried about before heading off to college or getting a place of their own.
47. Learn about Family Heritage
Which countries and cultures does your family herald from? Introduce your kids to the food and traditions from your family's heritage.
48. Have a Picnic for Lunch
An easy and fun idea to do either inside or outdoors — just gather up your favorite lunch fixings, grab a beach towel or tablecloth and set up an impromptu picnic!
49. Search your Yard for a Four-leaf Clover
It could bring you some luck this year! Or look under rocks to see if you can find a fossil!
50. Have a Dance Party
Turn on your favorite tunes & bust a move together!
More Fun Activities to do with Kids:
20 Backyard Science Experiments