Creative & free printable Valentine Cards for classmates, to give to kids or anyone you love!
In our house, we really don't do cute.
Creative, yes …
Corny, oh yea …
Geeky, totally!
But not so much with the cute.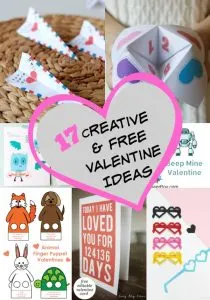 17 Free Printable Valentine Cards
So Valentine's Day can be a bit of a challenge. Like when you have a son who wants to give valentines with pictures of monsters. Or when your daughter wants to give "super cool" valentines to the girls but only "regular" valentines to the boys (goodness knows we don't want those boys to think we might 'like' them, right?!)
And then there's the whole "But I have 28 kids in my class and there's only 24 cards in the box!"
Ugh!
Needless to say, buying "standard, one-size-fits-all" valentines doesn't always work. So we've gone in search of some awesomely cool (and Free!) printable valentines that kids will LOVE to give to their friends plus some fun ideas for families too!
Creative ideas, geeky greetings and 'sweet' activities — with all these great choices, it will be easy to find cards that fit the bill this Valentine's Day 🙂
Looking for a creative idea to give to your kids or students? Be sure to see our Valentine Scavenger Hunt & Activities Pack for Kids!
And if you need something to attach to the card, check out the list of 50+ Non-Candy Valentine Treats for Kids in our Amazon storefront too!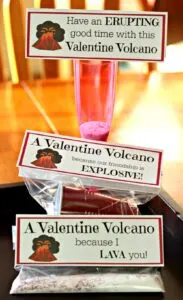 Free Valentine Cards For Kids to Give to Classmates
Check out these awesome Valentine Volcano Cards & Science Experiment – a huge hit in any classroom!
Nothing says "super cool!" like these Paper Airplane Valentines from No Biggie!
Mr. Printables has a free set of heart-shaped glasses kids can give (or wear) for holiday fun 😉
Finger Puppet Valentines from bright apple blossom (Ok, I have to admit these are a little cute — but so very cool!)
Valentine Fortune Tellers from Design Mom will be a big hit with the tween set. (Sadly, these are no longer available.)
Add mini glow sticks & these Yoda Valentines from Design. Wash. Rinse. Repeat are perfect for Star Wars fans.
Brain Power Boy has got you covered if you've got a child who loves Pirate, Robot or Superhero valentines!
If you have any Tardis fans in the house, swing over to Frantically Simple for a cool set of Dr. Who Valentines.
Encourage reading with these great Valentine Bookmarks from Positively Splendid!
And kids will love this Free DIY Lovebug craft class where they can make valentines for others!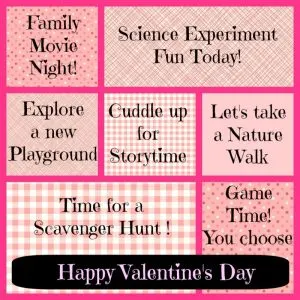 Free Printable Valentines For Parents to Give to Kids
Give your kids the 'gift of YOU' with these fun Valentine Coupons for activities to do together!
Ditch the card and instead leave mini 'love notes' on your child's door — Jones Design Company
Tuck one of these Mini Valentine Notes from Pickelbums at their breakfast spot to remind the kids you're always thinking of them 🙂
Or toss a few of these hilarious Valentine Lunchbox Jokes from Capturing Joy in with their sandwich!
Printable Valentines for Anyone You Love
This 'post-it note' profession of love would be great for your kids, spouse or anyone you want to surprise!
Crazy Little Projects has a beautiful Valentine BINGO printable cards — perfect for a special family dinner.
Head over to the Dating Divas if you're looking for some grown-up geeky Valentine cards for your sci-fi fans!
And this one tops the cake for a personal card — Everyday Cheer has an editable Valentine where you can fill in the number of days you've loved that special someone — sooo creative!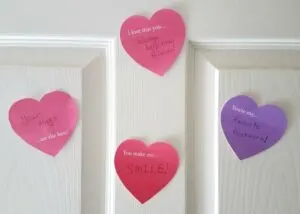 More Valentine Ideas:

Valentine Books & Activities for Kids