Enjoy these free printable science Valentines Day cards (aka the Valentine Volcano) that your kids will LOVE – a great option to use as printable cards for classmates!!
So here's my thing with Valentine's Day (well, actually two things)…
First, the store-bought, pre-packaged card sets that have 24 valentines to a box — It. Drives. Me. Nuts!
Why?
Well, my kids haven't had 24 kids in their class EVER. So every year, I'm stuck buying two boxes in order to accommodate the 26 or so friends in the class.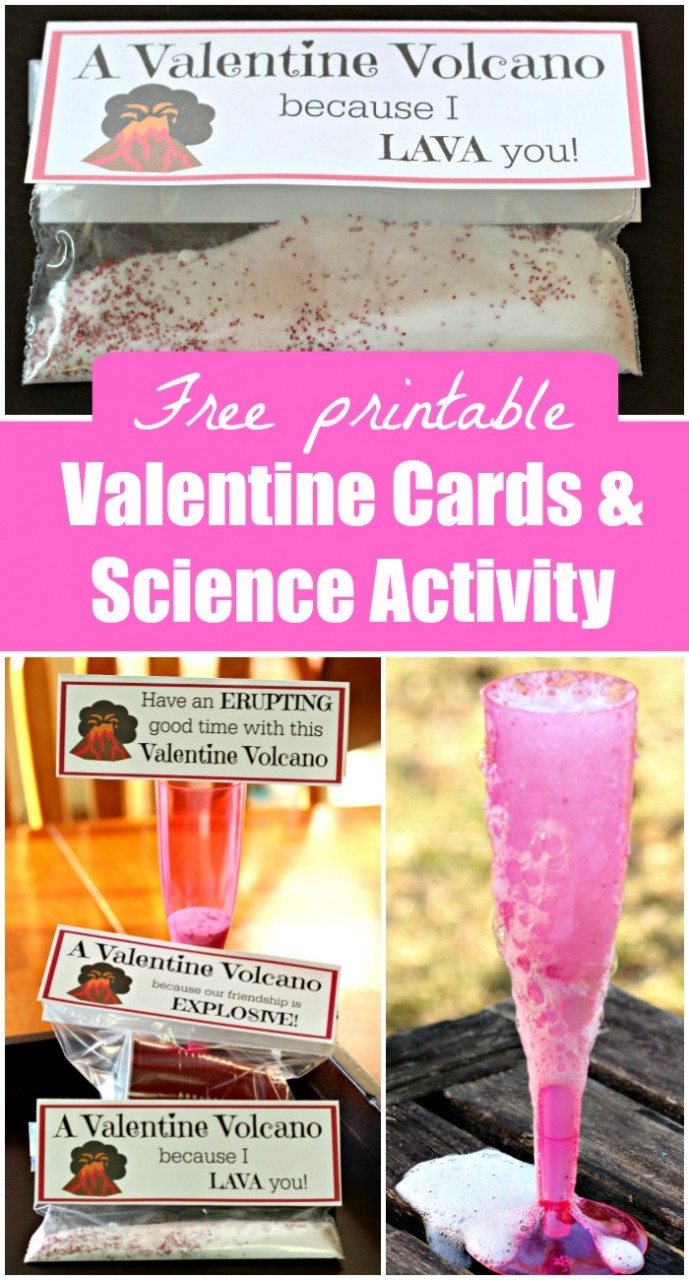 Free Printable Science Valentine Cards
And second, I'm not a fan of yet another candy holiday — I mean, I just got my family back on the eating-healthier bus after Christmas (and believe me, it's not always easy to get them back on track if you know what I mean 😉
So today, I'm going to solve BOTH of these problems with this FREE printable Valentine card & science experiment that are perfect to give and use at class parties!
I mentioned last year when we shared our round-up of adorable (and free) printable Valentine cards for kids that I'm more of a geek when it comes to Valentine's Day — cute & sappy is definitely not our thing.
But you know how kids ALWAYS want to include something fun when they hand out their valentines, right?
Well, I thought a science experiment as a valentine would be a great combination of fun + geeky + a little learning too 🙂 And not just any science experiment but one that bubbles and fizzes which can be pretty darn cool!
These are PERFECT for in so many ways:
your kids to give to classmates for a non-candy option,
you can give them to your kids for some Valentine fun
if you're a teacher, this is a great in-class Valentine's Day activity for your students to do or a fun gift to give to your students!
The valentine is super easy to put together and kids really enjoy measuring out the ingredients for the volcano mixture — not to mention, making a few 'explosions' as you work.
These printables are also included in our full Valentine Scavenger Hunt & Activities Pack for Kids too! We're also including affiliate links to items we recommend for this activity below to help you get this all ready for that class party.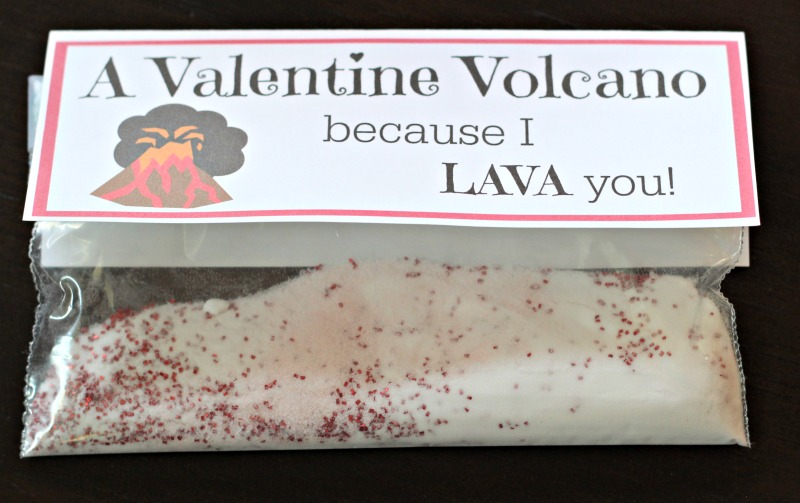 Non Candy Valentines: Printable Card Toppers & Science Activity
These creative non-candy valentines for kids are super easy to pull together! First, print off the set of three Valentine toppers (you can get them below) — we used white card stock paper because it's a little sturdier than regular paper but both will work.
We've included 3 fun sayings on the Valentine toppers:
A Valentine Volcano because I LAVA you!
Have an ERUPTING good time with this Valentine Volcano!
A Valentine Volcano because our friendship is EXPLOSIVE!

The toppers are two-sided with the valentine greeting on the front side and the directions for making the volcano on the back side of the valentine topper so the recipient will know exactly what to do.
Once you print off the number you need, just fold the card toppers in half so there is a front and back side.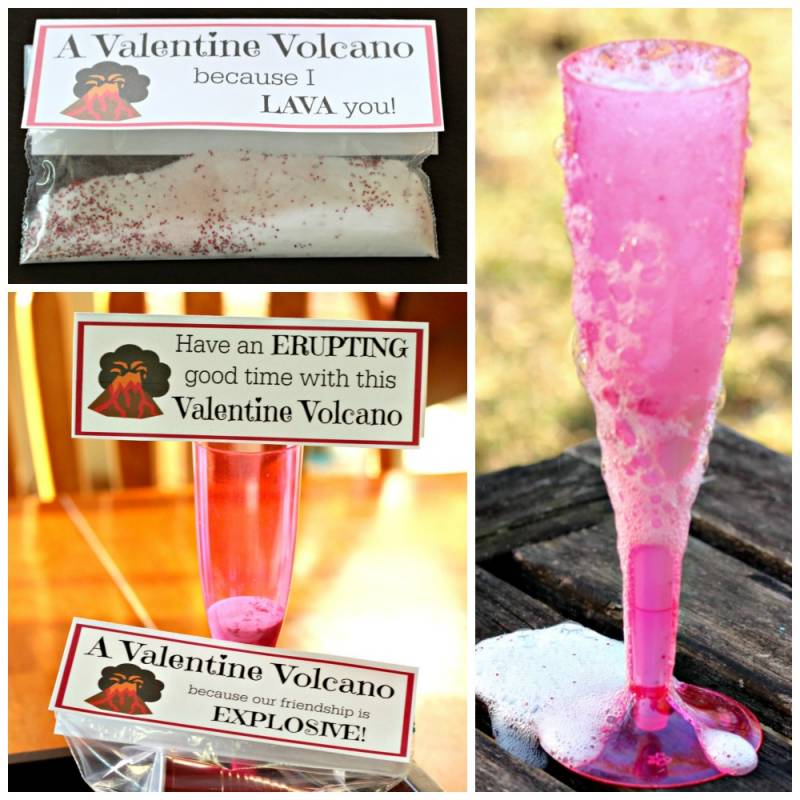 How to Make a Valentine Volcano
The printable file also includes the recipe for the Volcano Mix — you'll need the following items:
The lemonade mix is optional as the experiment will work without it BUT having it adds a little pink color to your Valentine mix and also makes it smell yummy!
Use the 'recipe' included on the print out to measure out the ingredients into a plastic bag.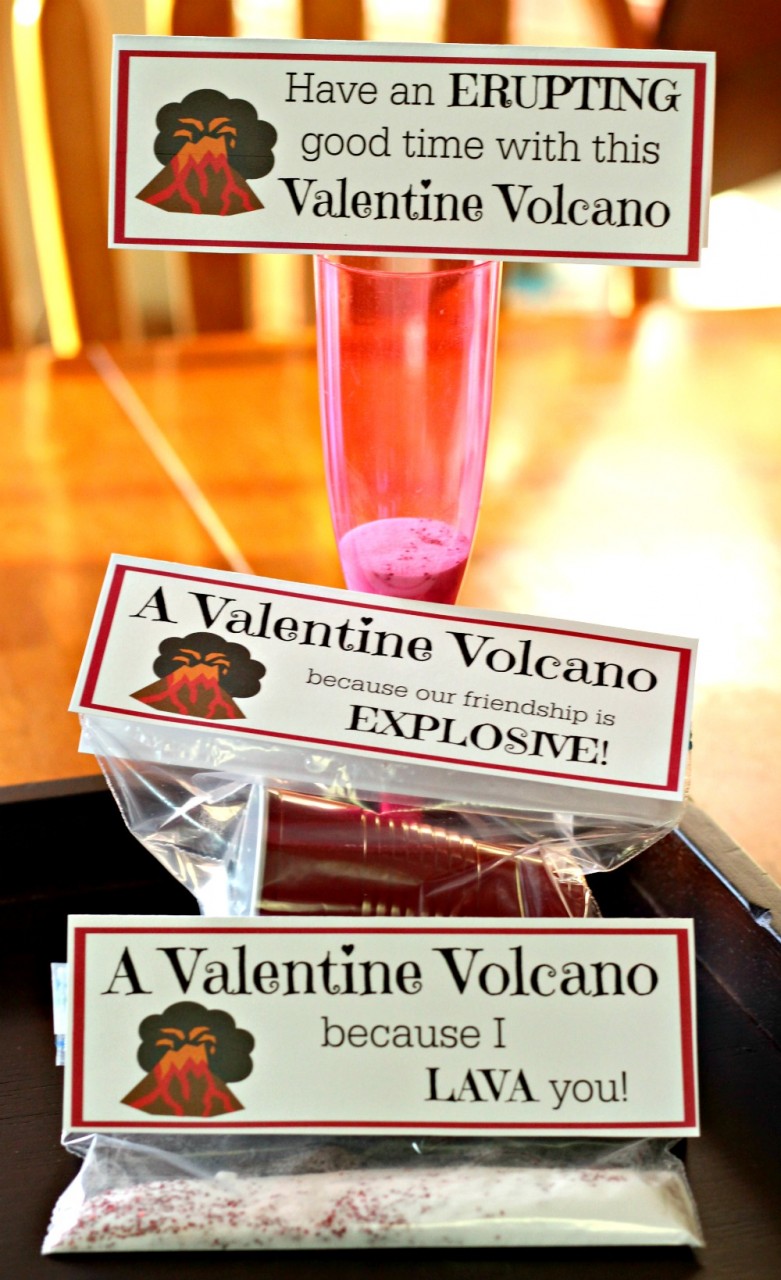 If you're including just the volcano mixture in the bag, I would use a snack-size zippered plastic bag.
You can also include a small paper or plastic cup with your mixture (if you use 9 oz red paper cups, it will all fit in a zippered sandwich bag). You can see we included a cup in the middle bag in the photo above.
Once you have the mixture and/or cup all set, tape or staple the Valentine topper to the top of the bag!
All that the recipient will need to do is add a little vinegar to the mixture and WHAM!
Instant Valentine Volcano science experiment 🙂
We used a pink plastic champagne flute when we created ours just for fun. And if you're a science nerd like we are, be sure to check out these adorable & printable Science-themed Valentine Cards for Kids too!
Download your own set of the FREE printable Valentines & enjoy a little science activity this month!!
And be sure to see this list of 14 Creative Valentine's Ideas You'll LOVE for more hoiday fun too.
More Valentines Activities and Printables
PLUS, we have more Valentine's Day ideas for you too —
FUN Ideas for Non-Candy Valentine Treats for Kids
Valentine Scavenger Hunt & Activities Pack for Kids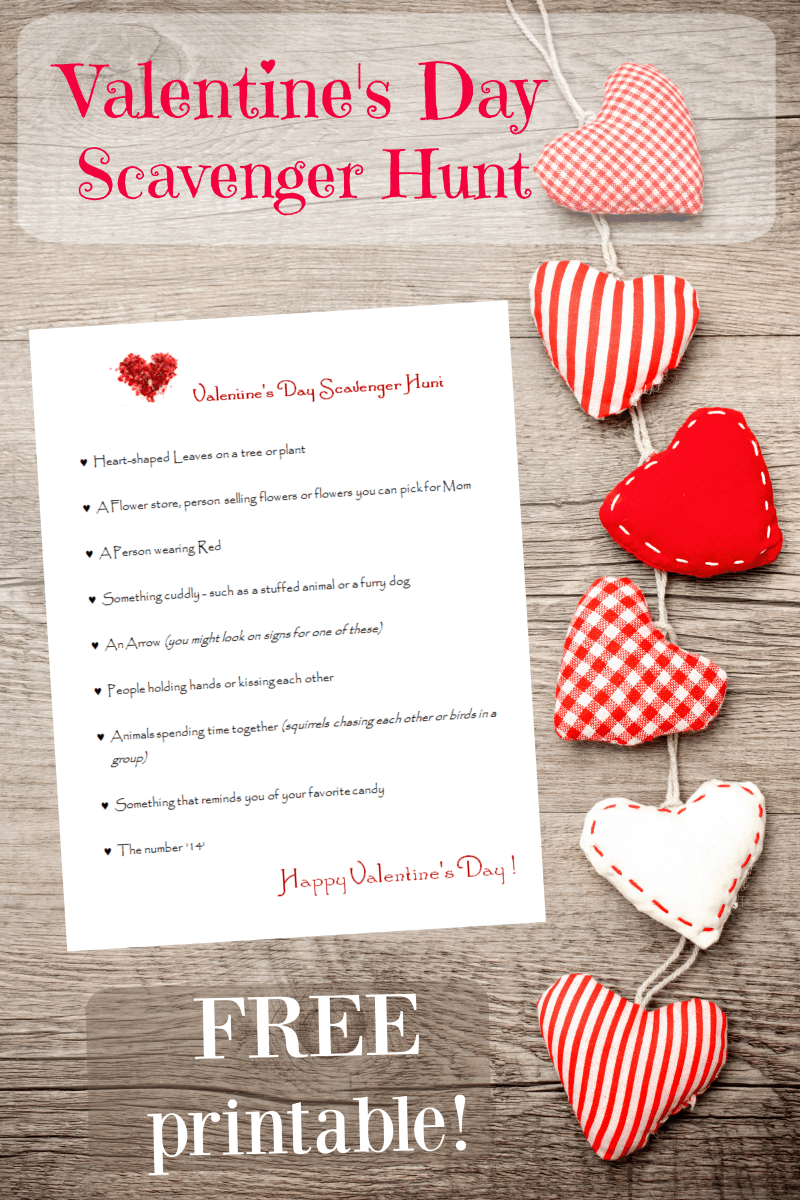 Enjoy this free printable Valentine Scavenger's Hunt with your kids or as a classroom party activity.
And if you're looking for something special to give to your kids for Valentine's Day, try this free printable Valentine Activity Coupon set for fun ways to spend time together in February.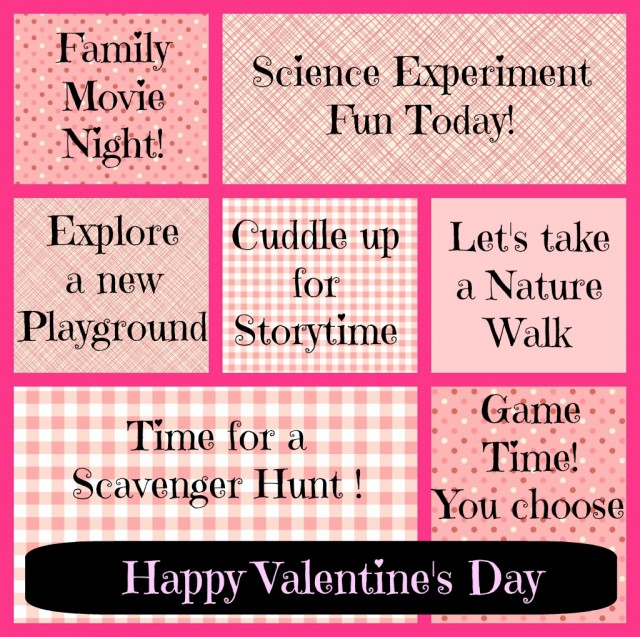 This post is part of the 28 Days of STEM Activities hosted by Left Brain, Craft Brain — be sure to visit for more than 50+ STEM Activities & Ideas your kids will LOVE!