Unique Valentine's Day gift ideas for kids!

If you have kids, come February 1st you'll hear a lot of talk about 'cool' Valentine's Day ideas (like these free printable Valentine Activity coupons for kids 😉
Those school parties are so exciting and the thought of getting cards from all of your friends gets kids going a little bonkers (if you know what I mean 😉
The challenge: finding something unique to give to friends and family — and something "not mushy" as my kids tell me. So we've rounded up some fun ideas of the no-candy variety for all the 'Loves' in your life!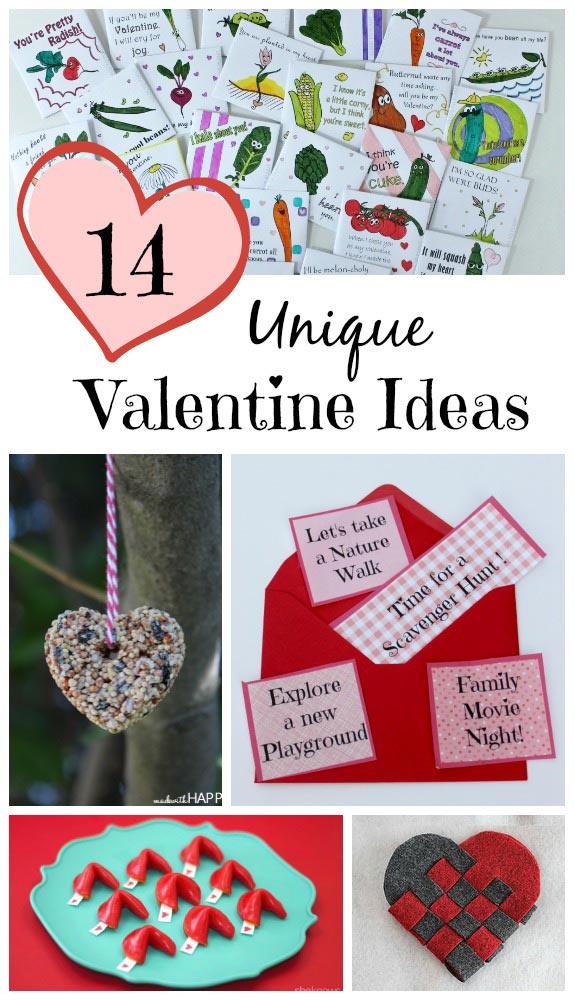 14 Creative Valentine Ideas for Kids, Tweens & Teens
I've learned that kids really look forward to those out-of-the ordinary Valentines — a puzzle or small trinket is usually preferred to candy at our house.
We have a fun family tradition of having our kids read & show off their Valentines at the dinner table and it's always fun to see what cards and items they think are 'cool' each year.
If you're looking for something unique (either for the kids to give to friends or for Mom & Dad to give the kids), these ideas are sure to please! We've included links to both free downloads and for affiliate items we love.
Creative Valentine Ideas for Kids to Give to Friends

Any Star Wars fans would think these are out of the universe! Star Wars Valentines — attach a glow stick that serves as a mini light saber 🙂 from Simple Splendor
Print & color these DIY Seed Packets and then fill with your favorite flower or veggie seeds for a fun & frugal valentine surprise. from Arts & Crackers
Cool pencils are always a hit! And these Sprout Pencils are just amazing! Once the pencil gets too small, you can put it in dirt and it will grow a plant (bonus valentine!!)
Kids will love taking this FREE DIY Lovebug online craft class & then making handmade valentines for friends!
Surprise friends with a fortune tucked into a healthy 'cookie' — these are adorable! from SheKnows
Kids love to make their friends laugh 🙂 Take a page from the Valentine Mad Libs to give as a valentine greeting to others.
If you're raising book nerds like we are, these FREE Valentine Bookmarks will be a hit! Here are a few varieties:
Valentine Book Love bookmarks | S & F Fontaholic
Valentine Joke Bookmarks | Activity Village
Snoopy & other classic cartoon character bookmarks | Family Shopping Bag
Need something special to make their teacher or grandparents? Try these Danish Heart Woven Baskets made with felt! from radmegan
And if you need something small to add to paper valentines, check out this list of Creative Non-Candy Ideas to Give to Kids!
Non-Candy Valentine Gift Ideas to Give to Kids
Free Printable Lunchbox Jokes the kids will enjoy | Kristen Duke Photography
Give the kids the gift of time with YOU! with this fun set of Valentine Coupons for Kids!
Valentine's Day is a great time to add to your child's bookshelf too! Try a few of our favorite reads:
Love from The Very Hungry Caterpillar
Pete the Cat's Groovy Guide to Love
Spend the afternoon making heart-shaped Bird Feeders for all the feathered friends that visit your yard. from Made with Happy
If you have a LEGO fan in the house, this LEGO Valentines Cupid Dog is one they'll love to build every year.
And I LOVE this idea! A daily prompt book that the kids can fill out each day — what a fun way to record childhood memories!
For younger kids: Q&A a Day for Kids: A Three-Year Journal
For teens: Q&A a Day for Me: A 3-Year Journal for Teens
Don't forget to see these other Valentine's freebies & printables too!
17 Creative & Free Valentine Ideas