These STEM activities & science experiments paired with favorite kids movies are a great way to inspire learning!
I know a lot of families (including ours!) enjoy watching some of the new kids movies that come to theaters or sharing old film favorites on family movie nights. Has your family seen any of these 12 Inspiring Kids Movies about Inventions?
Today we're sharing a list of favorite kids movies along with STEM-related activities & projects that will keep those minds buzzing!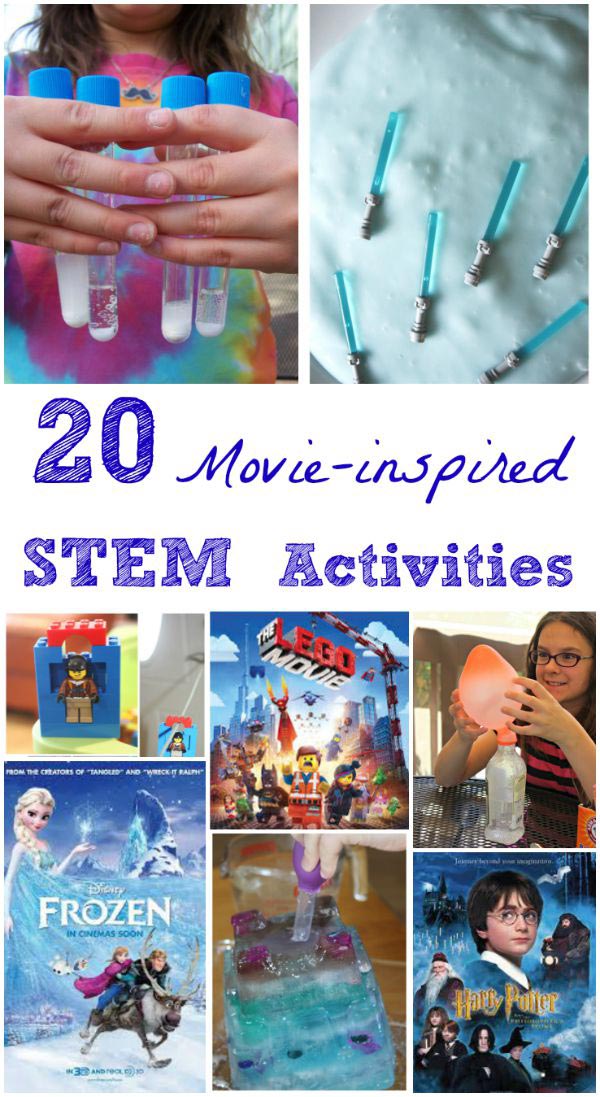 20 STEM & Science Activities For Favorite Kids Movies
Family movie nights are a perfect time to watch some of the classic films we may have missed seeing at the theater during the busy school year.
Movies can be very inspirational for kids as they watch creative ideas come to life on the big screen — which makes it a great way to entice them to do a little science, math & engineering too.
Whether you're a family with movie nights or an educator looking for ideas for your students, you'll LOVE some of these creative, out-of-the-box activities that get kids thinking, exploring and having fun with science, technology & engineering! We're including affiliate links to each of the movies & a few of our favorite STEM items along with links to all the excellent projects!
So get the popcorn ready & let's experiment 🙂
BigHero 6 STEM Movie Activities

We really enjoyed the science & technology ideas in Big Hero 6 — so many creative and 'futuristic' items that will peak the kids' interest to experiment!
Create Your Own Tinker Box & Make 'Baymax' Robot Puppets
Make your own Chemistry Concoctions — Inspiration Laboratories
Make Oobleck & create a chemical reaction — Maker Mom
Explore robotics with this Robotic Arm Edge kit!
Harry Potter STEM Activities

The cross-over between magic and science really comes to life in many of the Harry Potter films (the early ones are best for younger kids).
Set up an Outdoor Science Lab and experiment like Harry Potter & friends do in Potions class!
Learn about physics, sight and sound with this Harry Potter Spells & Potions Activity set!
Create your own Invisible Ink so writing to just 'appear'! — Fun a Day
Blow up a Balloon & Blow out a Candle with this 'magic' trick!
And the Scientific Explorer Magic Science for Wizards Only Kit is sure to be a hit too!
The LEGO Movie Engineering Projects

It's not just all fun & games with The LEGO Movie — as Lego lovers will tell you, there are quite a bit of science & engineering in all that building!
Create a LEGO Catapult — Science Sparks
Engineer a way to pour your cereal for breakfast! — Hands on: As We Grow
Design a LEGO Zipline — Little Bins for Little Hands
Build a LEGO Balance Scale — Frugal Fun for Boys
Honestly, any type of LEGO Kit is awesome for engineering and a great item to pair with the movie!
Science & Math Activities for Frozen Movie

If you can get the kids to stop singing the songs from Disney's Frozen long enough to try a few of these cold science activities, they'll enjoy exploring the idea of 'frozen' fun! This Disney movie will inspire LOTS of science experiments & STEM activities for young children!
Elsa's Ice Melting Experiment — Little Bins for Little Hands
Fun Math Learning about Fractals — Crafty Moms Share
How to Make Artificial Snow — In the Playroom
Frozen Water Magic Science — Preschool Powol Packets
Plus kids will love learning the science behind ice with this Light-up Crystal Growing Kit!
Star Wars Science Activities & STEM Ideas

The key line in the movie — "May the Force Be with You" — screams science & physics! But there's also so many other ways to learn with the Star Wars movies!
Create the Star Wars Galaxy with this fun math activity!
Light Saber Glow in the Dark Slime — Little Bins for Little Hands
Lego Star Wars Yoda's Swamp — Epic Fun for Kids
Explore levitation like a Jedi with this Star Wars Science kit.
R2D2 Perler Bead Patterns — Brain Power Boy
Creating Star Wars 'Fizzy' Landscapes — Planet Smarty Pants
And kids will also love learning to create electrial curcuits with the Death Star Electronics Lab too!
Wreck It Ralph

And yet even more Disney themed science & STEM activities! Since Wreck It Ralph was more of a computer/tech movie, you can look for some great coding activities kids will enjoy!
Making a Mentos/Soda Eruption — East Coast Mommy
Play this IF-THEN Backyard Coding Game — Left Brain, Craft Brain
Explore a few of these Coding Unplugged Games to introduce kids to computers — Brain Power Boy
The Code Master Programming Logic Coding Game is also a great way to introduce computer programming concepts to kids!
More Movie & STEM Activities for Kids
9 Totally NOT Boring History Movies with Activities
12 Movies that Will Inspire Kids to Tinker
12 Diverse STEM Books for Kids