A fun party game for kids, tweens and teens! An easy party game for kids, tweens, teens and even adults that can be played inside or outdoors with no mess to clean up!
So many kids love sensory activities from preschoolers to teenagers!
Yep, even older kids (have you seen the slime craze?!)
Touching, squishing and running their fingers through all types of items helps to extend their learning and it's just plain fun too.
It's not always possible to have messy play as an option. And sometimes, you want to keep kids guessing with an activity — they do love surprises plus it enhances their critical thinking skills.
So what's better than a game, right!
Party Game for Kids: Mystery Sensory Balloons
This Mystery Ballon game is perfect for birthday parties, backyard get-togethers or even a secret sensory science experiment for a classroom.
This game mixes sensory play with logical reasoning skills — and it can be a fun way for some not-so-messy sensory fun too!
My kids LOVED playing with these balloons — both as a guessing game and just for fun. The sensory aspect makes them fun 'stress-relief' items and each child can choose which one they enjoy squeezing the most.
Here's how we made the balloons and some ideas for game set-ups along with affilaite links to items we used in the process.
Game Prep: Filling the Mystery Balloons
Choose a variety of ingredients that can be used to fill a balloon. No need to blow up the balloons — just add items using a funnel.
Try to include items that might feel similar, such as sugar and salt, so that kids have to really think as they play with each balloon.
You can also use this as a Minute-to-Win-It game and give each person only 1 minute guess what's in each balloon.
Here's a list of items you can use for the game:
shaving cream (we like Barbasol for these activities because the can has a spout!)
whipped cream (from a can)
Note: flour didn't work for us at all — it was too light so we weren't able to pack enough into the balloon since it didn't compress like the other ingredients.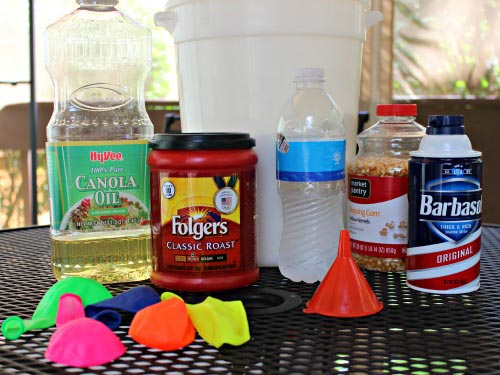 A few tips when filling balloons —
Use a funnel for items such as sugar, salt, popcorn, etc. to easily fill the balloons.
If you want to fill balloons with liquid items, double the balloon before filling (we had one burst on us so better safe than sorry 😉
Don't put any air in the balloons — just the ingredients you want to use. This allows them to stay flexible and maliable when the kids are squishing them around in their hands.
We found that the latex smell of the balloon will mask the scent of many ingredients so kids may not be able to use their sense of smell to detect what is in the balloon.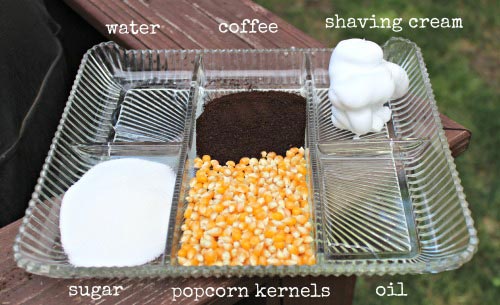 What's in the Balloon Party Games
This can be a great activity for kids of all ages.
For younger kids, show them each ingredient that was used to fill the balloons and then have them guess which balloon holds which of the ingredients. You can allow them to touch or only look at the ingredients displayed on the tray (your choice) before they feel each of the filled balloons.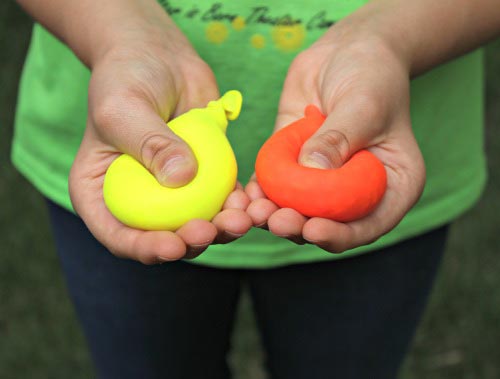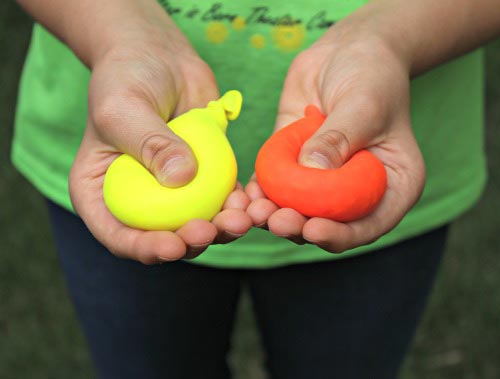 Older kids will enjoy guessing what's in each balloon without having any idea of the ingredients used (similar to that throw-back Halloween 'What's in the Box' game where you would stick your hand in the box and get creeped out at parties 😉
And older kids also love this as a Minute to Win It game – set a timer to see who can correctly identify the most substances in the balloons in under a minute!
Ask kids which item they would prefer in a sensory ball (believe it or not, we all have a different sense of touch so different items will be appealing to kids).
And then have them describe what they are feeling — expand those brain muscles so they come up with something other than 'squishy'.
Are the balloons hot or cold?
Lumpy or smooth?
Which are easier to move around in your hand?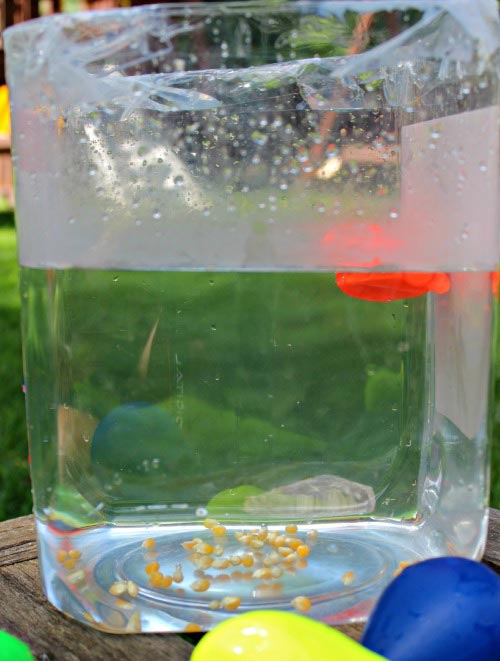 Sensory Activity & Science Experiment
You can also add in a little science by showing kids that all the items in a balloon will float (because they are surrounded by the latex/rubber) whereas individual items will sink or float in a large tub of water. And it's a great science & sensory activity for the classroom too.
You can see in our experiment that individual popcorn kernels sink while the orange balloon filled with the same amount of popcorn kernels will float — I know, pretty cool!
All that fun learning wrapped up in a little plastic balloon 🙂
More Games & Party Ideas for Kids:
31 Printable Halloween Games & Activities
A Percy Jackson & Greek Gods Party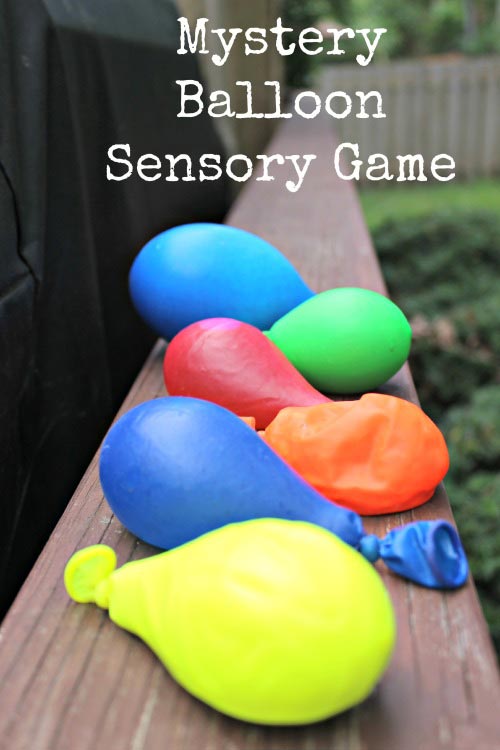 You may also like:
25 Coffee-scented Activities for Kids