Make February memorable with these fun & easy Valentine's Day Scavenger Hunt ideas for kids!
Our original Valentine's Day Scavenger Hunt sends kids & families outside to look for love together.
And although I love this activity — I also know that the weather in February can be a little sketchy (currently, we are in the middle of our third ice storm of the season!) So these *NEW* Valentine Scavenger Hunt Ideas can be done INDOORS!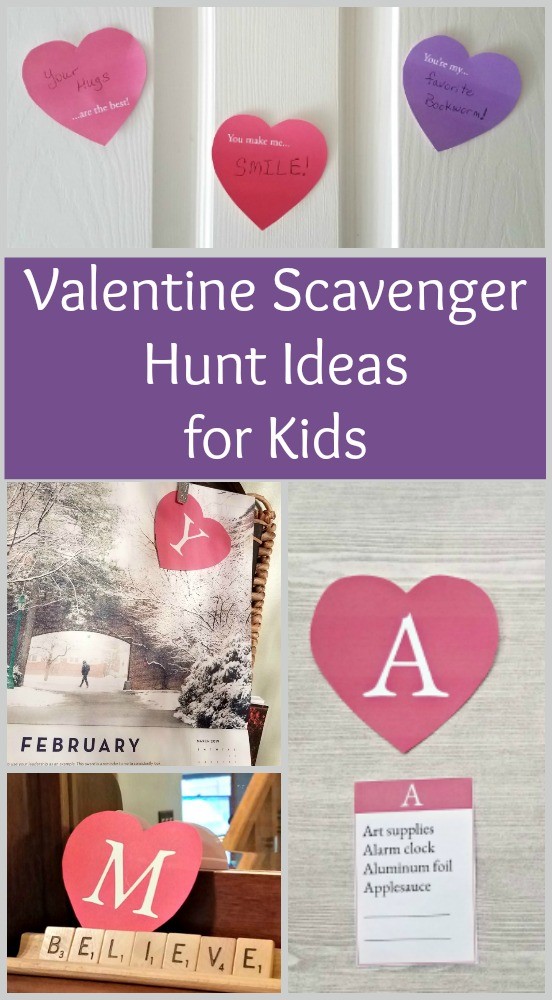 Indoor Valentine Scavenger Hunt & Love Message Ideas
Get kids to burn off some extra energy as they hunt down clues for a Secret Valentine or use the Love Message Hearts to share all the things you love about them this week!
We've packed a whole LOT of fun into our newest printable pack!
Because Valentine's Day isn't just about the candy 😉
It's about having fun with those you love, spending some time together as a family and (let's be honest) an 'official' holiday to hug & kiss your kids!
The Valentine's Day Activity Pack includes 5 activities for kids:
2 Scavenger Hunt activities
A set of "I Love You Because … Message Hearts"
our free set of Valentine Coupons for Kids
and the printable Valentine Volcano cards & science activity that kids can give to their friends!
We've got a whole lot of love for you this month!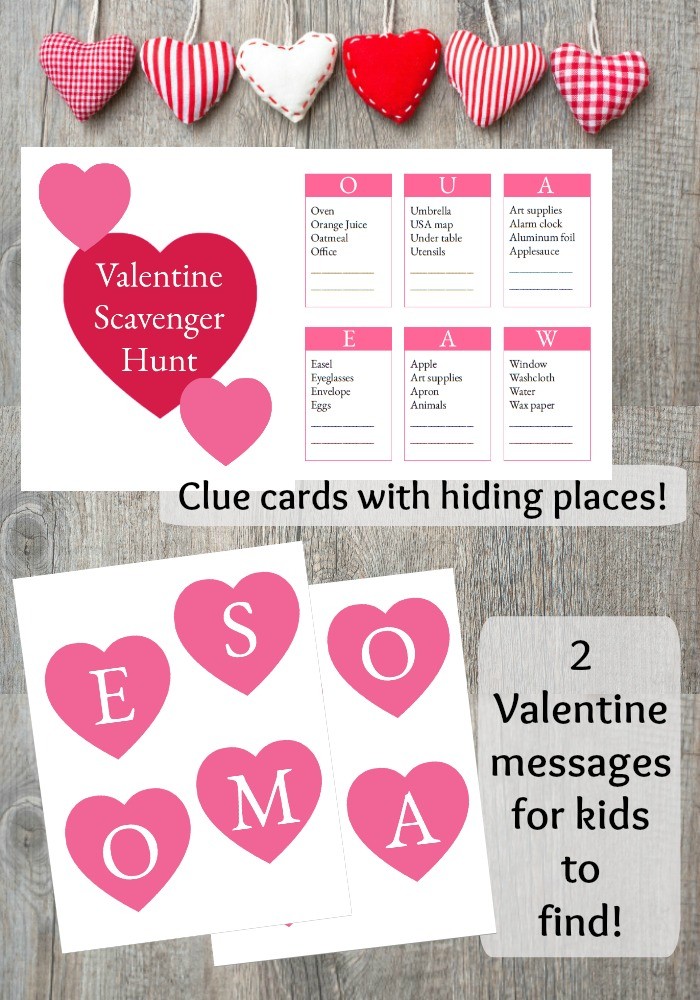 Valentine Scavenger Hunt with printable Clues!
The Valentine Activities Pack actually includes 2 Valentine Scavenger Hunts!
The Red Scavenger Hunt includes hearts that spell out the message: You're My Lovebug!
The Pink Scavenger Hunt has heart-shaped clues that spell out the message: You Are Awesome!
This is such a great activity for so many reasons!
It's super easy to do!
Younger kids can practice their letters and early reading skills while they hunt for clues.
Kids of all ages can burn off some energy inside!
You can customize the hunt for ALL ages (see tips below!)
Each scavenger hunt consists of hearts with letters on them. Hearts can be hidden near objects around the house that begin with that letter.
Kids search for the hearts and then put them together to create a Secret Valentine message!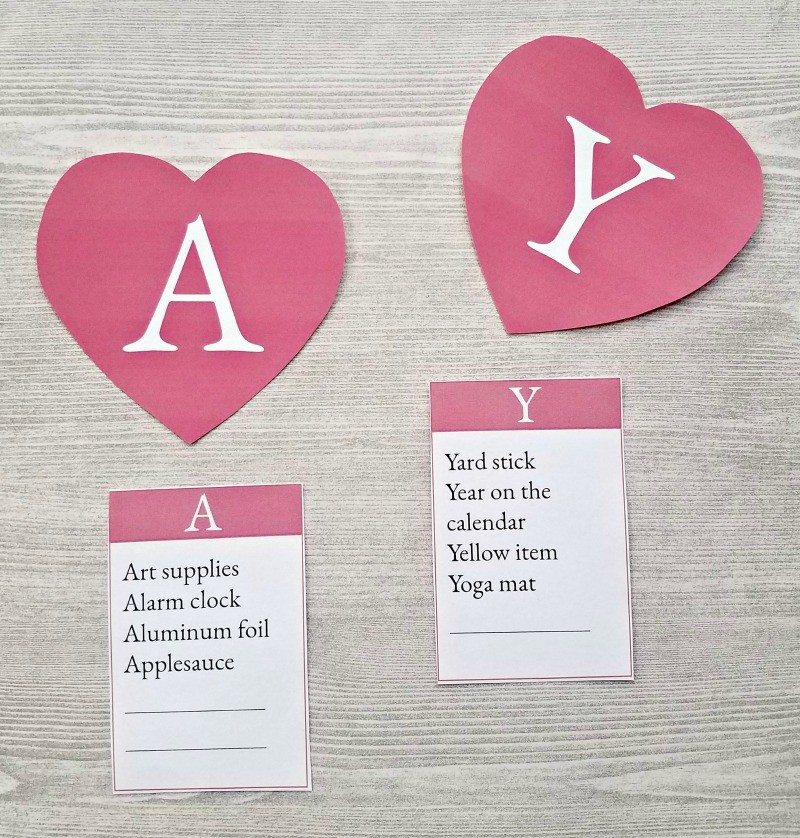 Where to Hide Valentine Secret Message Clues
There are 14 hearts for each scavenger hunt + Hiding Places cards for each hunt in the Valentines Day Pack.
~ Print Hearts on white paper or cardstock.
~ Cut out each Message Heart you plan to use.
~ Use the Hiding Places Clue Cards to choose where you will hide each heart.
If you'd like to make it easy for kids, circle the location on the cards as a 'clue'. If you have older kids, give them the Hiding Places cards without any circled items – which would require them to search in ALL the places listed on the card 😉
Yep, that may take a little time but when you're stuck inside with the February bad weather, all we have is time, right!
I've also included a blank space on each card so you can fill in your own hiding places too!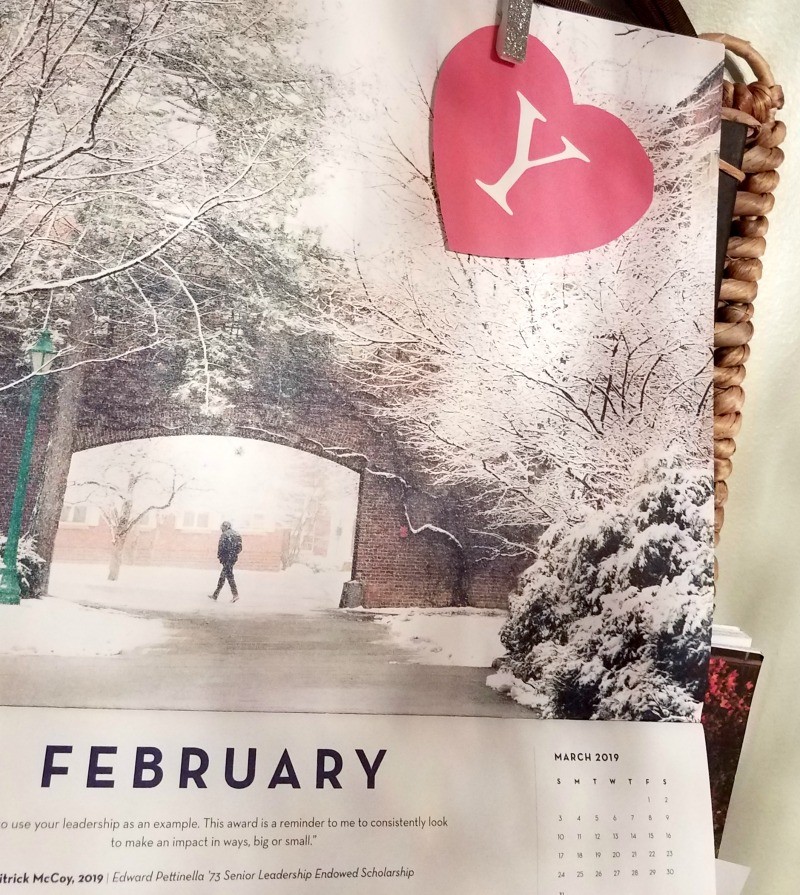 Valentine Scavenger Hunt Ideas
There are LOTS of ways you can do these 2 Valentine-themed Scavenger Hunts!
One Hunt or Two! You can give kids the Clue Cards in the order of the spelled message OR give them the whole sheet of clue cards at once and let them sort the hearts into a message once the hunt is over 😉
For Toddlers & Preschoolers: Read the list of possible hiding places for each letter and have them seek out each heart.
For Older Kids, Tweens & Teens: Have them look for hearts near objects that begin with each letter BEFORE reading the possible hiding places.
For Kids of Any Age: Print off the Hiding Places pages and let them search for hearts based on the locations listed under each letter! (remember, if you choose this option to play, be sure you didn't circle the location when you hid the hearts 😉
For a Shorter Scavenger Hunt: If you only want to hide a few hearts, just choose the ones that spell out "Lovebug" or "Awesome".
Customize your Scavenger Hunt: We've included quite a few letters within the hunts (along with blank hearts) BUT you don't need to use them for the words or phases we give you — pick new words to hide for the activity!
Printable Love Message Hearts
You'll also find a set of "I Love You because…" message hearts in the Valentine's Day Activities Pack.
Message Hearts are a fun & easy way to let your kids know how much you love them!
These can be used as a scavenger hunt (just hide them around the house) or as a fun surprise for your kids.
Honestly, I've created them to be open-ended so they could be a fun surprise for anyone (leave a few for your spouse, have kids give them to grandparents or friends, etc)
Print Message Hearts on white paper or cardstock.
Cut out each Message Heart you plan to use.
Fill in hearts based on the prompt given.
I've included 7 hearts with prompts and 5 blank hearts for you to fill in with your own ideas & messages!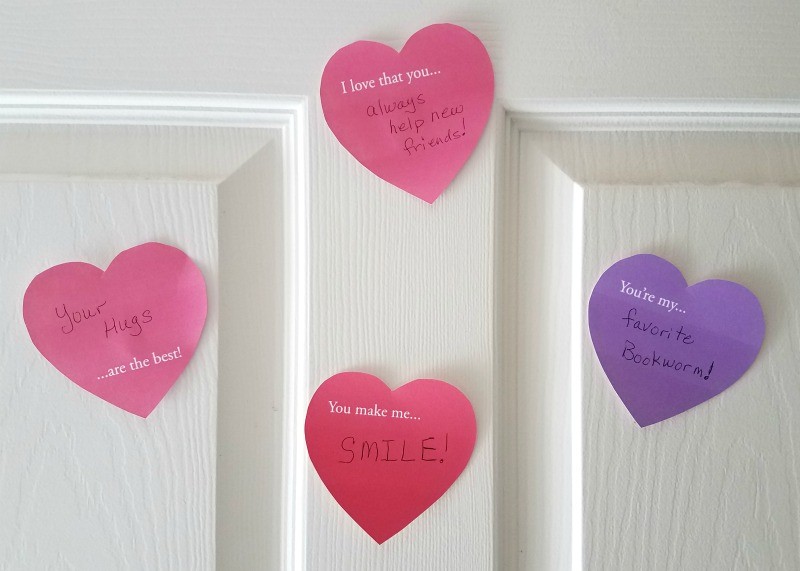 Ideas for Giving Love Message Hearts to Kids
Hearts can be given to kids in a number of ways:
1. Hide them around the house for a Valentine's Day Scavenger Hunt!
2. Tape them to their bedroom door each night so they wake up to a new message each morning.
3. Tuck them into their lunch each day.
4. Leave them at the breakfast or dinner table to read during meals.
5. Tape them to your front door so kids will see the messages when they return home from school.
6. Put them on the bathroom mirror so kids see them when they go to brush their teeth (another incentive to get them to remember to brush their teeth 😉
So many creative & easy ideas to show some extra love for Valentine's Day!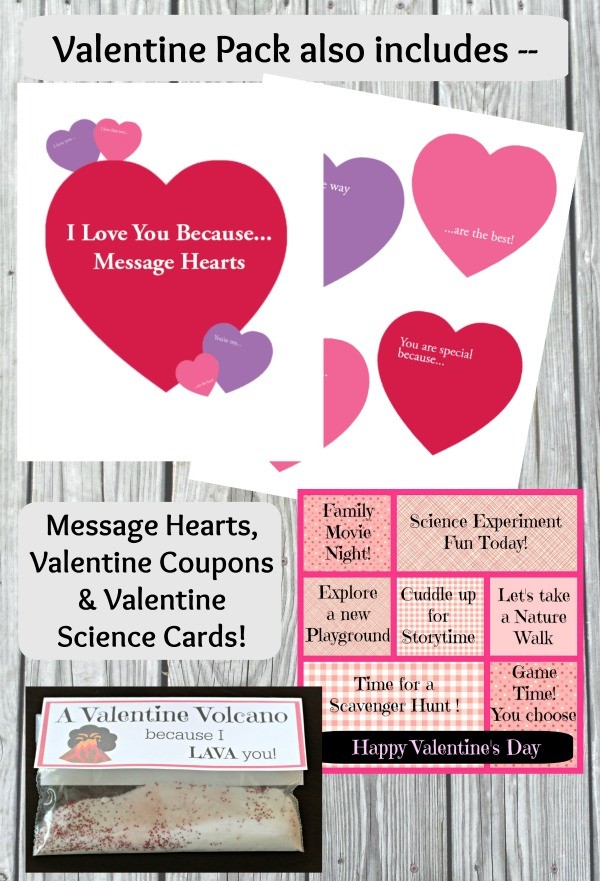 More Valentine Surprises for Kids
And a BONUS for You: The Valentine Activities Pack also includes some of our subscribers' favorite activities too!
You'll receive all 5 Valentine activities for ONLY 1.99 — way less than you'd pay for a regular Valentine card at any store!
Grab your pack NOW & spread some love!!
More Valentine's Day Ideas for Kids: