Fun ideas for easy Valentine Box Ideas that are the perfect to use as easy card holders for class parties!
Sometimes I think it's the minor holidays that might put me under as a Mom!
Take February for example — why is it that EVERY set of boxed valentines includes 24 cards when my kids ALWAYS have 26 kids in their class!? I solved that challenge by finding a great selection of Free printable Valentine Cards for Kids — print off as many as you need 😉
Now for the next challenge — coming up with a creative idea for the Valentine Box – you know what I mean, right? Some unique holder to corral all those wonderful cards & candy treats kids get at class parties.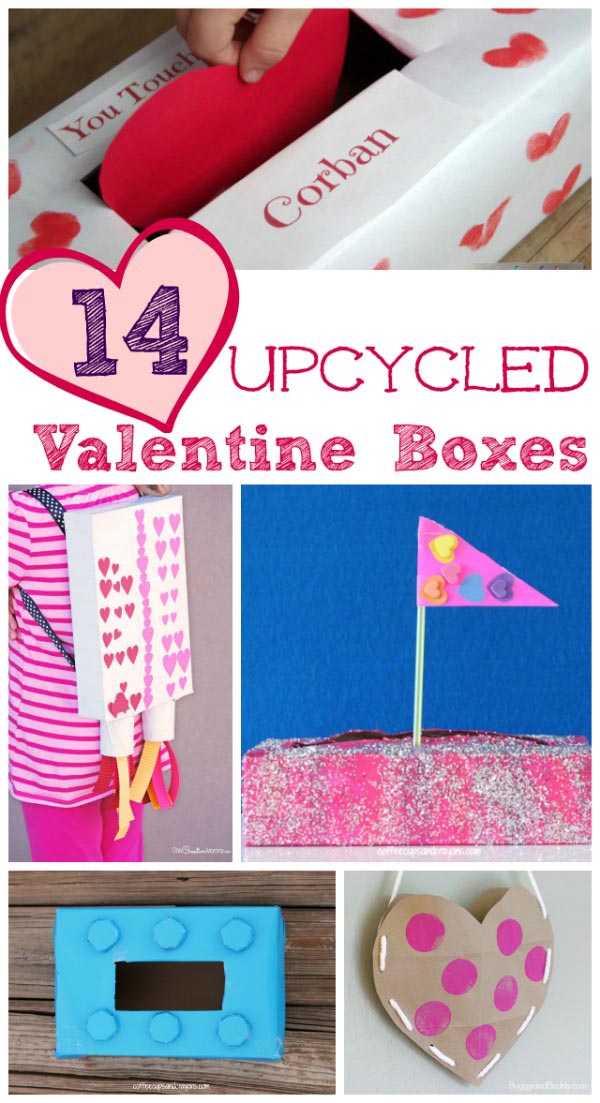 14 Unique Valentine Box Ideas & Creative Card Holders
I'm sure you're intimately familiar with the idea of the Valentine card holder — the place where all those precious & somewhat sentimental cards will be deposited during the school party. My kids read & re-read those cards quite a bit in February (it's actually one of our Valentine's Day family traditions).
According to most kids, the Valentine Box —
Has to be Cool!
Has to be different from all the others!
And it has to be able to hold all the cards and candy!
According to Mom, it has to be something that the KIDS can put together 🙂 AND it has to be made using items we have from around the house. And most teachers would like it to be small enough to fit on their desk or table area for the day (so no ginormous collection containers please!)
A creative recycled art project that doubles as something kids can work on after school is the perfect option so try one of these ideas along with some of our favorite decorating items which we're sharing with affiliate links.
To inspire your kids, we have rounded up some of the most creative Valentine Card Holders you ever did see! With a little ingenuity, it's easy to turn an oatmeal canister or a tissue box into the perfect collection bin for those class parties using paint, colorful ribbons, glitter glue, Valentine stickers and a little imagination!
Easy Valentine Card Box Ideas for Class Parties
I'm sure you have an extra box somewhere in the house — whether it be a cereal, tissue or plain cardboard one, turn it into the perfect collection bin with these colorful ideas!
Calling all space fans! Try this Rocket Booster box that can be carried on your back | One Creative Mommy
Check out the cute & fuzzy Sloth Valentine's Day Card Box or this insanely adorable Octopus Valentine Box | Michael's Crafts
Adventurous kids will love this Crocodile Valentine Box or this Shark Valentine holder — warning: they may bite 😉 | The Joy of Boys
Target has some adorable DIY Valentine Box Kits kids can put together (dinosaur, unicorn & shark themes!) – for $5 and less!!!
Turn a tissue box and some ribbon into an easy DIY Bandana Box | Edventures with Kids
Create a Valentine Boat using an old tissue box to hold your cards | Coffee Cups & Crayons
I love this Thumbprint Heart Box! | Meaningful Mama
'Brick' lovers will adore this LEGO-themed Valentine Box | Coffee Cups & Crayons
Monster Boxes are super cute and with the free printable, super easy too! | One Creative Mommy
Everyone will know who this Personalized Cereal Valentine Box belongs to when they're handing out valentines | Meaningful Mama
And here's another easy & creative idea — glue old valentine cards to the outside of any box and use it for this year's card holder!
Unique Valentine Card Holders
If you're looking for a way to think outside the box (totally pun intended 😉 try a few of these other ideas that use bags and bins instead!
Recycle a wipes container into Cupid's Mailbox | Sunny Day Family
Turn a plastic bottle into a Pineapple Valentine Box | Kids Creative Chaos
If you have a large plastic bin, turn it into a Minion Valentine box | The Joy of Boys
Only have a paper bag handy? Make a Valentine Heart Card Holder that can hang on the back of a chair | Buggy & Buddy
And I just adore this Hollow Tree Valentine box made from an old oatmeal canister | Pattern Shmattern
And if you're still looking for Valentine ideas, check out these 50+ Ideas for Non-Candy Valentine Treats for Kids in our Amazon storefront – perfect for attaching to your cards!

Looking for more Unique Valentine Ideas?

Valentine Books & Activities for Kids
Valentine Scavenger Hunt & Activities Pack for Kids