Kids, tween, teens & adults with enjoy this Easter Charades Game with free printable cards (including blank ones to customize)!
We love quick & easy printable Easter games and activities on hand for the holiday! Especially ones that bring the whole family together for lots of laughs 🙂 This set of seasonal charades can be played in person or as a virtual game if you're celebrating with family online this year.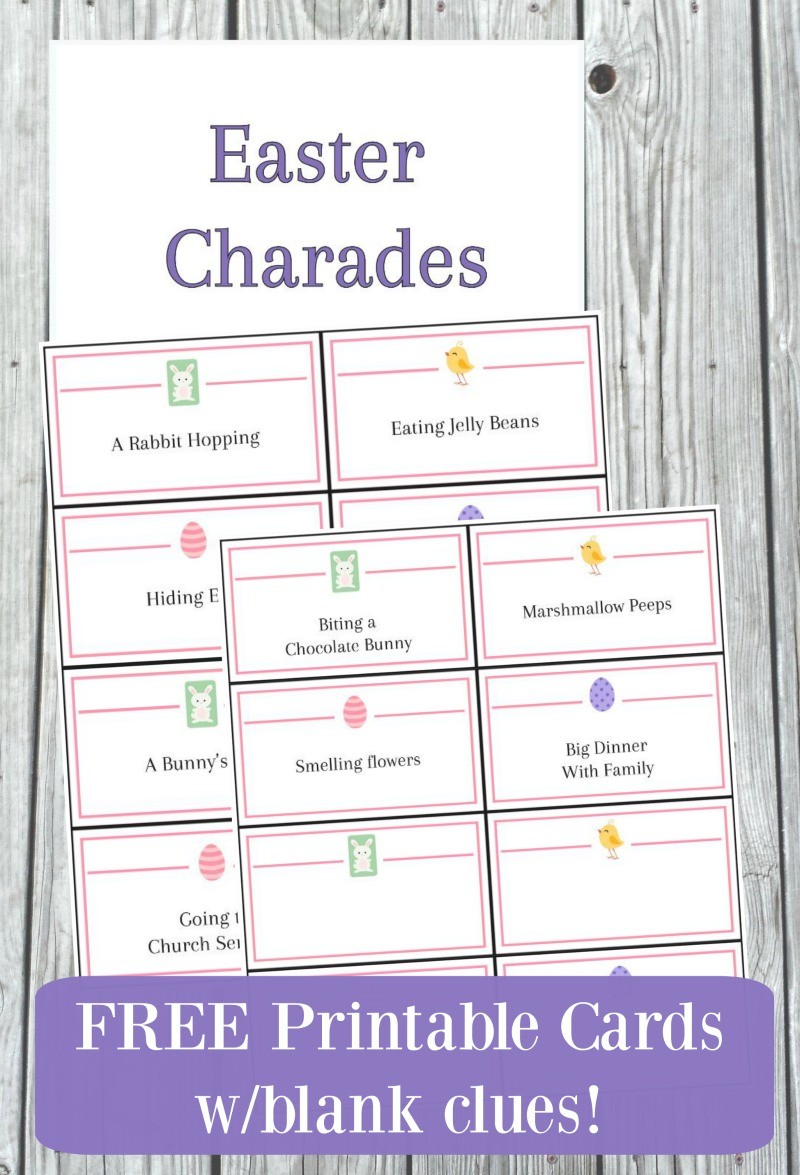 Easter Charades Game with FREE Printable Cards
I LOVE these "get off the couch" type of games — especially for family holidays!
Perfect if your kids have a little too much energy (or have eaten a few too many jellybeans 😉
Kids enjoy the 'surprise' of which item they will choose & then trying to act it out for the family.
Tweens and teens actually let down their guard when playing and adults also love to get involved — because they're aren't too many games that we can play with all generations together, right?!
Similar to the Holiday Charades game & cards, these are perfect for family gatherings, class party or just something fun to do on the weekend. The cards are free to print, easy to play and perfect for thinking on your feet!
This is also a quick game to have on hand for when the kids are squirrly and we need a way to 'round up the chaos' as I say. And it's easy to play either inside or outdoors too!
Below you'll find a set of FREE Easter charades cards for you, directions on how to play the game and affiliate links to a few items we used to prepare our game at home.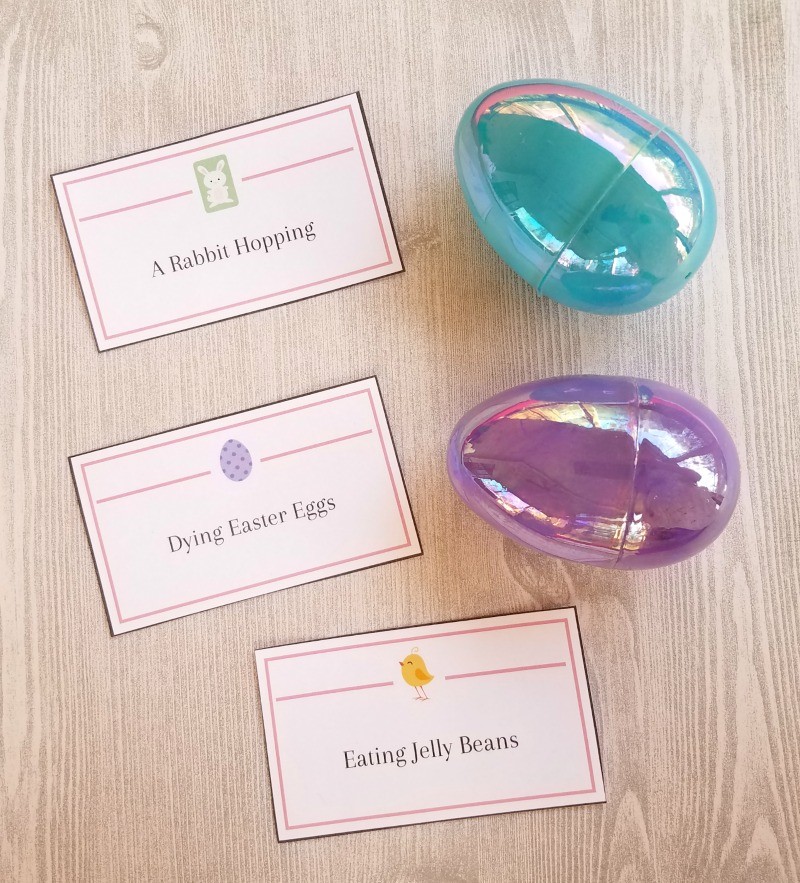 Easter Charades Cards
To prep the game:
Grab your FREE set of Easter Charade cards below
Cut out each of the clues
You could even turn this into part of your Egg Hunt activity too! Just add the clue cards to plastic eggs and hide them — after all the eggs are found, each person can open their eggs and act out the clues.
We have two sets of printable Egg Hunt clues if you like this idea — see the FREE printable Indoor Egg Hunt Clues that work in any home or the Outdoor Egg Hunt with printable clues that work in a backyard, park or outdoor area!
And if you need some non-candy egg stuffer ideas, try these Printable Easter Egg Coupons for Kids, Tween & Teens — just pop them inside an egg with one of the charades cards and you're good to go!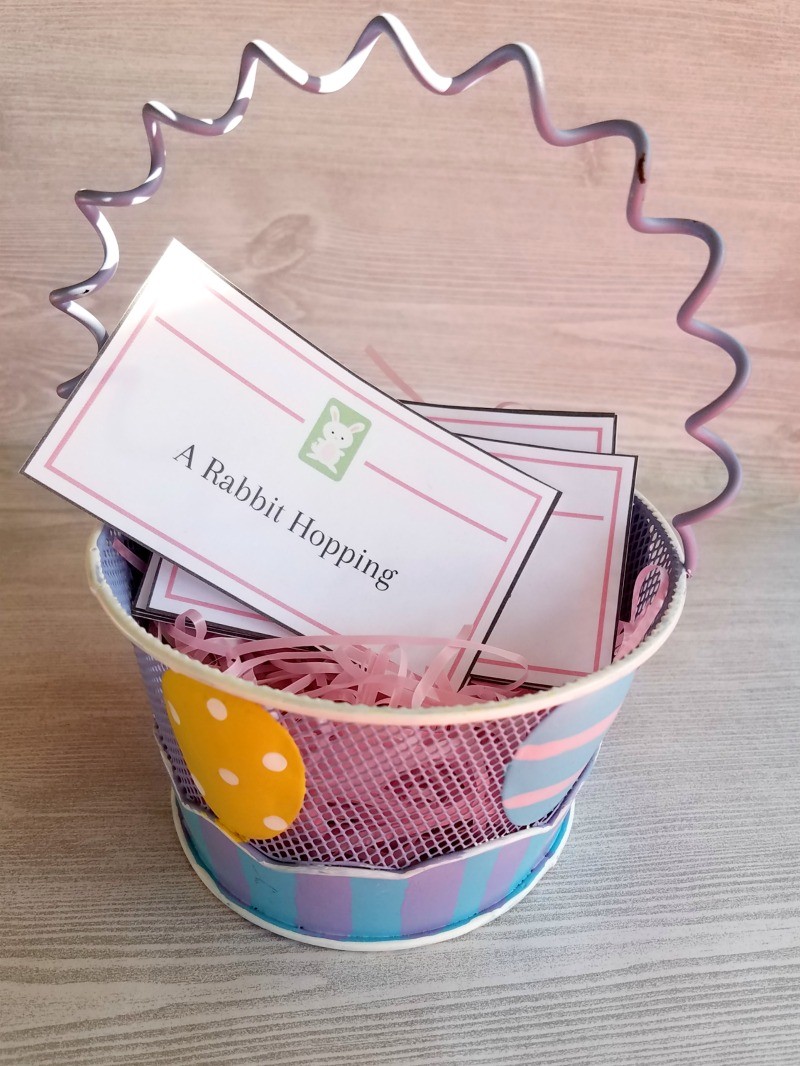 How to Play Charades
Here's a quick refresher if you haven't played charades in a while —
Each player chooses a slip with a Easter-themed word on it (we put ours in a small Easter basket 😉
Without saying the word or talking, the player must act out the word for others to guess.
Whoever guesses the item correctly earns the next turn to choose a word!
If you want to be sure everyone gets a turn, just allow each player to choose a card instead of allowing the person who guesses the item to take the next turn.
This can also be quickly done as a pictionary-style game. Instead of acting out the word or phrase, each player has to draw the item!
If your kids have an easel in the house, that would work great! Or use a large drawing pad so everyone can see while the picture is being drawn. And if you choose to play outside, sidewalk chalk would work great too!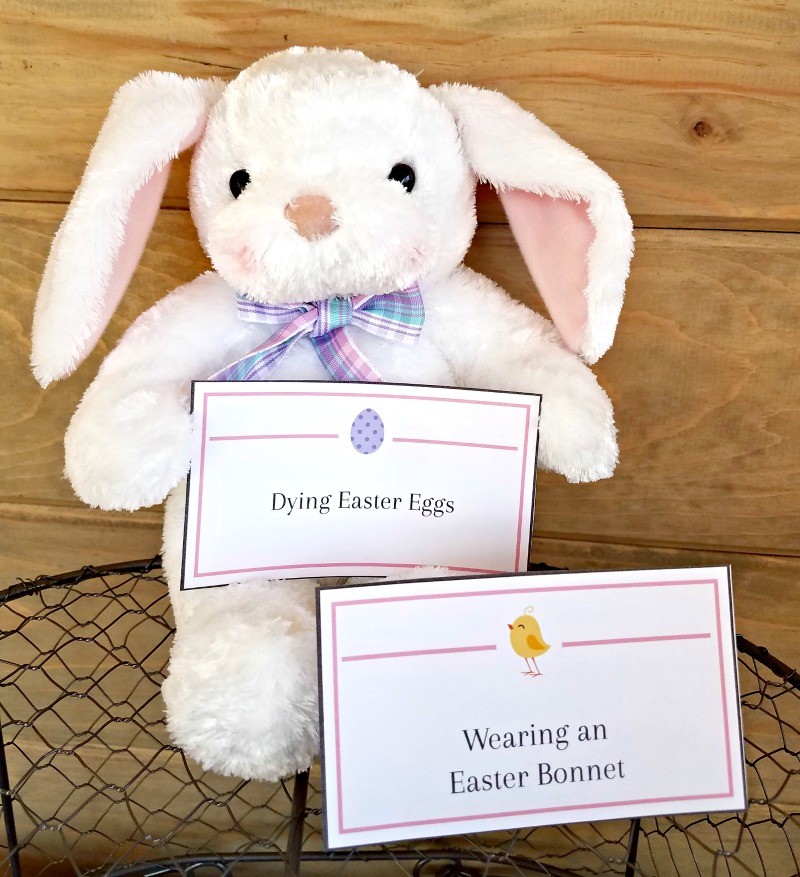 Easter Charades Word List
We wanted to include some traditional Easter and Spring items as clues along with other activities that might be a little harder to act out or guess.
Can you image your family trying to act out "marshmallow peeps"?!
Here are the words & phrases included in this set:
A rabbit hopping
Eating jellybeans
Hiding eggs
Dying eggs
Wearing an Easter bonnet (I secretly hope my son gets this one – not sure if he even knows the word bonnet 😉
A bunny's tail
Going to church services
A chick hatching
Biting a chocolate bunny
Marshmallow peeps
Smelling flowers
Big dinner with family
The printable Easter Charades set includes 12 color-coded cards with clues PLUS 4 blank cards so you can fill in your own words too.
A super FUN after-dinner activity to get everyone up and moving, right!
Enjoy the game and Happy Easter to you & your family!!
More Fun Easter Activities:
Outdoor Easter Egg Hunt (with printable clues!)
50 Non-Candy Ideas for your Easter Baskets