Have some fun this holiday with this Christmas Charades Game & Pictionary Word Cards!
There are SO many opportunities for fun during the holiday season — family gatherings, classroom parties, winter break days when the kids are home with no scheduled activities!
Holiday charades and pictionary games are super easy to set up and loads of fun for kids, tweens, teens & adults to play. I love to have some quick & easy games on hand so we're ready to kick back and enjoy time together.
And this week, we've got not one but TWO sets of Christmas-themed games for you to double the fun!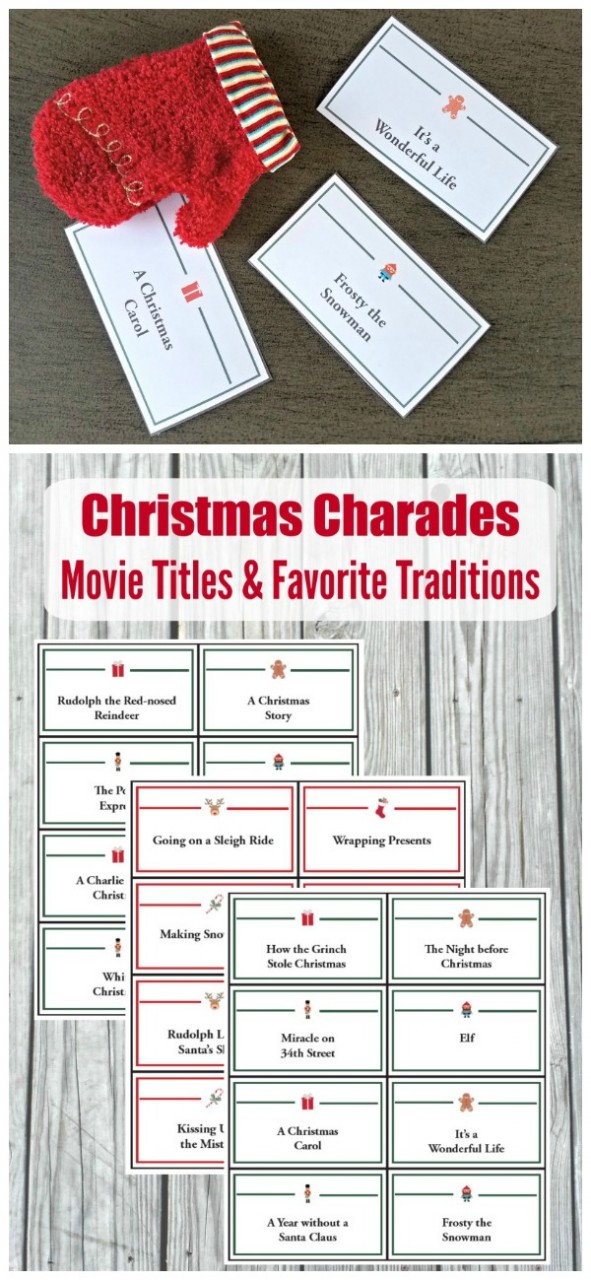 Christmas Charades Game & Pictionary Word Cards
First, I'm going to warn you —
Charades and pictionary games can be a little addicting 😉
Kids just LOVE them especially on cold days when they have extra energy to burn off and need some fun indoor activities.
Tweens and teens actually let down their guard when playing (although there's still is some eye rolling but that's usually directed at the adults who are trying to act out some amazingly simple word in a ridiculously difficult way).
And adults — well, we just love spending time together with family.
Or better yet — having a quick & easy game on hand for those classroom parties or play dates when the kids are squirrly and we need a way to 'round up the chaos' as I say.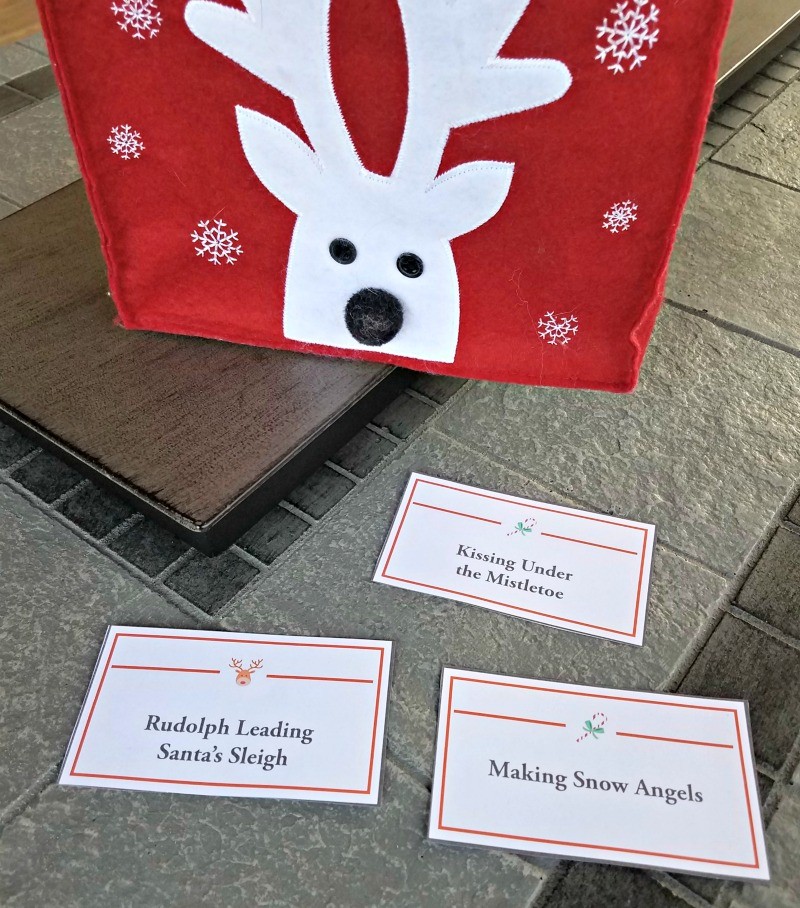 Printable Christmas Charades Game: Movies & Holiday Traditions
This Christmas Games pack includes 2 sets of cards for Christmas Charades & Christmas Pictionary plus directions for how to playing both games!
Similar to our "What's the Lyrics?!!" charades game, these cards can be used interchangably — for either charades or a pictionary drawing game.
The printable pack includes 32 color-coded charade & pictionary cards with clues PLUS 16 blank cards so you can fill in your own words too.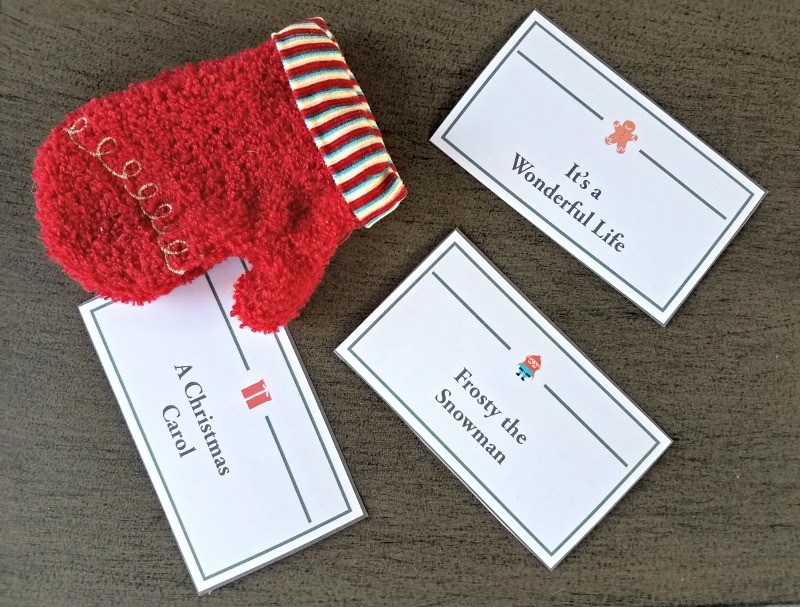 Set 1 includes Charade clues for Christmas Movie Titles from popular holiday films!
We included both kids' movies like Frosty the Snowman, traditional holiday films like It's a Wonderful Life along with some lesser known films that everyone should watch such as Emmet Otter's Jugband Christmas (a family favorite at our house)!
The Christmas Movie Charade cards are outlined in green and include 16 movie titles + 8 blank cards so you can add in your favorite films titles too!
Maybe your family loves to watch Heidi during the holidays.
Or all the old Rankin & Bass classics (like the Heat Miser, Snow Miser – which is really called "The Year Without a Santa Claus") — you'll find a few of these favorites on the cards but not all of them which I why we included the blank cards too.
And I did not include Die Hard as a Christmas movie!
It's an ongoing debate at our house – my husband is convinced that Die Hard is a holiday movie — I do NOT agree 😉
But if it's a 'Christmas' movie at your house, put it on the blank cards 😉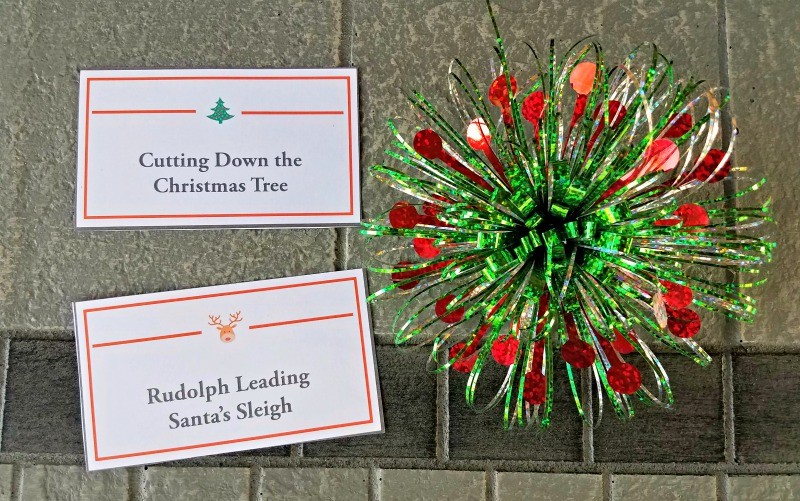 Christmas Pictionary Words & Cards
The second set of Christmas Charades/Pictionary cards is a list of favorite holiday traditions and activities.
Items like cutting down the Christmas tree or going on a sleigh ride.
And we made sure to include some challenge ones in this set too!
Can you image your family trying to draw "kissing under the mistletoe"?!
I always hope that my teenager gets that one 🙂
Or "Making a snow angel"!
Inevitably, someone always guesses 'jumping jacks' — and then someone else says 'jumping jacks? what does that have to do with Christmas?'
See what I mean – funny!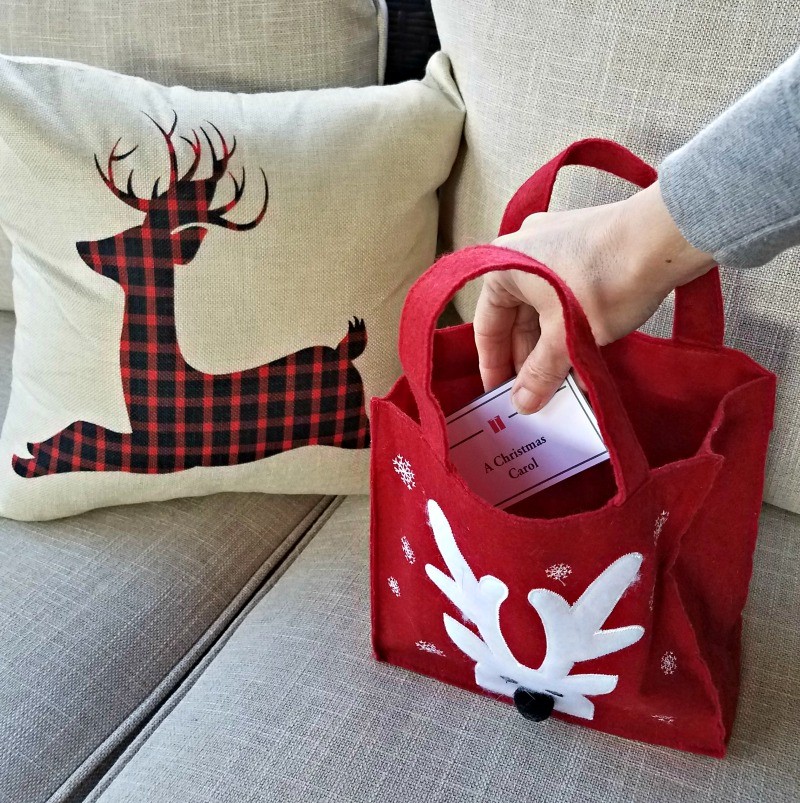 You can use each set of cards on their own or mix & match so that no one knows if it's a Christmas movie or holiday tradition.
We like to put our Charade cards in a Christmas-themed bag or Santa hat so players need to reach in to get a card (no peeking that way!)
Like the pillow in our photo? It's a buffalo plaid reindeer pillow cover I put on our porch pillows for quick decorating 😉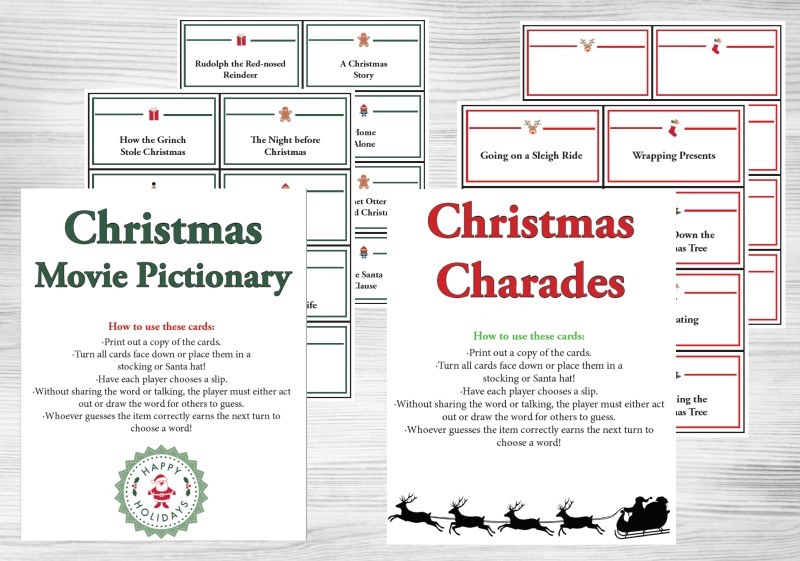 Both sets of cards come in the Christmas Games pack, each is color-coded so you can easily sort and play.
The pack also includes details on how to play both games — charades & pictionary — in case these are new to you.
PLUS you'll also receive the blank cards for both sets so you can customize the game for your family or party.
And they're ON SALE NOW so grab them quick & enjoy!!

More Christmas-themed Games
12 Christmas Minute to Win It Games for Kids & Adults