Enjoy some time inside with this holiday & winter themed charade or pictionary game for kids and families – a fun and easy printable Winter-themed game!
This week, I've realized that winter is coming. Scratch that – winter is here (at least in most of the country) which means more time inside.
The temperatures have dipped so low that getting outside is sometimes difficult even for a nature loving girl like myself.
So it's always good to have some fun indoor activities ready & waiting – great for rainy days or frigid temps!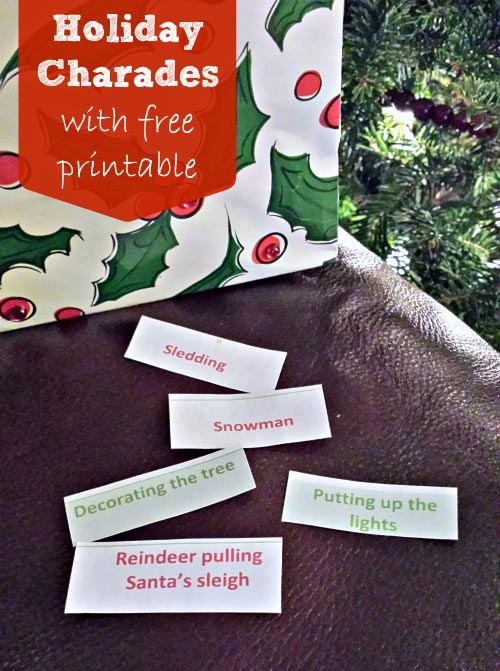 Indoor Winter Games: Charades & Picture Drawing
Baby it's cold outside and you're stuck in the house with your kids – what's a family to do?
Why not play a game!
We've got a FREE printable for you today (easy-peasy, no-prep, drop-of-a-hat type of game) along with LOTS of other fun ways to entertain the family and affiliate links for a few of our favorite indoor items too.
This is also part of our 12 Days of Christmas Activities if you're looking for more fun ideas for enjoying holiday time with your kids.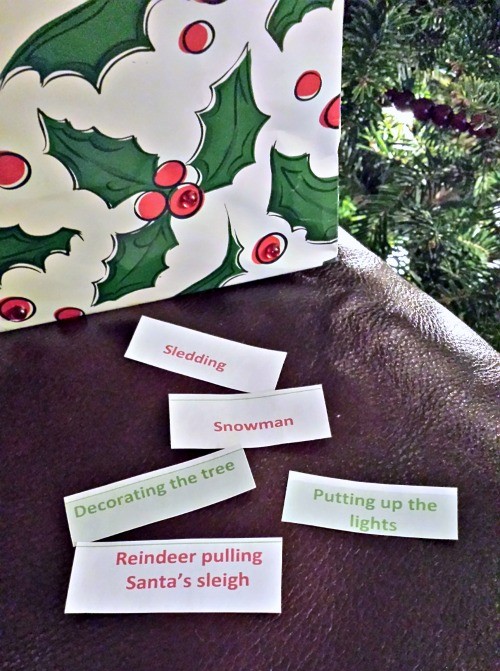 Holiday Charades or Pictionary
Grab some paper or a dry erase board (we just used the whiteboard on our art easel) with some makers and you can play this fun, energetic winter game.
I'm sure you've heard of Charades and Pictionary, right!
Well, this game can be used both ways.

(Tip: If the kids are squirrely, I would definitely recommend the Charades version of the game to burn off some energy!)
Just in case you aren't familiar with the rules,
Without sharing the word or talking, the player must either act out or draw the word for others to guess
Whoever guesses the items correctly earns the next turn to choose a word!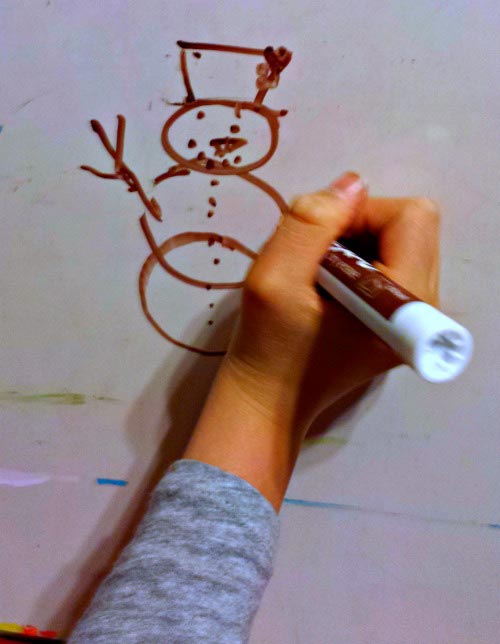 Super easy, super fun & usually super funny!

I mean, have you ever tried to draw a 'blizzard' on a white piece of paper?!
Or act out the word 'snow'?!
It will keep your kids thinking as they bend their brains to guess the right word or twist their mind to think about how to draw each clue.
One word of advice: have your phone with you because you will certainly want to snap a few pictures of the act!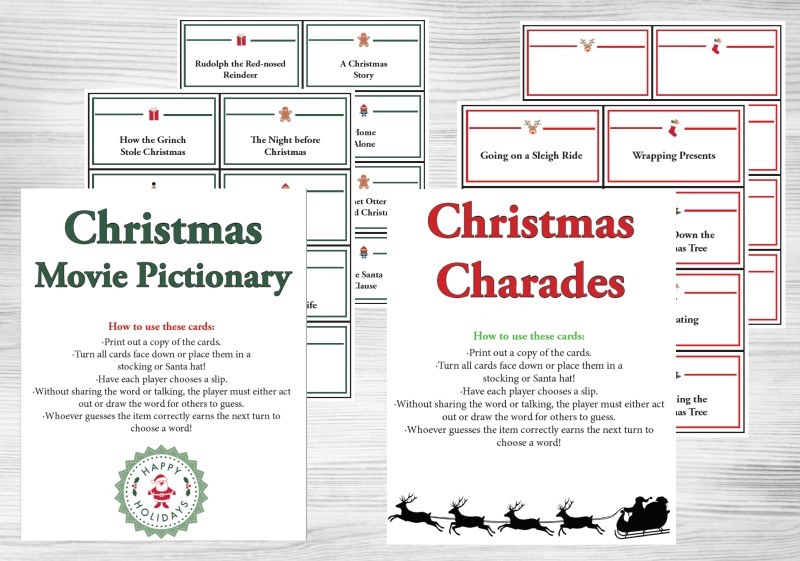 Christmas Charades & Pictionary
We also have a great set of 2 Christmas charades & pictionary cards if you're looking for quick and easy fun for family gatherings & classroom parties!
The first set includes 16 Christmas Movie Charades/Pictionary cards for favorite holiday films (both kids & adults will love these!) + 8 blank cards so you can add in your own movie titles too!
The second set is LOTS of fun — popular Christmas traditions & activities!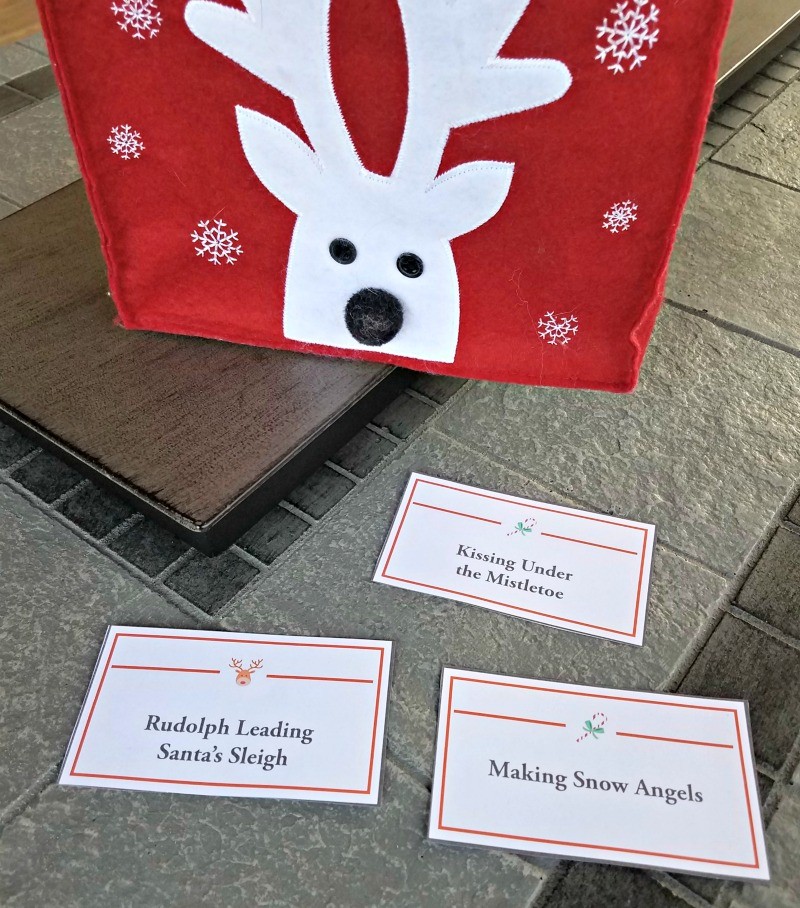 Can you image your family trying to act out "kissing under the mistletoe"?! Or "Making a snow angel"!
Both sets of cards come in the Christmas Games pack, each is color-coded so you can easily sort and play PLUS you'll also get blank cards for both sets so you can customize the game for your family or party.
And they're ON SALE NOW so grab them quick & enjoy!!
Printable Charades & Winter Words Pictionary Cards
Here's the free set of winter words – print them off and cut them into strips.
Then put them all in a stocking, festive bag or Santa hat so each person can choose which word they will draw or act out.
And if you're looking for more festive activities this holiday, see our 12 Minute to Win It Christmas Games for TONS of family fun!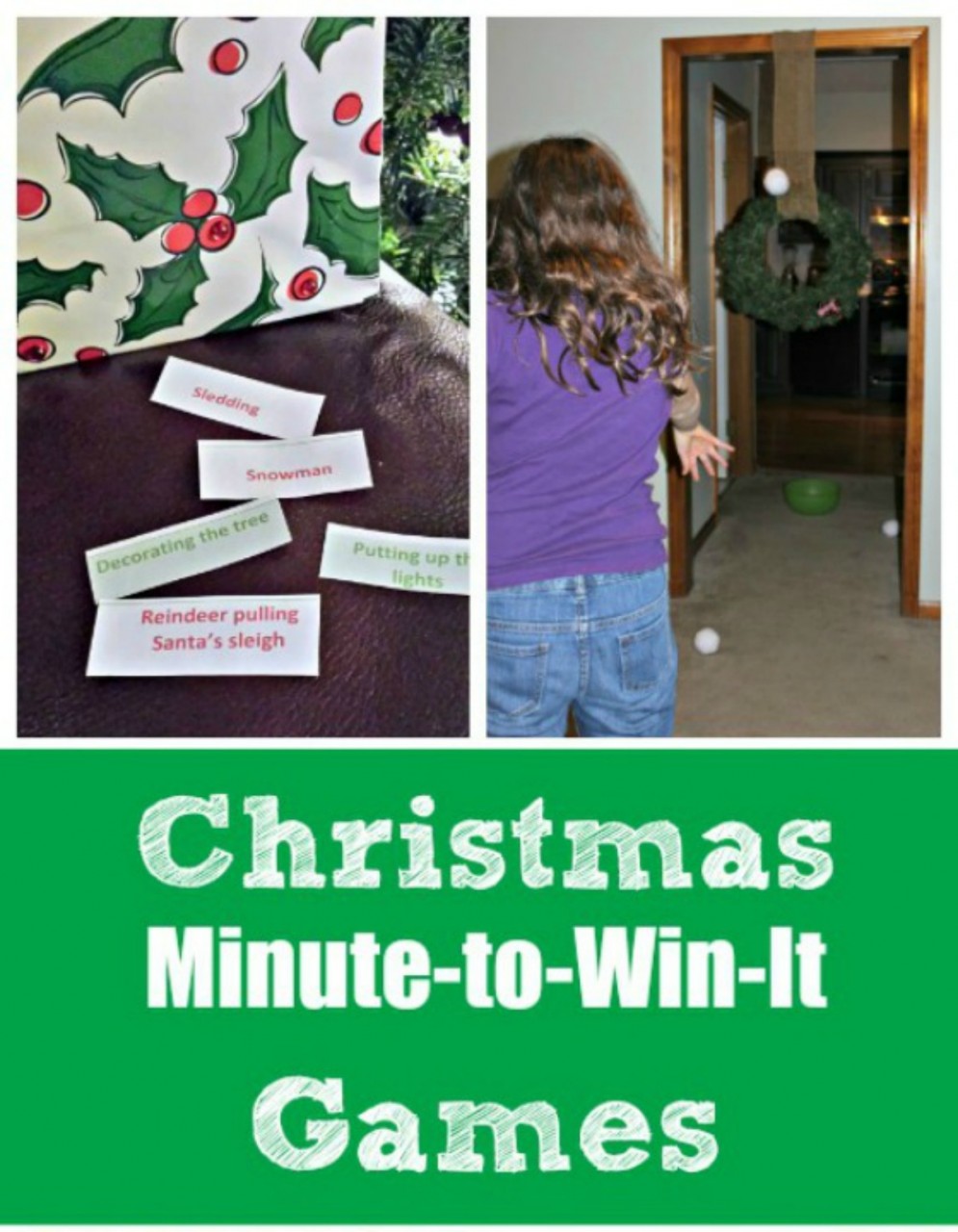 More Indoor Winter Games & Activities
Need more ideas to keep the kids busy on those snowy or rainy days? Try these fun games & activities to beat cabin fever!
30 Free Printable Winter Games & Activities – more no-prep paper games to keep the kids busy!
How to Have an Indoor Camp-out – always a great family activity especially on school breaks.
Gingerbread Man Scavenger Hunt – easy Math game with free printable game pieces.
25 Ways to Slow Down & Enjoy the Holidays – because family time is THE best during the holidays!
Or try some of these 25 Free Printable Christmas Games & Activities!