Enjoy these New Year's Eve Countdown Activities — a great way to ring in 2023 with your family!
A fun way to spend New Year's Eve at home is to host an hourly New Year's Eve countdown with your kids. This is a great family tradition to start and one kids will remember for years to come!
And we have everything you need in the *NEW* printable New Year's Eve pack — an hour-by-hour countdown chain, printable 2022 "Best Memories" & 2023 Goals pages and an AWESOME list of fun & easy activities!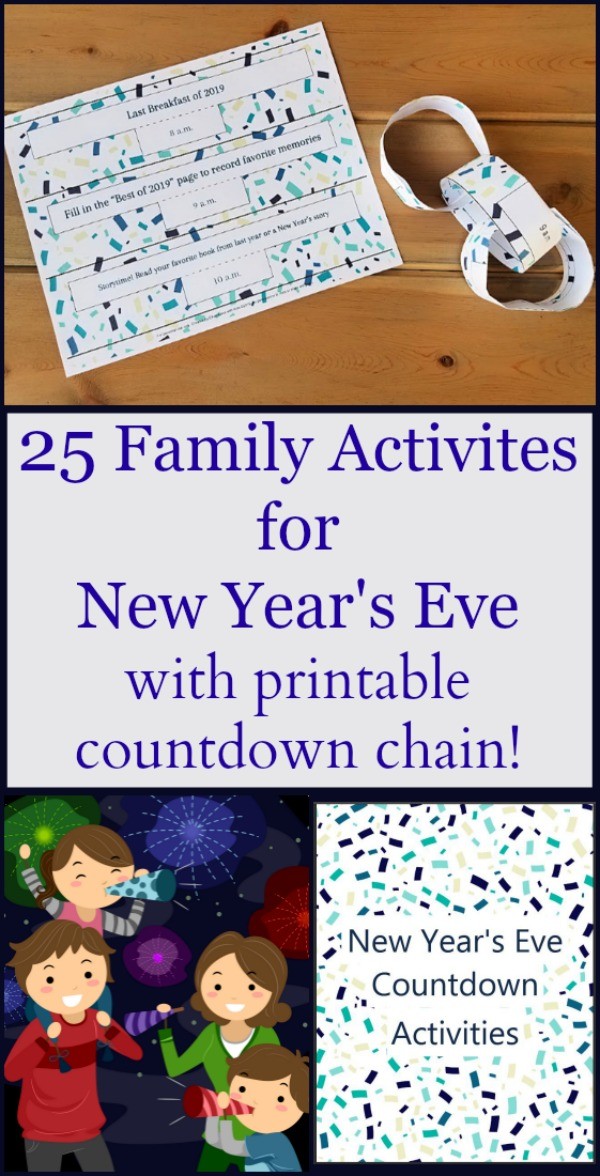 New Year's Eve 2023 Countdown Activities for Kids & Families
The New Year's Countdown is back and updated for the 2022/2023 celebration!!
While starting new family traditions are always a fun idea, this year is an ESPECIALLY good time to begin one. Many families will be celebrating the new year at home instead of out at traditional parties or gatherings.
We have everything you need for an AWESOME (and easy!) New Year' Eve Countdown including:
14 pre-printed paper chain links with countdown activities,
Editable paper chain links that you can customize with your own traditions & activities,
More than 25 New Year's Eve ideas for families to enjoy together — pick the ones you like most!
A list of New Year's books & movies for kids and families,
A sample Countdown schedule with supply list,
Ideas for New Year's traditions from around the world,
A FREE printable 2022 Best Memories activity and
A FREE printable 2023 Family Goals page too!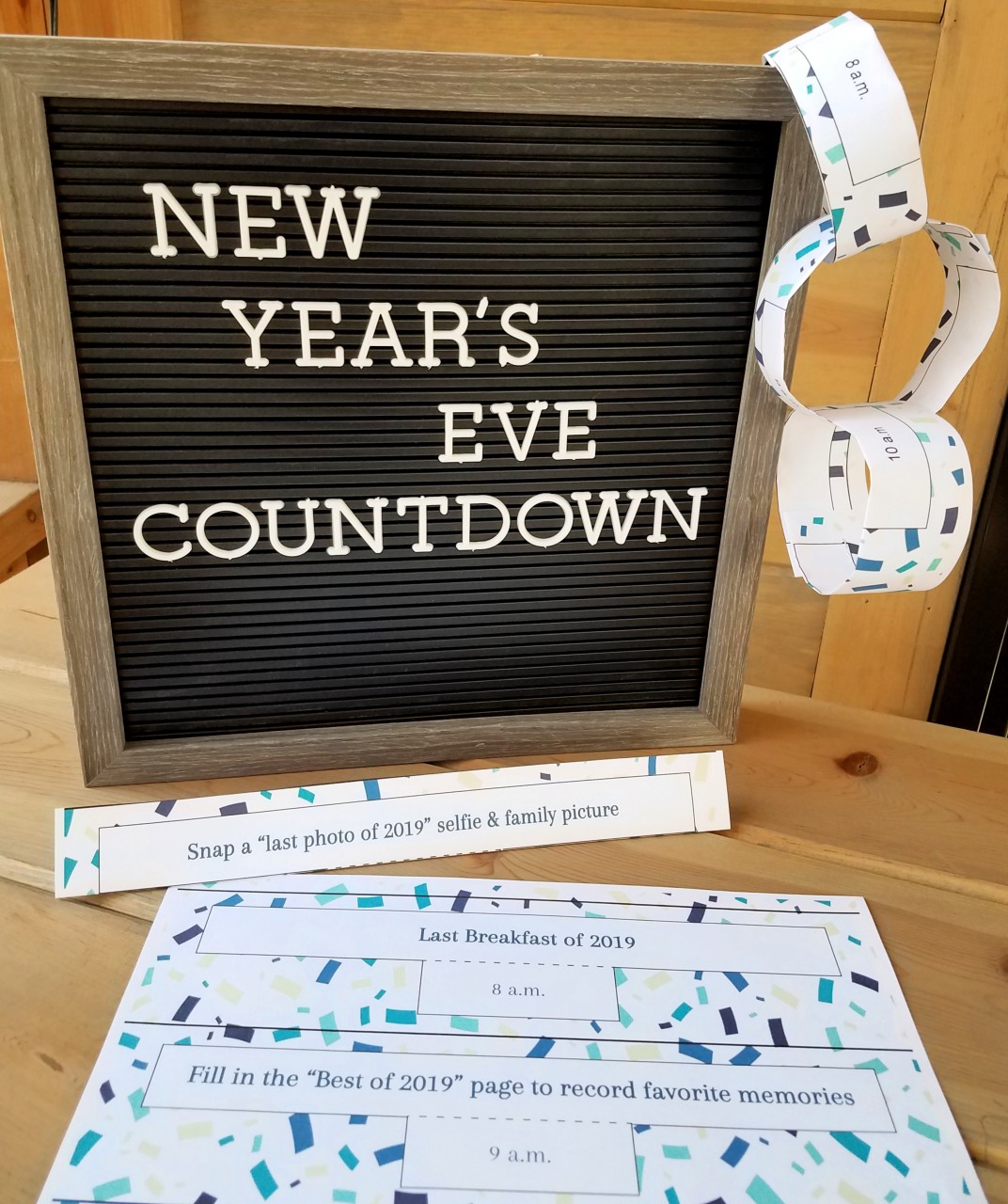 ** Don't worry – all the printables are updated for 2022/2023!! This is a photo from the previous year 🙂
Family Friendly New Year's Eve Activities for 2023
Each of the printable chain links includes an activity and a time — once you print the links, they are folded in half so that the activity stays secret (shhh!) and only the time will show on the outside of the chain.
To set up your chain, download your printable New Year's Eve Activities pack & read through the countdown activities and times. We've already set up a sample countdown that can be done right out of the box (easy peasy!) So decide if you'd like to do the countdown as is, add additional activities or change the time for activities.
ALL times on chain links are editable! So you can easily make it fit your schedule!
If you'd like to start the countdown at 12 noon and do an activity every half hour, just adjust the times to fit. You can also add additional activities using the editable chains included in the pack too. Maybe your family has a super special activity you do every New Year's Eve (like a New Year's Eve craft or some fun New Year's Eve games to play together) — just type it into one of the blank chains and print!
Pair the countdown with some of these awesome New Year's party decorations and a few super fun games for a New Year's Eve celebration and you'll have a great night!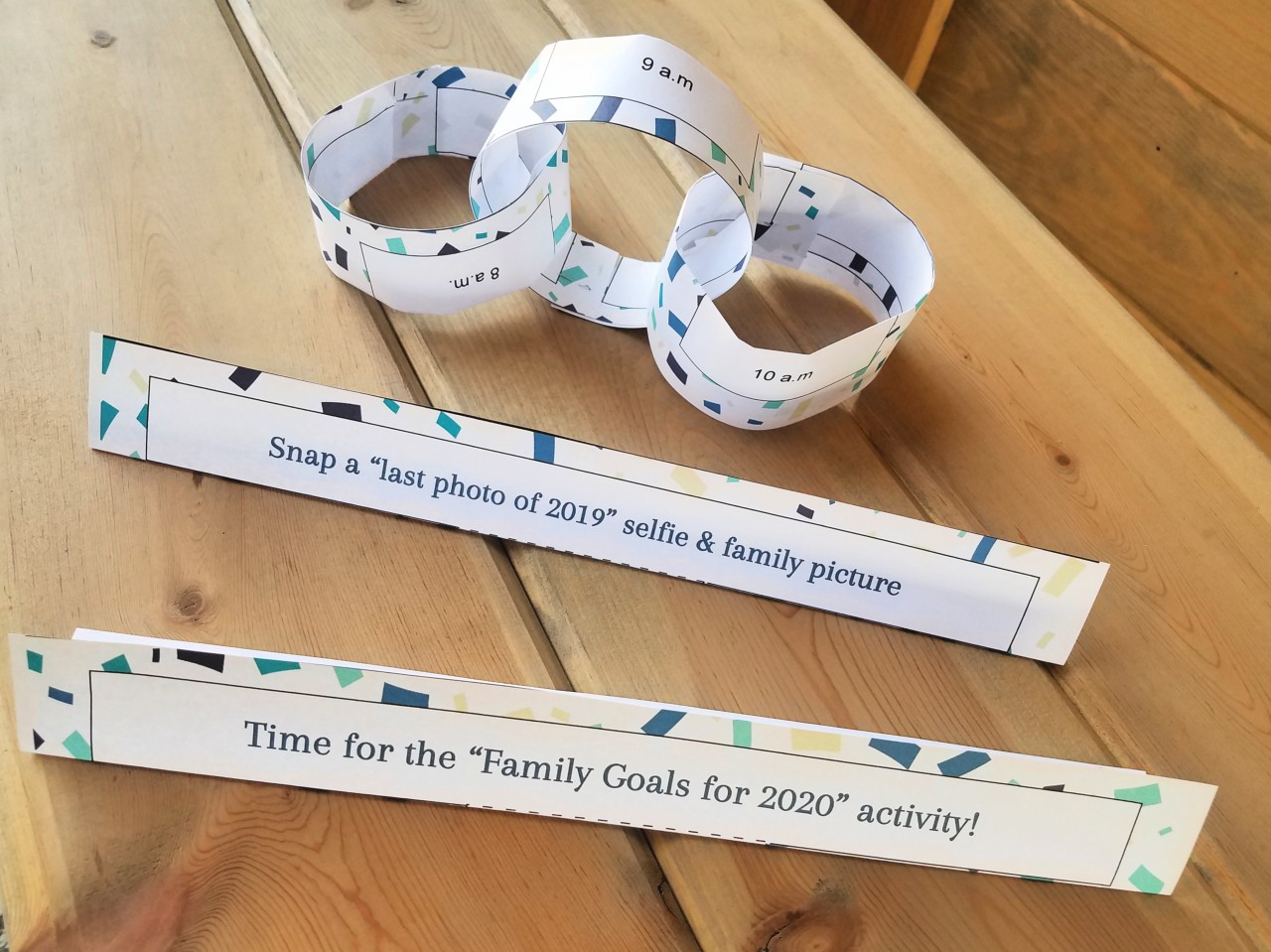 Hourly New Year's Eve Countdown Activities
We've include a Sample Schedule on chain links which can be edited to fit your family's day and customs! PLUS, you'll find more than 25 FUN and easy ideas to include in your countdown too!
Countdown for the entire day (for example, one activity each hour from breakfast through your New Year's celebration!) OR edit the links to include the time you'll spend together on New Year's Eve. If parents are planning to go out for the evening, host your at home countdown from 9 am to 5 pm with the kids!
Here's a few of the easy family activities you'll find in the pack:
Enjoy a Last Breakfast of 2022
Fill in the "Best of 2022" page to record favorite memories (FREE printable included in the pack!)
Storytime! Read your favorite book from last year or a New Year's story
It's midnight somewhere – check a map & time zones to learn what countries are currently celebrating the New Year!
Snap a "last photo of 2022" selfie & family picture together – take one regular photo & one of everyone in a mask 😉

You'll also find a list of New Year's traditions from countries around the world too!
For example:
Serve round fruit with lunch – in the Philippines, fruit like kiwi, oranges, melons and apples represent prosperity for the coming year!
Pack a suitcase & walk around the block – which signifies that you'll be traveling in the coming year.
It's a fun way to celebrate New Year's Eve with your family and ring in 2022 while also learning about customs across the globe! (If your kids enjoy learning about different cultures, be sure to explore our 30 Kids Picture Books about Countries & Cultures Around the World!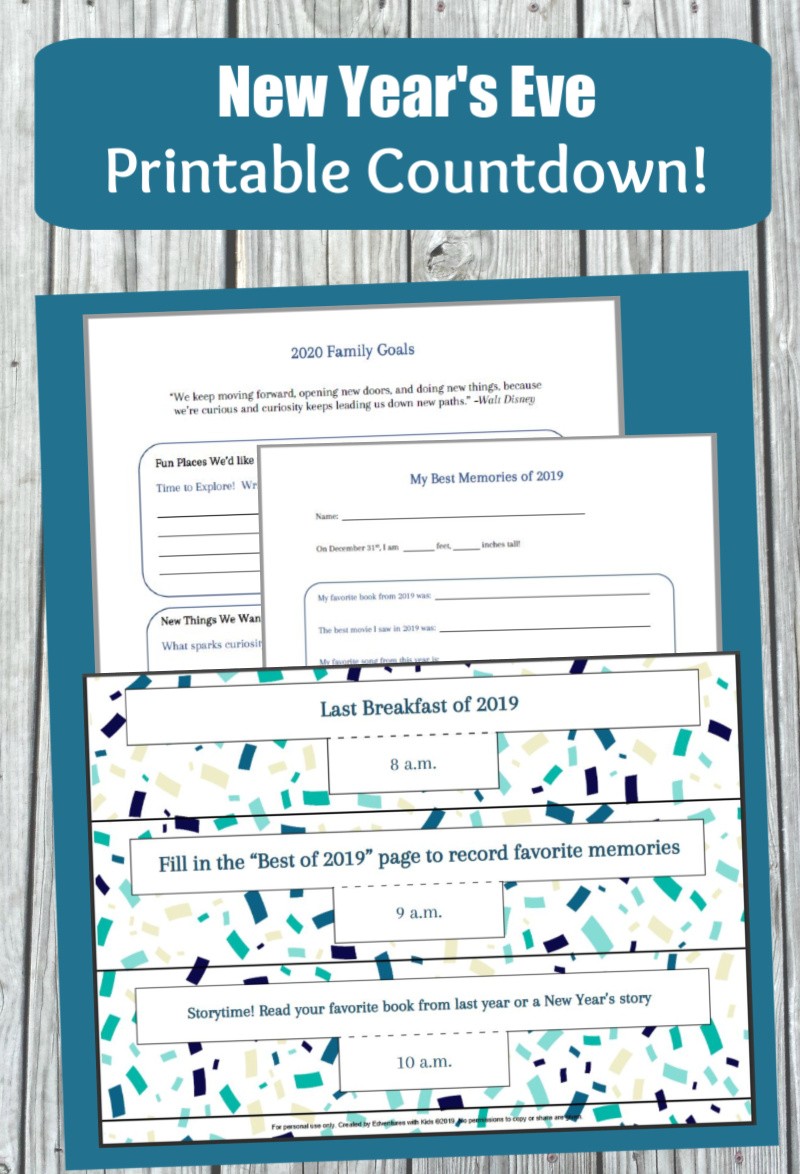 Best of 2022 Memories & New Year Family Goals printables
You'll also find some AWESOME printable memory pages in the pack too!
I know you might think it will be hard to recall some good memories this year but trust me, it's a year that we should try to remember because it will be one to go down in the history books.
We've included a "Best Memories of 2022" — each member of the family can fill in their own page and then share it with everyone.
And a Family Goals for 2023 page — which kick-starts a great discussion about what your family wants to do in the coming year!
And YES! This countdown can also be a New Year's DAY countdown too! Many of the ideas included can be done on January 1st so if you already have plans, you can still enjoy the first day of the new year together as a family.
PLUS, you can use this printable pack EVERY year — just add in your activities and print for a yearly family tradition!
So what are you waiting for?!
It's ON SALE NOW so grab it quick & enjoy ringing in the New Year together!!
Wishing you a very Healthy & Happy New Year & blessings in the New Year ahead!
More New Year's Eve Activities:
12 Free Printable New Year's Eve Games & Activities