One of our fun winter traditions is a set of New Year's Eve activities and countdown for kids & families to enjoy home!
Kids love a celebration (although most won't stay awake long enough to see the ball drop in Times Square) so these fun ways to bring in the New Year are perfect for families!
With these super fun activities, you can start your New Year's Eve countdown anytime during the day — make it an all-day activity or just an after dinner countdown until your kids are ready for bed.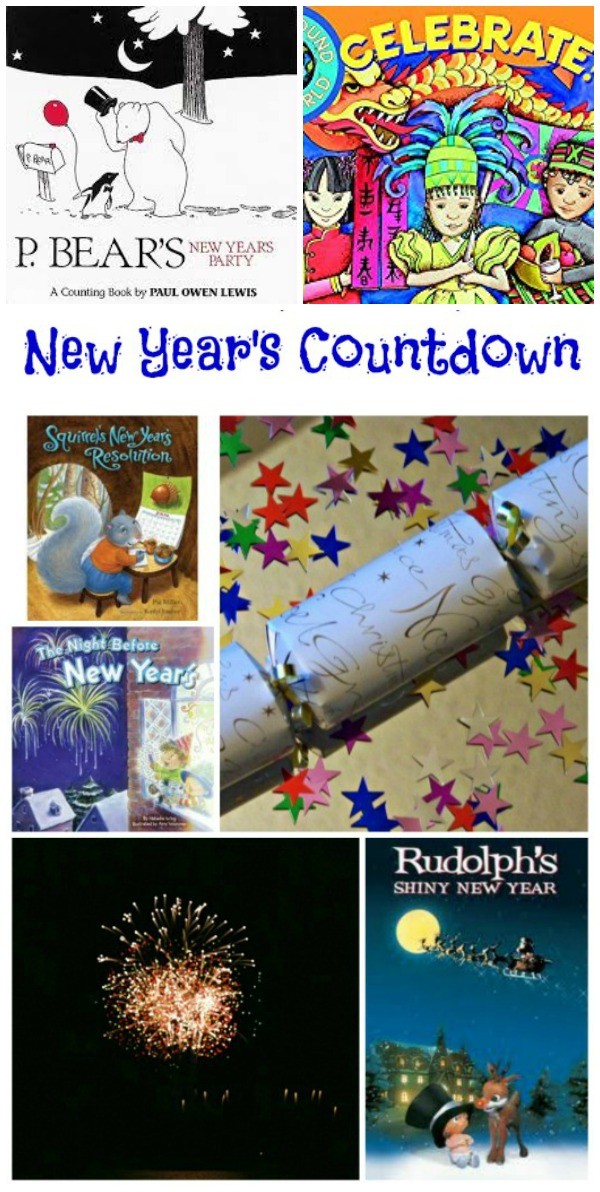 New Year's Eve Activities: Hourly Countdown for Kids
Pick a few ideas or have an hour by hour countdown all day long if you like – in addition to creative activities, we've also included affiliate links for some of our favorite books and items too.
And many of these fun ideas will introduce your kids to how other countries bring in the New Year around the world.
However you choose to bring in the year, we're wishing you health, happiness & edventures in the New Year!
8:00 am – Last Breakfast of 2019
Since it's the last breakfast of the year, make it special!
Serve a favorite breakfast, maybe snowman pancakes or 'snow' waffles (use powdered sugar for the snow).
Talk about some of the highlights of the previous year – what was your favorite memory? What new things did you try as a family?
We also love doing this free printable year in review coloring page from Skip to my Lou each New Year's Eve! Keep them all and you'll have a wonderful time capsule of your kids as they grow.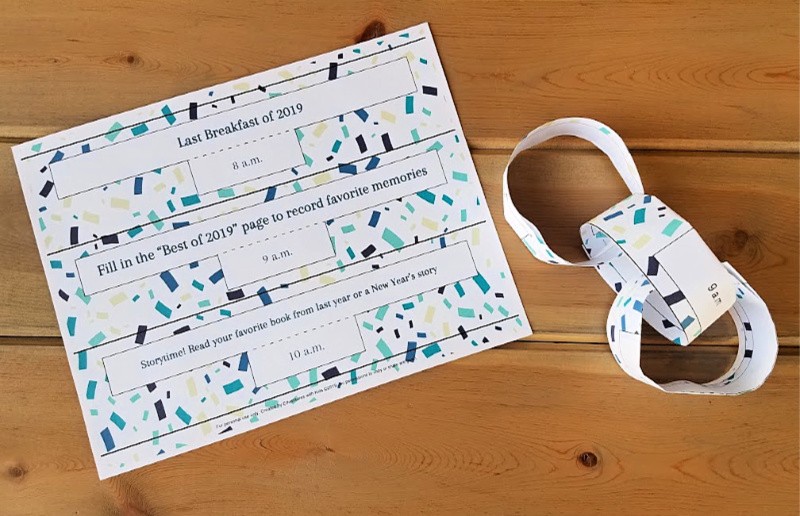 9:00 am – Create a New Year's Eve Countdown

Set up an hour by hour countdown for the day!
Your kids will love helping with this one — just read some of the ideas we have below and pull together what you need.
OR use the New Year's Eve Printable Countdown Pack which includes a printable chain, 25+ activity ideas and more! Just edit the times on the chain links to fit your family's schedule, print them off and create an hour by hour countdown!
The pack also includes: a sample Countdown schedule & New Year's Eve ideas for families; a list of New Year's books, movies & traditions from around the world; PLUS a 2019 Best Memories printable & 2020 Family Goals page too!
10:00 am – Celebrate New Year's with Grapes, Pigs & Underwear

Introduce your kids to new cultures and expand their knowledge and appreciation of the world!
And since the New Year is celebrated around the world, this is a wonderful opportunity to share how people in other countries bring in the new year!! One of the books we really love is Kids Around the World Celebrate!: The Best Feasts and Festivals from Many Lands
since it shares various customs from around the worl for many celebrations.
Here are some awesome ones to start with:
Mexico: Try these fun traditions from Mexico shared by Kid World Citizen that kids will enjoy on New Year's Eve! Note: The kids may insist on running to their rooms to change their underwear once you read this!
Germany: Another fun tradition shared with us from Red Ted Art involves Marzipan Pigs and good luck!
Norway: A New Year's custom from Norway is to make rice pudding with one almond in it on New Year's day — when you serve the pudding, the person with the almond in their dish is said to have wealth in the coming year.
Many cultures also believe that eating lentils or beans on New Year's Eve will bring wealth for the new year. Or try the tradition of eating 12 grapes at midnight and making a wish for each one! (we do this at 12 noon instead of midnight and don't forget to cut the grapes if you have younger kids 🙂
11:00 am – New Year's Eve Photo Booth

Snap a few photos for nostalgia!
Give your kids a theme — like 'Favorite Books read in 2019' or just set up a fun place to take some crazy photos. You can even do shots of the kids hour by hour as you countdown throughout the day.
Use these free printables for your photo booth:
New Year's Eve bowtie, hats and clock from Kristen Duke Photography
Glasses & Moustache from I Heart Naptime
or grab this done for you set of 2019 Photo Booth printables on Amazon complete with sticks!
12:00 noon – Countdown New Year's Eve with Books

Turn lunchtime into storytime today!
Share some fun books about the new year, traditions and resolutions. We've listed a few of our favorites along with affiliate links for your convenience.
Here are some fun picture books for younger kids:
The Night Before New Year's
Squirrel's New Year's Resolution
P. Bear's New Year's Party: A Counting Book
Shanté Keys and the New Year's Peas
Older kids will enjoy these chapter books about the new year which include fun ideas on resolutions, new starts and putting the 'bad stuff' behind you:
Happy New Year, Mallory!
Crappy New Year
Amelia's Must-Keep Resolutions for the Best Year Ever!
And make sure to read about the Mexican tradition of eating grapes from our 10 am hour – do this at lunch instead of midnight!
1:00 pm – New Year's Scavenger Hunt

Enjoy a walk outside and get some fresh air this New Year's Eve — and have your kids do a scavenger hunt too! Choose from this list of 50+ Scavenger Hunt printables
Or try this idea:
During your walk, ask your kids to find an item that begins with the letters in "New Year".
For example, they might see a 'nutcracker' decoration for the letter 'N', or a 'yellow house' for the letter 'Y'. You can also scout out house numbers and street signs to see if you can find the numbers 2019 too.
For older kids who understand the idea of resolutions, ask them what their goals and aspirations are for the new year. A walk is a great time to talk about family goals for the New Year too.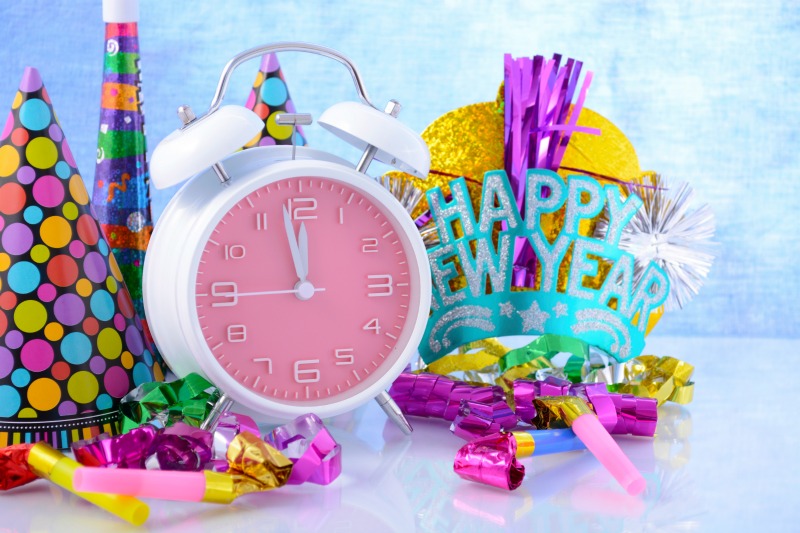 2:00 pm – New Year's Noisemakers

Get ready for some fun tonight by making noisemakers!
Kids will really enjoy this fun kazoo & easy paper plate noisemaker from East Coast Mommy. Or grab a few of these fun noisemakers for kids to be ready for a party at home!
3:00 pm – Create a 2019 Time Capsule
Here's a fun idea from Red Ted Art – make a family time capsule that you fill with special objects and items on New Year's Eve!
You can also try this fun book — Time Capsule: A seriously awesome kid's journal
!
Our family has a time capsule for Leap Day and we always enjoy opening it and reminiscing about what we put in it and why. Include photos so you can see how much the kids have grown during the year.
4:00 pm – New Year's Eve Movie Time!
I do enjoy watching the holiday specials with my kids and there's even a few for New Year's Eve.
One of our favorite Rankin & Bass show is Rudolph's Shiny New Year
(we love the caveman & baby new year!)
We have a tradition at our house — we buy holiday crackers before watching the movie and each choose a character — when our character shows up on screen, we pull open our cracker!
We also enjoy Happy New Year, Charlie Brown — but it's hard to find. It is available on the Peanuts: Christmas & New Year's specials
DVD at this affiliate link.
Hopefully, one of the tv networks will air it this year (usually it's ABC who features the Charlie Brown specials).
Another special that young kids will enjoy is Pete the Cat's A Groovy New Year!
5:00 pm – Jot Down a Few Resolutions for 2020

I know, that's a big word for kids – but we're all into teaching them big words at a young age!
Just explain that a resolution is something you would like do for the first time or something you would do differently next year.
I always like to encourage our kids to try new things — maybe a new food, definately visiting someplace new and exploring! You can also discuss that as they get older, they become more confident and helpful — so trying new things around the house or at school also make a great resolution.
Here's a great idea from Kitchen Counter Chronicles on Family Style New Year's Resolutions! And the New Year's Eve printable pack also has a great Family Goals for 2020 printable & Best Memories of 2019 activity too.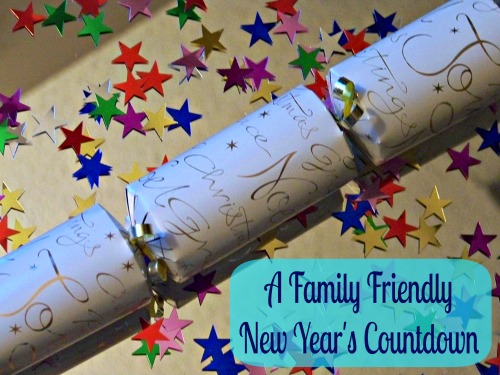 6:00 pm – New Year's Eve Dinner at home

We always have a special dinner together and use colorful plastic stemware for whatever we drink to make it feel special.
This is another time when discussing new year's resolutions is a great idea.
Our family loves to 'pop' holiday crackers at New Year's Eve dinner!
You can buy them at a variety of places — try these New Year's Celebration Crackers
if you haven't seen them before — or make your own crackers using the directions at Instructables.
7:00 pm – Bath Time Fun
Bathe your kids before the evening fun in this themed New Year's Eve bath from Bath Activities for Kids!
If you have older kids, have them try a new hair style for New Year's Eve when they get ready.
8:00 pm – New Year's Eve Desserts

To send the old year out with a BANG!, you can have the kids decorate their own Fireworks Cookies from NutureStore. Or decorate with sprinkles or candy on these cookie-shaped numbers from Mess for Less. And I love this round-up of 15 New Year's Eve Snack & Dessert Ideas from Kids Activities Blog!
Your choice of serving them with milk or sparkling juice — but do serve the drinks in a fun glass or cup for a 'Happy New Year's' toast!
9:00 pm – Bring in 2020
It might be a little early but kids won't care and will probably be ready after a full day of countdown activities 😉
There are so many fun ways to bring in the New Year — paper hats, a balloon drop, noisemakers and of course, a big kiss for all those you love! You can print your own New Year's Eve hats from Totschooling too. Make your own confetti to throw by cutting up small pieces of colored paper.
And it's midnight somewhere, so determine what time you'll 'ring in the new year' and locate a country in the time zone that will be celebrating at the same time.
Have a fun countdown right before bed, yell "Happy New Year", jump around in a pile of balloons and give hugs all around.
Wishing your family a Happy & Healthy 2020!
More New Year's Eve Activities for Families
20 New Year's Eve Activities for Kids