Kids, teens and adults will enjoy these FUN printable Thanksgiving Games for Adults and Kids — perfect for holiday gatherings!
Thanksgiving is right around the corner and one of our most visited posts is our "What's on My Phone" Gratitude Scavenger Hunt!
I know most people think this holiday is all about the turkey *my husband being at the top of that list* 😉 BUT it's really about gathering with family & friends to enjoy time together, share our gratitude and be thankful for each another.
So what better way to celebrate than with these games & activities that inspire FUN and cherished time with our favorite people!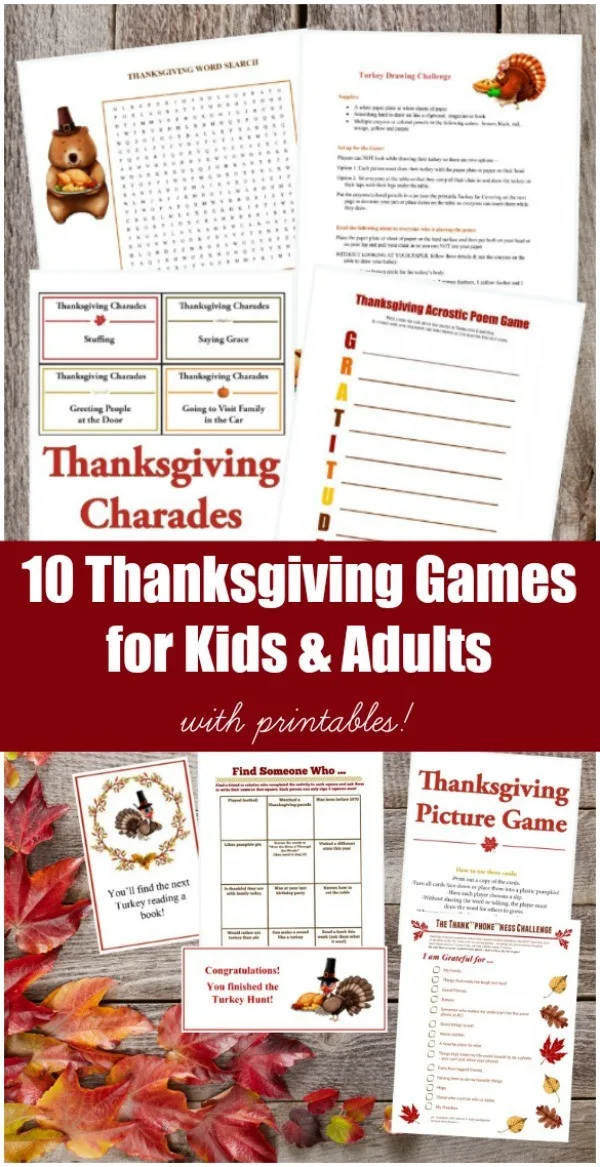 10 Printable Thanksgiving Games for Kids and Adults
These 10 printable Thanksgiving games and activities are perfect for multi-generational fun on Thanksgiving Day or throughout the month!
The pack includes the following printable games:
Thanksgiving Photo Scavenger Hunt Game
Thanksgiving Word Search
Turkey Drawing Game with printable for Turkey Coloring Jar
Turkey Scavenger Hunt for Kids
'Gratitude' Acrostic (Scattegories) Challenge
'Thankful' Acrostic (Scattegories) Challenge
"Find Someone Who …" Game
Thanksgiving Charades cards
Thanksgiving Pictionary Game
Thanksgiving Reading Challenge

Printable Thanksgiving Games for Kids
We've included some super popular games in the Thanksgiving Games Pack that kids LOVE!
The "Find Someone Who" Thanksgiving-themed game is a great icebreaker for kids or families to play before dinner.
This game has each person go around to others to "Find someone who…"
was born before 1970
visited a different state this year
can sing "Over the River and Through the Woods"
along with MORE fun items that will inspire fun conversations.
This is a WONDERFUL game if you have family visiting that you may not have seen for a while or new friends who need a great "get to know you" activity!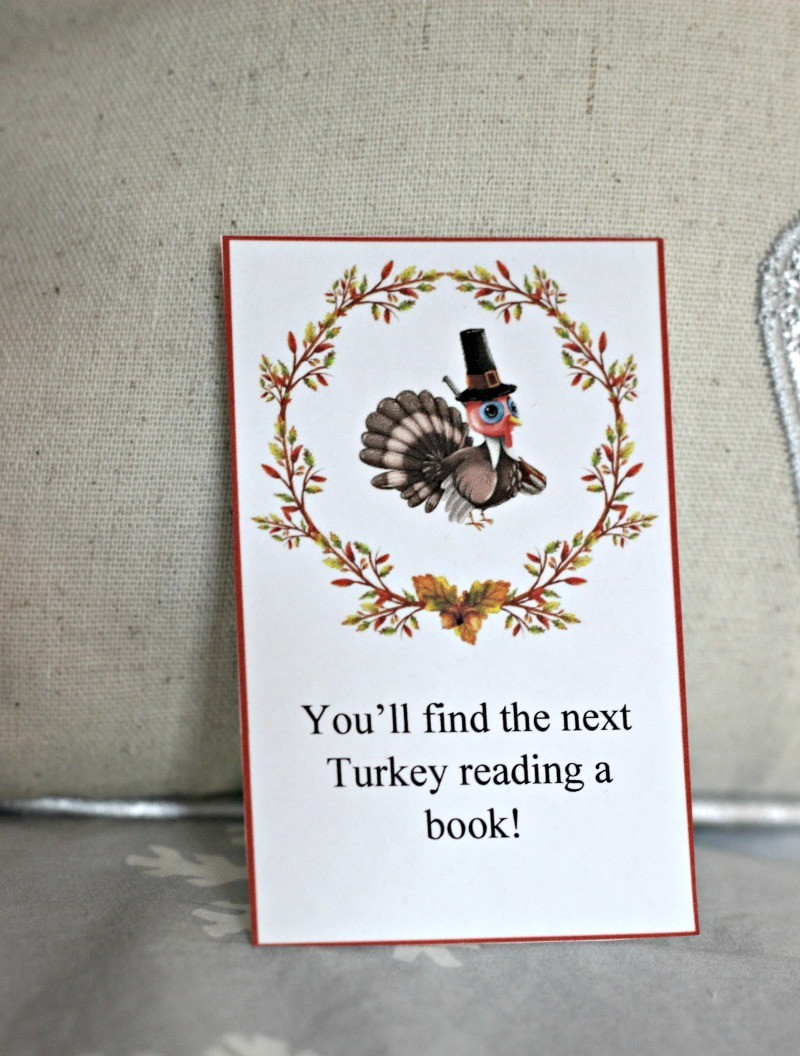 Turkey Scavenger Hunt Game for Kids
Scavenger hunts are perfect holiday activities! Have you seen our free printable Thanksgiving Parade Scavenger Hunt (great for Thanksgiving morning 😉 For a "get up and move activity", send kids on a Turkey Scavenger Hunt that works in any home!
This is my favorite item in the Thanksgiving Games pack and worth it's weight in gold when it comes to keeping kids active & occupied while you're in the kitchen.
Seriously — I've got you covered on this!!
Print off the clues and use the pre-set locations to hide them — you can set up the entire thing in less than 10 minutes!
Because I know you're already busy, right? 😉
The pack includes 8 printable clues along with a final "Congratulations" clue that can be hidden on it's own or attached to a special treat.
Have kids go on a hunt for the turkeys and then attach the final clue to a fun movie they can watch together! Or a special bag of "Turkey treats" (snack mix) that will tide them over until the big meal is served.
Kids will also enjoy completing the Reading Challenge – just supply them with a basket of Thanksgiving books to keep them busy.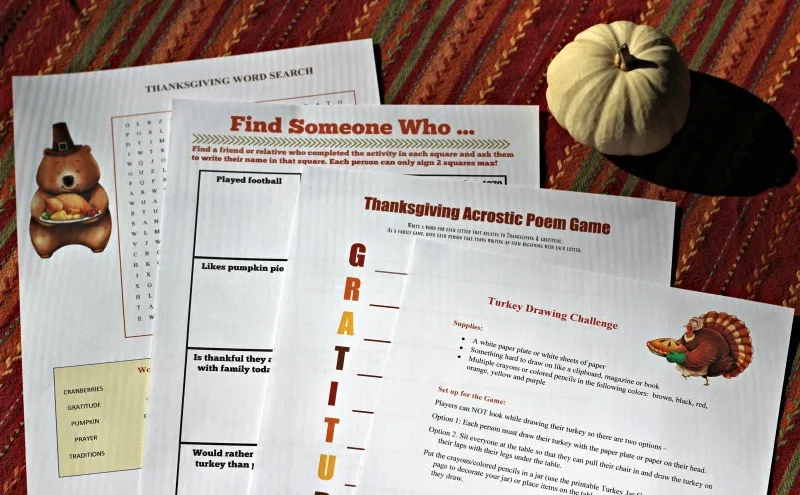 Thanksgiving Printable Games for Adults & Teens
Need table games for adults?
The Thanksgiving Games Pack includes those too!
Set out the Thanksgiving Word Search and the Acrostic (Scattegories) Challenges to keep everyone entertained either before or after dinner.
These games are a wonderful way to inspire family members to record why they're thankful and can be played individually (with everyone sharing what they wrote) or played as a group (each person fills in one of the letters on the challenge).
Or, if you have a competitive type of family 😉 set a timer and play these as Minute to Win It games! The prize for the winner can be the last piece of pie (and bragging rights, of course).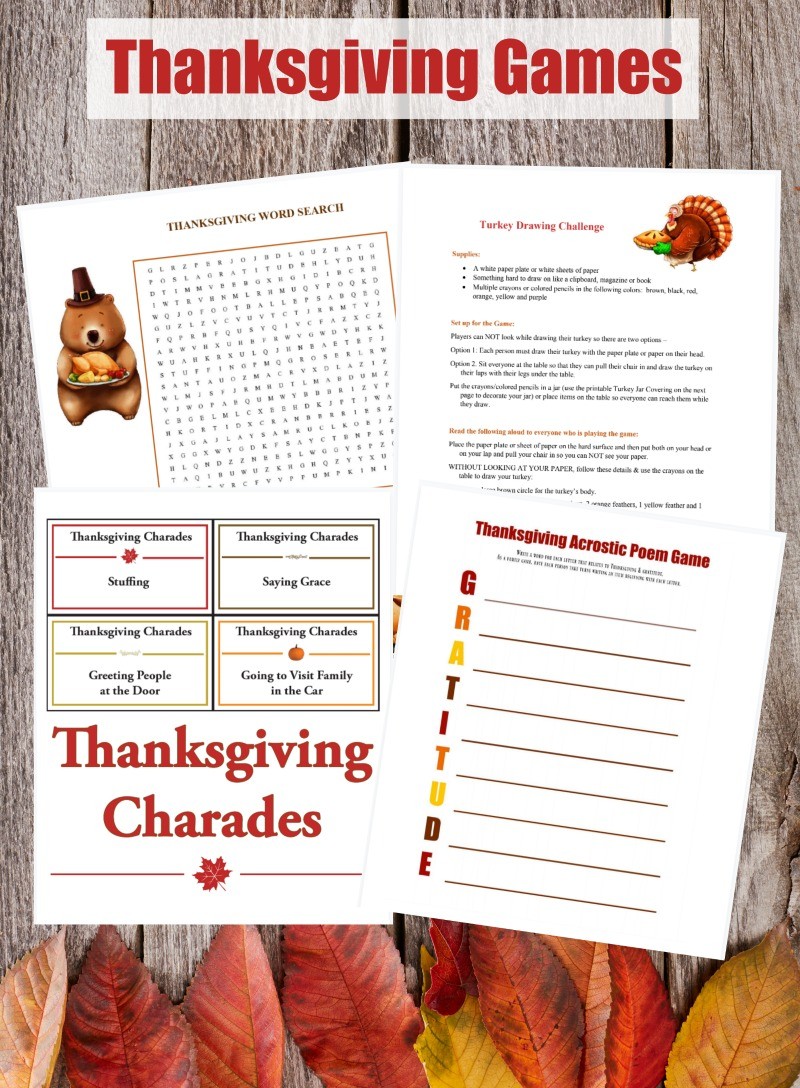 Family Games for Thanksgiving
PLUS the Thanksgiving Games Pack includes activities the entire family can play together!
You'll find:
2 sets of printable Thanksgiving Charades cards AND Pictionary cards
a Photo Scavenger Hunt that you can play on your smartphone!
and a super FUN Turkey Drawing Challenge the entire family will LOVE!
The Turkey Drawing Challenge is a HOOT!
Everyone will get a sheet of paper and crayons to draw a turkey — BUT the trick is that they can't look while they draw AND then need to follow the directions that are read aloud for the game!
Whether you're 4 or 84, this is a game that will bring tons of laughter and grins both during the challenge and as everyone reveals their prize drawings 🙂 And while you have out the colored pencils, hop over and grab our free printable Thanksgiving Coloring pages for some fun too!
Use the Photo Scavenger Hunt, Turkey Drawing and Thanksgiving Pictionary cards for after-dinner entertainment at the table. These can easily be turned into Thanksgiving Minute to Win It games too — just set the timer!
Or choose Thanksgiving Charades to encourage everyone to get up and get moving!
Get the Thanksgiving Games Pack — On SALE NOW!
Grab your pack and enjoy more time with your guests and less time planning activities this year!
Wishing you a wonderful Thanksgiving!
More Printable Holiday Activities For Families
100+ Activities & Ideas for Your Advent Calendar