Enjoy these free printable Thanksgiving Coloring pages for all ages – kids, tweens, teens and adults!
We love having multi-generational activities available at family gatherings (like these printable Thanksgiving Games for all ages!) and Thanksgiving coloring pages are an easy & wonderful option! Coloring pages have been known to reduce stress, increase creativity and allow for conversation & interaction.
So grab a set of our FREE coloring sheets to have out for holiday fun this year!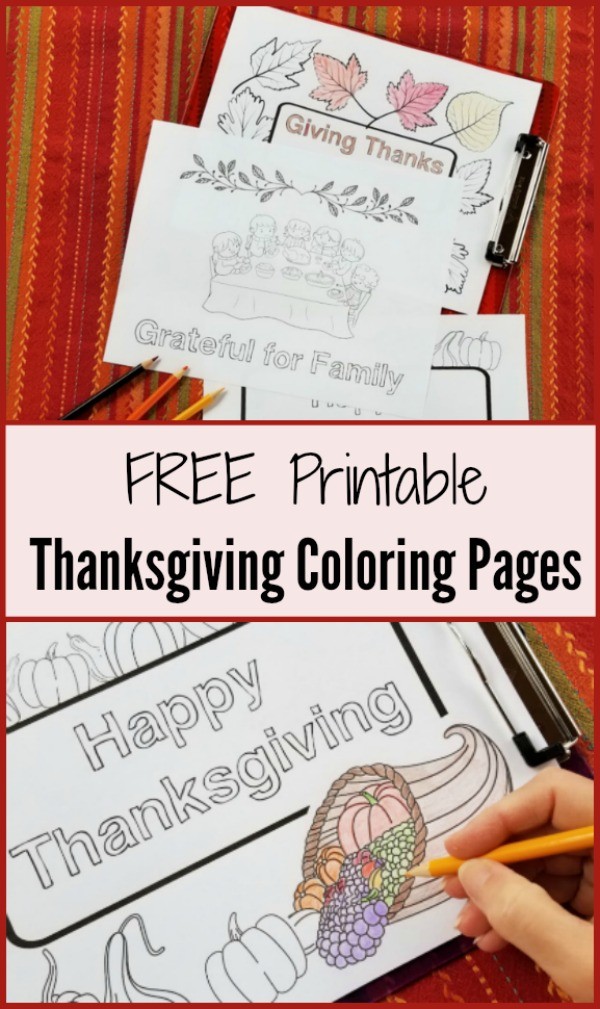 FREE Thanksgiving Coloring Pages for Adults and Kids
In addition to having some fun family games to play together (check out these 27 FREE Printable Thanksgiving Games!), I also like to have a few relaxing, individual activities available too like coloring sheets. We've included a FREE set of five Thanksgiving coloring sheets along with affiliate links to a few of our favorite items too!
As my daughter will frequently say before a large family gathering — "Adult talk can be really boring Mom!" 🙂
Yea, I get that — I remember thinking the same thing as a kid once all the adults started talking. But I really love having everyone around the table for more than just dinner so these coloring pages are perfect for holidays like Thanksgiving! Kids (and adults 😉 have something to keep them busy even if the conversation gets a little boring.
If you're spending time away from family, have kids color these and then send them as 'Thanksgiving Greetings' to grandparents. You can even email these to family members and have a virtual coloring get-together this year too!
Plus, it's also a nice activity that allows grandkids and grandparents — or those relatives you only visit with once a year — to visit a while! They're a great icebreaker once everyone sits down together. Pair them with this FREE Thanksgiving "What's on My Phone?" Game for lots of family fun!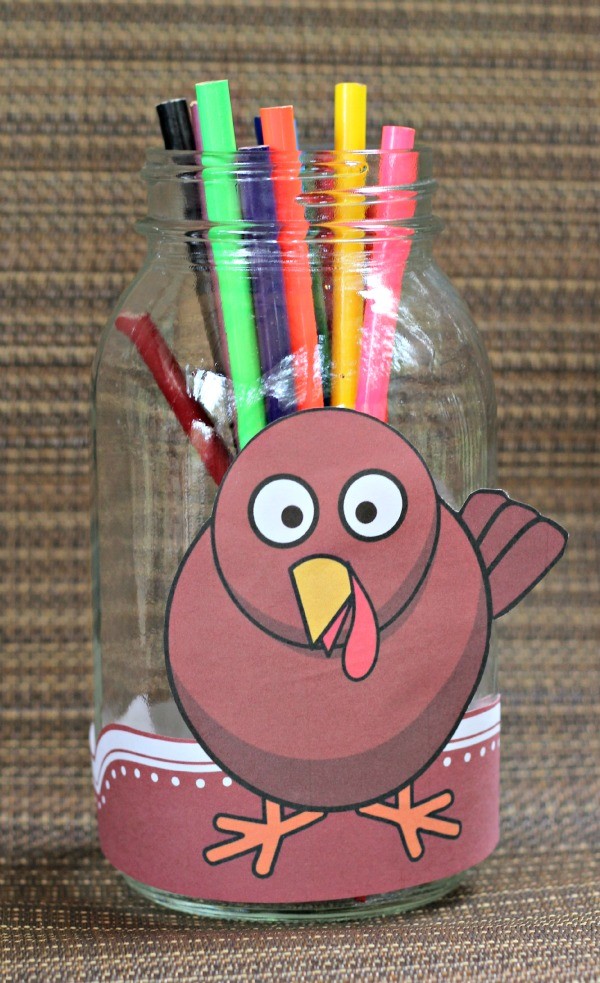 One thing I LOVE about coloring sheets is they're EASY — you just print them out and put them on the table with colored pencils! I always need more easy during Thanksgiving 😉
You can also print off this free Turkey graphic, tape it around a mason jar and add in colored pencils to look like feathers — it's a nice way to corral all the pencils so they're easy to pass around and quickly picked up when you're ready to serve dinner.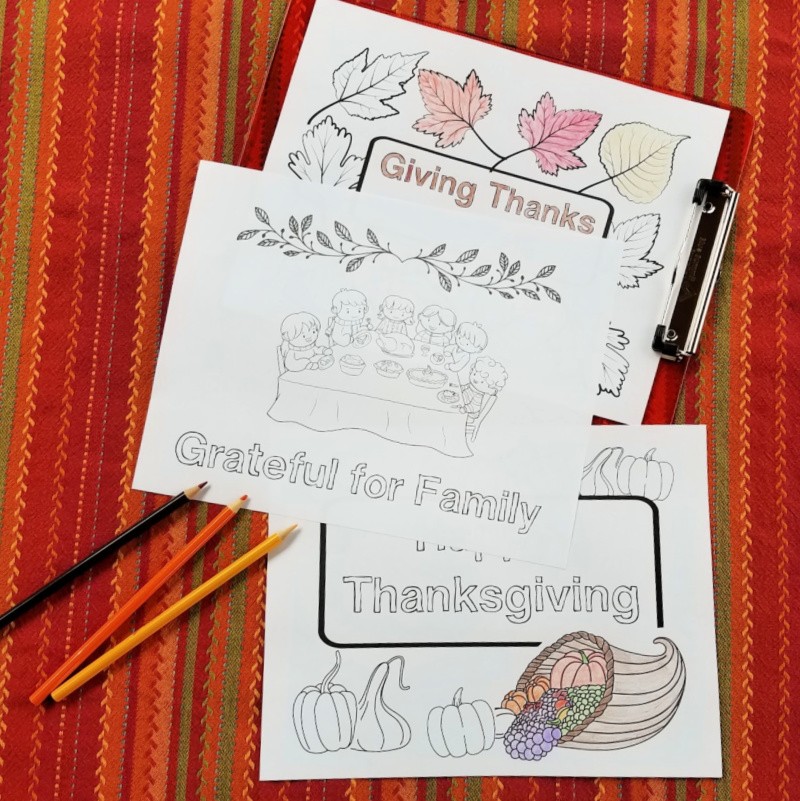 Printable Thanksgiving Coloring Sheets for All Ages
We've included a great variety of FREE coloring pages for kids, tween, teens and adults —
1. A "Giving Thanks for Fall" Falling Leaves page
2. A Turkey Coloring page that's perfect for kids and includes a 'draw a turkey' area too!
3. An adorable "Grateful for Family" coloring sheet
4. A traditional "Happy Thanksgiving page with cornucopia and
5. A scrabble-type word page with a variety of Thanksgiving words
It's a really nice collection of pages that everyone will enjoy and can easily complete in one sitting.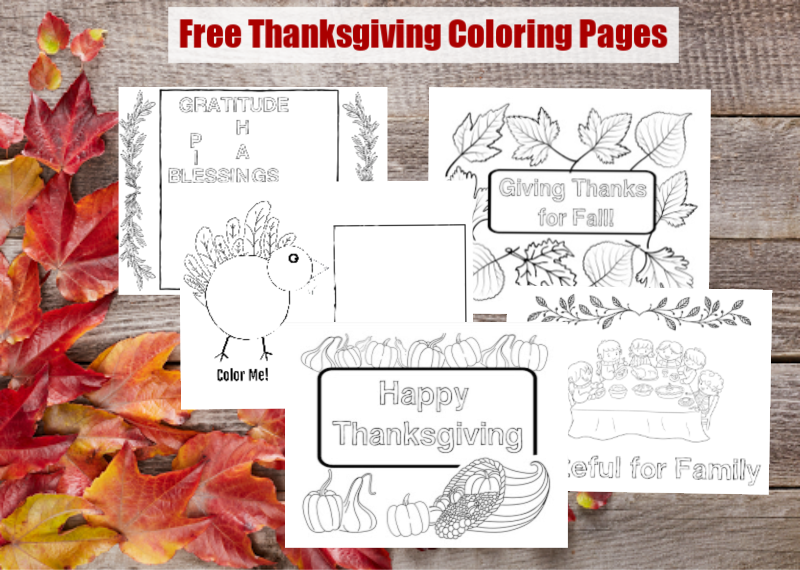 These are fun to use in so many ways:
As a welcome activity when everyone arrives
A conversation opener – kids are more likely to talk to relatives if they also have other things to occupy them during the discussion
A fun addition to the kids' table
An easy activity to do during dessert
Or a great thing to have on hand if half of the family is watching the game and the other half needs a quiet activity.
If you're concerned about pencil or pen marks on your tablecloth (for anyone with kids, it's a valid concern 😉 or want to have the coloring pages in a room that doesn't have a table, try laying out a few of these colorful 9 x 12″ clipboards (you can see one in our photos!). It's a great way to offer a steady surface to color on in any room of the house.
And be sure to have enough coloring items for everyone too! We love to have a big pack of colored pencils and also some coloring gel pens for all ages!
And be sure to pop over and see the FREE printable Gratitude Photo Scavenger Hunt – another awesome multi-generational activity or one that kids, tweens & teens will love doing throughout the holiday season!
Grab your free set of Thanksgiving coloring pages now and set aside some time to relax & chill with the family!
Happy Thanksgiving!
More Fun Holiday Activities
If you're looking for more fun ways to entertain your family, try these ideas:
FREE printable Thanksgiving Parade Scavenger Hunt
10 Printable Thanksgiving Games for Kids & Adults