A great list of Thanksgiving books about being thankful & funny Thanksgiving stories!
Thanksgiving is one of my favorite holidays — a time to talk about gratitude (try these free printable Family Conversation Starters that focus on gratitude & thankfulness!) and celebrate why we're thankful.
And it's nice to have extra time to spend with the kids to do some fun Thanksgiving activities not to mention a break from the school schedule so we can just relax together!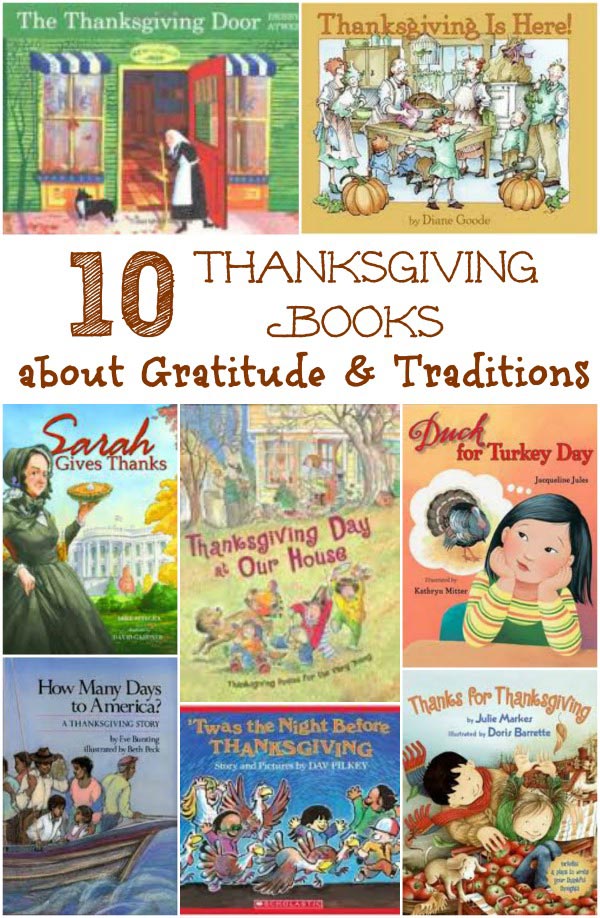 10 Thanksgiving Books for Kids: Gratitude & Traditions
There are some wonderful books for kids to read as we all celebrate Thanksgiving. For this book list, I've focused stories that share what the holiday means to each of us and why we should all be thankful for our blessings.
We're featuring stories that show the different ways families celebrate Thanksgiving — not everyone has a turkey and watches the parade 😉
I love using books as an opportunity to introduce kids to how others celebrate & gather for holidays — it's a great way for them to learn that even popular traditions have variations.
And if you want to inspire your kids to read a little more during Thanksgiving break, be sure to print off our the FREE Thanksgiving Reading Challenge too (more great books can be found with the challenge!)
We've included affiliate links for each of our recommendations so you can learn more about them.
I hope you'll find a few to share with your kids!
Picture Books about Gratitude & Being Thankful
The Thanksgiving Door is one of my favorite books for this holiday! An elderly couple decides to go out for Thanksgiving dinner and find a restaurant. Unbeknownst to them, the restaurant is closed and the family is celebrating with relatives. But instead of sending the couple away, the family includes them in their holiday festivities. A wonderful message about the importance of including others during the holidays!
Set in the 1910's, Rivka's First Thanksgiving tells the story of a family that is new to America. Rivka wants more than anything to celebrate Thanksgiving but her grandmother doesn't think they should — so she suggests taking Rivka to see the Rabbi to ask his advice. A great story that shows how children can have an influence family traditions!
This is a very touching story about an immigrant family and their travels to America. How Many Days to America?: A Thanksgiving Story shows how so many people move to our country in different ways. Kids will learn why some familes feel that moving to America will change their lives and what hardships they are willing to endure to gain the freedoms that are offered in the United States.
Sarah Gives Thanks: How Thanksgiving Became a National Holiday is a historical look at the woman who dedicated her life to making Thanksgiving a national holiday. Sarah was a single mother of 5 children in the 1800's. To support her family, Sarah became a writer and promoted the idea of a national holiday. Her request was finally honored by President Lincoln — so on Thanksgiving, we should all be thankful for Sarah!
Are you a book lover? Try Audible and Get Two Free Audiobooks
Duck for Turkey Day is a wonderful look at how each family celebrates with their own traditions! Tuyet has a problem with Thanksgiving – her family is planning to have duck. No one has duck on Thanksgiving! But when her class begins a discussion about family traditions, Tuyet learns that there is no 'right way' to celebrate the holiday.
Franklin's Thanksgiving is a story of celebrating with friends instead of family. Franklin is sad that his grandparents won't be joining them for Thanksgiving. His parents think it might be lonely too. So each member of the family decides to secretly invite a few friends to celebrate. What will the Turtle family do when all of their invited guests come for dinner?! A beautiful story about unexpected holiday surprises.
Funny Thanksgiving Books for Kids
These next few recommendations I've included for their humor and fun illustrations. Kids will really identify with some of the funny antics and traditional activities!
'Twas the Night Before Thanksgiving is a hilarious look at a field trip gone awry! The kids take a class trip to a turkey farm the day before Thanksgiving but when they learn Farmer Mack Nugget's turkeys will all be dinner, the kids decide to smuggle the turkeys home with them (and eat vegetarian for Thanksgiving dinner!). Note: Some kids might be bothered by the realization of where their dinner comes from but we all find out sooner or later!
Thanksgiving Is Here! is a very enjoyable look at the events of Thanksgiving Day – family arriving, lots of cooking, craziness in the house and catching up with relatives. Kids (and adults!) will definately find something in this story that makes them shout "Hey, we do that at our house too!"
Thanksgiving Day at Our House: Thanksgiving Poems for the Very Young is a beautiful way to introduce young children to fun poetry. This series of poems includes verses about the traditions of Thanksgiving — parades, preparing the house, cooking, Thanksgiving plays, playing games, saying prayers and snuggling down for the night. I LOVE the illustrations and fun antics found on each of the pages!
Thanks for Thanksgiving is a lovely story about being thankful from a child's viewpoint. The illustrations are beautiful as we follow the children through their day to learn what they are thankful for — playdates, swings, autumn and family!
And a few additional items that are worth a mention too:
Who can think of Thanksgiving without the memory of Snoopy toasting bread and serving popcorn to Charlie Brown's friends?! A Charlie Brown Thanksgiving has some wonderful reminders about why we should be thankful.
Although a Charlie Brown Thanksgiving is a tradition in our house, the additional Peanuts special "The Mayflower Voyagers" included on the DVD is one that my kids enjoy even more! In this lesser know holiday special, Charlie Brown and all his friends are pilgrims who are immigrating to America and celebrating the first Thanksgiving. A fun historical account that not only entertains kids but also educates kids about some of the origins of the holiday too.
MORE Thanksgiving Book Ideas for Kids:
Kids' Activities for Thanksgiving Day
20 Free Printables for the Thanksgiving Table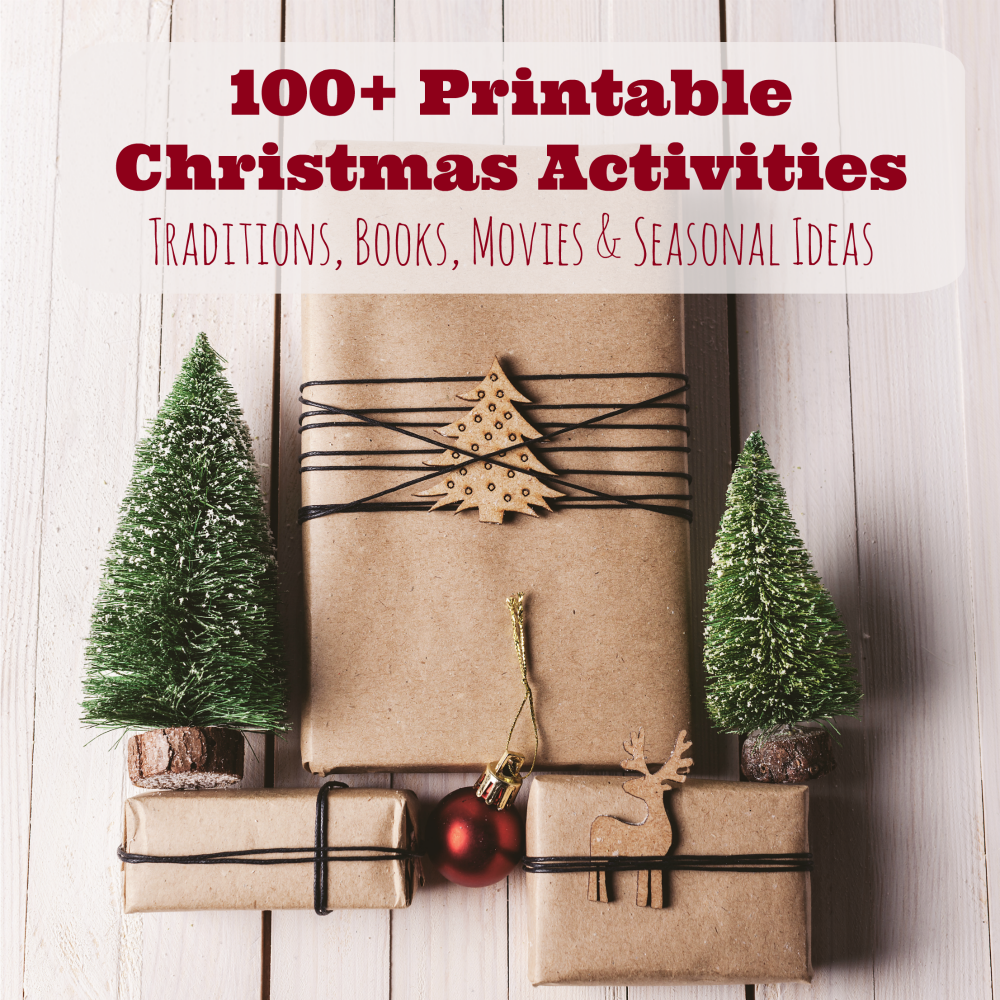 Christmas Activities for Families:
Finding Jingle Bells: An Alternative to Elf on the Shelf