25 Christmas Countdown Ideas and activities perfect for toddlers, kids, teens and family!
I don't know about you but once December 1st rolls around, my kids turn into math wizards — they are able to let you know at a moments notice how many days are left until Christmas.
It's amazing considering that the rest of the year they always need to ask me how many days are left in the week 😉
But I'll be honest — having a countdown to Christmas (which usually includes some of these Advent calendar activities) is just as much fun for me as it is for them!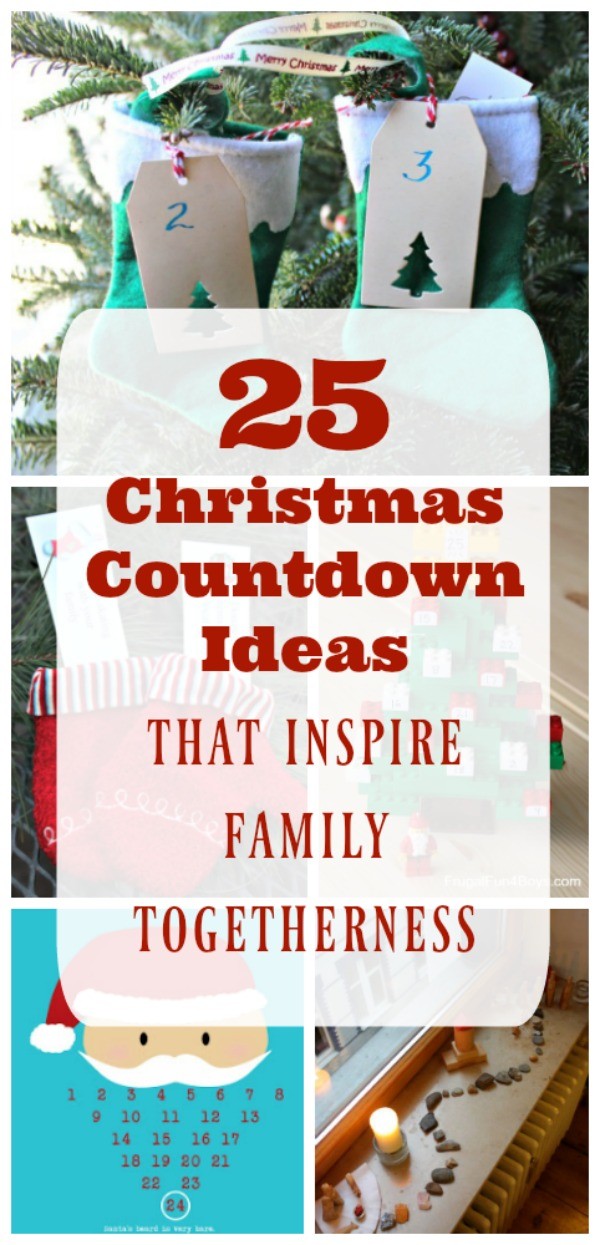 25 Creative Christmas Countdown Ideas
The beauty of a countdown is that each day, it helps us to slow down and spend some time together.
Because let's just admit it, no matter how much we TRY to keep the month calm and relaxing, the world just doesn't seem to cooperate.
The days begin to fly by faster — the items on our 'to do' list pile up — and then WHAM!, it's Christmas Eve and I can't fathom where the last 24 days went.
That's always my goal for the holidays — taking the time to enjoy togetherness!
Whether it's creating a link for a paper chain, doing a family activity or just listening to our kids tell us a joke — we are all, even for just a few minutes, connected around a common purpose.
How to Do a Christmas Countdown
Christmas countdowns can be done in any way you like —
Seriously — these are not meant to stress you out!
They are meant as a way to interject some holiday fun into the day.
So the BIG question — what can you use as you count down the days?
Oh there are sooo many great options!
Our 25 Days of Christmas Activity Pack or the 12 Days of Christmas Coundown both come with everything you need if you're short on time this month!
And below we've outline some super FUN ideas we've used over the years and others that we've learned about from friends. We've included affiliate links for items you may want to use during your countdown too.
Just choose one idea (or two if it fits your family!) and let the countdown begin!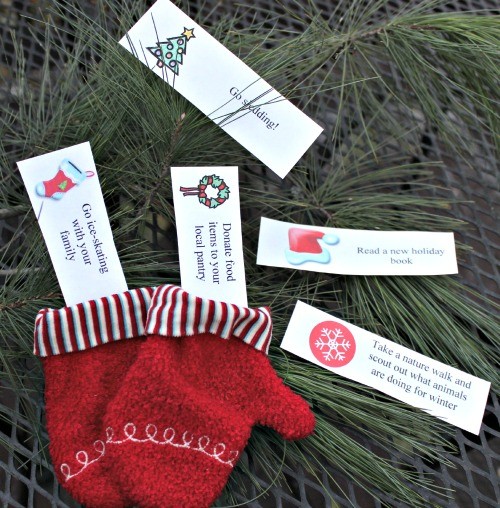 1. Countdown to Christmas with New Experiences
This is one of my favorites — getting the family to enjoy something new together!
Visit a local attraction you haven't yet enjoyed, try a new holiday dessert together, go sledding if you haven't taken the kids yet or volunteer as a family!
I love this idea because it's custom fit for each family based on what you love to do together.
There are so many great ideas — take a peek at these 100+ Holiday Activities (with printables) for inspiration!
2. A Christmas Book Countdown

There's nothing better than curling up with a good holiday book (and a cup of cocoa) for a nightly storytime!
If you're looking for some great books, check out some of these titles:
Finding Free Kids Holiday e-books Online
Connecting Kids Books to Holiday Traditions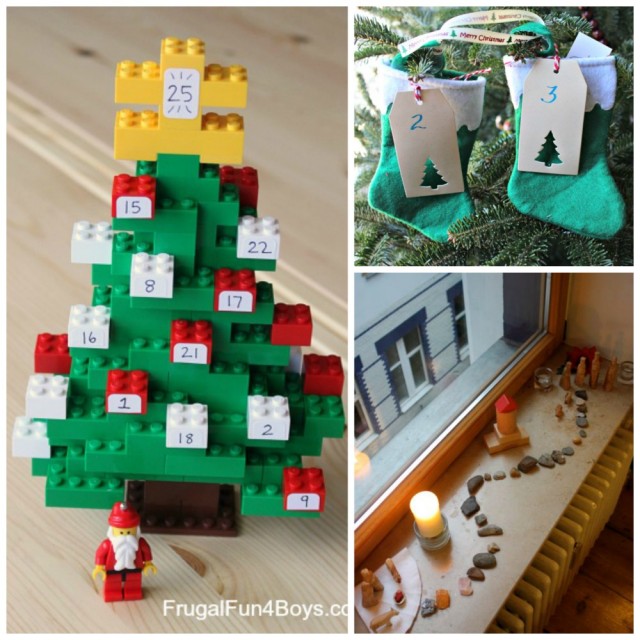 3. Celebrate the 12 Days of Christmas
Don't feel that you need to count down EVERY day in December! Sometimes a shorter, more manageable is just what Santa ordered 😉
Try this 12 Days of Christmas Activity Countdown instead with printable ideas — and you can start it anytime you'd like, even AFTER Christmas (count down from Dec. 26th to January 5th which will extend some of the family festivities after all the gifts are unwrapped).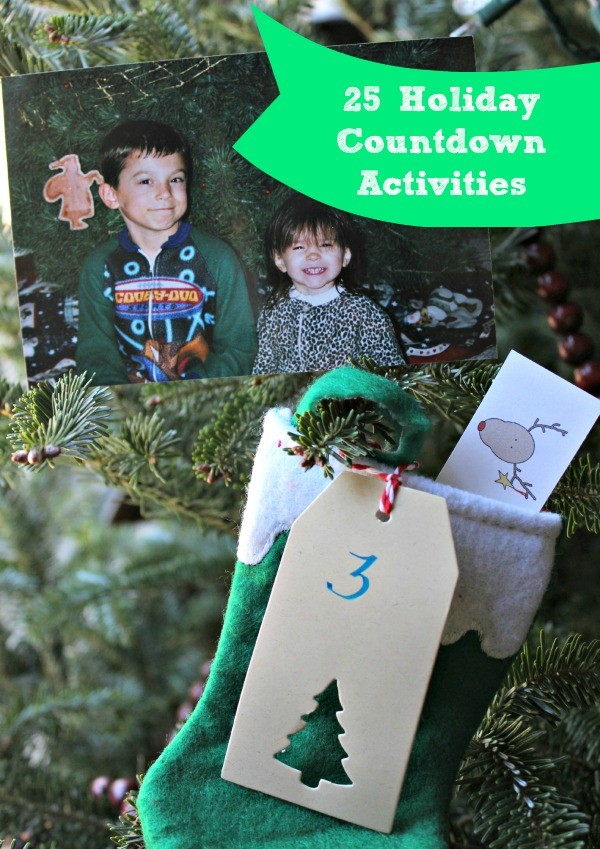 4. Try a DIY Photo Advent Calendar

Another family favorite — just gather up family photos from past holidays and share one each day.
We do this along with our Christmas Countdown Activities each day and put them in mini-stockings on our tree.
Your kids will enjoy seeing themselves growing up and will get a laugh out of seeing Mom & Dad celebrating Christmases when they were kids!
5. Countdown to Christmas with Games
Why not play a holiday-themed game each day of your countdown?!!
Browse these Christmas Minute to Win It Games for some inspiration along with these 25 Free Printable Christmas Activities — perfect for a low-stress, easy countdown. You can choose from things like holiday charades, indoor snow ball games, paper dolls, a Christmas lights scavenger hunt and so many more!
Just choose one to do each night!
6. Random Acts of Kindness Countdown

My friend Megan has this AWESOME Random Acts of Kindness (RAK) countdown for the holidays! Doing for others — that is what the season is all about!
You can also check out the 30 Family Service ideas and acts of kindness (with a free printable) at our Gracious Giving for the Holidays post!
7. Daily Mad lib Activities for Christmas

My kids are just NUTS for Mad lib activities (the word 'butt' always seems to sneak in – ahhh, kid humor 😉 Here are a HUGE variety of Christmas Mad Libs that will keep you laughing all month long!
8. Advent Calendar Scripture Readings
The Happy Home Fairy has a wonderful free printable with scripture verses the family can share and discuss each night.
9. Candy Cane Countdown
No, this is not about eating a candy cane — instead, grab one each day and leave it as a surprise!
Treat the person bagging your groceries, use it as a 'sweet' thank you, slide it on a windshield at the grocery store — it's a fun way to spread some holiday cheer!
10. Christmas Lego Building Challenge
Another amazingly creative friend created her own Lego Countdown Calendar — nothing like sneaking in a little engeineering over the holidays! Visit Sarah at Frugal Fun for Boys if you are a lego-lover!
Or try one of these fun LEGO Advent Calendars with holiday themes!
11. Holiday Jokes & Riddles Countdown

Whether you choose to share at dinner or tuck them in a lunchbox, the kids will enjoy a few laughs with these funnies:
Christmas Jokes — Nuture Store
Christmas Lunchbox Jokes — Making Memories with your Kids
Reindeer Jokes — ABC and 123
12. Daily Christmas Drawing Activity
Channel your inner artist and enjoy some holiday drawing this year. Grab this free printable set of Christmas Drawing prompts from The Craft Train!
And Rob at Art Hub for Kids has some super drawing tutorials along with other great paper art activities!
13. Countdown to Christmas with Music

Why not raise your voices for the holidays — choose a festive song to sing together each day! Here are some wonderful Christmas song books the whole family will enjoy:
14. Candy Advent Calendars

This is a very popular item to include in Advent calendars — and if you're like me and worried about all the sugar, think really small (like a few M&M's) for each day.
If you'd like something 'official', try one of these Chocolate Advent calendars that hide a treat behind each secret door!
15. Holiday Origami Craft
The art of paperfolding — why not create a different paper snowflake each day?! Fold a star, create your own fir tree — check out this awesome Christmas origami board on Pinterest for some great ideas!
16. Decorate the Tree for a Countdown

Instead of decorating the tree all at once, place an ornament on the tree each day of your countdown. This could be one special ornament or have each family member place an ornament on the tree each day.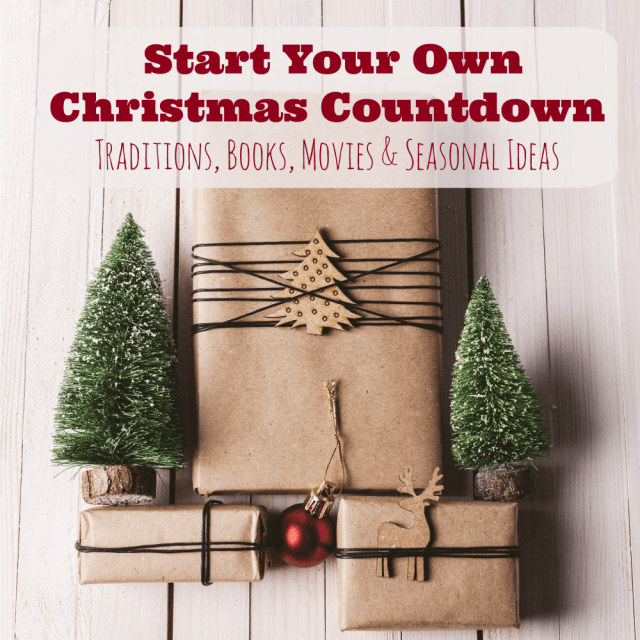 17. Walk with the Wise Men
I just adore this idea — gather rocks and set up a walkway to your nativity! Or use the wisemen from your Nativity collection — My husband's family use to start the wisemen upstairs and each day, the kids would move the wisemen closer to their nativity which was located in the living room.
18. Christmas Movie or TV Ideas

Are you a fan of those adorable kids tv specials (Rudolph, Frosty and more)?! We always allow a little extra tv time during the holidays for those once-a-year specials. Here's a great list of upcoming family holiday shows for this season!
19. Pray for Someone Daily

Another great life skill to teach children — the power of prayer. Choose a friend, family member, stranger or cause close to your heart and say a prayer each day leading up to the holiday.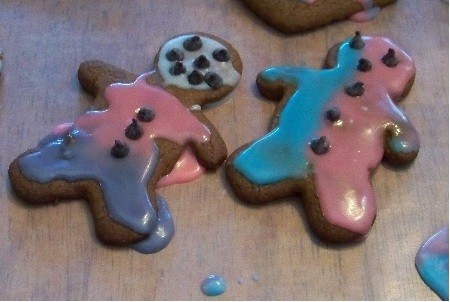 20. Baking for Christmas

Why not get the kids in the kitchen to help with all those yummy treats?! You don't have to bake every day — making labels for giftable items, helping to package baked goods or deliver them can all be part of your countdown activities And share some of the family recipes with your kids as you cook, bake and grab a taste 😉
21. Fill in Santa's Beard Christmas Countdown

This is a super fun idea for toddlers and preschoolers — print off Santa from Inviting Printables and use cottonballs to fill in his beard each day! It's a wonderful math activity for younger kids too 😉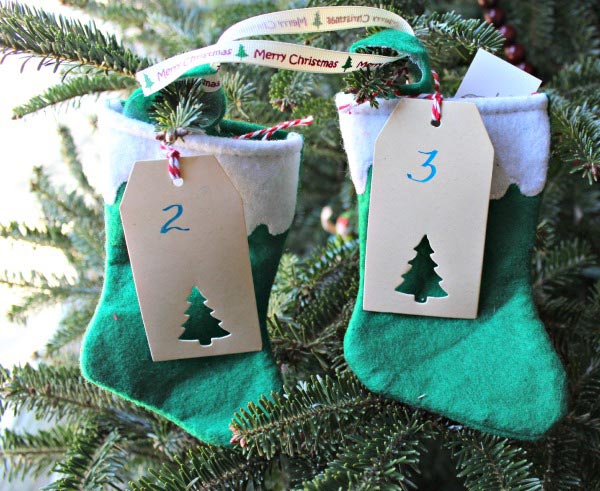 22. Holidays Around the World Countdown

We love learning how different countries celebrate the holidays — kids can learn about Christmas Traditions from Around the World during December. Head over to The Craft Train to print off these free 24 Facts about Christmas!
23. Advent Calendar Candle

Light a candle each night of your countdown — you can enjoy it during dinner, say a prayer when lighting it or just enjoy a few peaceful moments by candlelight.
These special Advent Candles are fun to use throughout the month — the candle has a section to burn for each day of December.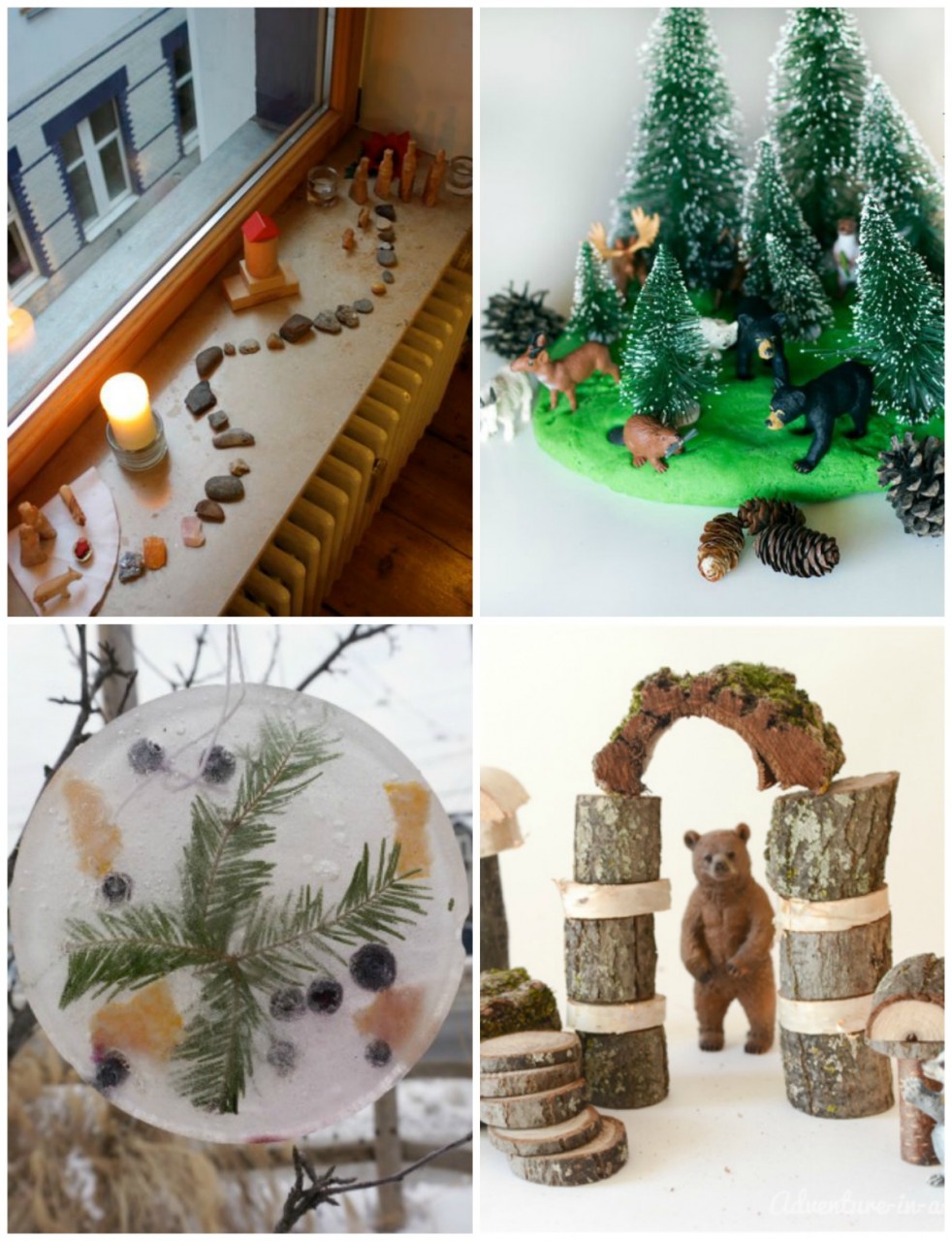 24. Nature Christmas Countdown Ideas

The season can get super busy for everyone so spending some time with nature is a great way to relieve stress. Try these Christmas Play & Crafts Ideas using Items from Nature – they can be done both indoors and outside!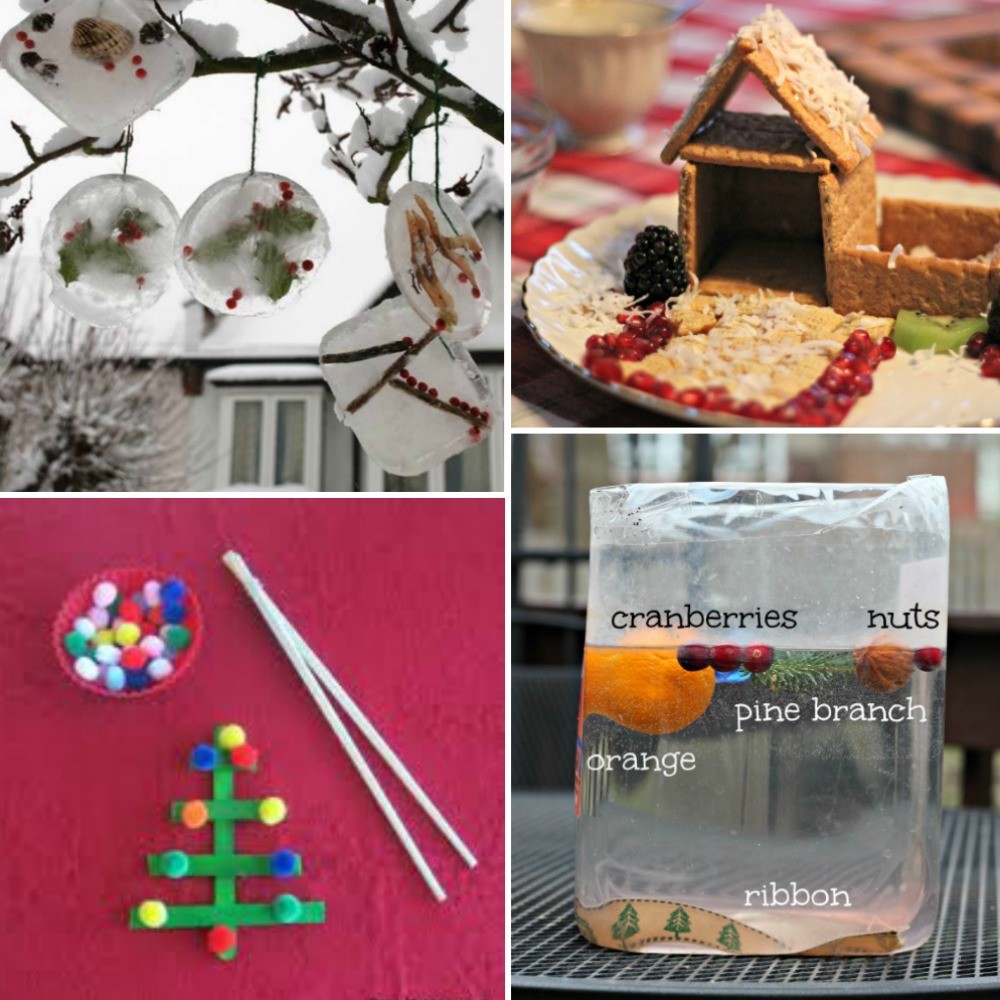 25. Christmas Science Activities
Combine the season with some science!
Try one of these easy Christmas science experiments and activities each day as you wait for Santa to visit.
And be sure you pop over and see the FREE Printable Christmas Countdown Numbers that you can use with any Advent or holiday countdown in December!
More Christmas Countdown Ideas:
25 Ways to Slow Down & Enjoy the Holidays