Kids, tweens, teens and adults will LOVE these 40+ free Thanksgiving coloring pages that are perfect for the Thanksgiving table!
I love to have coloring sheets on hand like these free printable Thanksgiving Coloring pages for adults and kids. Since all ages enjoy this activity, it's a great stress-reducing idea to use all month long and a wonderful way to encourage multi-generational conversation while everyone's mingling and waiting for the turkey to cook.
Plus it's always a great idea to have some Thanksgiving Activities and fun ways that the kids can pitch in to help!
Free Thanksgiving Coloring Pages for Kids & Adults
It's always a litte crazy here for Thanksgiving, but a good kind of crazy — I'm cooking, watching the parade and pulling together our Christmas Countdown activities (have you seen these?!!) for next month. Trying to touch base with family via phone calls since we have family flung all over.
I like to be sure to inspire some family connectedness on holidays since we don't live close to our relatives — so multigenerational activities are a must! I love to have super FUN & easy Thanksgiving games the whole family can play + coloring pages for everyone too.
I didn't just want to toss some crayons and such on the table (pictures in my head of melted wax on the tablecloth made me shudder a little 😉
So I created a super quick & cute way to corral all those colored pencils, pens and crayons so they're not rolling around on the table.
I put all our coloring items in an adorable Turkey coloring jar — and of course I have a free printable for you so that you can quickly create your own, along with links to 40 festive Happy Thanksgiving coloring pages for all the kids & adults who will be celebrating with you!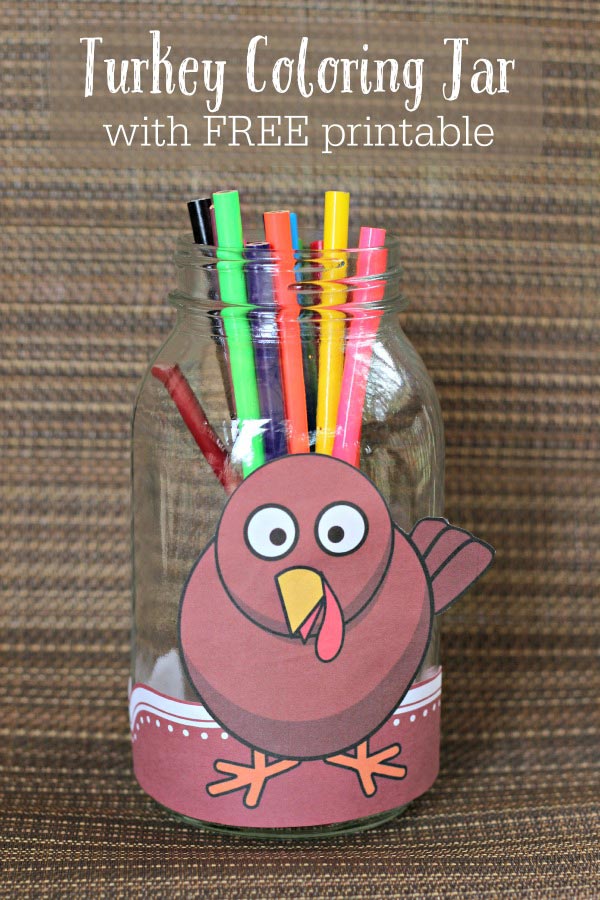 Thanksgiving Coloring Jar
The supplies for this craft are probably items you have around the house. And this is something that's so EASY to do, kids can quickly put it together to add to the table! I'm including affiliate links for some of our favorite items too.
To make the Turkey Coloring Jar, you'll need are the following: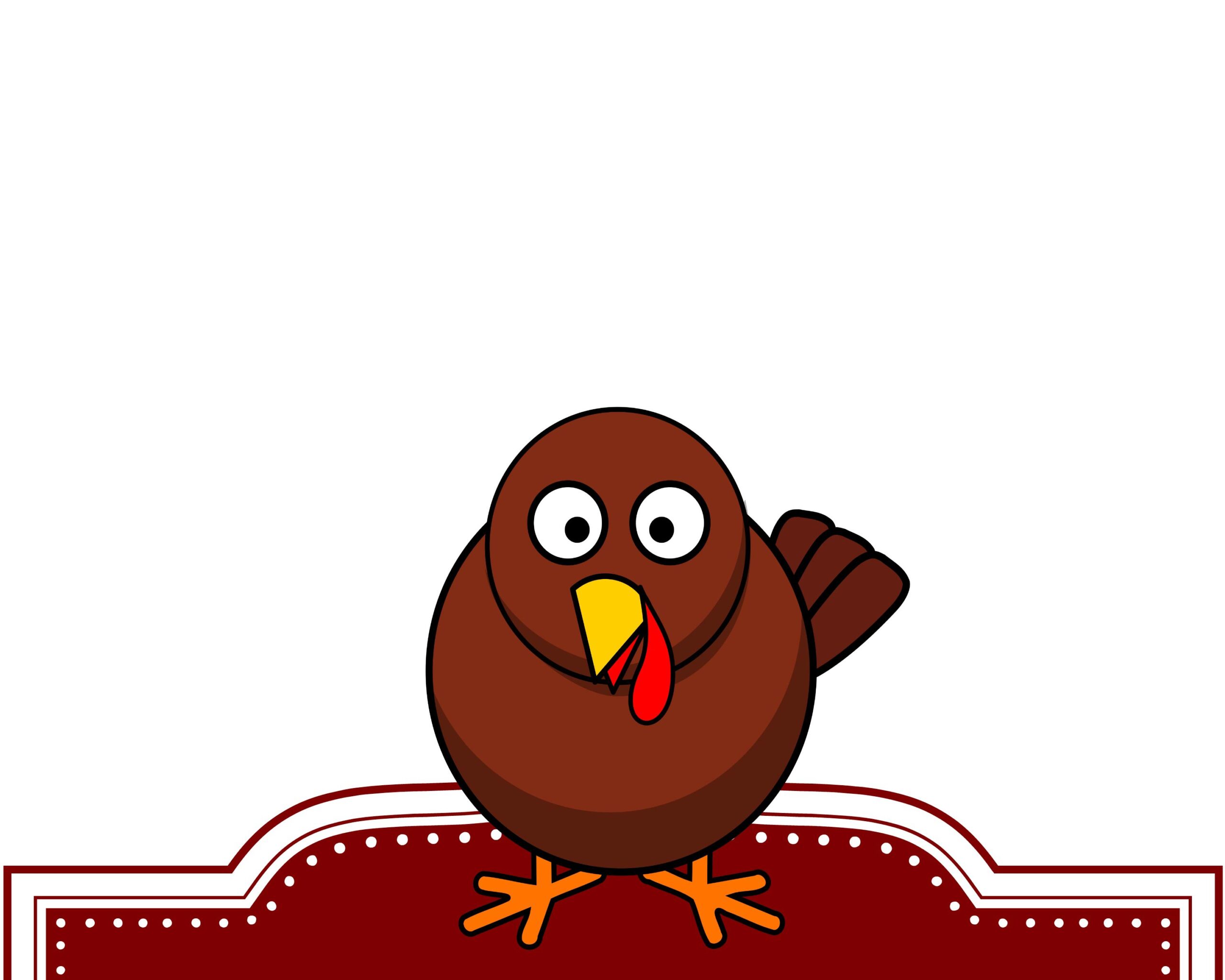 Just print and cut out the "naked" turkey, tape it around the front of the mason jar and insert colored pencils & pens so they look like the turkey's feathers. Thanks to bloodsong at OpenClipArt for helping with the graphics on this!
Once you have your coloring jar all set to go, add some of these awesome coloring pages to your table!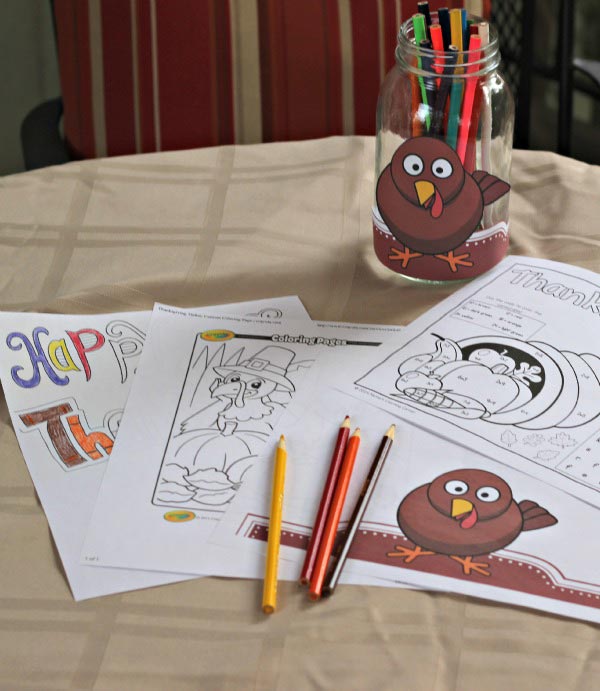 FREE Thanksgiving Coloring Pages to Print

I love that coloring is a multi-generational activity! Plus, you can visit while you color so it's a great activity to do with family. If you have a kids' table, these coloring sheets are great as a pre-dinner or during dinner activity. And I'm sure teens & adults will enjoy coloring while they have a few pieces of pie 🙂
And if you're looking for quick & easy printable games the whole family will enjoy, try these 10 FUN Thanksgiving Games for Kids & Adults!
Be sure to say "thanks!" to the awesome bloggers and companies who created each of these pages.
Thanksgiving Coloring Pages for Preschool & Elementary Age Kids
You can quickly create this adorable Kids' Coloring Station if you're hosting a kids' table this year. Pair the coloring jar with these adorable Thanksgiving table items for kids for a very festive holiday table!
Set of 3 Thanksgiving Placemats (perfect for keeping kids busy while the adults visit 😉 | 3 Dinosaurs
Turkey Cartoon page | Crayola
Cute variety of Pilgrim & Native American coloring sheets | Meet Penny
Mickey & Friends Thanksgiving | Disney Family Fun
More Thanksgiving Placemats | Mama's Learning Corner
Turkey Color-by-Number | Nicole's Coloring Pages
Need Thanksgiving Games for the kids & adults?? Try these printable Thanksgiving Games for Families!
Free Thanksgiving Coloring Pages For Teens & Adults
These coloring sheets have more complex designs that are perfect for tweens, teens and grown-ups who enjoy doodling!
5 Free Printable Thanksgiving Coloring Sheets for all ages! | Edventures with Kids
17 Creative Thanksgiving Coloring Pages & Sayings | Doodle Art Alley
5 Traditional Colorings pages | Educational Insights
Detailed Turkey & Leaf Mandala sheets | Red Ted Art
Gorgeous Fall-themed Coloring Page | Artsy Creations
Thanksgiving Activity Placemats | Better Homes & Gardens
And if your family LOVES games, be sure to browse these 27 FREE Thanksgiving Games & Activities too!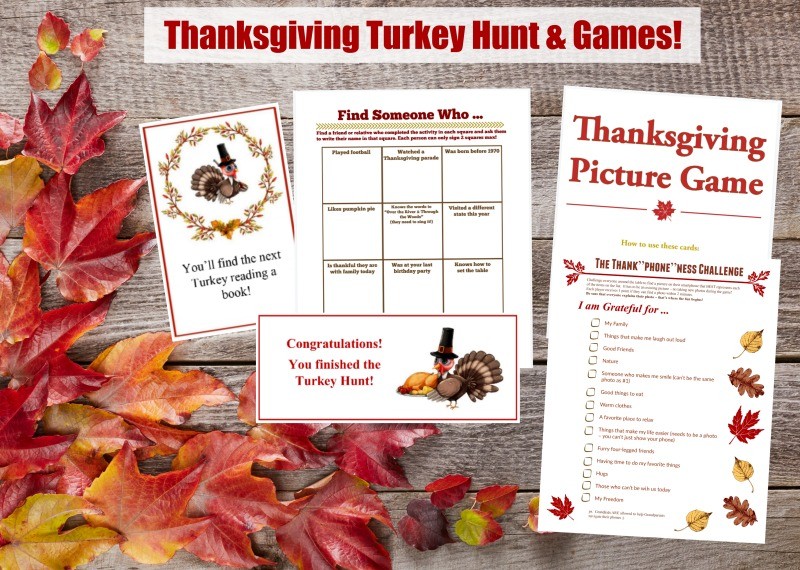 More Thanksgiving Activities:
10 Printable Thanksgiving Games for Kids & Adults
10 Thanksgiving Books about Gratitude & Traditions