Find your favorite pumpkin carving stencils and patterns & create pumpkins of Disney favorites, Star Wars, IronMan & Superheros, the LEGO movie or even Game of Thrones!
Our last 100+ FREE Pumpkin Carving Stencils was so popular, I thought we should share some *NEW* ideas so you can quickly find the cool patterns you'll need to carve the most awesome pumpkin ever!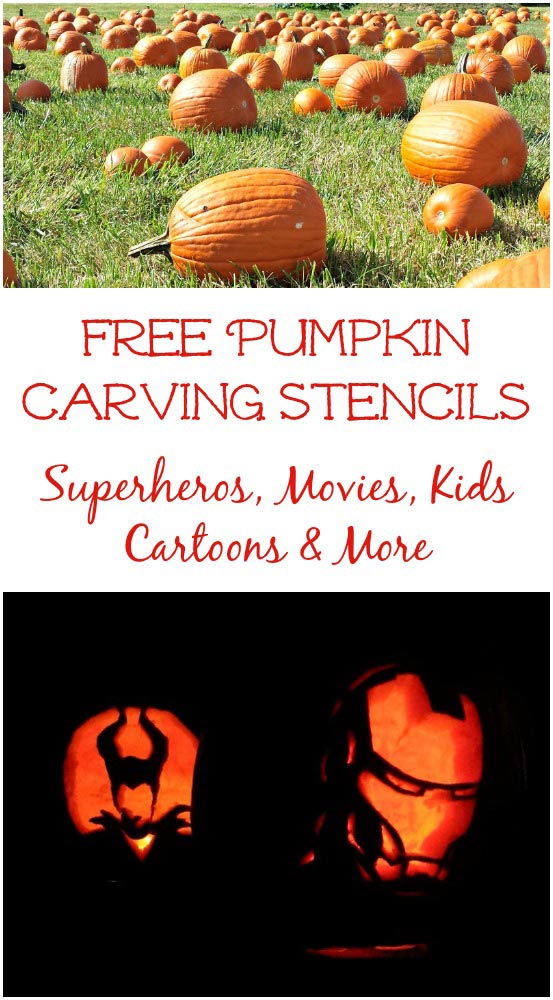 55 Free Pumpkin Carving Stencils & Patterns
We have a few Must-do's Before Halloween Night at our house and one of them is carving pumpkins! (and making pumpkin seeds to snack on <– my kids made me type that 🙂
Our kids love to find pumpkin stencils for their favorite book or movie characters each year so we've rounded-up a ton of favorites for you!
Last year, we looked for more than an hour to find a really great Ironman stencil.
We know first hand that it can sometimes take longer to FIND the right stencil than actually carve the pumpkin 😉 So browse this list of favorites for big kids & teens!
Tips for Carving Pumpkins with Kids
A few tips for hosting your own carving session:
• Cover the table with newspaper to make clean-up easier
• Be sure to tape down the paper stencil while tracing the design onto your pumpkin – we use a heavy duty clear packing tape to secure out patter.
• Keep a large bowl on the table to collect seeds (for toasting!)
• Use a Pumpkin Carving Kit for quick & easy carving – we like the ones that have small pokers and mini-saws that are easy for kids to hold and use!
• Carve out the smaller areas of your picture first and then the larger ones
• If a section of the pumpkin falls off – don't fret! You can use toothpicks to secure the piece back into place!
And one of our BEST tips — cut a hole in the BOTTOM of your pumpkin so you can just sit it over the top of the candle!! It's easier to light the candle that way and you don't have an issue with a cut-off top that shrinks and falls into your jack o'lantern 🙂
And if you're looking for some FUN ideas for celebrating Halloween at Home this year, check out the 40+ Printable Halloween Games and Activities too!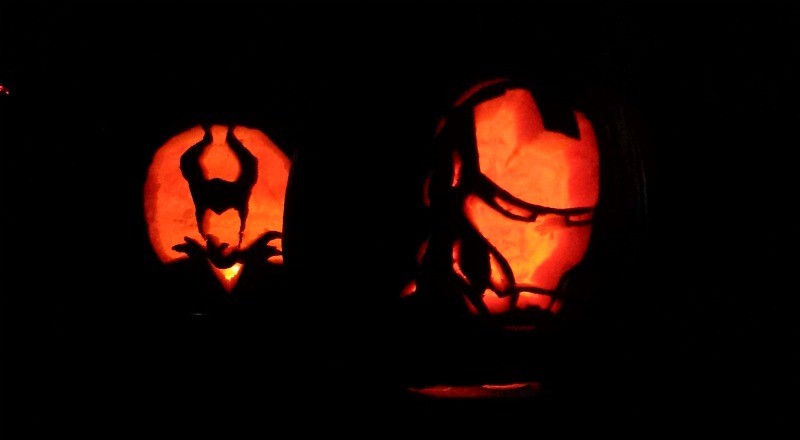 Ironman, Thor & More Superhero Pumpkin Stencils
Looking for Ironman, Ant Man, Thor, Captain America & even Groot? Visit Pumpkin Pile for lots of superhero stencils!
Kids Cartoon Carving Patterns
Some of your kids' favorite Nick Jr. personalities can be turned into jack o'lanterns — find Paw Patrol, Dora & Diego, Peppa Pig and more at the Nick Jr. Pumpkin Stencils page.
If you're a fan of classic cartoons, Cartoon Jr. has a few Scooby Doo stencils.
Or visit Pumpkin Glow for patterns of:
Pumpkin Carving: Favorite Movie Characters
One of the MOST popular ideas each year is carving pumpkins based on recently released films. My daughter is all about Disney villians each year a new movie comes out & my whole family loves all the old & new characters from the Star Wars movies.
SheKnows has an excellent round-up of patterns for Frozen, The LEGO movie and other film characters.
Any Jedi fan would love a Yoda pumpkin! You can find carving patterns for all your favorite Star Wars characters at Starwars.com.
If you have teens who are fans of The Game of Thrones (the series, books or games), they love these Game of Thrones pumpkin stencils at Free Stencil Gallery!
And Pumpkin Glow has a great pattern for Gandolf the Wizard!
Emoji Pumpkin Stencils
Great for those texting tweens & teens 😉
Carve some of your favorite emojis into your pumpkin this year — find emojis for a thumbs up, pizza, puppy, ghost and many other fun 'show your feelings' stencils at Better Homes & Gardens.
Classic Pumpkin Carving Patterns
If you're a purist when it comes to Halloween, Better Homes and Gardens offers quite a few free stencils on their website including bats, black cats, ghosts and traditional jack o'lantern faces.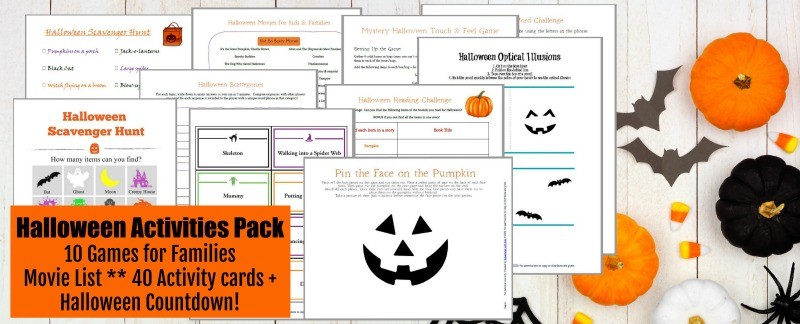 More FUN Halloween Games
And if you're looking for more fun ideas for Halloween (especially if you'll be celebrating at home) check out these Printable Halloween Games & Activities!
More Halloween Fun:
31 Free Halloween Printable Activities
5 Must-do's Before Halloween Night