Enjoy this FREE printable Red, White and Blue Scavenger Hunt for the 4th of July or a fun summer game!
Our newest Summer scavenger hunt idea is perfect for kids & adults — and a fun activity to add to your Independence Day plans this summer.
Plus, it can be used in so many ways — as a traditional hunt, a photo scavenger hunt or a friendly team competition at your family BBQ 😉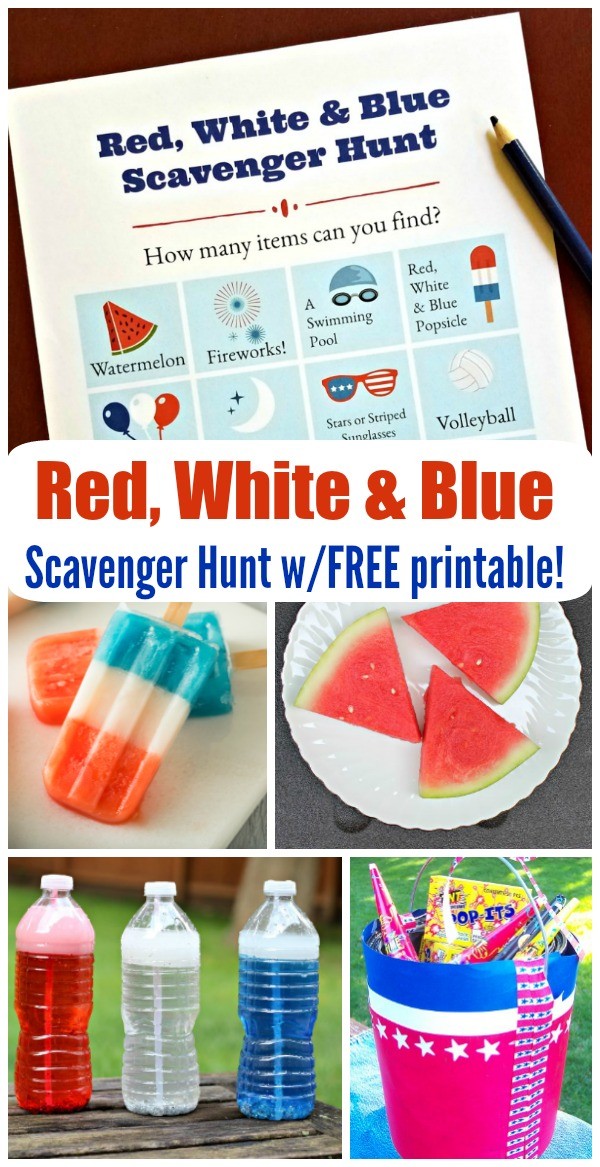 Red, White and Blue July 4th Scavenger Hunt (FREE printable game!)
Whether you're heading to the lake, a picnic in the park or celebrating in your own backyard, this fun & FREE 4th of July Scavenger Hunt is a great activity!
We love to do hunts like these with all ages – younger kids enjoy running around to check off the items, older kids like to turn it into a photo or selfie scavenger hunt and even adults can enjoy this colorful activity. Kids might also enjoy these Kids Books that Celebrate July 4th for some fun backyard reading time before the hunt too.
And we made this a little challenging too — no flag on this list (that's way too easy!)
Our list includes popular summertime red, white or blue items that you can find around the house, in your neighborhood, or at the park or so the hunt will last for a bit as players scout out as many items as they can find.
We've included a FREE printable for you along with affiliate links for items we love to use on our hunts and FUN ideas on how you can use the game to entertain family & friends this summer!
And be sure to check out more awesome July 4th Printable Games & Activities on Etsy too — there's so many ways to entertain the family before heading out to see fireworks!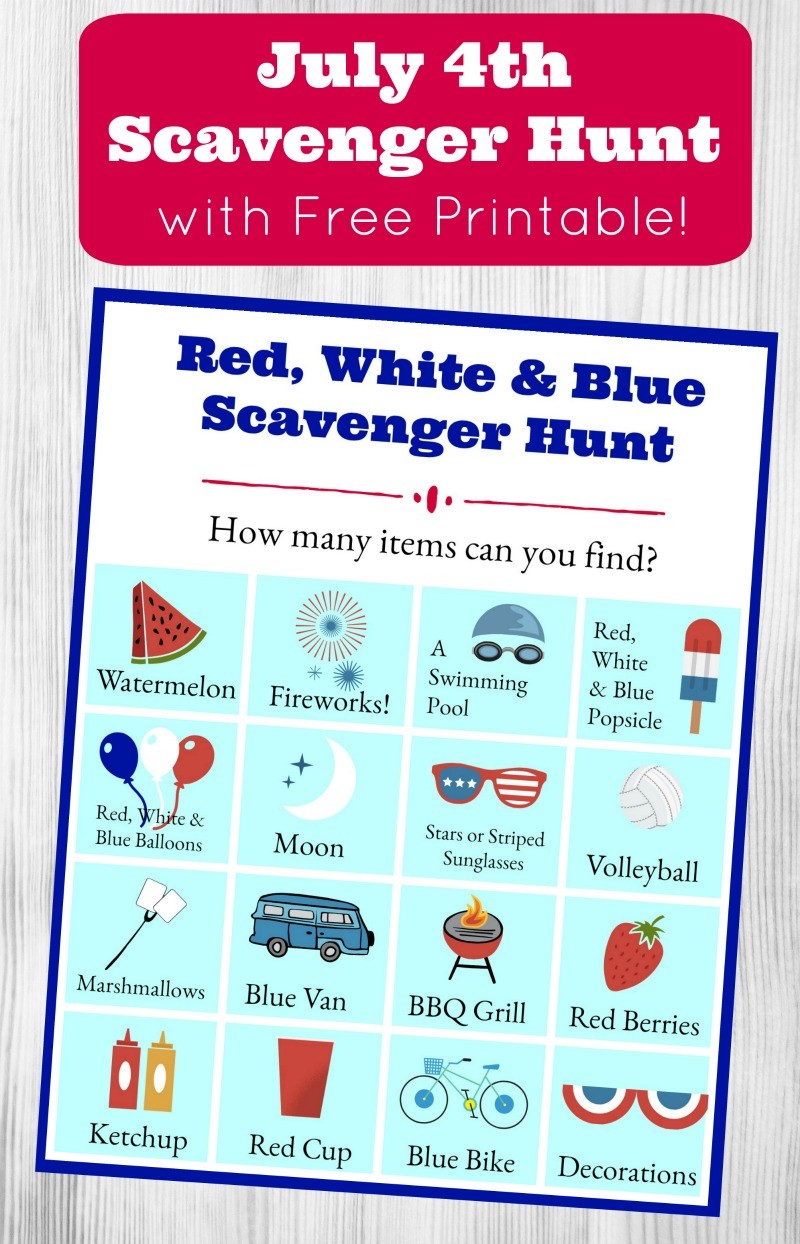 Fun and FREE 4th of July Scavenger Hunt Ideas
So many people have bbq's, head to the lake or spend time with family & friends during the long Independence Day holiday so I thought we'd offer a few creative options when it comes to playing this game:
1. Traditional Scavenger Hunt
Give each person a copy of the printable along with a pencil or marker to check off items as they are found. (BONUS if you have red, white and blue colored pencils!)
You can give this to kids in the morning and have them look for items throughout the entire day or use it as an after-dinner game.
ps. it's also a fun way for younger kids to practice learning colors too
2. Red, White and Blue Photo Scavenger Hunt

Tweens & teens LOVE this option!
Each person has to snap a picture of each item on the hunt OR (better yet!) snap a SELFIE with each item. If you're at a picnic, this is hiliarious as you see teens taking photos with 'ketchup', eating 'watermelon' or trying to find a 'blue bike'.
The photo scavenger hunt is also great way to get everyone walking around the neighborhood or at the park after a meal. We like to set a timer for older kids (set it for 30 minutes to see who can find the most items). As a bonus, give teens a pair of these red, white & blue sunglasses to wear during the hunt!
3. Group/Team Competition
For a team competition, a timer is a must!
Give each group the list of items and set them loose — assign one person on each team to take pictures.
Here's how to award points:
1 point for each item on the list
plus another point if a team member is in the photo WITH the item
and then an extra +2 points for the most creative photo of each item
Moon photos are the biggest challenge — and wait until you see what people do with a slice of watermelon?!!
4. A Glow in the Dark Hunt (while waiting for fireworks to start!)
This is easy to adapt as a night-time activity too — there are celebrations going on all day so finding the items shouldn't be too hard especially if you are out in a crowd waiting for fireworks to begin.
Just add in red, white and blue glow sticks for everyone doing the hunt! (kids are easy to spot as they look for the items on the list). Or make these cool Red, White & Blue Glow in the Dark Sensory Bottles for kids to use!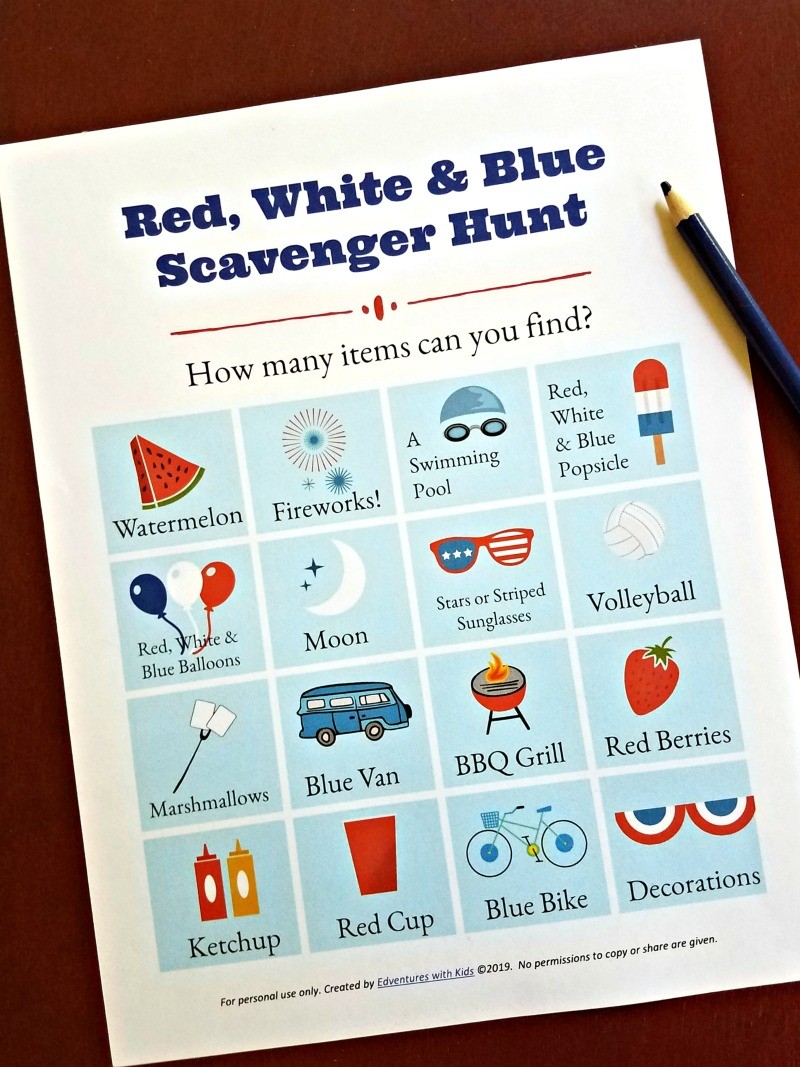 How to Plan an Independence Day Scavenger Hunt
Here's what you'll need for the game:
one printable for each person or team going on the hunt (grab your FREE copies below & print as many as you need!)
red, white and blue pencils, crayons or markers (OR)
if you're doing a photo hunt, be sure each person or team has a phone they can use
clipboards to help hold the hunt & pencil so the printable doesn't blow away 🙂
There are SO many cool ideas you can use for this hunt — for example, pair up teams by color so you have a red team, white team and a blue team. And if you're looking for more games to play, try these 14 FREE Printable July 4th Games & Activities too!
Or require each person or teams to wear red, white and blue hats, patriotic-themed temporary tattoos, streamers or something funny during the hunt (I'll bet your kids would LOVE to see Grandpa dress up 😉
This is a fun activity to do while you're prepping dinner or a great after-dinner idea to keep everyone busy before heading out to see fireworks!
Grab your free printable hunt here & have a great time with it!
More Summer Scavenger Hunt Ideas:
FREE Printable Beach Scavenger Hunt
20 Summer Scavenger Hunt Ideas