Celebrate Independence Day with these FREE July 4th printable activities & glow in the dark sensory bottles!
I can't believe it's almost July! Man, summer sure can fly by if you're not paying attention 😉
Today's idea is one of those classic Summer Sensory Activities for kids of all ages — we call them Fireworks in a Bottle! Totally safe & fun to create — make these bottles during the day to play with and then watch them glow in the dark at night!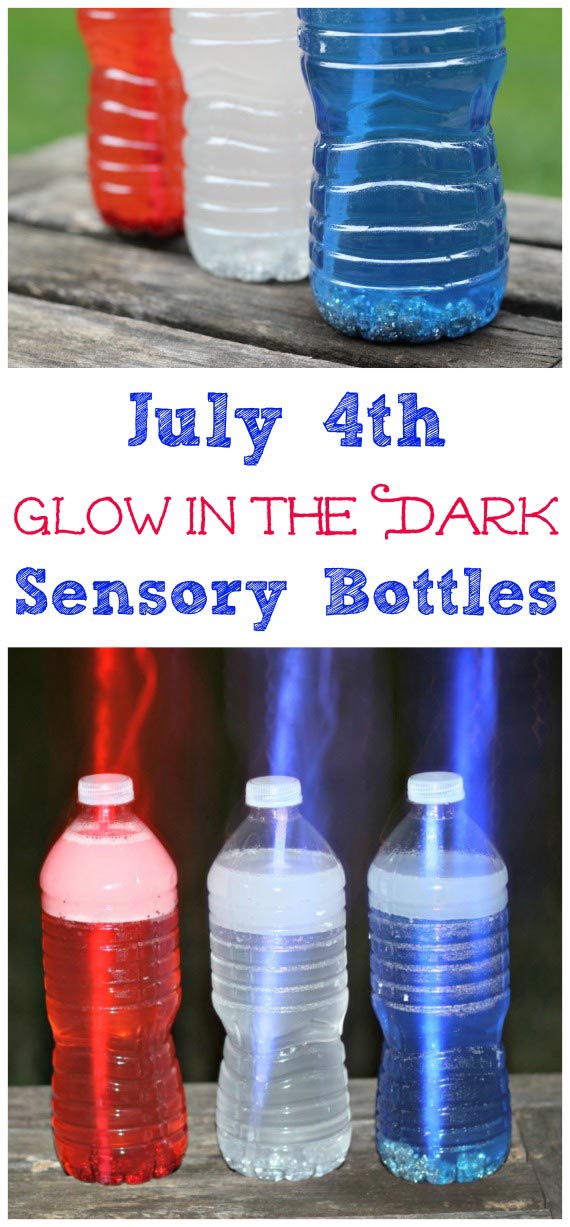 FREE Printable July 4th Games & Glow in the Dark Sensory Bottles
If you have kids, July 4th will not get past you without them asking about picnics, parades and fireworks! Each of those activities is on our 100 FREE Summer Activities to do Near Me list (grab your FREE printable list too!)
These bottles are super easy, super colorful and work both day & night — which is a bonus since so many activities on July 4th take place in the evening and after dark. And they're a great addition to celebrating July 4th at home if you're just sticking around the house this year!
They are mesmorizing to look at and play with PLUS they have a special secret hidden inside.
Since kids will have to wait a little for the secret, we're also sharing some FREE Printable 4th of July activities & games (to make the waiting a little more bareable 😉 If you're planning to hit the road over the July 4th week, be sure to check out these 15 Printable Road Trip Activities & Travel Games too!
How to make Glow in the Dark Sensory Bottles
Here's what you'll need to create these bottles along with affiliate links to items for more information:
• empty water bottles
• water
• baby oil or bath oil
• glitter to match your colors
• Glow Sticks
– you can see from this link that it's best to use the bracelet size glow sticks preferraby in red, blue & white but any color will work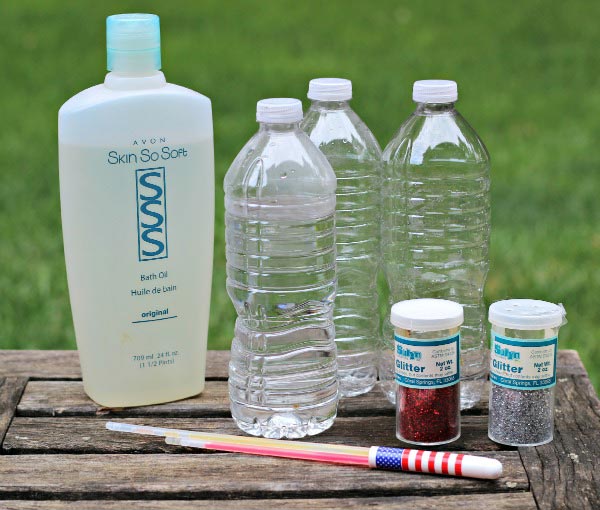 Did you catch that last item 😉
Shh…. you may not want to tell your kids if you'd like to surprise them.
Fill your water bottles 4/5 of the way full with water. Then add some glitter and 5 drops of food coloring (if you choose). Add 1/4 cup of baby oil being sure to leave a little room at the top without any liquid so the bottles will shake nicely.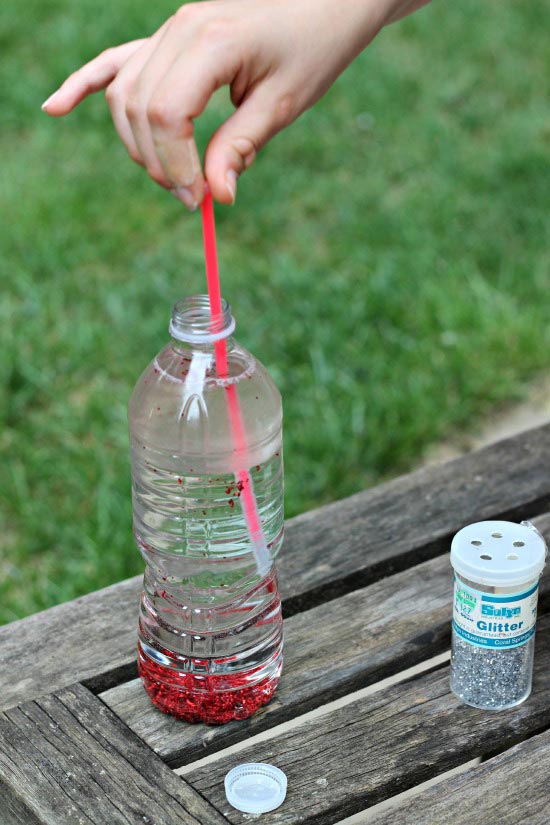 Now 'activiate' a glow stick (by bending it) and drop it into the bottle.
As you can see in the photo, this is a great time to talk about the science of sensory bottles — you can see the glitter falls to the bottom (it's more dense than water) and the oil floats on the top.
If you want to teach your kids more about density, be sure to try out this hands-on Summer Science experiement: physics & food!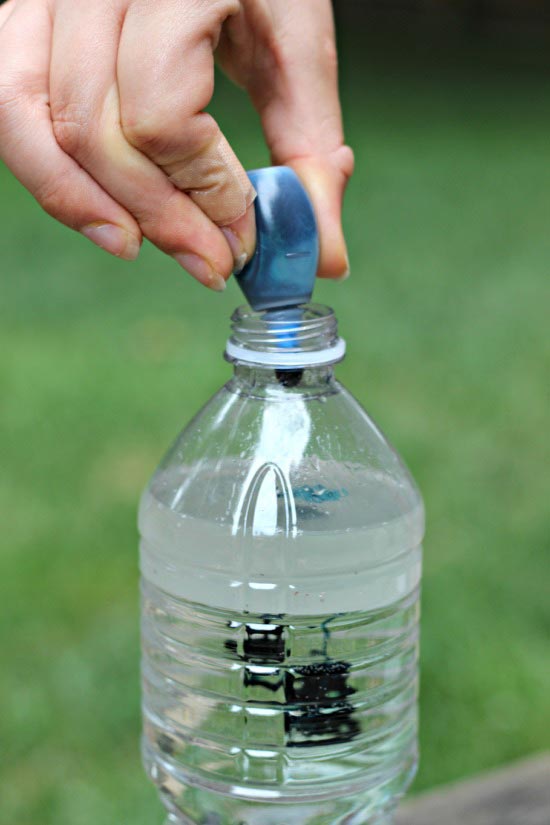 If you can't find red and blue glowsticks, try putting white glowsticks in each bottle and then using the food coloring to create a red & blue bottle. Use about 4-5 drops of food coloring.
Bonus: more science! Kids can watch the food coloring as it moves through the oil and water. Ask them questions like: Is it more dense or less dense? Does is mix with BOTH water and oil or just the water?
If you want to explore science more, try reading What Floats? What Sinks? A Look at Density or Things that Float and Things that Don't while making the fireworks bottles.
Science is pretty cool 😉
Last, glue the top onto the bottle. Make sure to allow the glue to dry — and if you're worried about the kids prying off the top, add some tape around the outside for good measure 🙂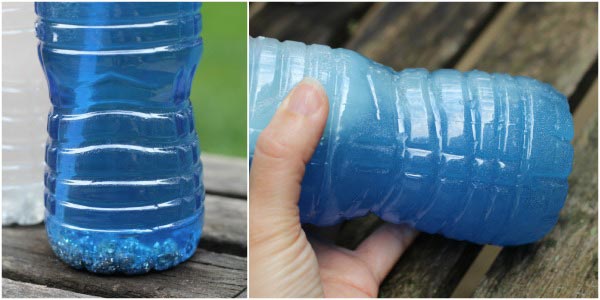 Now the bottles will work just like any other sensory bottle — shake them up and the kids can see the oil, water and glitter move around in the bottle.
It will get cloudy and then separate again which is a fun science lesson on how some substances do or don't blend together.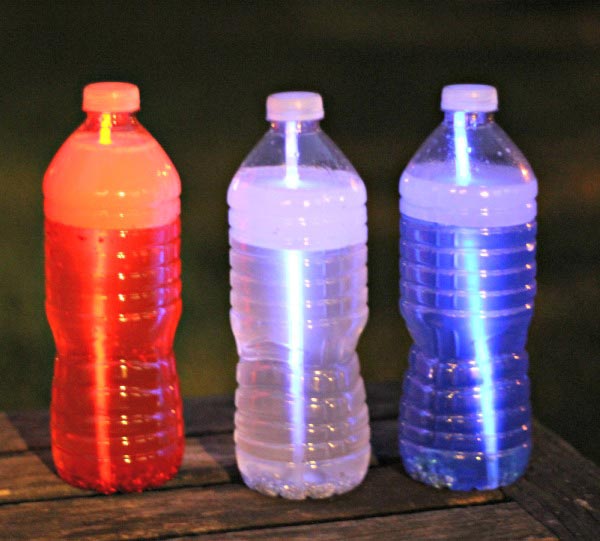 The cool part comes at night when they start to glow and the sparkles in the bottle look like fireworks!
They are great to take with you to a fireworks show — kids will have something to keep their hands & eyes busy until the fireworks begin.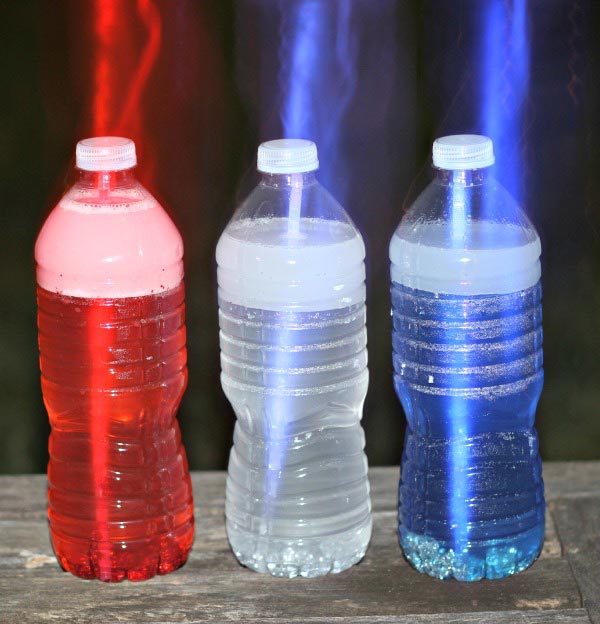 And here's another cool idea, if you're taking a photo of the kids playing with them at night, you can capture a really awesome 'ghost' color streams if kids move the bottle or if you move your camera just a little.
But you do have to wait until dark which is never an easy thing for kids to do.
When we made them, all I heard was:
"Mom, do you think they're glowing yet?"
"Not yet, it's still not dark."
30 mintues later —
"How about now?"
"Still no — how about we go for a walk and see what they look like once we get back."
Distraction always works for a while 🙂
RELATED ACTIVITY: Mystery Sensory Balloon Game
So while you're waiting on that special surprise to show up in the bottles, why not enjoy a few of these awesome & free printable games!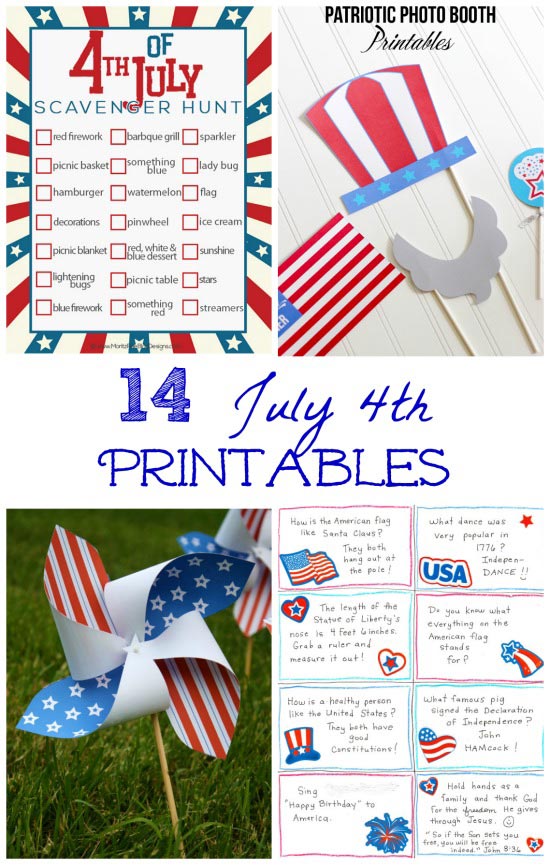 July 4th Free Printable Games & Activities
If you'll use these outside at a picnic or cook-out, I highly recommend a Sturdy Clipboard
so you're not chasing paper around all afternoon 😉
Red, White & Blue Scavenger Hunt for Kids, Tweens & Teens — Edventures with Kids
July 4th Scavenger Hunt — Moritz Fine Blog Designs
July 4th Jokes & Conversation Starters — Happy Home Fairy
Patriotic July 4th BINGO — Blooming Homestead
July 4th Trivia Game — The Miliary Wife & Mom
Label the States & July 4th BINGO — 30 Handmade Days
July 4th Word Search — Crayon Freckles
July 4th Printable Pinwheel — Alpha Mom
10 Patriotic Song printables — Wildflower Ramblings
Patriotic Photo Booth printables — I Heart Naptime
More July 4th Photo Booth props — Kristen Duke Photography
Independence Day Trivia cards — Yellow Bliss Road
July 4th Coloring Pages — Itsy Bitsy Fun
For more Independence Day fun, be sure to check out all these July 4th Printable Games for Kids & Families too!