Enjoy these fun Olympic Activities for Kids along with a FREE printable challenge and medals for them to earn!
After a years' long delay, the Summer Olympics finally started this week. This set of games won't be without their challenges, but the Olympics are always a time to celebrate — so our *newest* FREE printable activity is an at-home Olympic Challenge for kids (and their families) to do during the summer games!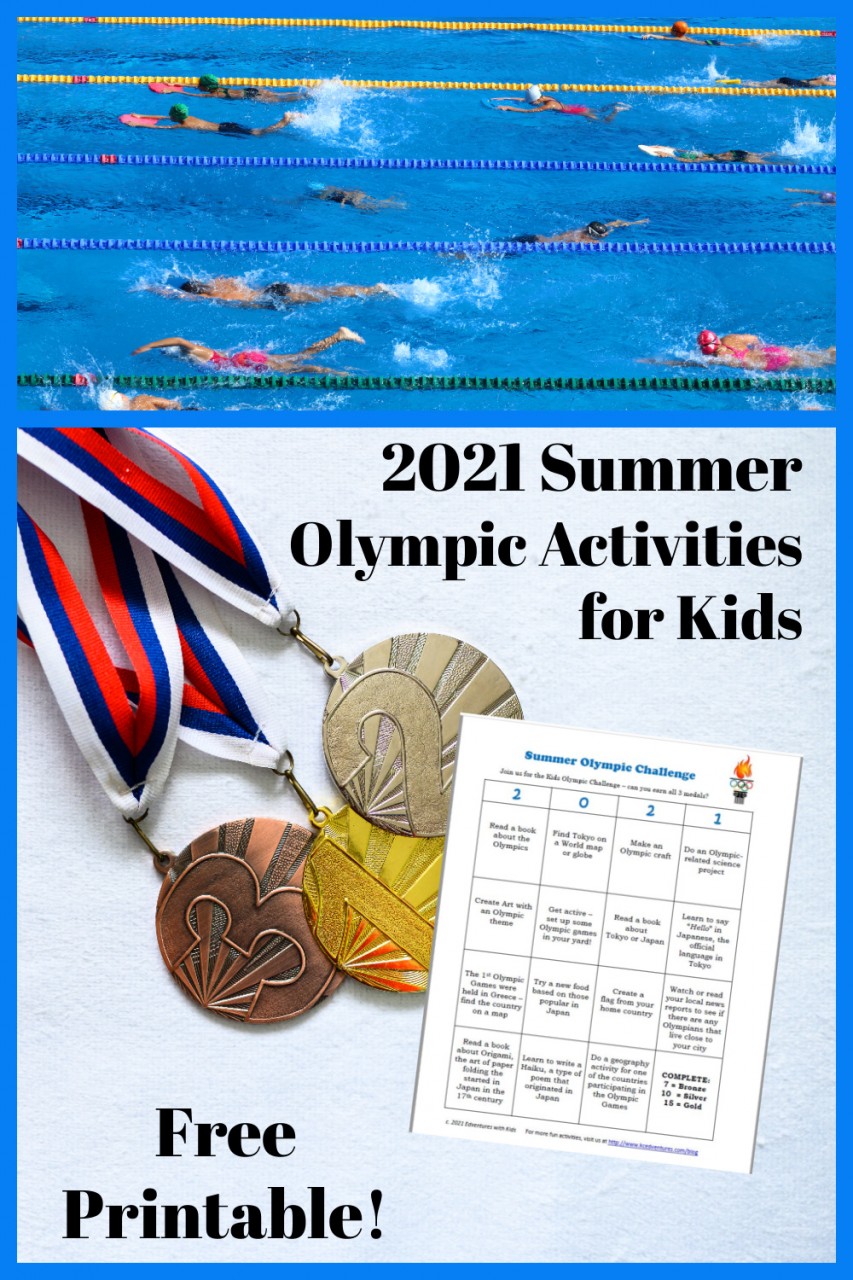 2021 Summer Olympics: Activities for Kids
I know there are quite a few kids who watch the Olympics and think "that will be me one day!" Others love to cheer on their country or watch the sports they play and love.
For me, part of watching the Olympics every few years is enjoying the history and culture that's highlighted during the games. While I love to see the competitions (the diving just amazes me!), I really enjoy seeing what each host country features during that two week period. As you can tell from many of our hands-on geography activities and our curated list of Kids Explore the World Activities & Games, we are big fans of raising global citizens!
Plus, there's a lot of really cool events in the summer games – surfing, diving, archery, fencing, BMX racing, volleyball! Kids will be introduced to some new sports and may even want to try a few after seeing them in action 😉 For more details about all the events, along with learning about the Olympic Mascots, visit the official Tokyo 2021 Olympic Games website for kids!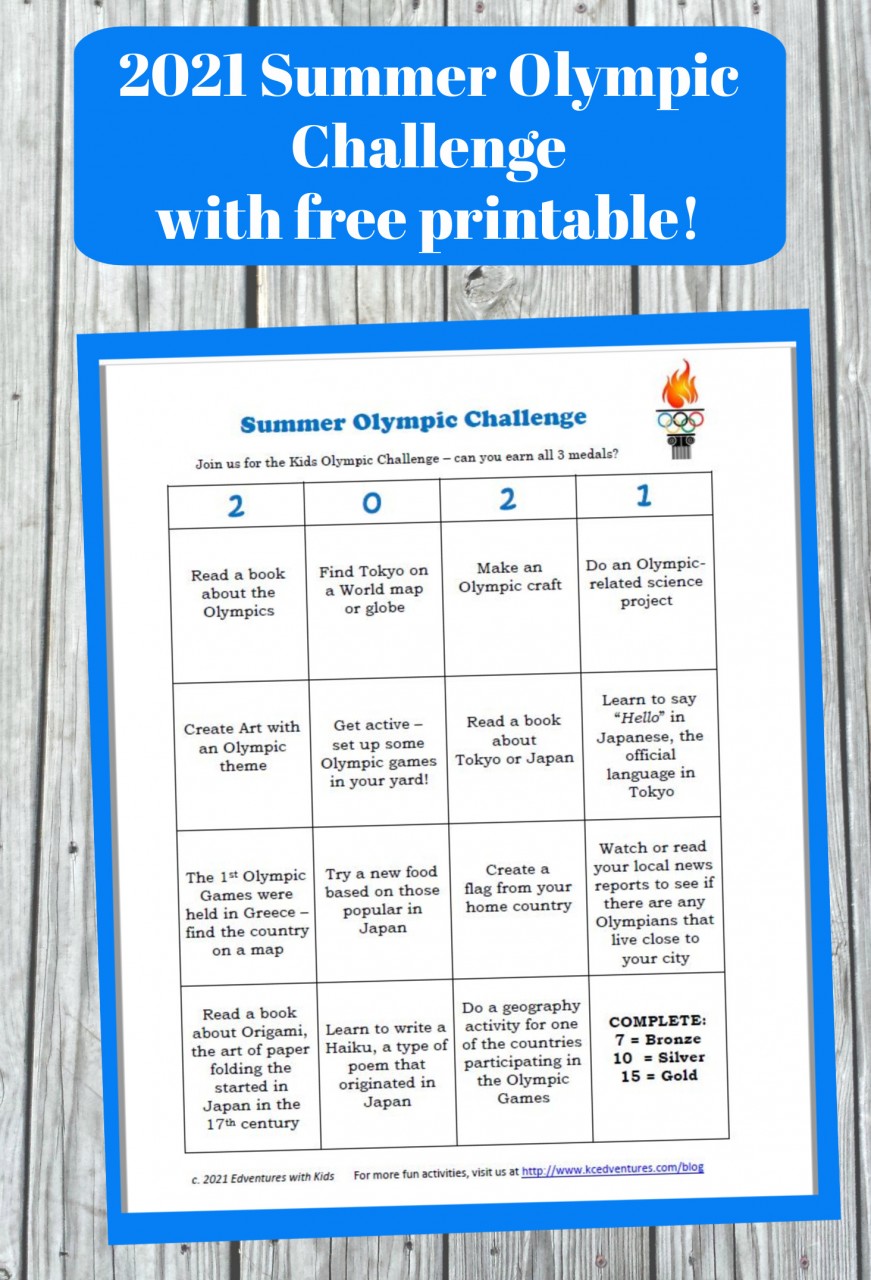 Free Printable Olympics Game for Kids
Since there will be hardly any attendees at this year's games (sad but true), it's even more of a reason to cheer along at home and support those competing along with your country.
We created a special 2021 Summer Olympic-themed Challenge for kids (and families!) to do during the two weeks of the games. There are also FREE printable bronze, sliver & gold medals included so as kids complete each of the activities on the list, they can work their way to winning "The Gold"!
We have so many fun ideas for them to choose from — geography, culture, STEM ideas and of course, physical games – so browse the list to find the ones that your kids will enjoy the most!
Find Tokyo on a World map or globe
Do an Olympic-related science project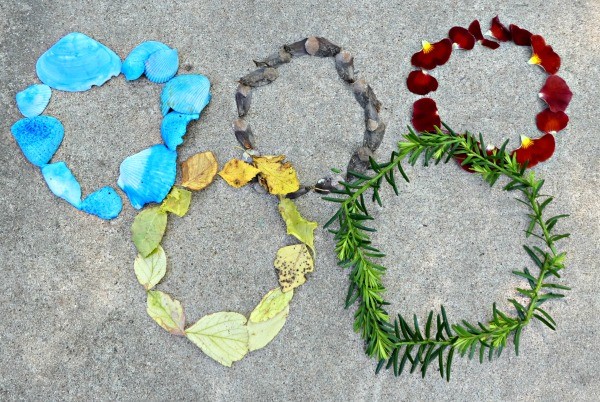 Try a new food based on those popular in Japan
Learn to say "Hello" in Japanese, the official language in Tokyo
Watch or read your local news reports to see if there are any Olympians that live close to your city
Create a flag from your home country
Learn about Origami, the art of paper folding the started in Japan in the 17th century
The 1st Olympic Games were held in Greece – find the country on a map!
Learn to write a Haiku, a type of poem that originated in Japan – Visit How to Write a Haiku with some great examples & a free printable worksheet!
Award kids a Bronze medal after 7 completed activities, a Silver for 10 activities and a Gold if they are able to do all 15!
In addition to the printable game, I also recommend having a Kid-friendly World Map or Kids Globe. The Olympic Games are the perfect opportunity to introduce geography activities to kids in a fun & hands-on way.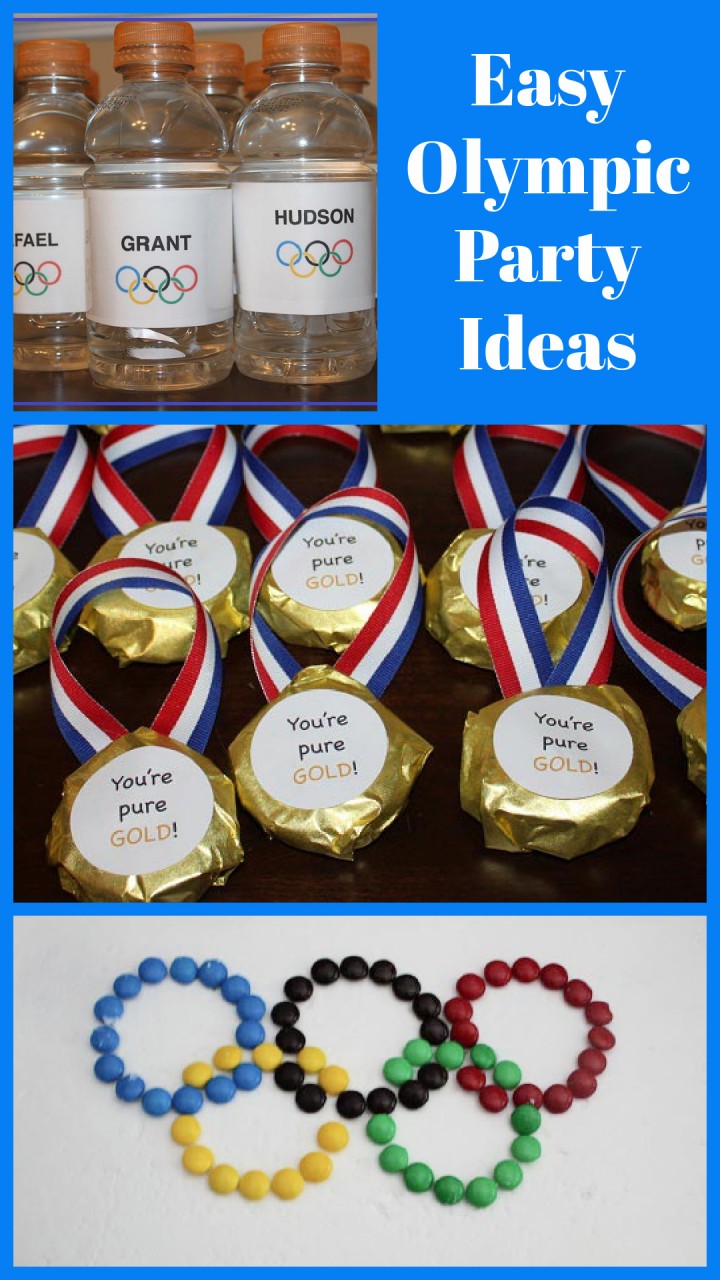 Olympic Themed Party Ideas
One fun way to celebrate the Olympics or completing the challenge is with a party!
You can either set up a few stations around your yard with various activities kids can work on to earn their medals — or have an outdoor Olympic themed party once it's over.
And visit Etsy for an awesome collection of Olympic-themed party decorations and printable games too!
Download your FREE printable Summer Olympic Challenge and see how many fun activities you can complete during the games!