A FREE back to school checklist for parents to help cover all the obvious and obscure things that need to be done before your kids head back to class!
There are always SO MANY things to get done before school begins, aren't there?!
Shopping for school supplies just seems second nature to us but all those other little things —
like do I have the latest school phone numbers on my phone?
Which app is the school using to track grades this year?
Not to mention the whole "you can't wear flip flops all year so which shoes still fit" discussion.
So today we have not one but TWO awesome free printable back to school checklists to help you get organized and start the school year off right!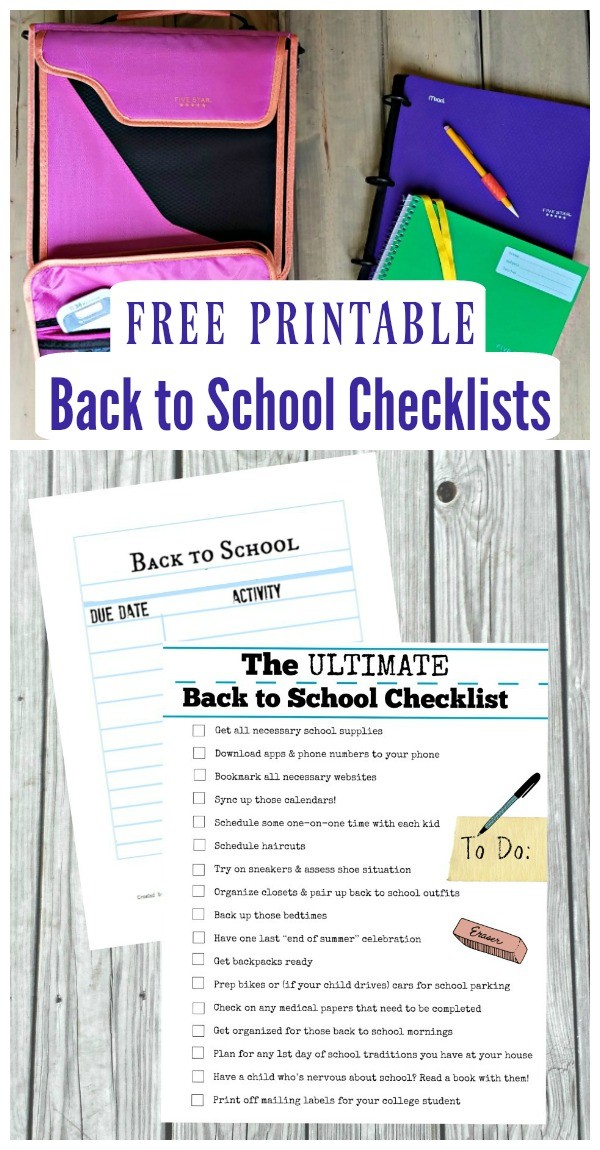 The Ultimate Get Ready for School Checklist (with FREE printable!)
This year, I definitely wanted to be better prepared as we headed back to school!
We made 4 trips for school supplies last year, never got haircuts scheduled until 2 weeks AFTER school started and I just felt like I was constantly playing catch up and chasing papers 🙁
To be fair, my oldest was at college last Fall (here's our College Prep Checklist in case you have one going soon!) so things were a little out of the ordinary at our house. And there were a few things that just really threw us for a loop during the past school year too.
First, my daughter's school went electronic and the kids started using iPads for so much of their work. BUT it's hard to use an iPad without wifi (easy when you're at home or in the classroom, however we take our studying with us on the way to activities or on evenings walks).
This meant we had to print off study guides and such from the iPad — not an easy task and in fact, several teachers weren't sure how to help us do this without my daughter having to save the document, attach it to an email so it could be opened on a computer and then printed.
The second issue was the number of emails and updates that required ME to "print off a permission slip" or "complete forms to register" — seems the school had gone paperless but because of all the privacy issues that still exist, I couldn't go paperless from home.
I knew I needed 2 things this year:
1. An AWESOME checklist that included some of the more obscure things we needed to do to get ready (like haircuts!) and
2. a printer that was wireless so it was easy to print from our phones & iPad — and also small enough that I could keep it on the main living level of our home (which, quite frankly, doesn't have much counter space).
So this past summer, I started to jot down all those things that we knew SHOULD get done before school but I just didn't want to deal with yet because let's face it, it's summer 🙂 and relaxing is more my style!
And I also started planning out a 'Command Center' for our house so I thought I would share some of the details along with organizing tips & affiliate links to some of our favorite items!.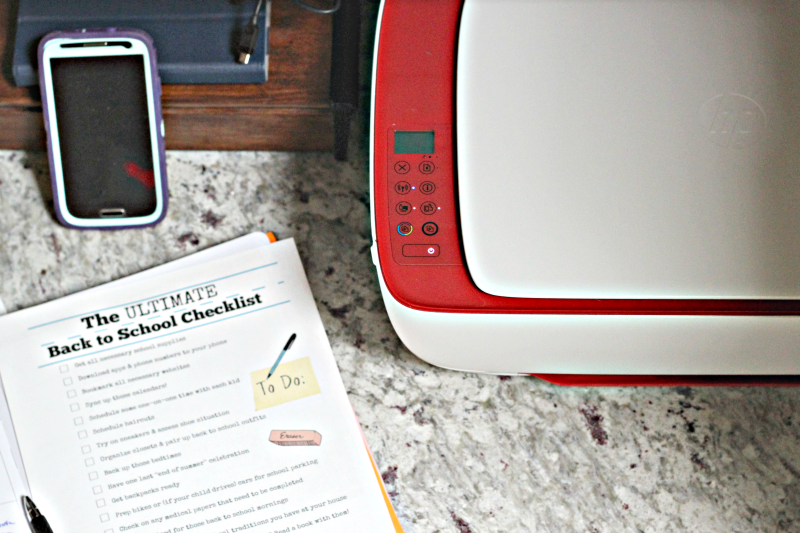 Back to School Organization: Kitchen Command Center
I knew I wanted a dedicated planning area in our kitchen since our lives have changed a little.
Usually I carry my calendar with me everywhere but then I'm the ONLY one filling in the calendar. Now that my daughter is old enough to help with that, I need a dedicated space where we can keep everything —
sticky notes & tabs,
a file system for all the papers, etc.
I found a smaller-size printer that will print, scan & copy with a nice space-saver design and lets me print from my phone or tablet! Yea!
I set it up on our kitchen planning counter and there's still lots of room for me to have my calendar open and work. Plus, these printers are SUPER quiet! As in, I can be on my cell phone and there's no annoying "bleep, bleep, bleep" while it's running.
And the best thing — it's in the kitchen!
Next to the place were my daughter does her homework and where I keep my calendar!
Where I don't have to run upstairs every time I want to print something (which might sound lazy but it gets kind of annoying to keep leaving the table during homework sessions or when I have something on the stove and I'm trying to get some paperwork done too).
School Year Organization Hacks
So how about some fun (and of course, FREE!) printables to help you get organized for Back to School this year!
I guess the first one I should share is the one you see in the photo above — our FREE Breakfast Planner (which will help kick-start those school mornings so they are not so chaotic).
As I put together the Back to School checklist, I decided to go a little retro and use a vintage school paper/library card theme for the lists. The first page is a "don't forget to do these" to-do list and the second is a blank log where you can record what needs to get done for your home — and then hang it on the fridge so EVERYONE can see what needs to be done before school 🙂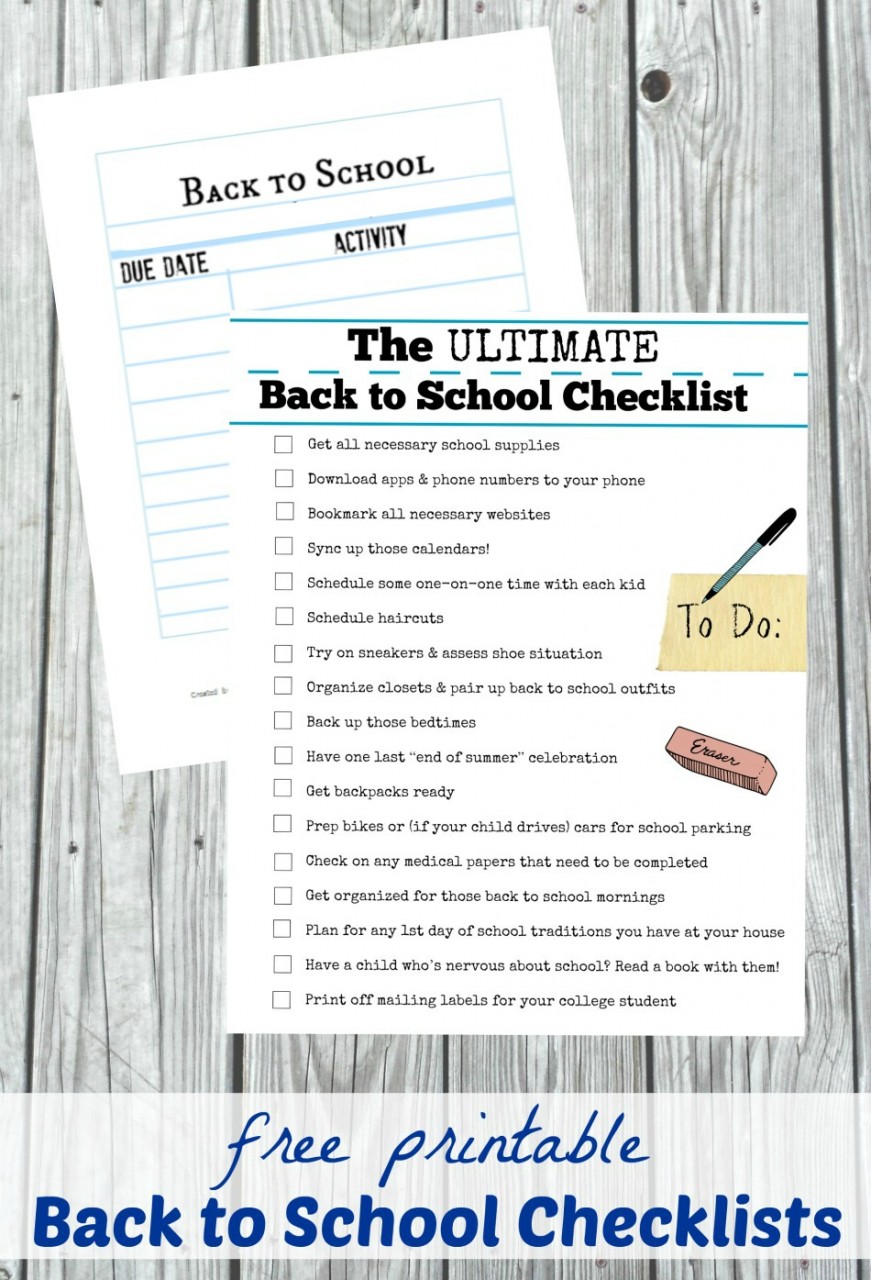 Here are a few things we've learned over the years about prepping for the first day of school:
Get all necessary school supplies (and nothing extra because at BTS night they will let you know what else you'll need).
Download apps & phone numbers to your phone – volunteer sign-up sites, the number you need to call to report an absence, district apps for grades and parent notifications – get them all loaded now!
Bookmark the teacher's website, sports twitter feed, the district calendar (since my kids ALWAYS ask about their first day off on day 2 of classes 😉
Schedule some one-on-one time with each kid (yes, even your teen – in fact, ESPECIALLY your teen since they will soon be off on their own).
Schedule haircuts or doctor appts or orthodontist appts.
Try on sneakers & shoes to be sure they still fit. I swear that wearing flip flops all summer makes my kids' feet grow quicker 😉
Organize closets so it's easy to find school clothes (remove all the summer stuff and go over any dress codes for your school).
Back up those bedtimes & encourage your kids to get some rest.
Have one last "end of summer" celebration – maybe a trip to the pool or late night ice cream run? We're heading to the zoo! Here are some free printable end-of-summer coupons you can use too!
Check backpacks to be sure they are sturdy and comfortable and not filled with items from the last sleep-over your kids went to this summer.
If your kids bike or drive to school, be sure they have the necessary details about parking or a lock for their bike.
Check on any medical papers that need to be completed – if your child requires medication at school (such as an inhaler) you'll probably needed a signed permission slip from their doctor. And if they play sports, you may need a physical form completed before their first day of practice.
Plan for any first day of school traditions you have at your house – yes, I still make my kids stand next to the garden for 1st day photos so I can see how much they've grown each year.
Start or Organize that Command Center! Due dates, school events and commitments are going to come flying at you over the next few weeks so be sure you have a place to capture all those details for your family.
And here are the two FREE Back to School Checklist printables!
Anything else you'd add to get ready for the first day?
Wishing you a great start to the new school year!
More Organizing Ideas for Your Home:
How to Begin Organizing Your Entire Home
5 Ways to Make Your Home More Kid-friendly
More Free Printables:
35 Free Back to School Printables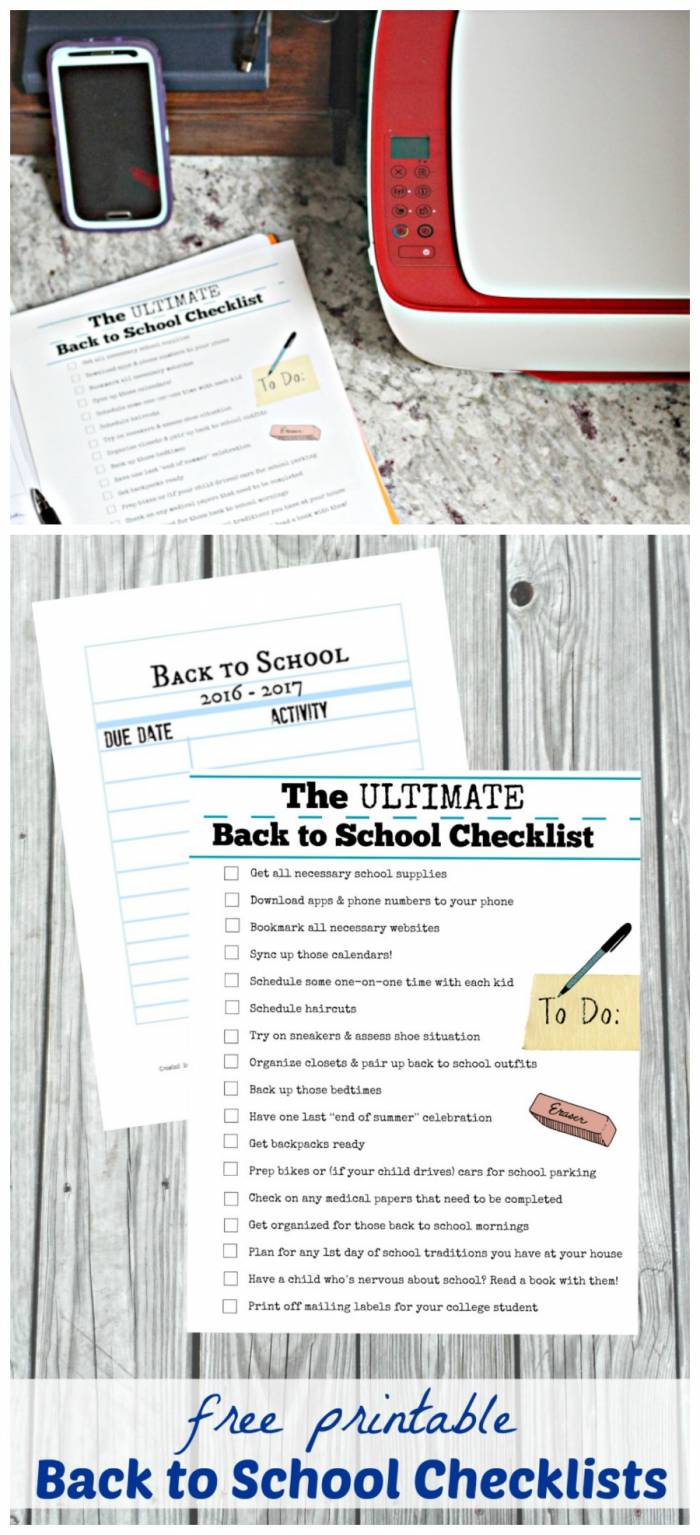 This shop was originally compensated by Collective Bias, Inc. and its advertiser. All opinions are mine alone. #CreateWithHP #CollectiveBias