Kids of all ages will LOVE this FREE printable Under the Sea Scavenger Hunt (that can be done online, with an ocean story book or on a visit to an aquarium!)
We've had such a great response to our Scavenger Hunts for Kids that we also wanted to create one for ocean animals too. But since most of us don't own a submarine and can't hold our breathe for too long 😉 I thought we'd make an under the sea themed hunt that can be done online *using live webcams!* or in person if you plan to visit an aquarium or zoo near you!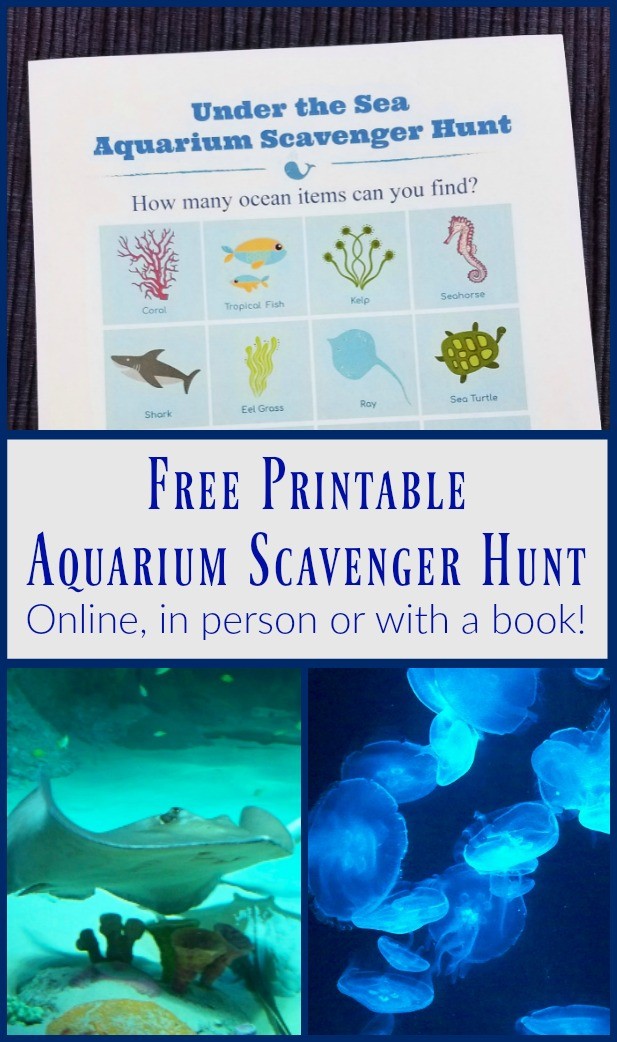 Under the Sea Aquarium Scavenger Hunt
We had the opportunity to go snorkeling as a family a few years ago and WOW! what an awesome experience! There were sea turtles, tropical fish, eels, jellies, coral, sea stars — just so much to look at while we swam.
Since most of us (my family included) don't live too close to the sea, it's encounters like a visit to the aquarium or a snorkeling adventure that give us a look at how amazing life is in the oceans.
Today's scavenger hunt can be done three ways — online using live webcams, when reading an ocean-themed book or during a visit to a local aquarium or zoo. And the activity is a wonderful pairing with our Ocean Layers STEM project or the Ocean Zones for Kids: Marine Life jars!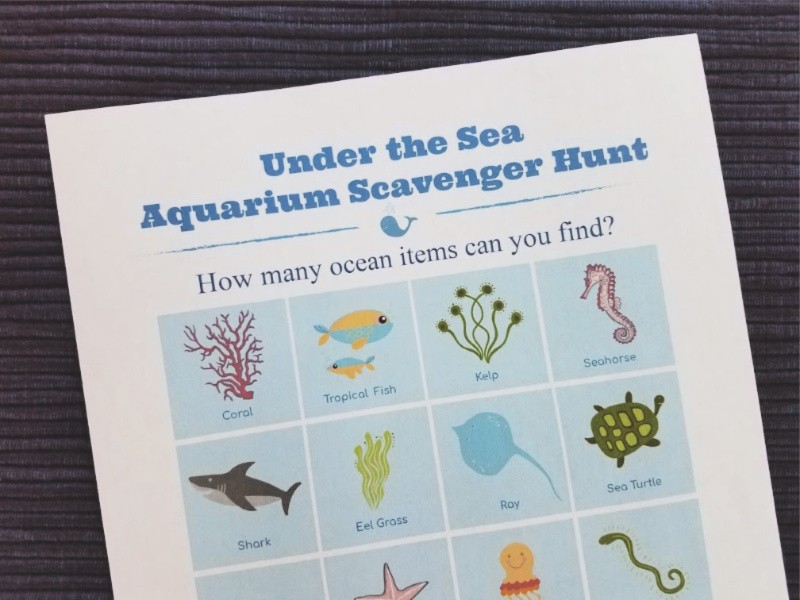 Things to Find on an Under the Sea Scavenger Hunt
While most kids will quickly name some of the popular marine life you can find swimming in the oceans, we wanted this hunt to also include a broader breadth of sea creatures — and give kids some challening items to find too.
You can think of this scavenger hunt as having different categories:
Large Marine Animals – sharks, rays, sea turtles, seals or sea lions
Small Ocean Creatures – seahorse, eels, tropical fish, fish with stripes
Ocean Invertebrates – yep! here comes the vocabulary lesson 😉 Kids can learn that the word 'invertebrate' means an animal without a backbone. Sea stars, jellyfish, corals and crabs fit this group.
Other Ocean Life – we also included other popular items you'll find in the ocean such as sea grass, kelp and seashells too!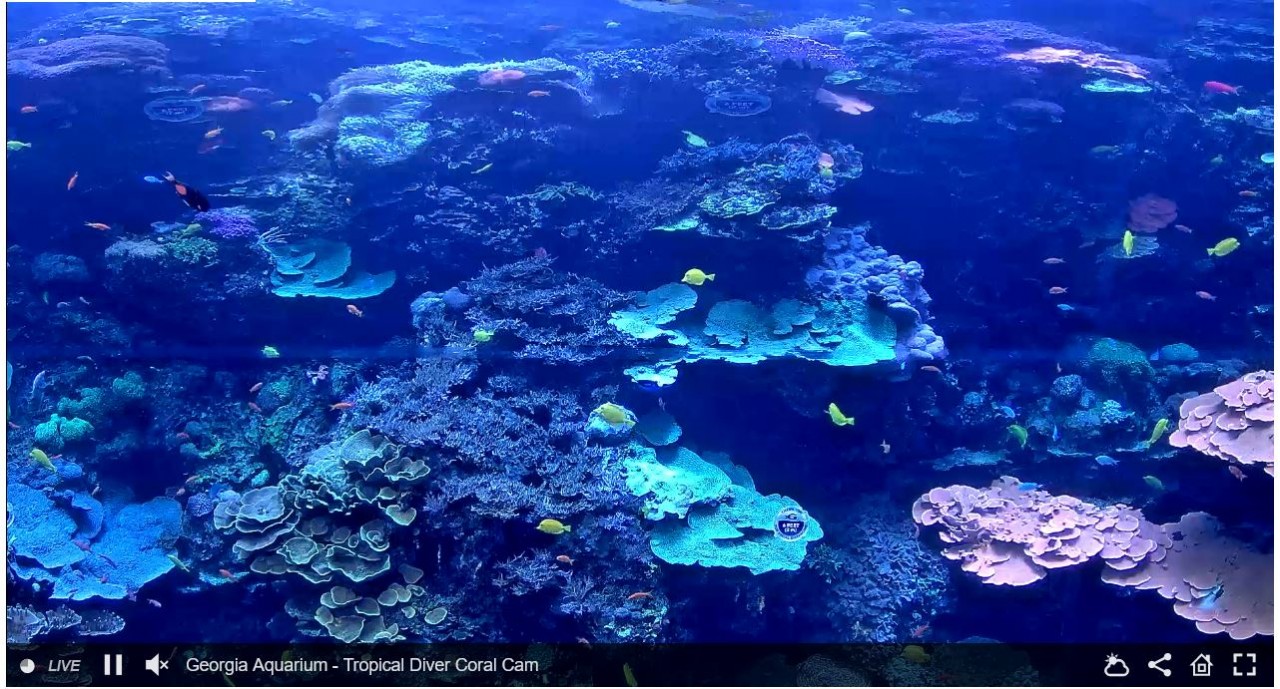 Online Ocean Scavenger Hunt for Kids via Webcams
If you decide to do a virtual scavenger hunt, this turns into a great STEM activity for kids (since you're combining the science of ocean life with technology). Grab a copy of the FREE printable hunt below and then visit these online webcams to find each of the ocean items:
Monterey Bay Aquarium Webcams – you'll find sea turtles, sharks, jellyfish, a coral reef, otters and more as you browse through the 10 beautiful live feeds. My favorite is the moon jelly webcam – sooo relaxing to watch! Also check out the Open Sea webcam too.
The Aquarium of the Pacific has webcams for their shark lagoon, moon jellies & sea nettles, tropical reef and coastline habitat! The tropical reef webcam has tons of colorful fish — too many to count at most times.
The Georgia Aquarium webcams feature beluga whales, sea lions, sharks, rays, reefs and puffins! Be sure to check out the Indo-Pacific Barrier Reef webcam — it's gorgeous!
Ocean Book Scavenger Hunt
Another awesome option is to use this scavenger hunt while reading some favorite books about ocean animals! Here are a few we love along with affiliate links to each:
The Big Book of the Blue is a gorgeous look at life under the sea! It's a huge, oversized read with beautiful illustrations and answers to kids most pressing questions like "Do sharks eat people?" and "Why do crabs walk sideways?"
Deep in the Ocean is another outstanding book with more pictures that words so kids can hunt to their hearts content to find each of the items on the list! This is a great book for younger readers.
If you have kids who love real-life pictures, than Ocean Animals: Who's Who in the Deep Blue is defiantly the book for them! Take a reading adventure through ocean layers, coral reefs and the deepest areas of the sea to find each of the marine items on the hunt!
And check out our great big list of fabulous Ocean Books and Activities for Kids for more ideas too!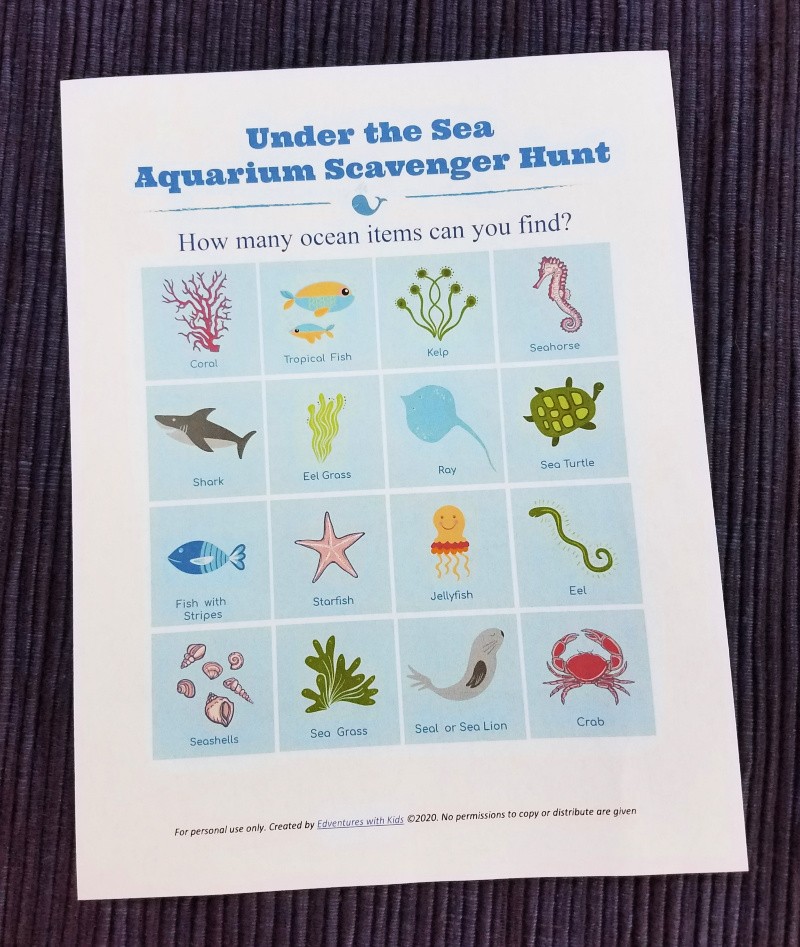 Aquarium Scavenger Hunt printable
If you're lucky enough to have an aquarium near you, you can also take the scavenger hunt on the go! Aquariums can be both indoor or outdoor attractions. You can also find aquariums at some zoos, nature centers and in many coastal towns and cities.
Get your FREE printable Under the Sea scavenger hunt and enjoy some time explore the oceans!
More Ocean Activities for Kids
How Big is a Blue Whale? Outdoor Ocean STEM Activity
18 Ocean STEM Activities for Kids
DIY Ocean Habitat in a Bottle project