Explore some of these summer sensory activities this year with your kids no matter what their age!
My kids are "touchers" — as in, they always put their hands on things. So when we plan out our favorite summer activities, I love being able to give them lots of sensory experiences! It's the perfect time to get wet, sticky and try new things — to paint, walk barefoot and explore at night.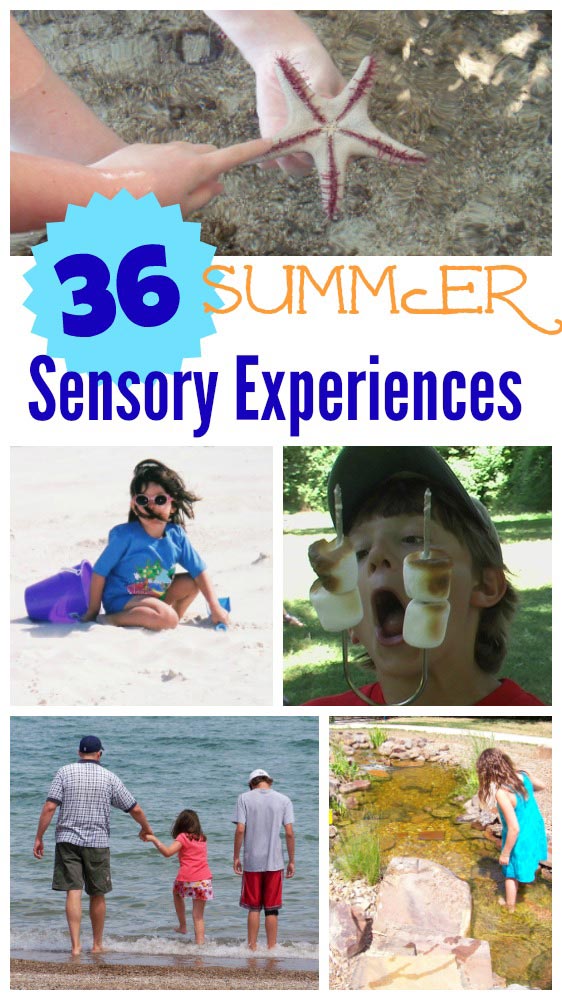 36 Summer Sensory Experiences for Preschool, Kids, Tweens & Teens
When they were young, I can't tell you how many times I said "Don't touch that one!" — barbed wire, live animals, dog poop! Yes, dog poop — who knew it was such a kid magnet?!
But I did know that letting them touch as many things as they safely could would allow for wonderful learning opportunities! They've always learned best when they can have a hands-on experience which is a very familiar thing for so many kids.
It's the time of year when I initiate some of our creative family projects and plan some out-of-the-ordinary day trips.
As much as I love the walk-thru-the-sand, get creative, try something sticky days, I'll tell you a little secret — I'm kind of a germ-o-phobe 🙂
I'm the one who's constantly asking "Did you wash your hands?" after drawing chalk murals, playing outside or feeding animals on our outings. It seems like my kids always pick the most inopportune times to reach for a snack 🙂
Not to mention, we have a double whammy in our house — allergies 🙁
So keeping hands clean before someone reaches to itch their eyes is a must which is why I'm partnering with Wet Ones to share some fun sensory activities! Honestly, I don't want to be the Mom who says 'No' to everything so I've learned to have Wet Ones® Hand Wipes on hand so I can feel comfortable that they're eating a snack (and not a lot of extra dirt) with clean hands and those eye itching moments won't result in an allergy flare-up later.
Remember, sensory isn't just for little kids — kids of all ages need sensory activities to help them learn & grow!
New sights and sounds help us to expand language, smell and touch allow kids to better understand the world around them and our sense of taste changes as we age (did you know that?!) so those foods your kids hate when they're younger, they may grow to love.
Here are a few of the sensory experiences we're planning this summer along with affiliate links for a few items we love to have on hand for summer fun — Come explore with us as we share fun ways to inspire kids, tweens & teens to touch, taste, smell, feel and hear the beauty of summertime!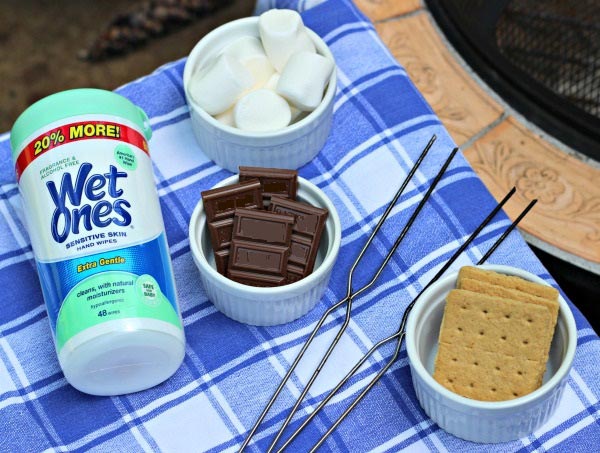 Sensory Activities In the Backyard
S'more night at the firepit — Oh! and we LOVE to make campfire pies too (try these Campfire Pie Irons if you're looking for a new summer treat!)
Planting a garden — we're growing tomatoes, cucumbers & herbs
Backyard science experiments — think baking soda & vinegar volcanoes or Mentos in soda 🙂
Climbing trees — tip: if your daughter has long hair, braid it before she climbs a pine tree, just sayin … 🙂
Making Slime
Family Art session – try one of these Outdoor Art Activities this summer!
Catching bugs – like this Summer Science Firefly Activity idea!
Shaving cream painting — you are never too old to play with shaving cream!
Drawing chalk murals – we used chalk to draw the Layers of the Ocean!!
Having a watermelon seed spitting contest 😉
Jumping rope
Mastering a handstand
Enjoying homemade popsicles – we love this set of Popsicle Molds!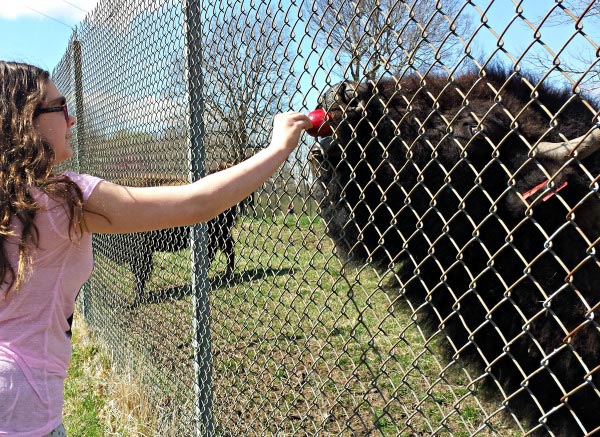 Sensory Experiences Around Town
Feeding the buffalo at the park — yes, buffalo! We live in a cool town 🙂
Art day at the local museum — here's 5 Tips for Your Next Museum Visit
Swimming at the pool, lake or beach – try a few of these Science at the Beach activities if you go!
Dessert in the Dark on July 4th – we always pack up something special + an outdoor picnic blanket and have dessert while we watch the fireworks!
Trying new foods from the Farmer's Market or a local farm
Animal visits at the Nature Center — and no! I am still not brave enough to hold the snake!
Seeing a play at the outdoor theater one evening
Going antique shopping for treasures — yes, lots of smells, dirt & dust, but we always find cool stuff!
Bottle-feeding the baby goats at the petting zoo — I know! Petting zoos can be pretty cool.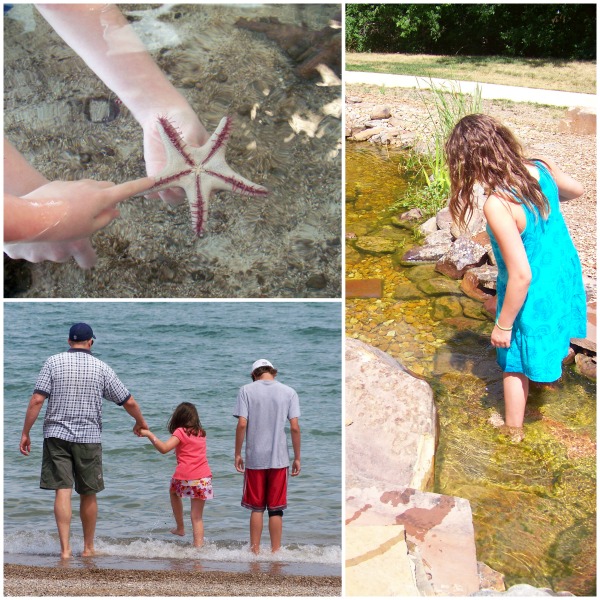 Outdoor Sensory Activities for Kids
Exploring tide pools — finding sea creatures, shells and treasure at the beach
Going on a nature scavenger hunt – take along this FREE printable Nature Scavenger Hunt too!
Blueberry picking — totally need to have Wet Ones® Hand Wipes before we get back in the car!
Playing at a new playground — take along this free printable playground scavenger hunt this summer
Digging your toes into the sand
Feeding fish at the pond – grab this list of FREE Science & Water Activities at the Pond or Lake
Swimming, snorkeling (or anything that gets kids to swim underwater)

Kayaking at the lake — here are our Tips for Kayaking with Kids!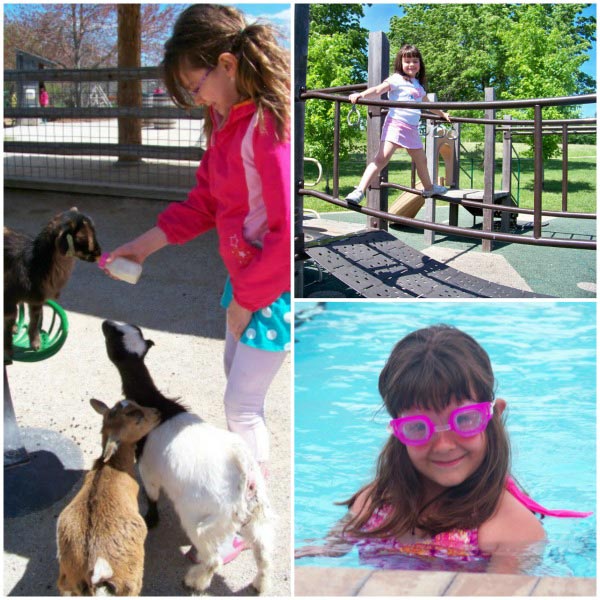 Sensory Activities for Kids While Traveling

Stopping at road-side stands to try new foods on vacation — like honey sticks!
Visiting those un-planned attractions on the way
Bathroom breaks — sensory experiences can be good and not so good, right?!
Taking photos of new places — my rule: no one touches the camera unless their hands are clean 😉
Exploring a National Forest
Finding items to add to our collections — rocks, shells other amazing finds — see how we organize our mini-collections
And be sure to see our 20 Printable Scavenger Hunts, Car Games & Summer Activities for Kids too!
More Summer Activities

34 Ways to Be a Cool Parent this Summer
50+ Creative Summer Activities for Kids
The original post was a sponsored conversation written by me on behalf of Wet Ones® hand wipes. The opinions and text are all mine.