Grab this *NEW* printable Garden Scavenger Hunt and get outside to explore the garden!
While most people think of gardening as something that happens in the spring (when we get all those plants in the ground), I really love gardening in the late summer and fall!
At this time of the year, gardens are in full bloom — bursting with flowers, fruits and vegetables — which makes it a great time to get kids out to see all that really IS happening in the garden.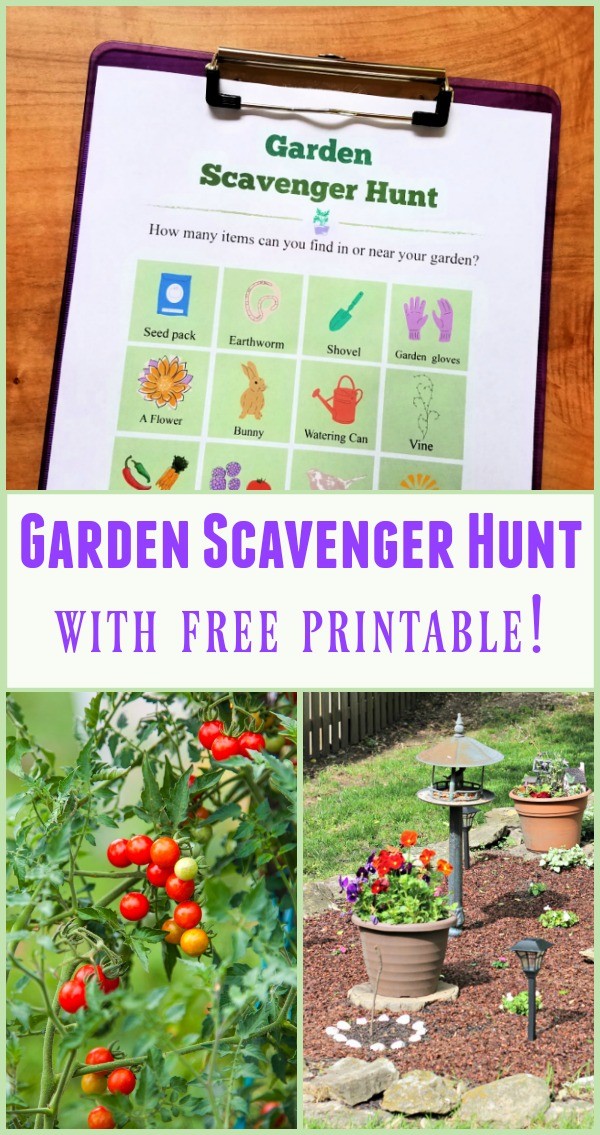 Garden Scavenger Hunt for Kids
Gardens are an excellent opportunity for kids to learn about nature and science. They can watch the life cycles of plants throughout the season, learn how a garden becomes a mini-ecosystem for a variety of insects and animals and even do a little science experimenting (such as how much water does my garden need).
There are a few garden books for kids that we just LOVE and highly recommend pairing with this activity. We've listed them below along with affiliate links for each
Up in the Garden and Down in the Dirt is one of our go-to books for learning about gardens! First, it takes the reader through garden life during all the seasons. Kids will learn how different insects help with pollination, arate the soil and create an environment where plants will thrive! The pictures are wonderful and the details provided about each animals job in the garden is perfect for kids ages 4 – 8 years old.
Another wonderful story is In a Garden, a beautifully illustrated book that gives us a look at all the life above ground and underground in the garden. This book is great for younger readers (toddlers, preschool and pre-k kids) with rhyming text and pictures that hold your interest. There's also bonus items in the back to extend the learning.
If you're looking for a more advanced picture book, How Does My Garden Grow? is a must! Young Sophie visits her grandparents and learns about gardening — she helps plant seeds, water, weed and learn about everything that it takes to keep a garden growing. The pictures are amazingly detailed and give kids a in-depth look at what kids can do in the garden (very inspirational & educational for kids ages 6 – 11 years!)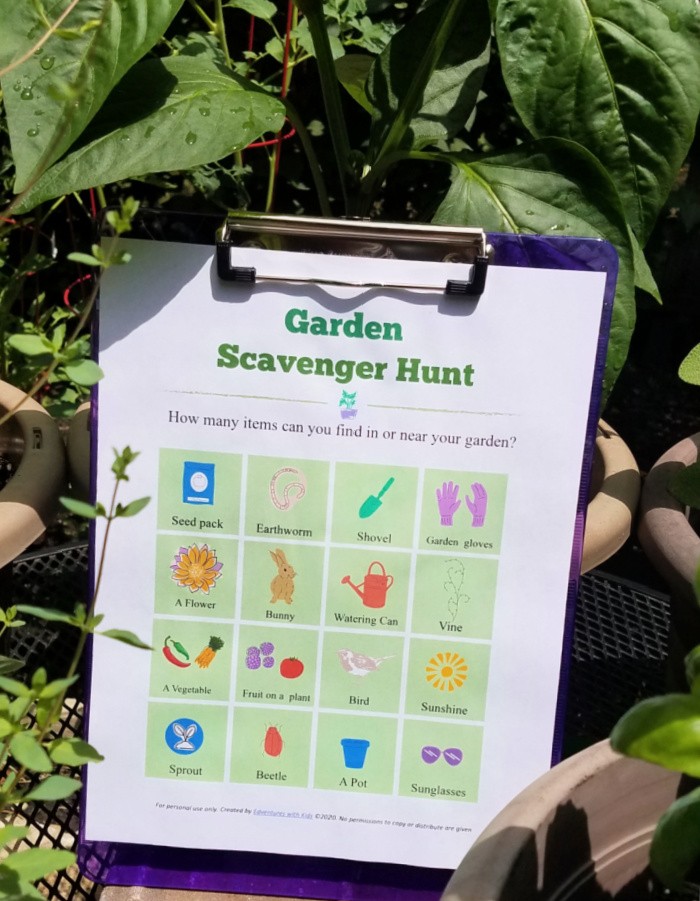 Garden Scavenger Hunt List
There's so much to look for in a garden — both above the dirt & underground! See if kids can find all these items in or near the garden as they search:
seed packets (which are sometimes used as garden markers 😉
an earthworm (you may have to dig a little for this one!)
garden gloves (wear these before searching for that worm)
a vegetable
a beetle
a pot
sunglasses (hopefully, kids are wearing these!)
a garden shovel – also called a garden trowel
a sprout
a bunny (they usually visit the garden in the early morning)
sunshine (point out that all plants need sun to grow!)
a vine
a bird
fruit on a plant (yes, tomatoes are actually a fruit and not a vegetable)
a watering can (or maybe you have a watering wand – that counts too!)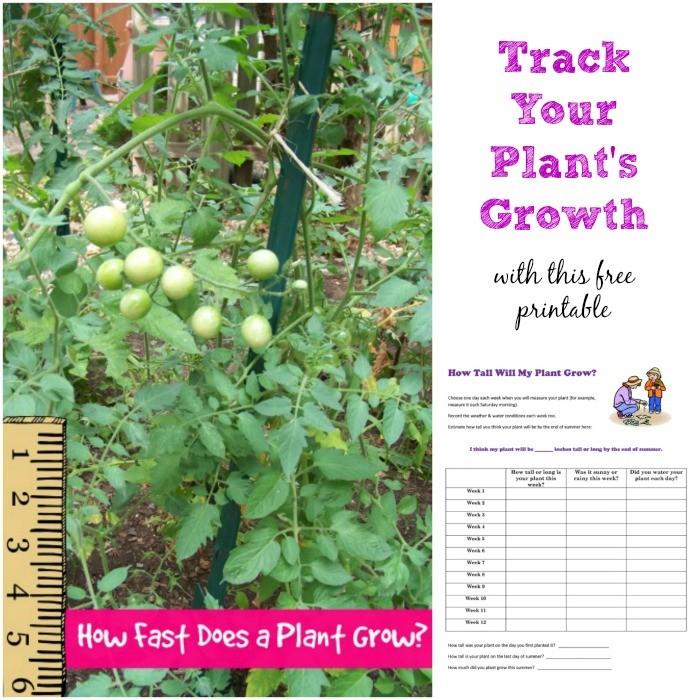 Fun STEM Activities in the Garden
We've previously shared some great garden STEM activities for kids to try! Kids will frequently ask a lot of questions as they explore the garden:
How big will the sunflowers grow? Why are they taller than other flowers?
Why do some tomato plants have more tomatoes than others?
Why do carrots grow underground but beans grow on a vine?
Use those questions as an opportunity integrate some STEM learning —
1. Engineer a trellis to hold cucumber or bean vines. (engineering)
2. Read seed packets to show kids that different types of tomatoes, beans etc. have different varieties. For example, hot house tomatoes versus cherry tomatoes. (science)
3. Have kids count the number of buds or fruits growing in the garden. (math)
4. Use the "How Tall will my Plant Grow?" free printable to track plant growth. (math)
5. Talk about the science of plants and how they grow – what items are needed for a plant to grow well? (science)
6. There are a lot of good apps to identify flowers – use one of them to learn what's growing in your garden. (technology)
Get a copy of your FREE printable Garden Scavenger Hunt!
More Garden Activities for Kids
23 Free Printable Gardening Activities