Enjoy this FREE printable Indoor Scavenger Hunt for kids – a super fun activity with a sneaky math twist!
We have a TON of scavenger hunts for kids, and yet — most of them are outdoor hunts or holiday-related. So I thought it was high time that we came up with a fun hunt to do inside!
This *NEW* hunt is perfect for bad weather days, easy to do & an awesome cure for the "I'm bored" syndrome. Plus, it inspires kids to burn off some energy but doesn't include jumping on the furniture or chasing the dog from room to room 😉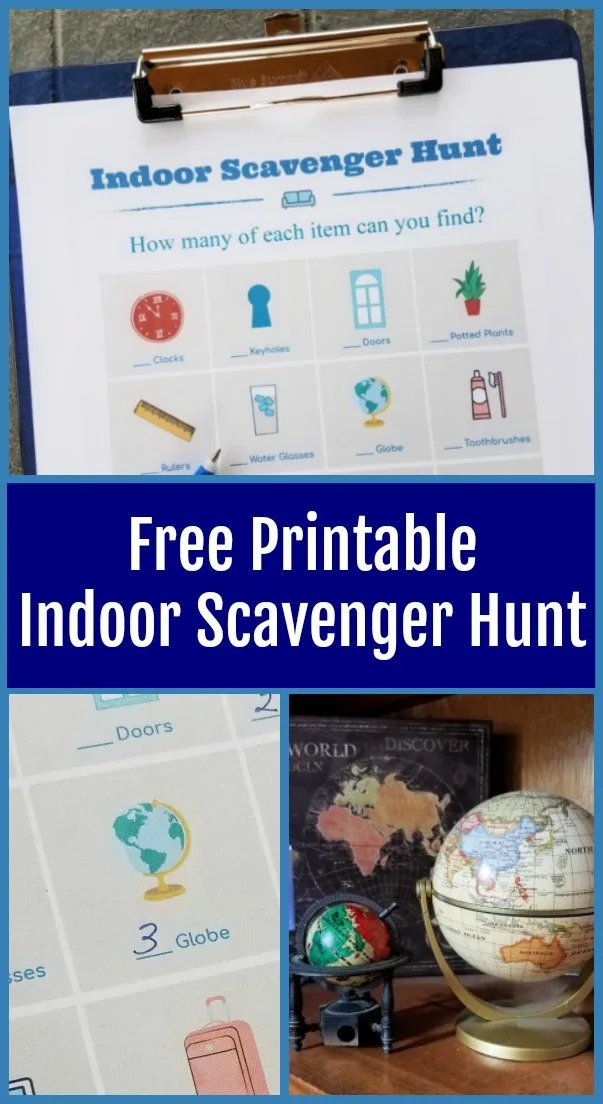 Indoor Scavenger Hunt for Kids (free printable pdf!)
This fun scavenger hunt is a great way to keep kids busy for at least a half hour or more! And similar to our Indoor Easter Egg Hunt, this one can also be done in almost any house — at home, at grandma's, while visiting a friend, etc.
This is a fun activity to do at sleep-overs or birthday parties — kids can either work together or give them each their own printed hunt. It's also a great thing to do for an indoor camping activity too!
In addition to finding the clues pictured on the hunt, kids also need to do some quick counting along the way too (it never hurts to squeeze in some math during a fun activity, right?!) For each of the clues on the list, kids will need to fill in the number of items you have in your home.
One of the BIG benefits to scavenger hunts is increasing a child's observation skills — especially a hunt where you'll need to both find & count the items!
For example, one of the clues listed says "___ clocks" — so send them off to search all the rooms in the house to count up the total number of clocks. Thus the 'get them up and moving' strategy behind this activity 😉
And you totally have my permission to roll your eyes at them if they just sit on the couch and ask you "How many clocks do we have in the house?" (Don't they know we're on to their tricks by now 😉
Scavenger hunts are a full-contact get-up-and-participate sport!
We're including a copy of the free printable Indoor Scavenger Hunt below along with affiliate links to some items we recommend for a successful hunt!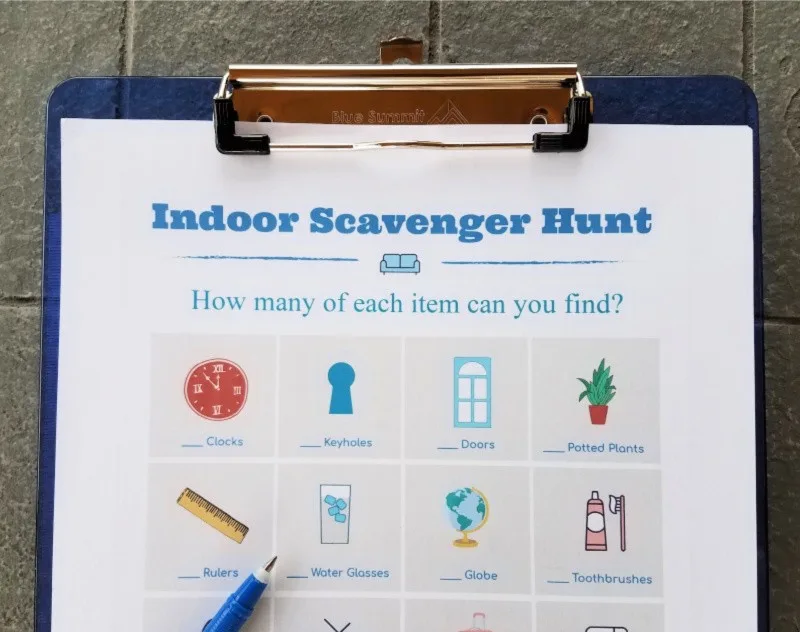 How to do a Scavenger Hunt Inside
You only need a few items for a successful hunt — here are our recommendations:
the FREE printable scavenger hunt (get yours below!)
a sturdy 9 x 12″ Clipboard clipboard so it's easy to hold & carry from room to room
a pen or pencil (to fill in the number of items)
a quick tutorial for kids on how to "tally" numbers — so kids can keep track of what they are counting (there's a SUPER great book called Tally O'Malley that's perfect for learning this skill!
If you have older kids who don't really need counting practice, you could make this a timed challenge! Just set a timer for 30 minutes and see if they can find & count all items before the buzzer goes off. Or you can add in some different math — ask kids to estimate how many of each item you have in the house and then go and count the actual number. This will give them practice in estimation.
Psst.. If you happen to be a preschool or kindergarten teacher or homeschool family, this is a great activity for kids to do while they practice their counting skills 😉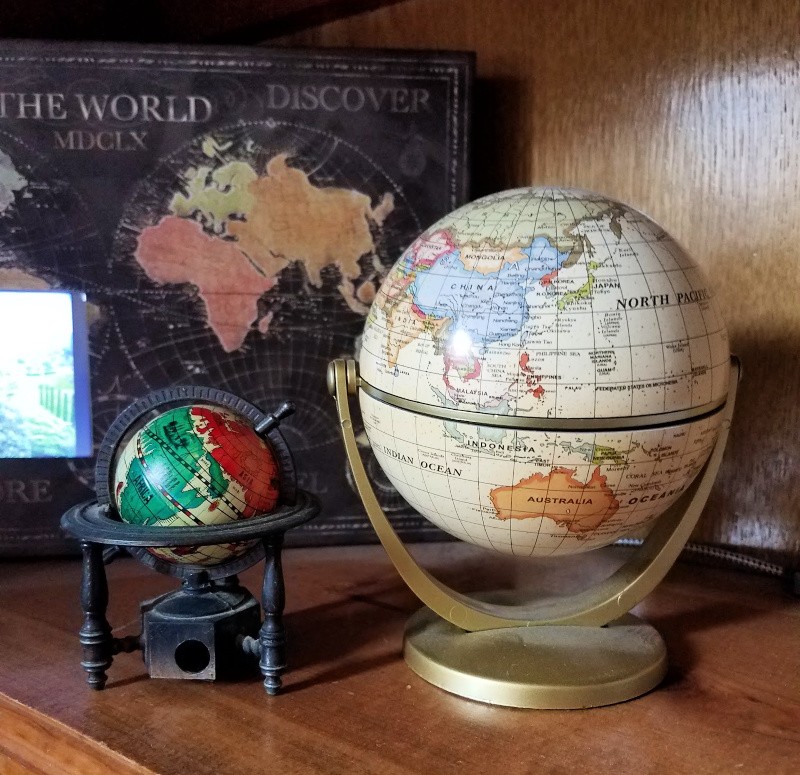 Indoor Scavenger Hunt Clues
We included items that are pretty easy to find around the house, especially since kids will be doing some counting. Here's the list of clues they'll need to find along with a few hints to help them scout out the items:
Clocks – remind kids to look for digital clocks and analog clocks
Keyholes – this could be a challenging item — if you have any keys for doors than there also has to be a keyhole
Toothbrushes
Pets
Doors – it's amazing that kids seem to forget that closets also have doors 😉
Globes – another challenging item! If you don't have any, just put in a zero. I happen to collect mini-globes (yea – total geography nerd here!)
Televisions
Suitcases – you may have to give kids a hint on where you keep these!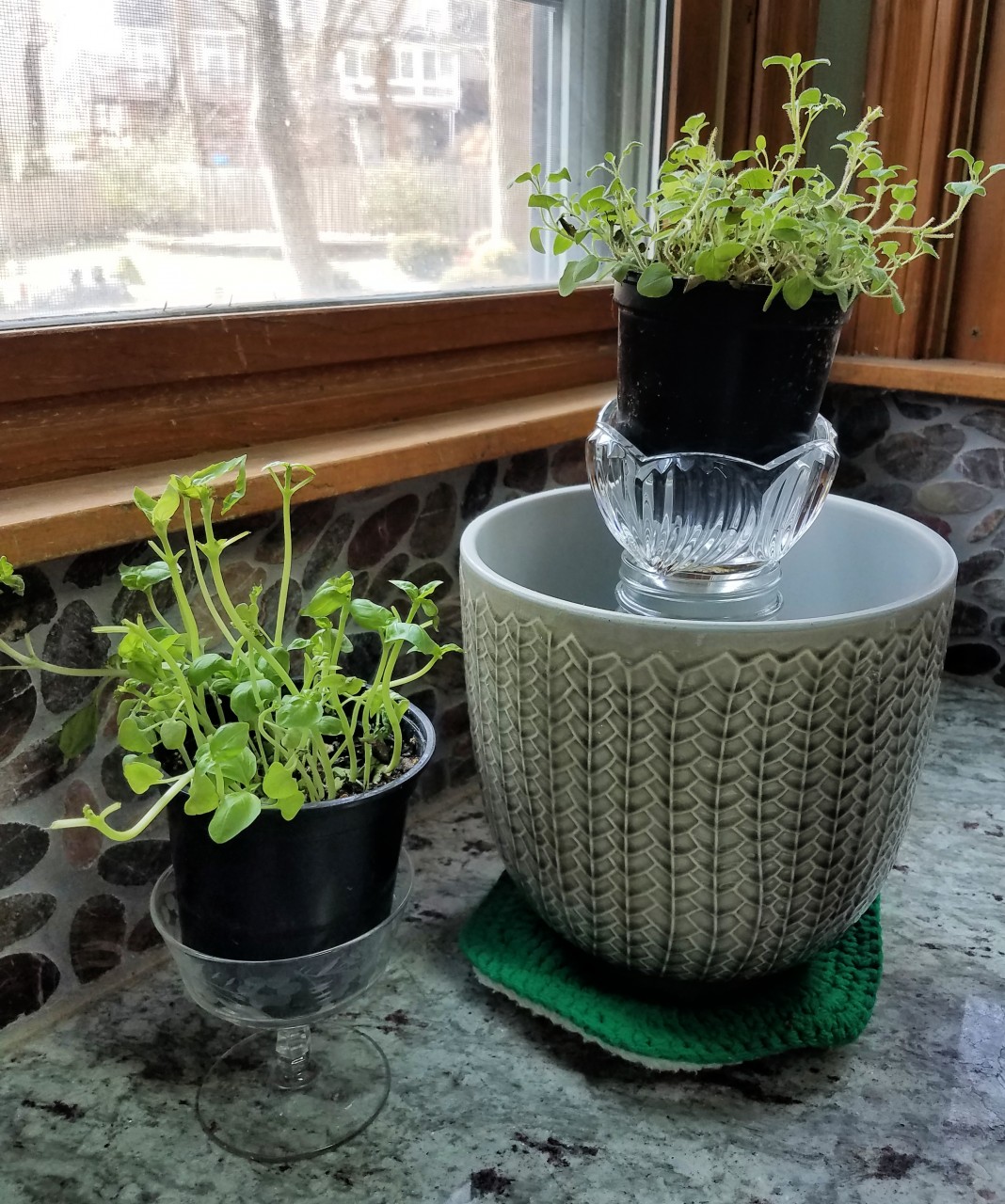 Potted Plants – another challenging item especially if you're like me and frequently kill most plants that come into the house — but live herbs count as plants, right?
Water glasses
Rulers
Refrigerator – most houses have 1 of these – if you have more, be sure your kids add an 's' to the word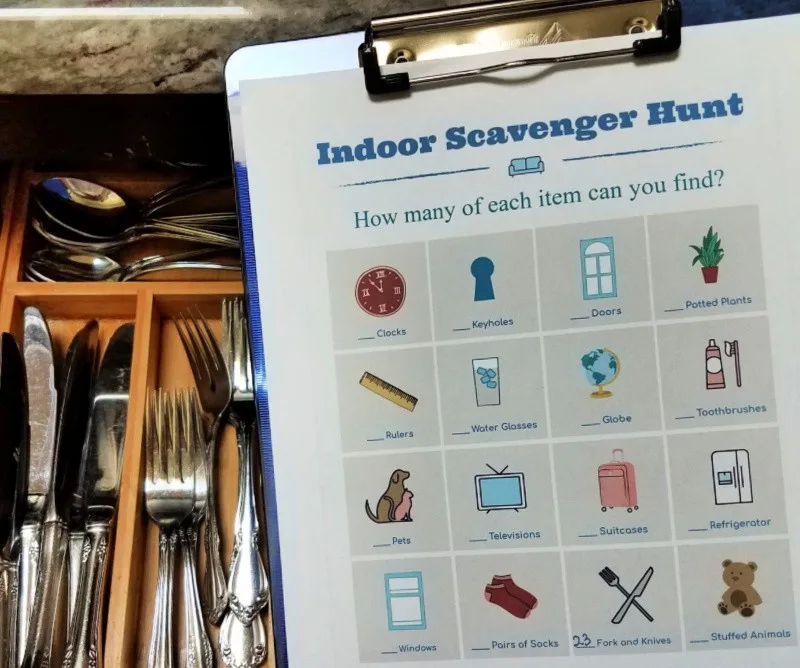 Forks & knives – be sure to check the dishwasher and dry rack!
Pairs of socks
Windows — ALL windows, those that open and ones that don't (eg. skylights are windows 😉
Stuffed animals – depending on your house, this one could take a while to count!
Like I said earlier, between the hunting and the counting, this should keep kids busy for at least a half hour or more — it's a fun activity to give them to do while you prep for dinner — or finish that book you've been dying to finish!
Grab your FREE printable Indoor Scavenger Hunt and have some fun this week!
If you're looking for more fun ideas, check out this list of 50 Fun Things to do at Home with Kids too!
More Scavenger Hunt Activities:
FREE printable St. Patrick's Day Scavenger Hunt
Indoor Easter Egg Hunt (with FREE printable clues!)