Grab a copy of this printable St Patrick's Day Scavenger Hunt list and challenge kids to find their 'pot o' gold'!
Almost anyone will tell you that you don't have to be Irish to celebrate St. Patrick's Day. (And that you should be sure to wear green that day unless you want to get pinched 😉
Like our Outdoor Photo Scavenger Hunt challenge — today's game inspires kids to grab a phone or camera and go in search of fun symbols for the holiday! Kids will love play leprechaun on their treasure hunt to find the prize!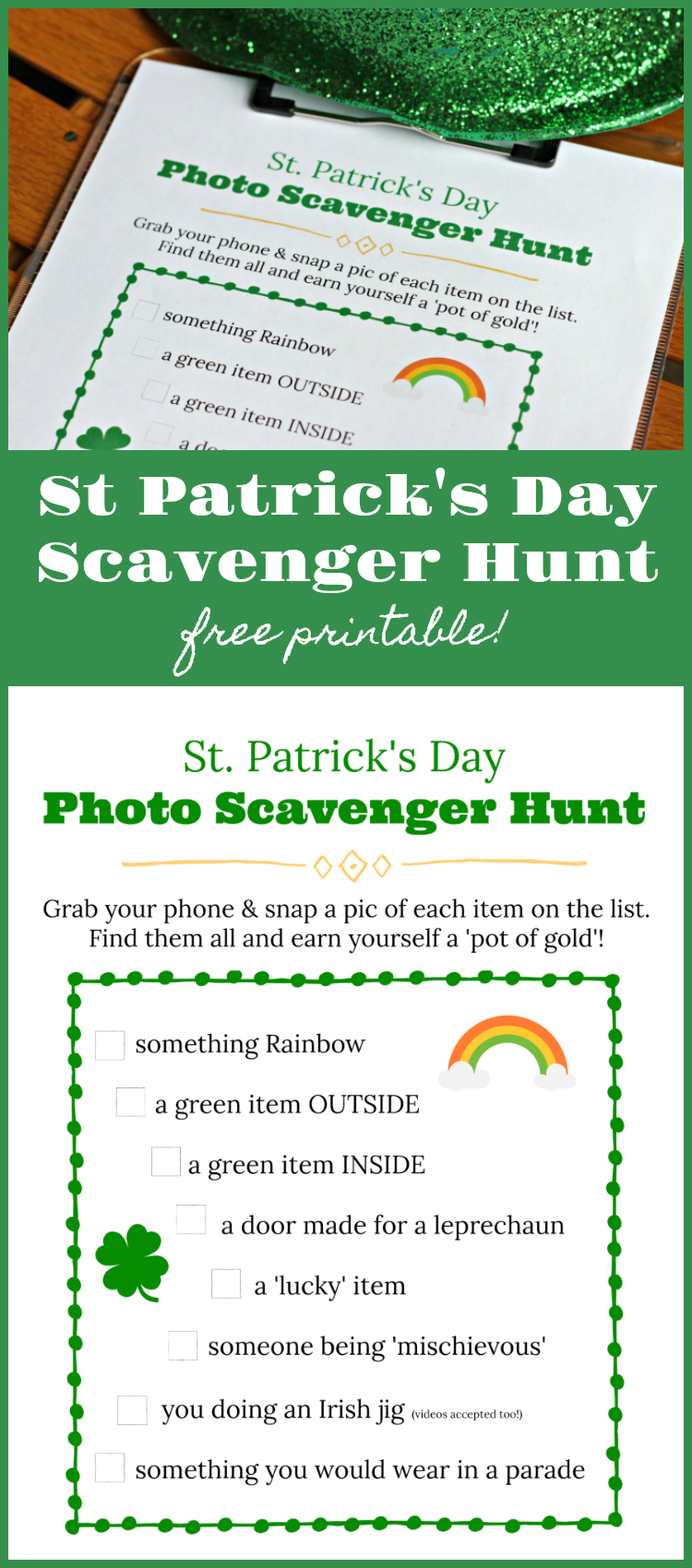 St. Patrick's Day Scavenger Hunt
We love celebrating almost any holiday with a game! And St Patty's Day is no different (in fact, check out our set of Free printable St. Patrick's Day Charades). Today's scavenger hunt can be done at home, in a classroom or just about anywhere! The challenges of 'things to find' is wide open so kids can get creative as they hunt for items related to St. Patrick's Day.
You might think that this is an easy treasure hunt, it's actually more challenging that it looks. While there are only eight items to find, these are not your every-day-run-of-the-mill type of things! The hunt is set up as a 'photo' scavenger hunt, you can also play with or without a camera.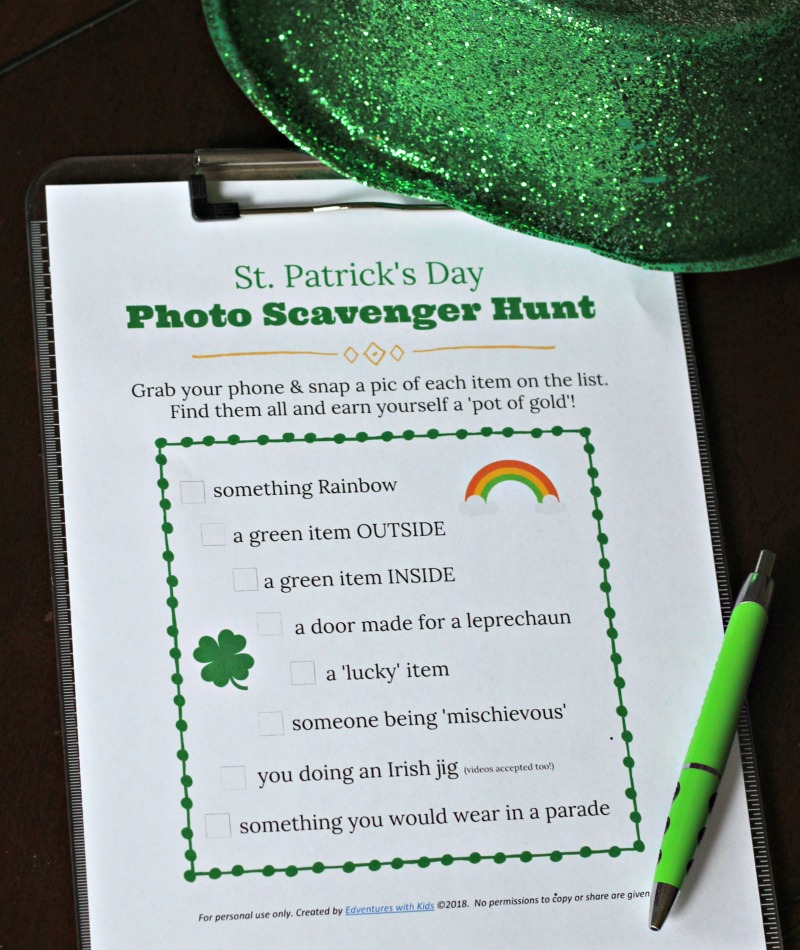 St Patricks Scavenger Hunt Tips:
When heading out on a scavenger hunt, we like to have a few key items with us. Here are a few tips & list of things to bring including affiliate links to a few of our favorites:
◊ We keep the printable list on a sturdy 9 x 12″ Clipboard so it's easy to hold.
◊ Don't forget a pen or pencil to check things off as you find them! (Bonus if you have a Shamrock-themed pen or pencil to give to kids 😉
◊ If you plan to do the hunt outside, a pair of kid-size Binoculars are a must! They give the kids a wider range of places to look.
◊ Be sure to have your smartphone or camera if you're playing this as a photo hunt! In fact, it's a fun search-and-find activity that will keep your kids busy for a little while on their own 😉
If your kids aren't familiar with 'WHY' for some of these items on the list, here are a few great books about St. Patrick's Day symbols & folklore:
Fiona's Luck is an adorable story about a girl who outwits the Leprechaun King in order to bring all the luck back to Ireland. The illustrations in this book are wonderful!
That's What Leprechauns Do is by a favorite author of ours, Eve Bunting. The story shares the pranks of three mischievous leprechauns as they wreak havoc on the countryside. There book also shares some cultural/historic facts about leprechauns too.
Leprechaun's and Irish Folklore is part of the Magic Tree House nonfiction books (we adore these!). With lots of illustrations and a TON of facts, kids will learn about Ireland, St Patrick's Day and many of the legends that go with it.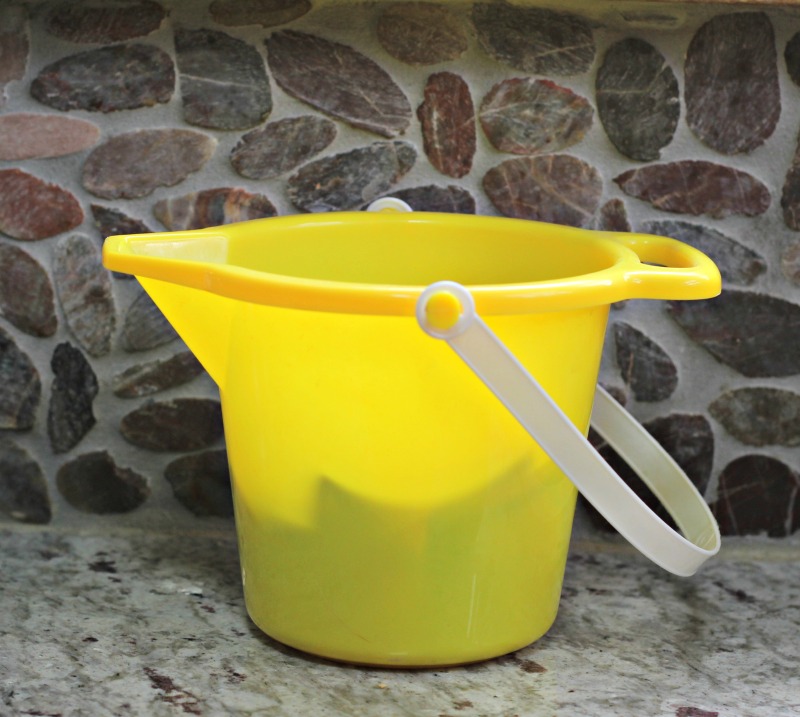 St. Patrick's Treasure Hunt: Pot of Gold
For hunts like this, I always think it's fun to have a surprise. Ours was put in a yellow sand pail (closest thing I could find to a pot of gold 😉
I put the pail on the back of our counter. It was visible but out of reach so the kids can't see what's inside the pail.
When they asked, I gave them vague clues like "things that are green or rainbow". And then said "you'll just have to find all the items on the list to see for yourselves!"
My goal was to include small things related to the holiday. We usually celebrate St. Patrick's Day over Spring Break so it's always a plus to have some fun activities for that week. If you're looking for more ideas, see these 17 Printable St. Patrick's Day games and activities).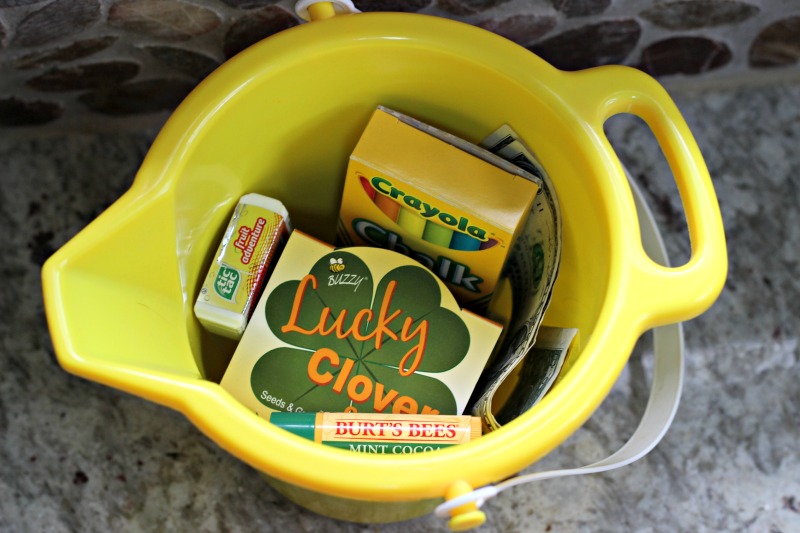 Here's what's in our pot of gold –
a grow-your-own Four Leaf Clover kit (we found ours at a local craft/garden store)
lip balm (Burt's Bees is one of our faves!) – I chose mint for the green top
plus some money for a trip to the book store later this week!
Really anything green or rainbow colored would be a fun item to include. IF you happen to be at Target this week, check out their fun St Patrick's Day items while you're there. You could also add a book & green-themed snack for a fun story time session!
Leprechaun Photo Scavenger Hunt Tips
This is an easy hunt for preschoolers, big kids, tweens or teens! I love when you turn a camera over to kids. It's always fun to see what creative things they'll come up with or what they might think is 'photo-worthy'.
Most of the items on the hunt can be found indoors in case you have bad weather. Even the 'outdoor' item can be a photo through a window) . If your kids will use a phone to snap photos, have them come show you once they've found all eight! If there are multiple people doing the hunt, start a text thread where everyone can share their photos.
To make the hunt a little more difficult, don't allow kids to duplicate the same item if others have already photographed/found it. Or for an even bigger challenge, tell kids that every clue has to be a 'selfie' photo! (so they need to in the picture with the clue;)
To modify the hunt so you won't need a camera, just ask kids to point out which item fits each of the items on the list.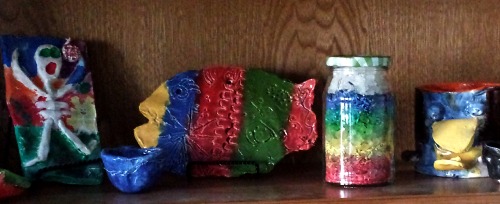 One of the hardest clues is "something rainbow". But someone in your home probably has some rainbow clothing or maybe there's a picture of a rainbow somewhere.
We have LOTS of rainbow artwork in our house! In fact, your kids might enjoy making this Rainbow in a Jar or their own DIY Rainbow Pour Pots.
Watch out for the "someone being mischievous" clue — you never know what kids will get into to get a good photo for that one!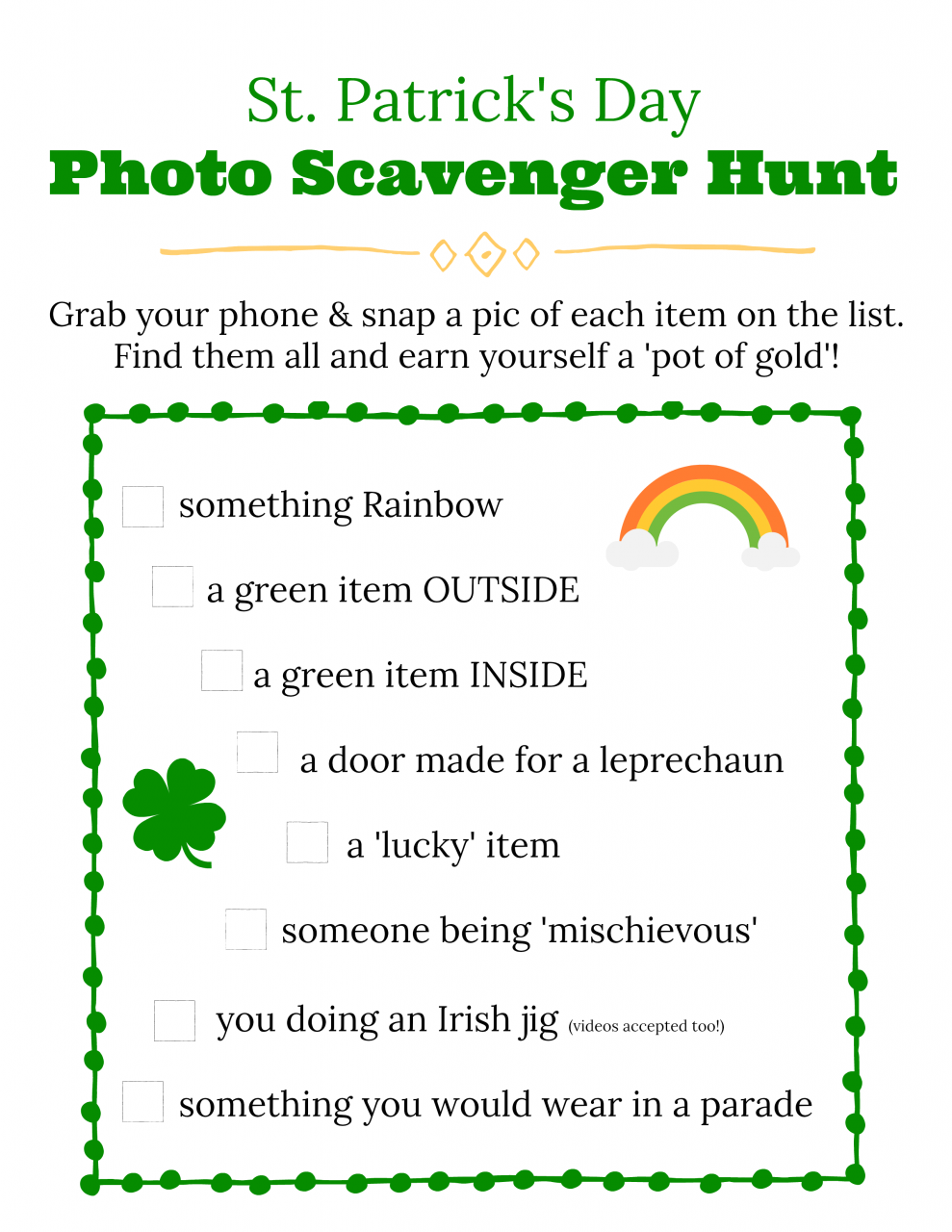 Which item is the most fun to find?
The kids doing an Irish jig!
If they're taking photos – videotape that one 😉
If you do the hunt ON St. Patrick's Day, remind your kids to wear green or they may get pinched!
Grab your copy of the St. Patrick's Day Scavenger Hunt here!
More Fun Spring Activities:
100+ Things to do with Your Kids in Spring