Love this easy pot painting idea for kids to give as a Mother's Day or Teacher Appreciation gift — preschoolers, elementary kids & teens can create a one-of-a-kind colorful pot with this quick tutorial!
Do you know what I love about today's painting project for kids?
It doesn't require perfection or detail or really any focus.
It's very open-ended and so creative — plus down-right beautiful too!
And it's the perfect idea for Mother's Day or as a Teacher Appreciation gift at the end of the year — it will brighten up any yard or room!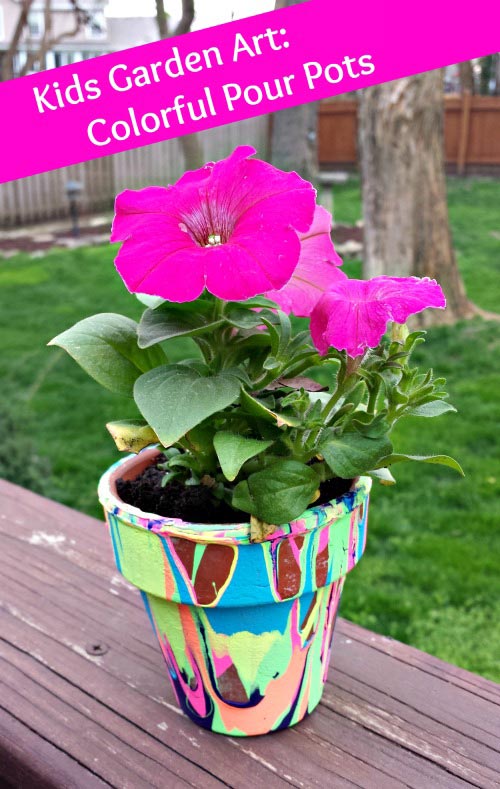 Easy Pot Painting Craft Idea for Kids
My daughter wanted to paint a pot for her flowers but she wanted a 'rainbow pot'. Luckily, I had seen this awesome idea for a Rainbow Pour Pot from Dilly-Dali Art.
Pop over to see the details at Dilly-Dali Art – she has a great tutorial for prepping and creating her pour pots.
Unfortunately, we aren't always patient enough to follow a full tutorial (ah, life with kids!) but the ability to create a beautiful item from a messy process is what we love about this project!
Ours are really more of a 'squeeze' pot than a pour pot — we didn't really pour the paint as you can see in the photos.
Craft Supplies for Pot Painting
Here's what you need for each pot along with affiliate links (see our full disclosure here) to some of the items we used for the project:
Note: be sure you have a pot with a rought exterior and not one that has been coated with a waterproof finish — the paint won't stick unless it's a
a variety of acrylic paints (at a minimum, we would recommend 4 colors – you can see our choices below)
newspaper to cover your work area
a somewhat patient kid
a smock! a must when painting with kids 🙂
How to Do Pour Painting
Step 1: First, choose what paint colors you'd like to use.
We chose Acrylics Brights (Neon) Paints and used five different colors. They actually changed the colors in this set so the deeper blue is now a violet — we used a deeper royal blue paint color in addition to the aqua on our pots.
We decided to apply the darker colors first and then cover those with the lighter colors. I'm sure you can do it either way (lighter colors first would work too).
Step 2: Cover your work area with newsprint, put down wax paper where you'll paint the pot and then cover your kids with a smock or old shirt 🙂
Warning: Do NOT use paper towels or leave just newspaper under the pot as it will stick to the paint as it dries!
Step 3: Turn a clay pot (that's clean and dry) so it's bottom-side up on the sheet of wax paper.
The wax paper will allow the paint to dry and then come off clean so there's no newsprint stuck to your pot.
Step 4: Then squeeze the paint around the edge of the pot so it drips down the side.
You can see that we used an older terra cotta pot for this project — just be sure it has a rought feel to it (chalky on the outside) and not a smooth coating or your paint will just slide off 😉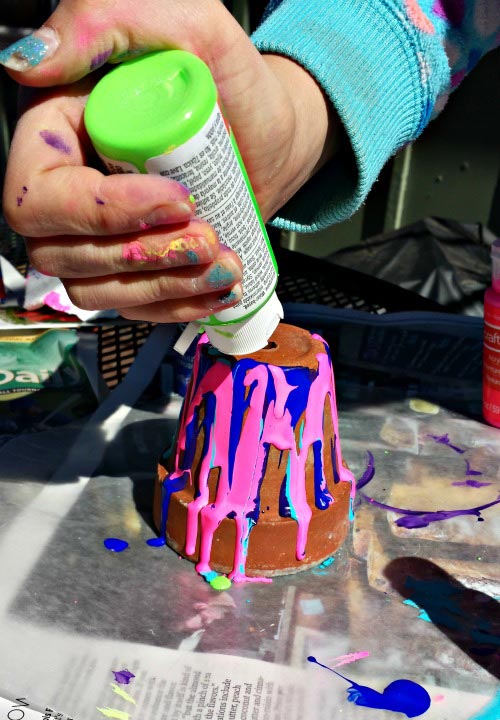 Easy Pot Painting – Process Art for Kids
We poured the colors one right after the other – don't let them dry between coats.
And you can see we didn't care if we covered the whole pot. We liked the look of some of the terra cotta showing through when it was finished.
If this is a garden project for you, also see these Get Ready for Garden Season – 30 Crafts & Activities for more ideas!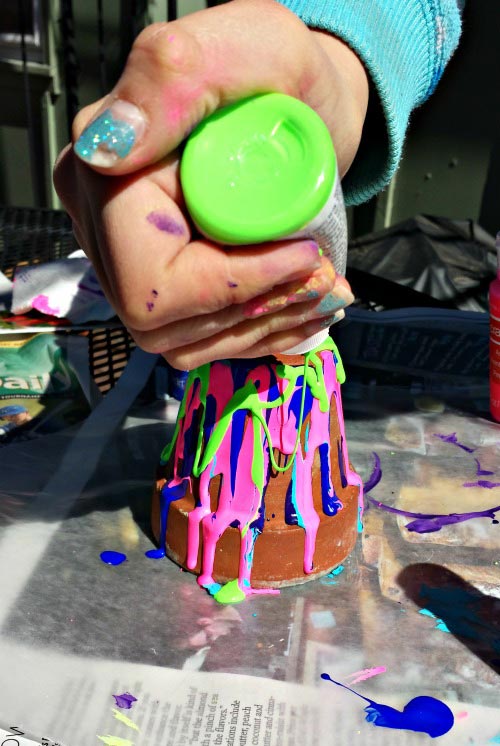 Let the pot dry over night and then remove it from the wax paper.
It should easily peel off but if the paint sticks, use a knife to trim around the edge of the pot.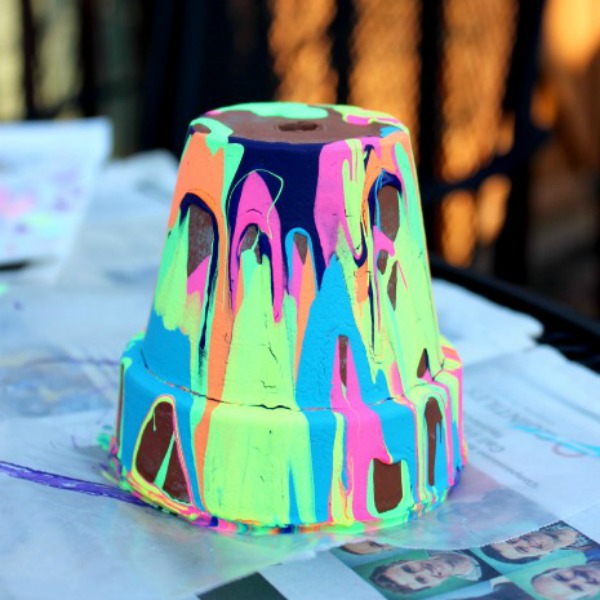 Pretty, isn't it?!
I love the blend of colors on the pot — so bright!
Each pot has it's own unique look so your kids will easily be able to tell theirs apart from the others — makes a very unique & personal gift for Mom or a favorite teacher!
These were smaller pots (about 4 inches high) and we used about 1/4 of each of the 6 oz. bottles of Acrylics Brights (Neon) Paints
on one pot.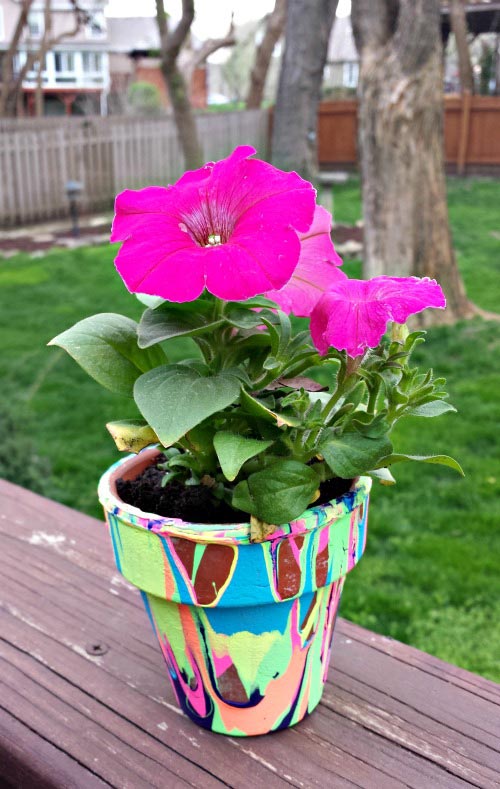 And what a gorgeous pot for beautiful flowers! Add in a favorite flower and you've got a great gift for Mom, Grandma or a teacher!
If you're making one for Mom, you can also pair it with one of these favorite books for Mother's Day.
Plus it's such a super quick & easy project that kids of all ages would enjoy (even teens).
Looking for more gardening fun, visit 30 Gardening Crafts & Activities for Kids!
More Creative & Easy Crafts You'll Enjoy:
20 Rainbow Craft Ideas for Kids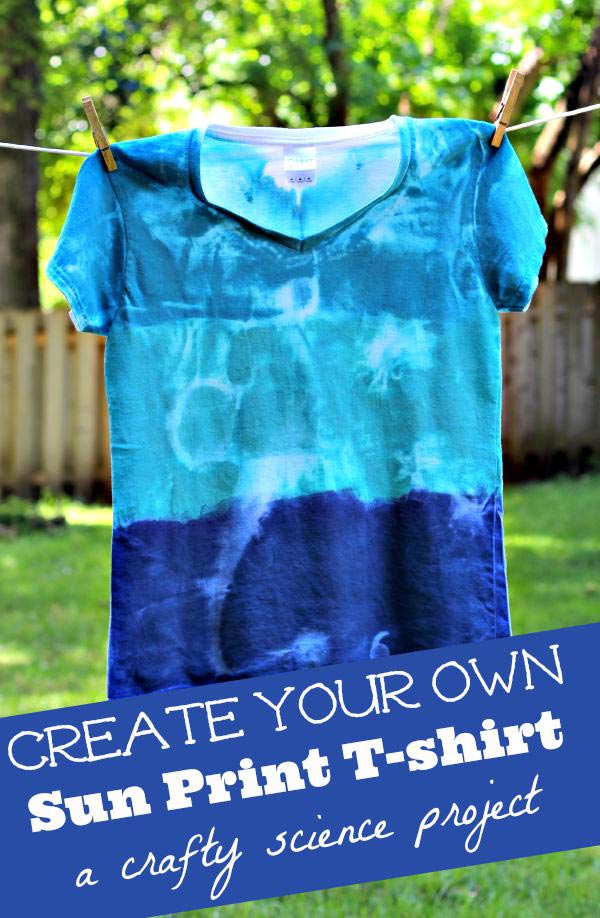 Save