Grab a copy of this FREE Spring Scavenger Hunt printable and inspire kids to get some outdoor time!
There's nothing like a spring scavenger hunt to get kids outside to appreciate the season 🙂
Today's hunt is perfect for the coming months — so very easy for kids of all ages (readers & non-readers) to do on their own!
So grab a jacket, a clipboard and this FREE printable scavenger hunt list and see how many items you can find in your neighborhood this week!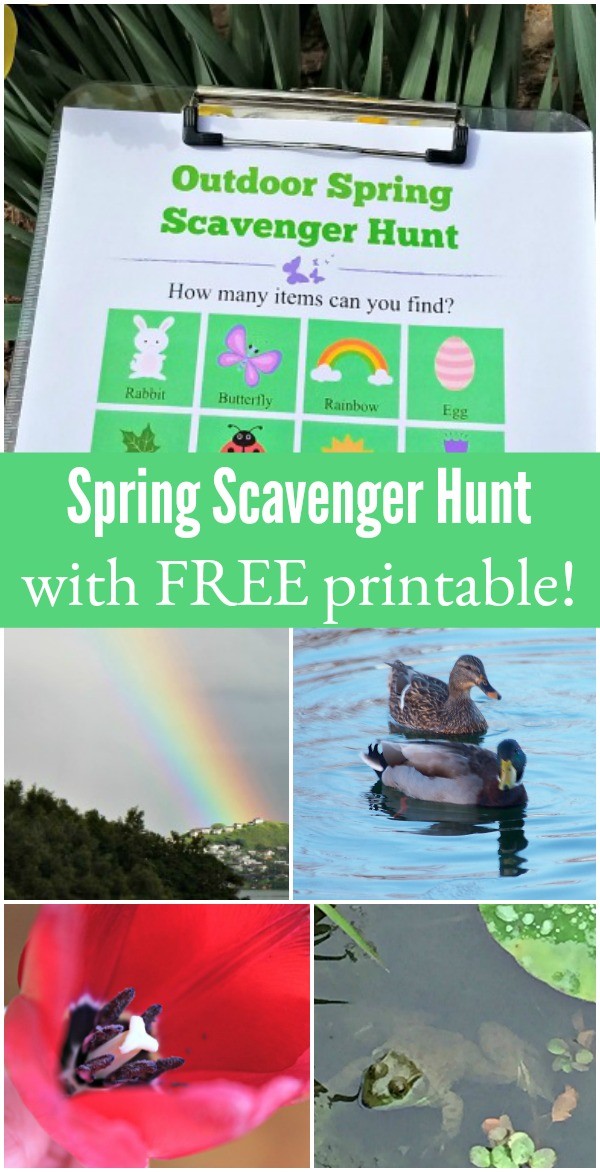 Spring Scavenger Hunt (with FREE printable pdf!)
We really enjoy celebrating Spring (once it gets here 😉 Have you seen this classic list of 100 Fun Spring Activities?!
So many great ideas for things to do & ways to get out and explore as the season changes!
One of the easiest activities is a scavenger hunt — you can do them after school, on the weekends, over drag it out over a few days if you have kids who like to dawdle along on their hunt 😉 Even though we already have a wonderful Early Spring Scavenger Hunt, it's in list format (but, oh so colorful & quite a challenge!)
With an outdoor hunt, you can also mix in some great science and nature lessons too. For example, kids may see various colors of flowers but not know their names. And it's a great time to discuss the lifecycle of a tree (as the buds for leaves begin to form) or visit a pond and see how it comes to life in the Spring.
Outdoor Scavenger Hunt Tips for Spring

When heading out on a scavenger hunt in the Spring, we like to have a few key items with us.
Here's a few tips on what to have with you including affiliate links to a few of our favorite items:
◊ Be sure to grab the right outdoor gear — a jacket is a must and footwear (like sneakers or rain boots) in case you run into muddy areas.
◊ We love having the printable list on a sturdy 9 x 12″ Clipboard so it's easy to hold & don't forget a pencil to check things off as you find them!
◊ A pair of kid-size Binoculars are a must! They allow kids to see things they may not be able to view with the naked eye.
◊ If you'd like to do other nature activities with your hunt, print off some of these 40 free nature activities to bring along with you too.
◊ Be sure to have your smartphone or camera — it's always fun to get some photos on hunts like these!
◊ And if your kids always have LOTS of questions, we also love reading books either before or after our hunt — here are a few favorites!
Nature's Day is perfect for older kids (ages 7+) as it dives into the changes you'll see each season! The book features seasonal highlights in the backyard, garden, pond, woods, fields and city with TONS of details about animal & plant life!
Spectacular Spring! is part of a series (each book focusing on a season). It's a great book for preschool and kindergarten ages with vivid photographs, wonderful vocabulary and fun crafts to do for Spring!
And if you have a pond or lake near you, I highly recommend Over & Under the Pond! There is SO much that happens at a pond in springtime — ducks gather, flowers being to bloom, fish reappear near the surface, frogs spawn — an excellent book for all ages! Follow up the book with these 20 Science & Water Activities for the Pond.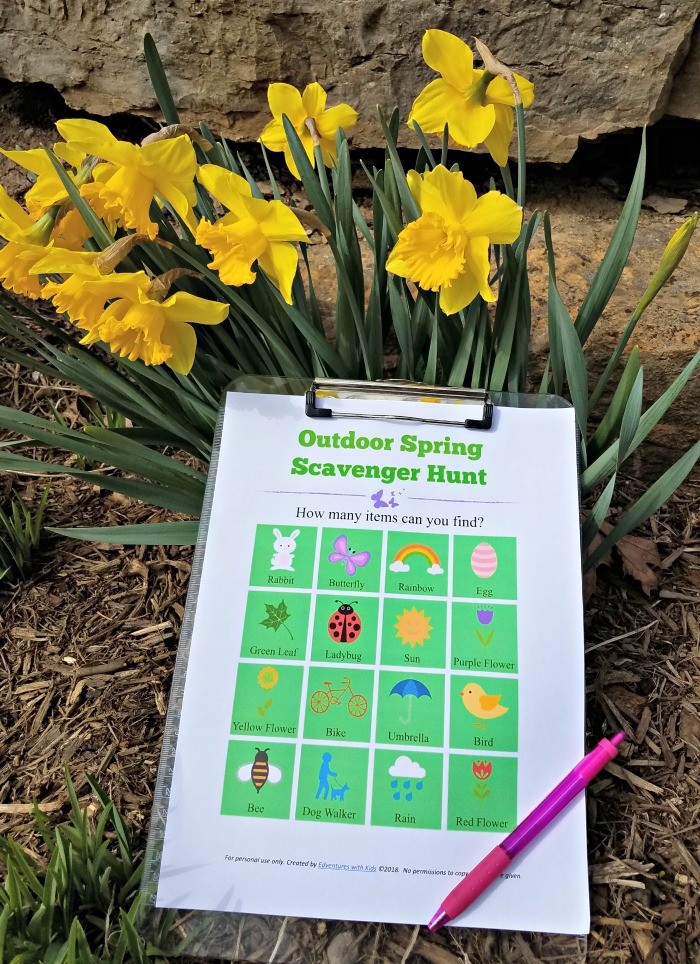 What Can You Find on a Spring Scavenger Hunt?
Here's a list of some of the things you may find on your Spring hunt along with some easy ways to expand this activity:
Rabbit — you may see more than a few bunnies out and about – it's a great time to compare their sizes (how many small rabbits vs. larger rabbits?)
Butterfly – many butterflies will begin to appear in March and April as the weather warms up. Monarchs begin their migration back north in April too. If they're interested, kids can also learn about the life cycle of a butterfly!
Rainbow — this one might be a challenge to find but if you head out after a rain storm, be sure to look in the sky!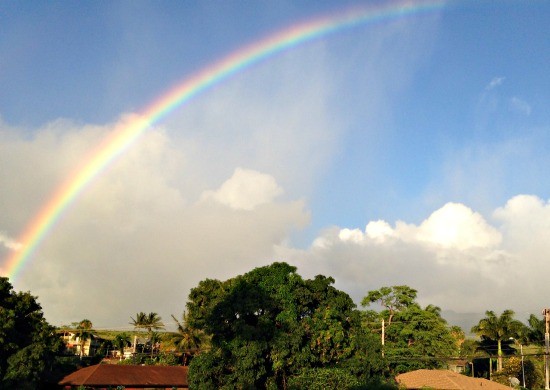 Egg – this is a "see but don't touch" type of clue! So many birds will lay eggs so you might be able to peek in a nest. If you're near a pond, you might find frog eggs or duck eggs too.
Green Leaf — with all those bare branches, spotting some green leaves (or leaf buds) should be easy!
Ladybug — ladybugs love sunshine and garden areas so check there!
The Sun – an easy one but also an educational item – talk to your kids about the "heat" from the sun. Is it as hot as it would be during Summer? And where is the sun located in the sky right now? You could try this easy build your own Sundial science activity to see how the sun moves throughout the day!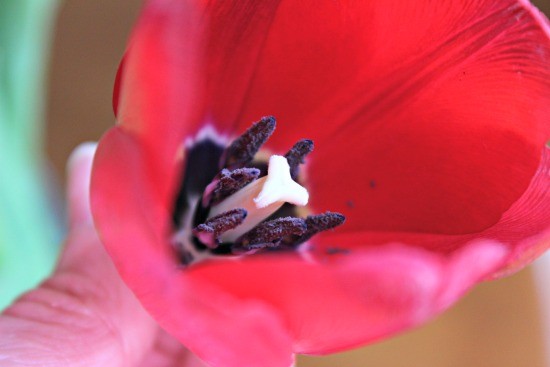 More Spring Scavenger Hunt Clues
Purple, Yellow & Red flowers — I included different colors so kids will take note of how flowers are not all the same. Point out the various shapes of their leaves or stems (for example, some have a hallow stem like daffodils). Older kids would enjoy this Parts of a Flower Science Dissection project too!
Bike – nicer weather encourages more people to get out and exercise too!
Umbrella – something you're more likely to see in the Spring 😉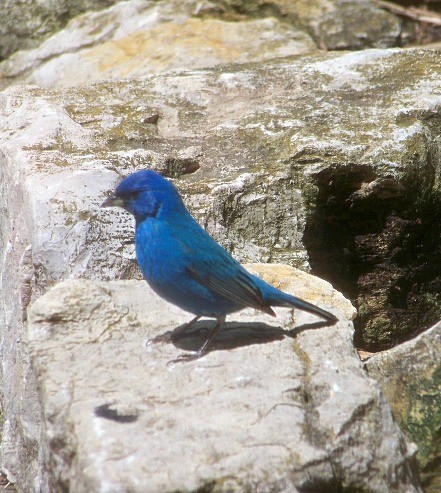 Birds – talk about the various types of birds you see — their coloring, how they sound, etc.
Dog walker — dogs go crazy in the spring!
Rain — this is another area where kids can connect Nature's dots. As the weather warms up, precipitation comes in the form of rain instead of snow or sleet. Try this fun Water Cycle Activity to help kids understand where rain comes from and where it goes once it falls!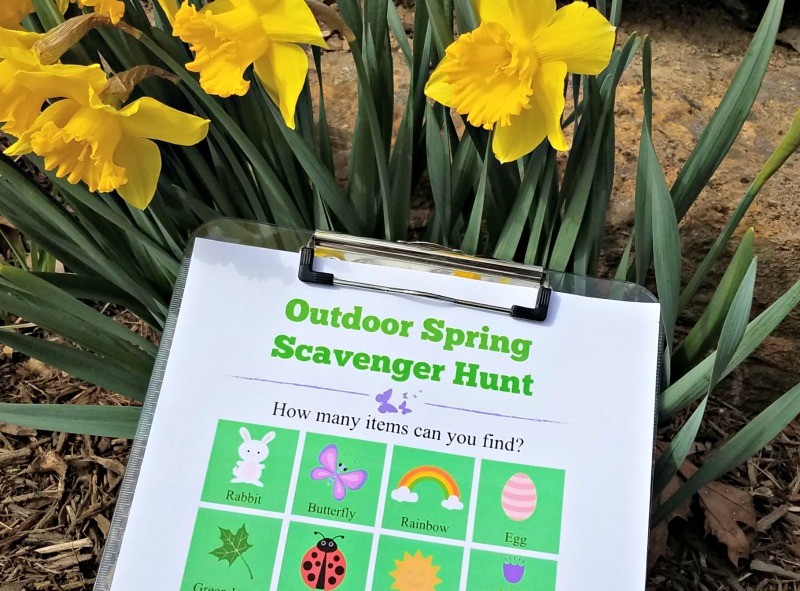 FREE Spring Scavenger Hunt checklist!
Head out to a park, hike a trail or even scout out these seasonal changes in your own backyard!
And if you're looking for more fun ways to enjoy the season, try this list of 100+ Things to do in Spring for inspiration!
More Fun Things to do in Spring
Easter Egg Hunt with FREE printable Clues
17 Fun Things to do at the Park
More Printable Scavenger Hunts

If you're looking for more scavenger hunt ideas, visit our 50+ Scavenger Hunts for Kids!
Or these 20 Summer Scavenger Hunts