Spring scavenger hunt ideas & games that inspire kids of all ages to enjoy the outdoors!
This week's round-up of FREE printable scavenger hunts for kids includes a variety of Spring Scavenger Hunt ideas and printable games to play outside! It seems that no matter where we go lately, there's always some new to see —
baby bunnies, beautiful buds on trees, flowers blooming …
Plus so many more of our friends and neighbors are outside now that the weather's warming up so it's time to get outdoors and enjoy the season!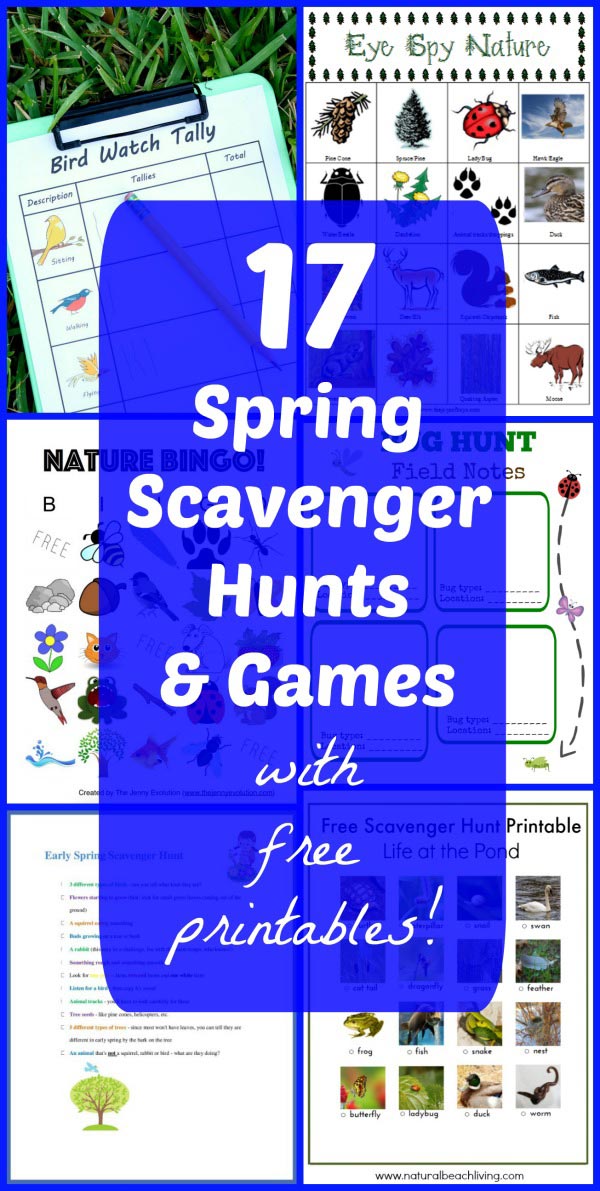 17 Spring Scavenger Hunt Ideas & Games
There are always so many wonderful ways to enjoy a new season!
Have you seen these 100 FUN Spring Activities — a mega list of awesome ideas!!
And scavenger hunts are some of our favorites — they can be done after school, on the weekends and on the fly! Just print and go — quick & easy fun 🙂
To be prepared to get out the door quickly for any of these, I like to have a few things all packed in a canvas bag that we carry with us. I'm including items we love to use along with affiliate links so you can find more details about each of them:
→ A sturdy clipboard is a MUST to hold down those scavenger hunt papers so they don't blow away 😉
→ A pencil or crayon so your kids can check off items as they find them (have you seen these adorable Animal Pencils?! Cute idea for Easter baskets 😉
→ We love having either a pair of Kids' Binoculars (perfect if you're looking for wildlife) or an outdoor Magnifying Glass so kids can get up close as they observe
→ Snacks! Always bring snacks 🙂
I like to "theme" my snacks to the hunt if it's a special day so fun ideas like Annie's Bunny crackers for backyard hunt, those vintage boxes of Animal Crackers for the zoo or even (fun idea for scouting troops or class activity!)
→ If you choose one of the nature hunts, we love having a nature or field guide with us to help identify the plants & animals
→ And of course, we use the canvas tote bag for 'collecting' anything on the hunt (most of the items are returned to their original spot before we head home)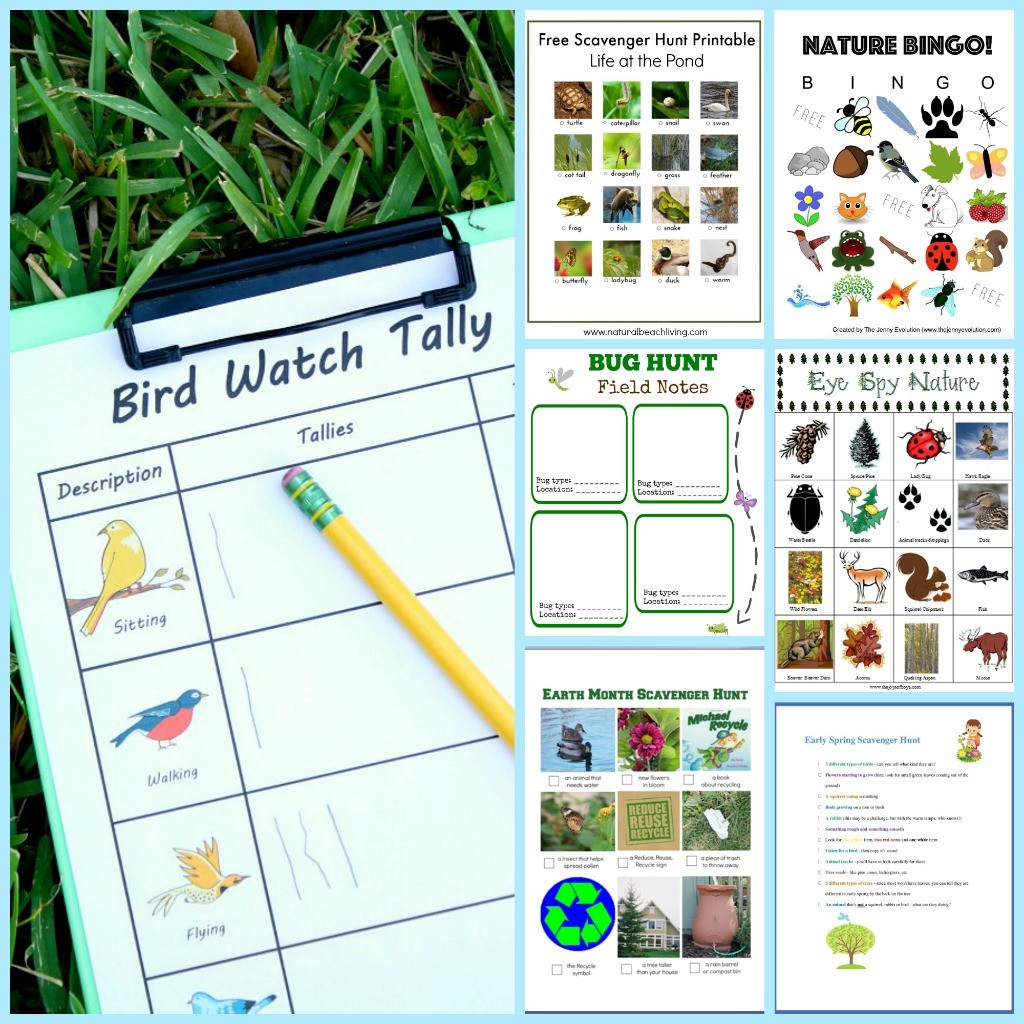 Spring Scavenger Hunts with free printables!

Just click on each of the blue links below to find & print off the hunts!

Look for seasonal changes –> Signs of Spring Scavenger Hunt | Edventures with Kids
Bird Watch for Spring | Fantastic Fun & Learning
Try this indoor Easter Egg Hunt with printable clues | Edventures with Kids
Eye Spy Nature Hunt | The Joy of Boys
Explore how nature feels with this Nature Texture Scavenger Hunt | Edventures with Kids
Get colorful with a Rainbow Photo Hunt | Totschooling
Younger kids will enjoy this Spring Scavenger Hunt (with pictures) | Edventures with Kids
Go on a Bug Hunt | Edventures with Kids
Or use this easy Backyard Scavenger Hunt if you're sticking close to home | Edventures with Kids
Get creative with an Outdoor Sketching Scavenger Hunt | Buggy & Buddy
Explore your city on an Around the Town Scavenger Hunt | Hands on As We Grow
This Garden Scavenger Hunt is perfect if you're starting a garden | Edventures with Kids
Celebrate with this St. Patrick's Day Photo Scavenger Hunt | Edventures with Kids
Learn how to help the environment with an Earth Day Scavenger Hunt | Edventures with Kids
Act like an animal on a Zoo Scavenger Hunt | Edventures with Kids

See who lives at the pond with this Pond Scavenger Hunt | Natural Beach Living
Or get close to nature with a Sensory Nature Scavenger Hunt | Racheous
Fun Outdoor Spring Games for Kids

Getting outside to play games is also a great idea for those nice Spring days!
Spring Nature Walk 5 Senses activity | The Preschool Toolbox
Enjoy family time with these Free printable Easter Charades | Edventures with Kids
Camping Charades | The Joy of Boys
Spring Nature BINGO | The Jenny Evolution
Move like a Bug Dice | Life Over C's
PLUS 20 Playground Games & Activities for the nice weather too!
More Free Printable Activities