Use this free printable Playground Scavenger Hunt and inspire kids to get active while they play!
Combining a trip to the playground with a fun scavenger hunt activity for kids is the perfect recipe for an afternoon outdoors.
You know how kids get so excited when they visit a new playground?
One that has 'monkey bars that are cooler than the ones at our old playground' or 'the biggest slide in the world', right?
Encouraging kids to climb, swing, slide and play helps to develop large motor skills, balance and confidence too.
So why not take them on a Playground Scavenger Hunt!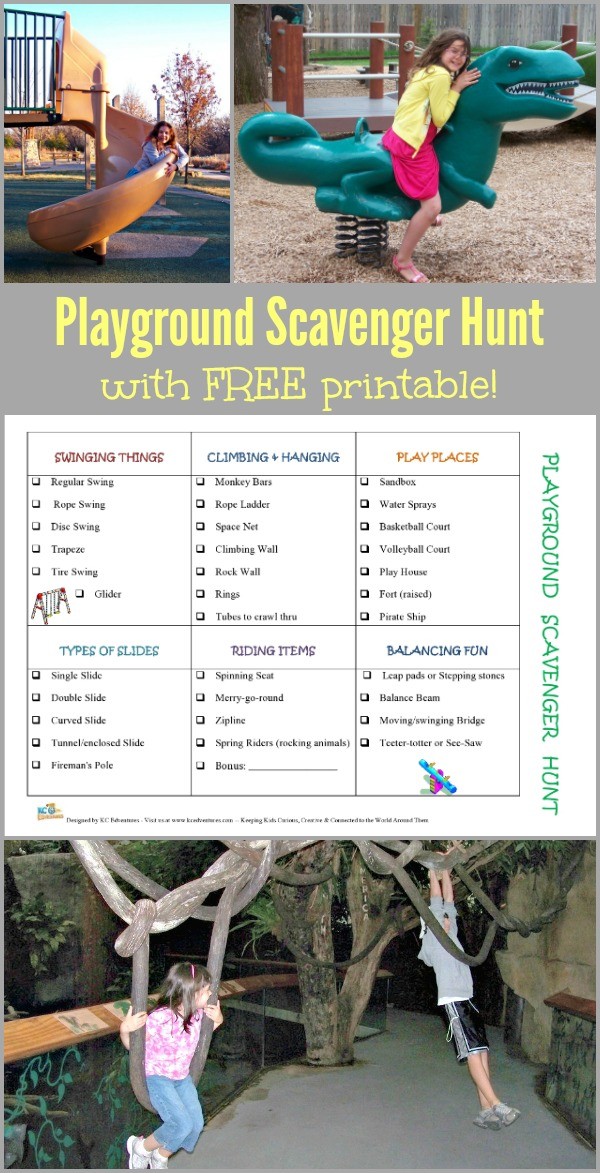 Playground Scavenger Hunt Activities
Playgrounds encourage a variety of physical and emotional development for kids.
Climbing ladders, hanging from the monkey bars, running around the equipment and learning to swing are all activities that help to build the large muscle groups in our bodies. Not to mention all that fresh air the kids get when they're outside.
Kids are also learning all types of social/emotional skills too:
how to be patient for your turn to go down the slide,
sharing with other kids,
communication skills and
understanding that they can go out & explore on their own without Mom or Dad right next to them.
If you enjoy outdoor fun with your family, see these 20 Playground Games & Activities for kids to try!
Another BIG plus — visiting a new location sparks new learning & road maps in our brains! And it will help kids to understand how to navigate a new environment too.
It's one of the reasons playgrounds made out list of the 40 FUN Places to Go with Kids!
So many things can be learned at the playground 🙂
Use the FREE printable checklist below while visiting different playgrounds so kids can try out the various types of equipment that can be found at kids' play areas.
Swinging Equipment
Encouraging kids to swing helps build arm & leg muscles along with balance! Find these different types of swings:
Regular Swing
Rope Swing
Disc Swing
Trapeze
Tire Swing
Glider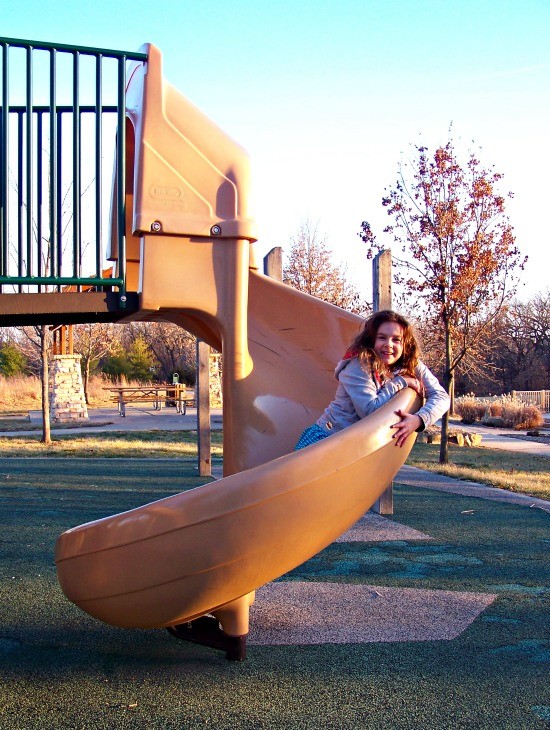 Types of Slides at the Playground
Climbing the slide works on lower body development while sliding down helps kids to develop core strength as they hold themselves upright.
Since slides involved gravity, many young kids will "work up their confidence" or as they say "get braver" as they enjoy sliding faster or using an enclosed slide (which may test a fear of the dark too).
Single Slide
Double Slide
Curved Slide
Tunnel/enclosed Slide
Fireman's Pole
Zipline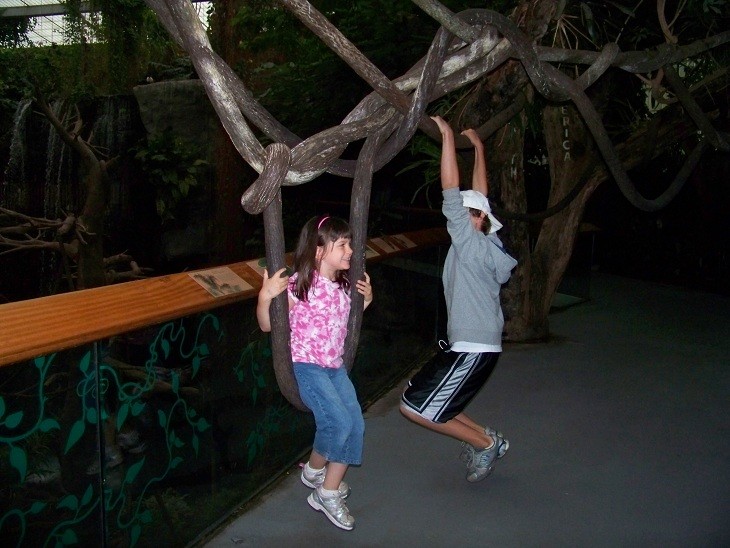 Climbing & Hanging Activities

Lots of upper body strength is developed along with improved balance. Kids also increase their confidence with heights — and also communication skills since multiple kids may be climbing in the same area too!
Monkey Bars
Rope Ladder
Space Net
Climbing Wall
Rock Wall
Rings
Tubes to crawl thru
Items to Ride at the Playground

While these types of play activities are not as common at newer playgrounds, you'll find many of them at older play areas.
Spinning, rocking and equipment that turns not only helps to build core strength and balance but is also good for helping kids learn about things that go fast/slow.

Spinning Seat
Merry-go-round
Spring Riders (rocking animals)
Balancing Fun at Play Areas

So many kids of all ages will benefit from balance activities — our whole society sits down waaay too much 😉 Kids work on their core strength but also foot/eye coordination too.
Leap pads or Stepping stone items
Balance Beam
Moving/swinging Bridge
Teeter-totter or See-Saw
Meeting Friends at the Playground

Play areas are where kids will practice sharing with others, increase their communication skills and other social skills since they are likely to be interacting/playing alongside peers rather than playing alone.
Sandbox
Sand Diggers
Water Sprays
Basketball Court
Volleyball Court
Play House
Fort (raised)
Pirate Ship
Get your FREE copy of the Playground Scavenger Hunt now!
Not only will kids have fun on the new equipment they find but just seeking out different playgrounds will become a great family adventure!
More Outdoor Play & Fun:
17 Fun Things to do at the Park
30 Fun Things to do Outside (plus rock painting activity!)