One of our favorite parts of summertime is the not-so-strict-bedtime schedule so we love to find some fun things to do on a Summer night!
We head out after dinner for a walk to the park or spend a night doing something special.
With the longer days and cooler evenings, summer is the perfect time to find some family events or activities that you can enjoy together after dark.
---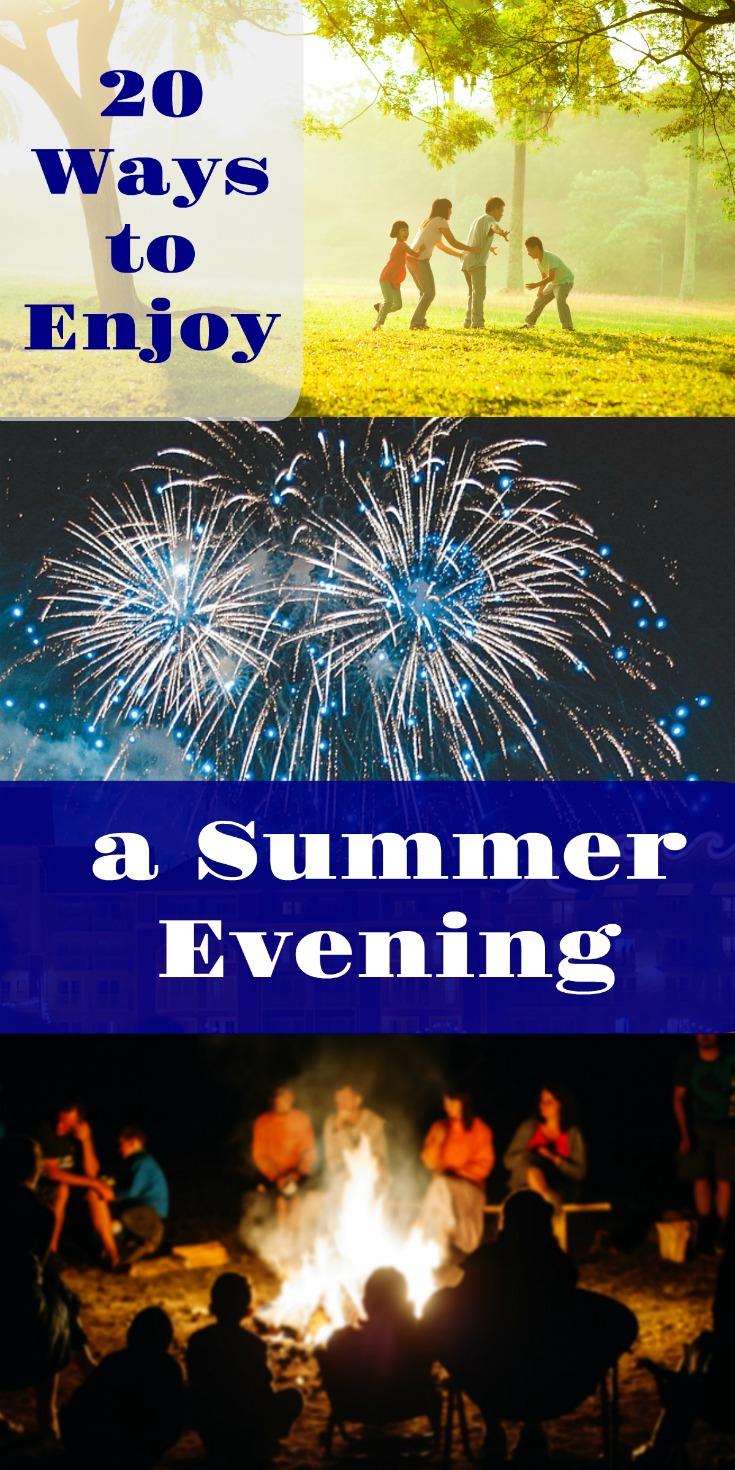 20 Things to do on Summer Nights
Here's a list of our favorite nocturnal adventures!
Some can be done in your own backyard and others allow you to explore your town after dark. We've also included a few of our favorite items along with their affiliate links for more information.
Let the nighttime fun begin!
1. Visit a Pond or Lake
The animals and fish are more active at night so bring a slice of bread to feed them. You're also more likely to see ducks, snakes and turtles - not to mention a beautiful sunset reflected on the water so don't forget to grab your camera before you head out!
Take along a flashlight and you can also enjoy a great book about the pond on your visit!
2. Play Glow-in-the-Dark something
Kids & teens love these glow-in-the-dark games (heck! even adults enjoy them!)
You can easily create your own with a set of glowsticks -- just add to balloons or water bottles and hide them for a quick scavenger hunt.
Try Glow in the Dark Ring Toss or this DIY Glow in the Dark Bowling from Life in the Motherhood this year!
3. Catch Fireflies on those warm Summer nights

Some call them fireflies, others refer to them as lightning bugs -- either way, hunting for fireflies is a childhood experience that every kid should try once!
Grab a clear jar or one of these cool critter catchers and sit outside on a warm evening. I'll bet you'll start to see the lights before you know it -- but can the kids catch them before they dim?
That's really all the fun, the running around and cries of "Wait! I just saw one!".
Don't forget to let the little guys go before you head back inside.
4. Enjoy an Evening at the Park
Try swinging at dusk or catch a ballgame under the lights.
It's a whole new experience to go down the slides at night or walk the trails (you might want to take along a cool flashlight!)
And a big bonus: it's usually less crowded too!
5. Host a Flashlight Storytime
Why read in bed when you can read outside on a blanket - such a fun way to end the day!
Here are a few of our favorite summer books for a nighttime reading session so you can check out the book description and reviews:
6. Sit Around a Campfire
A family favorite for any summer night!
Great smells, s'mores and what kid doesn't love to throw in a few pinecones in and listen to them sizzle. If you want to try something new, make apple or cherry pies with these cool Campfire Pie Irons!
Don't over-cook those marshmallows ;)
7. Go on a Night Hike
Everything looks different at night and your kids will love to bring along flashlights to scout out what's hiding in the shadows.
Print off this free Nighttime Scavenger Hunt to take with you and see how many nocturnal experinces you can find!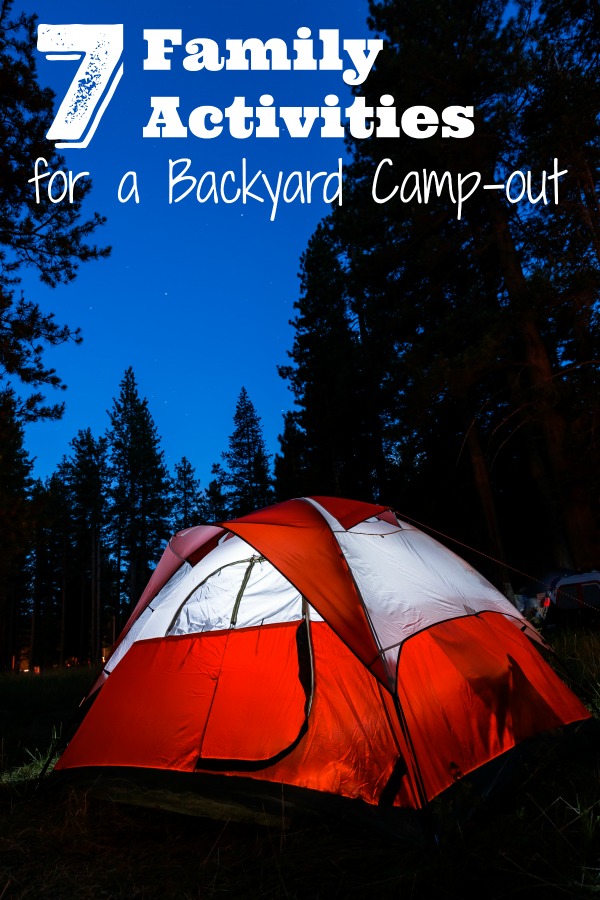 8. Pitch a Tent
Whether it's in your own backyard or at a local campsite, it's always fun to sleep outdoors on a summer night. Try these 7 Activities for a Backyard Camp-out!
Plus learning how to put up a tent is a great engineering project for kids too!
Add in some reading time with these 10 Great Books to Read for your next Camp-out.
9. See an Outdoor Play or Concert
Outdoor theater is huge in the summer months!
Check with your local community theater to see if they offer any outdoor shows. And many of the Shakespeare Festivals are held outdoors in the summer months (fun for teens who may have required reading).
Outdoor summer concerts can be found to local parks, museums and shopping areas. Grab some outdoor chairs, a few snacks and head out to enjoy the music.
10. Go Retro & Visit a Drive-In
I know they are few and far between, but Drive-in theaters do still exist!
You won't be worried that the kids will be too loud or get out of their seats, you can bring all the fun treats you like and talk about making memories!
11. Go out for Ice Cream (in your pj's)
Ok, it doesn't have to be in your pj's but when you're younger than 8, taking a drive in your pajamas is totally cool!
And on a warm summer night, it will be something your kids remember for a long time :)
12. See Fireworks
I'm sure your kids live for the firework shows every summer!
13. Dive in for a Swim
Most neighborhood and city pools are open past dusk with the lights on and some even offer summer movie nights so grab your suits after dinner and dive in for some cool fun.

14. Enjoy late admission at a Local Attraction
We love going to the zoo or some of our local historic sites when they offer evening programs. The animals are more active in the evening and everyone's a little cooler.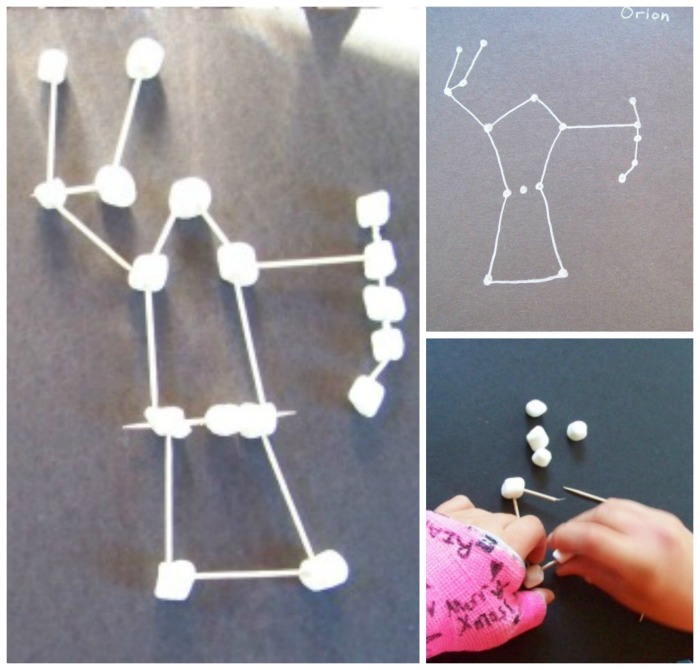 15. View the Stars
Grab a blanket and lie down outside to see what constellations you can find!
Or if you have a telescope, pull it out! If your backyard is too light, head to a local park that's away from the city lights.
Your kids will also enjoy building their own marshmallow constellations after spotting some of their favorites in the night sky.
16. Visit a Planetarium
Spend the evening looking up at the stars, planets and all the amazing things in space through some huge telescopes.
Many planetariums have open viewing sessions during the summer months -- find one near you at Go Astronomy .
17. Play some Backyard Games
Badminton, Bocce, frisbee and Lawn Darts
take on a whole new meaning in the dark :)
Here are a few more backyard games to try with your family.
18. Take a Bike Ride
I'd much rather enjoy an evening ride in the cooler weather than during the heat of the day.
Just be sure to have reflectors on your bike (and wear light clothing) and stay on the trails in your area.
19. Go on an Animal Hunt
All those nocturnal animals begin to come out at dusk so it's usually easy to spot a few furry neighbors.
We've seen fox, deer, bunnies, a wolf and have even heard the owls in our neighborhood after dusk. Great nature fun for the kids!
20. Play Flashlight Tag
Fun for kids (and parents) of all ages plus some great exercise before bedtime too.
All you need is a flashlight, a large dark area and off you go!
Join us for more fun things to do night & day during The $0 Summer: 105 Free Activities that Make Awesome Memories!

More Ideas for Summer Fun
30 Skills Kids can Master this Summer
34 Ways to be a Cool Parent this Summer