Learn about activities to do during the Solar Eclipse including which glasses to wear, fun eclipse themed food, books to read, party ideas and more!
Where will you be during the next solar eclipse?
Chances are — somewhere "on the dark side of the moon" 🙂
If you're planning to celebrate the Solar Eclipse with your family or students in your classroom, we've got a few ideas for fun activities & tips on how to enjoy the eclipse together!

Solar Eclipse Activities & Party Ideas
I actually have memories seeing a partial solar eclipse at a child growing up in Upstate New York — it happened during a school day and the teachers brought us outside to the playground for the event.
I admit, it was a little creepy when it began to get dark during the day (and a little chilly too!)
This will definately be something that will make an impression since it doesn't happen every day 😉
Since it's such a big science event, I wanted to share some fun ideas along with affiliate links to items that we are using to help us fully enjoy the next solar eclipse.
Throw a mini-party with your family or class at school!
Here are some quick ideas:
Find out when the eclipse begins and how long it will last for your location.
Our family will be celebrating the eclipse very close to the line of totality in Nashville as we'll be on the way home after dropping our oldest off at college!
I'll be sharing some details on the Edventures with Kids Instagram account that day so be sure to follow along if you're not in the path of the eclipse.

Solar Eclipse Party Food
Since we'll be in a location where the eclipse will happen around lunchtime, I thought it would be fun to make Eclipse Sandwiches for your kids to enjoy — oh! and they can help make them too!
Here's what you'll need:
light color bread
dark bread (like a German Wheat Bread or Pumpernickel)
orange marmalade (we thought it would look most like the sun)
2 glasses (one with a 2 – 3 inch opening and the other with a slightly smaller opening)
We used two glasses to cut circles in our bread (one glass should be slightly smaller than the other – use the smaller glass to cut out the dark bread circles).
Spead the orange marmalade on the light bread circles and top with the dark bread circles for a full solar eclipse sandwich.
If you want to create the eclipse stages like we did, just trim off part of your darker bread circles to represent how the moon will cross in front of the sun during the path of the eclipse.
Another idea for health, easy & fun Eclipse Party Food are these Eclipse Tostadoes which are also easy for kids to make.
Kids' Solar Eclipse Books to Read Before or After
While there aren't a lot of these out there, you can find a few awesome books that will help your kids understand what's happening during the eclipse along with some great read-alouds that are perfect to share before or after the event.
One of our favorite fiction reads, Every Soul a Star by Wendy Mass, shares the stories of three middle school kids — Ally, Bree & Jack — who are very different but their paths all meet at Moon Shadow Campground because their families are there to experience the totality of a solar eclipse.The story focuses on how each of us grows and changes as we age, and how it can be tough to 'outgrow' friendships. An awesome read aloud for older kids who probably know the science behind the eclipse but will really enjoy some of the cultural insight into how people approach such an event!
If you're using this in a classroom or for homeschool, there's also a wonderful book discussion & activity guide you can print out.
If your looking for non-ficiton books that explain what's taking place during the eclipse, try:
Looking Up!: The Science of Stargazing (Science of Fun Stuff)
is an amazing book that goes in-depth to explain the sun, moon and stars — having a basic understanding of the sky is a must if you're trying to explain an eclipse. The back has a special section with details on the solar eclipse. Perfect for ages 5 – 8 years.
And When the Sun Goes Dark
is one of the few books that is focused on a solar eclipse. Readers will be introduced to some easy science activities and understand the why & how an eclipse takes place. Great for ages 9 – 12 years.
Glasses for the Eclipse
If you don't have a pair of solar eclipse glasses yet, order them NOW!
I can't harp on this enough — safety with glasses is HUGE!
We don't want kids ruining their eyesight for the rest of their lives just because they looked through the wrong filters, right?!
You'll want to be sure and get glasses that are CE & ISO certified for the event (this means they will keep your eyes safe because they are using the correct filter paper recommended & tested by NASA) like these Eclipse Glasses from Steve Spangler – they have free shipping too (if you didn't order early, choose the 2 or 3 day shipping options to get them in time).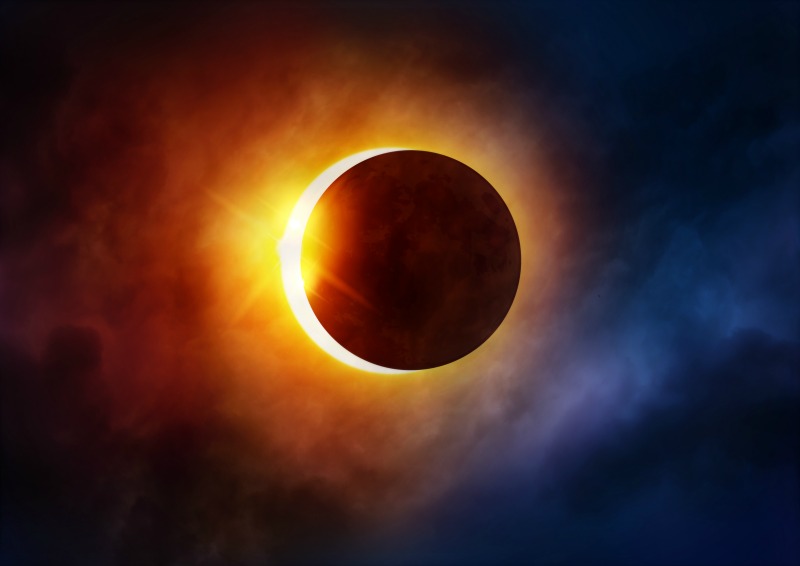 Eclipse Science Activities to do as a Group
It's not all about the sun & moon for this event believe it or not!
While we'll all be treated to a rare sight, there will be a LOT happening as the sun crosses over the moon:
things will get dark during the middle of the day so you may feel weather changes, hear insects that normally sound in the evening and the birds may stop chirping.
You can get involved in some cool REAL LIFE science activities during the eclipse that are perfect for kids from ages 8 – 18 to do or families to do together —
Younger kids will enjoy creating a solar eclipse from playdough! Just use this 3D Moon Phases activity as a guide.
Observation Tips for the Solar Eclipse
Remember, we are all looking UP to see the eclipse so don't worry about the crowds but DO consider things like tall buildings or trees when choosing your viewing location.
Younger kids might get a little nervous if they aren't crazy over the dark so have a 'lovey' on hand if they need to feel comforted and assure them that darkness will only happen for a minute or two depending on where you're located.
Bring snacks! The total amount of time for the entire eclipse can be 1 – 2 hours depending on where you are so have something to eat & water with you.
Wishing you clear skies on August 21, 2017!
More Moon & Star Activities:
Phases of the Moon Activities for Kids
Marshmallow Constellations & the Night Sky