Inspire kids to explore the solar system with these picture books, chapter books & nonfiction books about space!
When our kids were 6 & 12, we took a trip to a local observatory for one of their public viewing nights.
Talk about a view!
The astonomers brought us up a very tall set of circular stairs to peek into a HUGE telescope — the strongest one in a five state area.
What did we see?
A triple star, a galaxy "far, far away", nebula and the moons of Jupiter!
It was an awesome experience for my 12-year-old especially! One of the scientists showed him a dead star — a star that was no longer emitting light HOWEVER we could still see the star's light because it was so far away (light-years away) that to us, it still looked like it was a shining star.
He asked questions for days about what we saw and what other possibilities might exist.
And he started reading TONS of books about space.
He's now a teenager who follows SpaceX launches, listens to Neil deGrasse Tyson and is the lead coder for the Rocketry Team at his college.
You just never know what's going to spark your child's interest and impact their life.
So this week's book list is to inspire all those future astronauts, space explorers and any child who's looked up in the sky and asked "What's that object?"!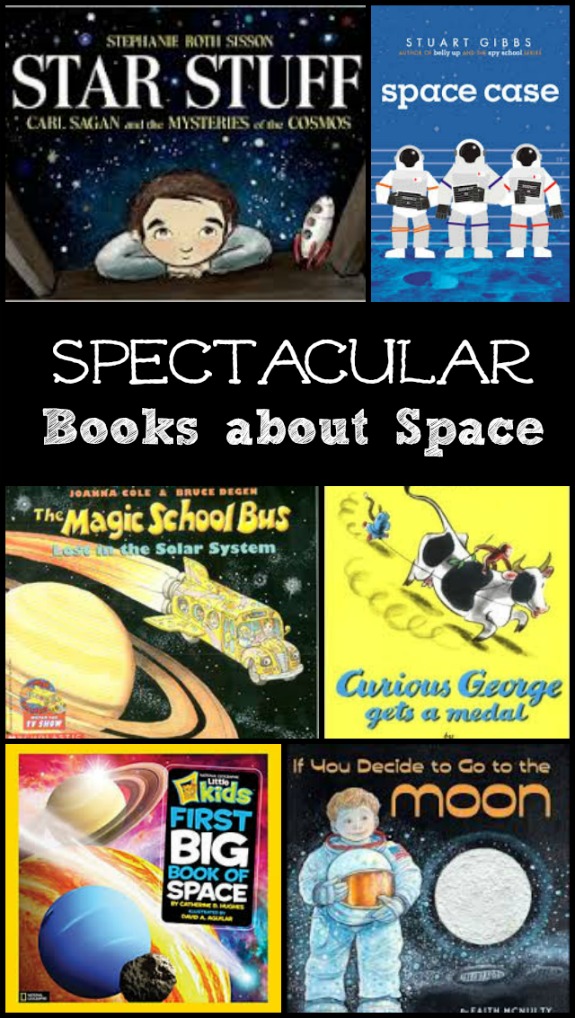 Great Kids Books about Space & the Solar System
Many of us were raised at a time when space travel was new and exciting!
You know, back when Pluto was still a planet 🙂
Oh wait — did that change again?!!
So to encourage this continued interest and wonder for future generations, our newest book list includes some out-of-this-world reads about space + a few fun hands-on activities to go with them!
Space is a topic that can quickly become overwhelming if it's only introduced using non-fiction books so we're including both fictional reads along with some excellent non-fiction reference items. We've also included affliliate links for learning items related to space & each of our book recommendations so you can explore more about titles you might enjoy.
Fun Space Activities for Kids

Pair any of these great activities with a few of the books on our list for lots of fun & learning!
Get outside and stargaze!
Kids Books about Space & the Solar System
Who doesn't love George?
In Curious George Gets a Medal
, George gets into more trouble but this time the trouble leads to a trip to outer space! George has the greatest day of his life, and gets a medal too. Very young kids will get their first introduction to a few space terms and cute travel adventurse with this story. A favorite read for ages 2 – 5 years.
In one of our favorite non-fiction mixed with fiction series, The Magic School Bus Lost In The Solar System
takes the reader on a trip around the planets and through space with Ms. Frizzle and the class.
Kids will learn about each planet in our solar system along with other celestial bodies. I love the fun facts and details included in this wonderful science series – and kids enjoy the illustations and easy-to-understand text! There's also a great companion book Magic School Bus Presents: Our Solar System: A Nonfiction Companion to the Original Magic School Bus Series
which goes much more into depth about the topic. Both are great for ages 4 – 10 years.
The Cat (along with Sally & Dick) head to outer space in There's No Place Like Space: All About Our Solar System.
One of the Dr. Suess Learning Library books, this is a great introduction to space for young kids. Kids will explore the 8 planets along with Pluto, and learn quite a bit about space and various celestial bodies and occurances with the Cat in the Hat. A good transition book (from fiction to non-fiction) for ages 3 – 8 years.
DK books are a favorite in our house — they always have such great pictures and can be enjoyed by a wide age range. First Space Encyclopedia (DK First Reference)
is perfect for a budding astronomer or astronaut. It's a wonderful book that tells you all about space, exploration and all the cool tools that are used.
If You Decide To Go To The Moon
is an award-winning book with wonderful illustrations! Take an exciting trip to the moon is this gorgeously illustrated book! Kids will love learning what you should pack, how to get to the moon, what you might experience and, most importantly, how to get home again! Most enjoyed by kids ages 3 – 8 years.
I really love books that share the childhood stories of famous people. Star Stuff: Carl Sagan and the Mysteries of the Cosmos
introduces us to Carl (a very famous astronomer, astronaut and astrophysicist) as a boy. The reader learns how he first became interested in the stars, how he continued to ask questions about space and what he did to bring the wonders of the universe to all the homes in America.
A great biography with wonderful illustrations and some excellent interactivie elements in the book. A wonderful read for ages 4 – 12 years.

National Geographic books always have such amazing photos! In the National Geographic Kids First Big Book of Space (Little Kids First Big Books), kids ages 3 – 10 will enjoy exploring the many details along with up-close photos of the moon, planets, stars and corners of Universe.
I really like the Parent Tips they give for using the book along with the Glossary (because space terms just aren't common knowledge 😉 This is a great book to add to the STEM section of your home library, especially if you have a future astronomer in the house! Best for ages 3 – 8 years.
If you've ever travelled with Jack and Annie, you know that Jack loves to keep a notebook with all the facts they learn on their trip. Space (Magic Tree House Research Guide)
is the non-fiction companion to the Midnight on the Moon (Magic Tree House, No. 8)
and greatly expand on Jack's notes.
This edition explores the planets and the universe and it's wonderful for those reading early chapter books. Kids will enjoy learning about the scientists, astronomers, various celestial bodies and the tools used to explore space (even parents will learn a few interesting things!)
Did you know that the Magic School Bus books also come in chapter book form? And they're really cool!
Space Explorers (The Magic School Bus Chapter Book, No. 4)
is a more detailed look at the planets, stars and other celestial bodies. The book reads like a fiction story with TONS of non-fiction elements and fun illustrations sprinkled throughout the text.
A great series for any science fans expecially ages 7 – 11 years.
One of my favorite fictional space reads, A Wrinkle in Time takes the reader on an amazing trip with Meg and Charles as they travel to different planets to save their father!
This is a great read-aloud for kids who aren't yet ready for chapter books and a winner of the Newbery Medal for excellence in children's literature. It's also the first book in a trilogy so there's more adventures to enjoy if this one wins you over. Perfect as a family read-aloud or for kids ages 10+.
We've just started Space Case (Moon Base Alpha)
and are really enjoying it!
In this fictional story, Dashiell is a 12 year old who is living in the first colony on the moon — and in his words "it sucks!" He explains how his family was chosen to be part of the experiment, how the rest of the world can watch them on webcam and why it's not such a great thing for a kid.
The book has a fun map of the moon colony and each chapter is introduced by 'lunar day'. Plus, there's a mystery involved too! A very engaging read for kids ages 9+.
More Astronomy Fun for Kids
Hands-on Solar System Activities