Try one or more of these fun activities to do at the park with your family!
Our family LOVES to visit different parks.
Sometimes it's just a short walk at our neighborhood park to visit the ducks or play at the playground. Other times, we'll head out and spend a day exploring trails or hiking at one of the state or national parks.
Today, we're partnering with the National Park Trust to celebrate Kids to Parks Day with some AWESOME ideas for things to do on your next park visit and a super GIVEAWAY too!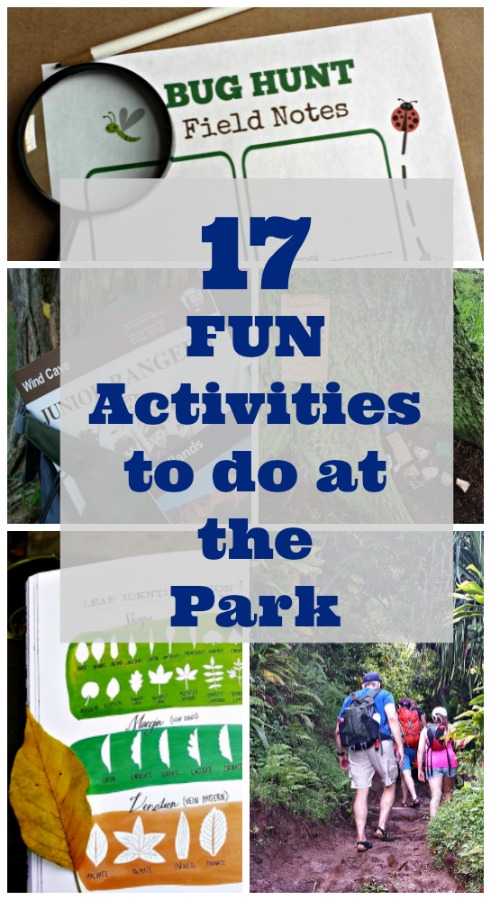 17 Awesome Activites to Do at the Park
The National Park Trust is celebrating Kids to Parks on May 19th -- it's a day to get out & enjoy a park near you!
There are many parks around the country who will participate by hosting special events and activities for families.
And we're celebrating too by sharing some of our favorite things to do at the park! You can also enter the first of our summer giveaways and find affiliate links for books & items that will make your next park visit a memorable one!
1. Go Fly a Kite
Flying a kite is serious fun!
Running through a large open area trying to launch your kite into the wind is something everyone should try at least once in their life.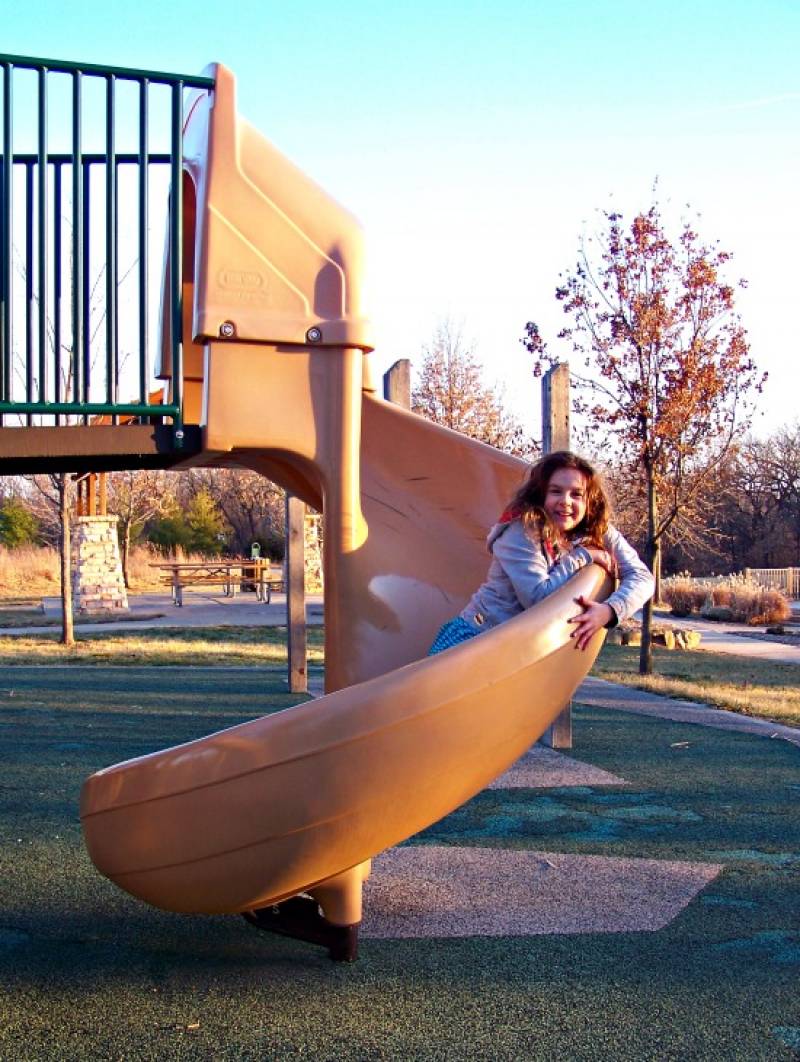 2. Explore a New Playground
What's more fun than finding a new playground??!
Maybe having Mom or Dad join you while you play :) Don't let your kids have all the fun! Take along this playground scavenger hunt to see what new equipment you can discover.
3. Have a Picnic
It doesn't have to be fancy or a big deal.
Just grab a blanket (we love taking this foldable waterproof picnic blanket with us!) and take lunch to the park one afternoon -- your kids will talk about it for weeks.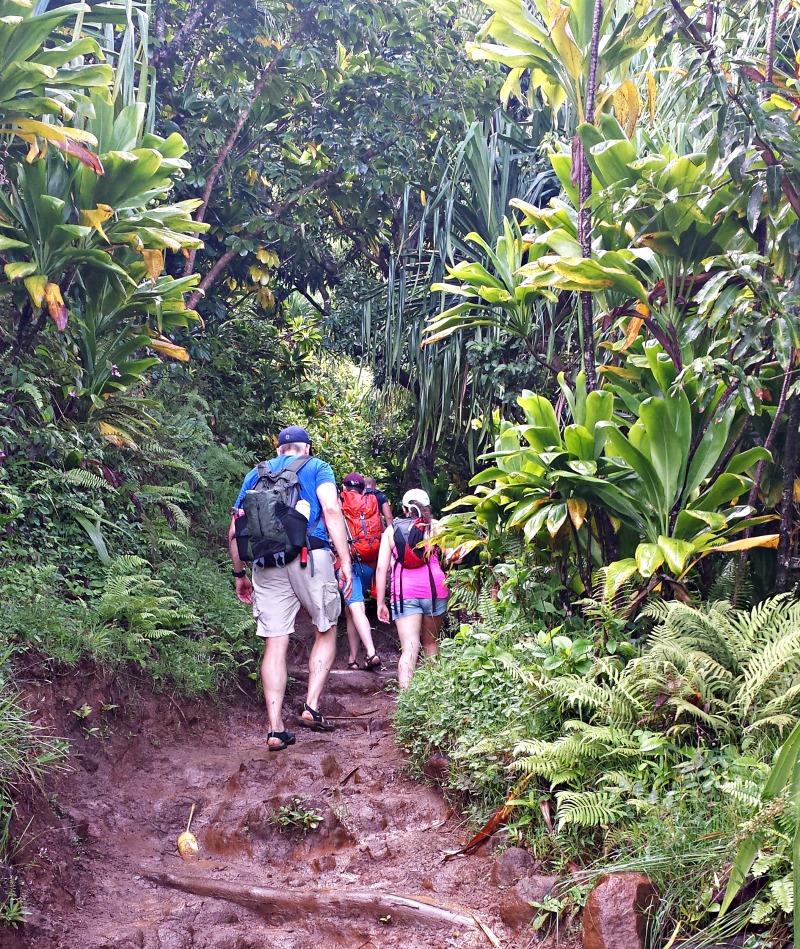 4. Hike a Trail
Get out and explore some unknown path or one of the marked trails - be adventurous!
Check your park's trail map for the length of each trail and choose one that best fits your family. Here are some of our best Tips for Hiking with Kids along with a free printable Nature Scavenger Hunt you can take with you (inspiration to keep them walking & looking for the next item ;)
5. Play a Game
Take a frisbee, football or kickball with you and get moving during your visit. Or play a fun game of keep-away or tag as a family.
You can find more ideas here: 30 Games to Play at the Park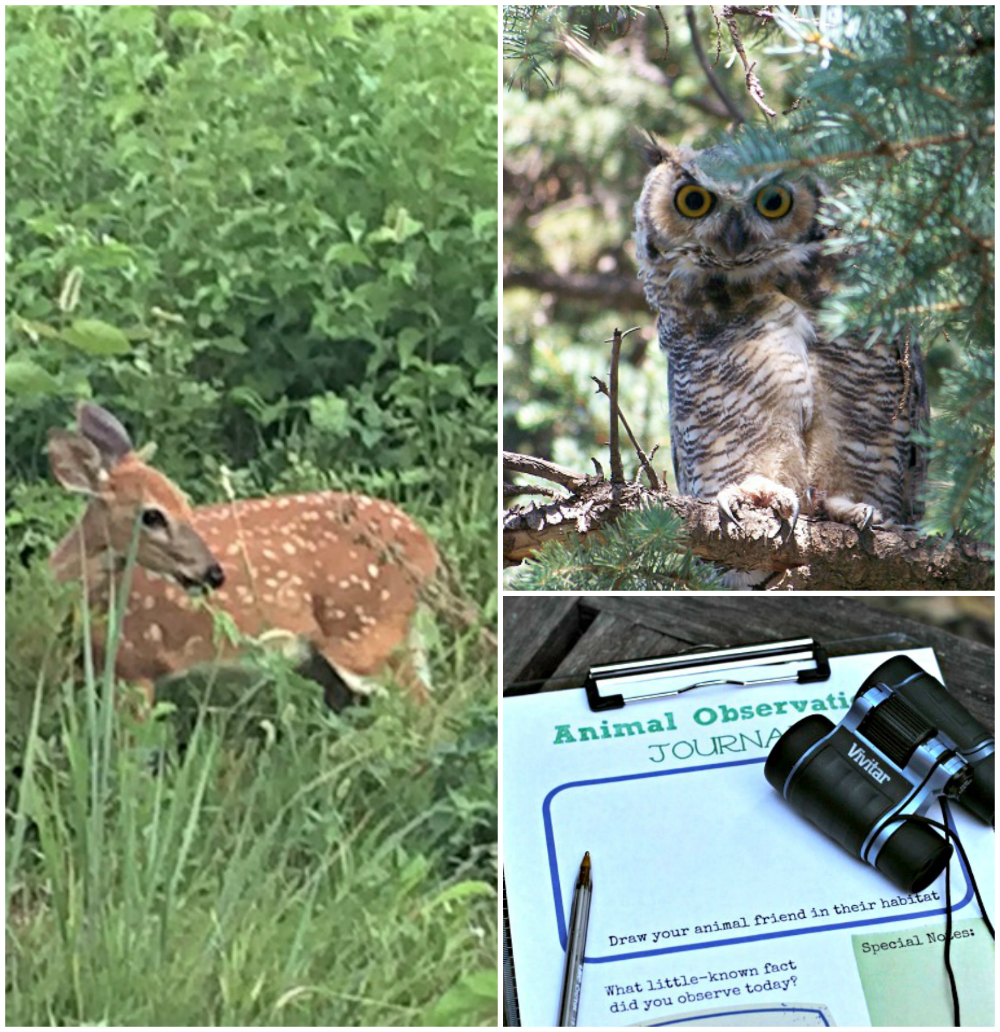 6. Observe the Wildlife
On our walk through the park last week, we saw a coyote!
Yep, right in the middle of suburbia. You can frequently see rabbits, birds of prey, deer, squirrels and other animals in the park and kids will enjoy watching their antics.
Take along this FREE printable Animal Observation Journal, a pencil/pen, grab a pair of Kids' Binoculars
so you can get an close-up look and record your wildlife sightings!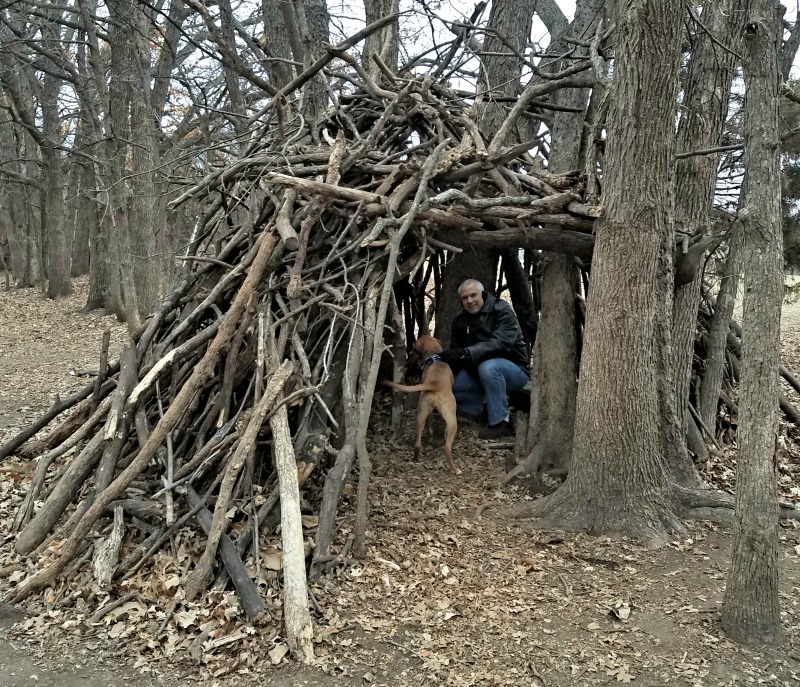 7. Find Something New
Be on the look-out for cool outdoor things!
You might see an animal you've never spotted before or even a really neat structure. Many National Parks have historic homes or monuments -- some even have lighthouses you can visit!
We came upon this 'stick shelter' on a recent visit to a county park -- it was fun to tuck in and explore for a bit.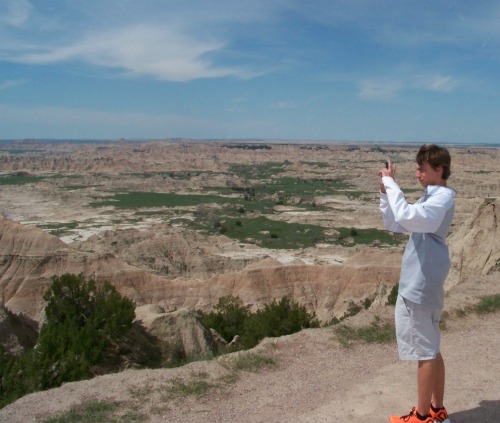 8. Be a Shutterbug
Grab a camera and see what inspires you! It's always interesting to see what kids will decide to photograph.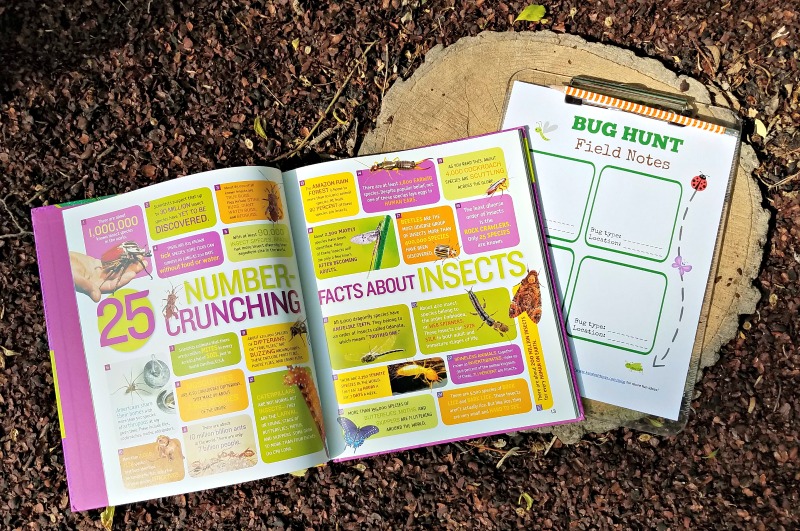 9. Hunt for Bugs
One thing you can always count on finding at a park -- bugs :)
But in this case, that's a good thing!
The National Park Trust & National Geographic sent us this beautiful book 1000 Facts about Insects (pictured above) -- Grab a copy of the free printable Bug Scavenger Hunt and see what cool insects you can find on your visit.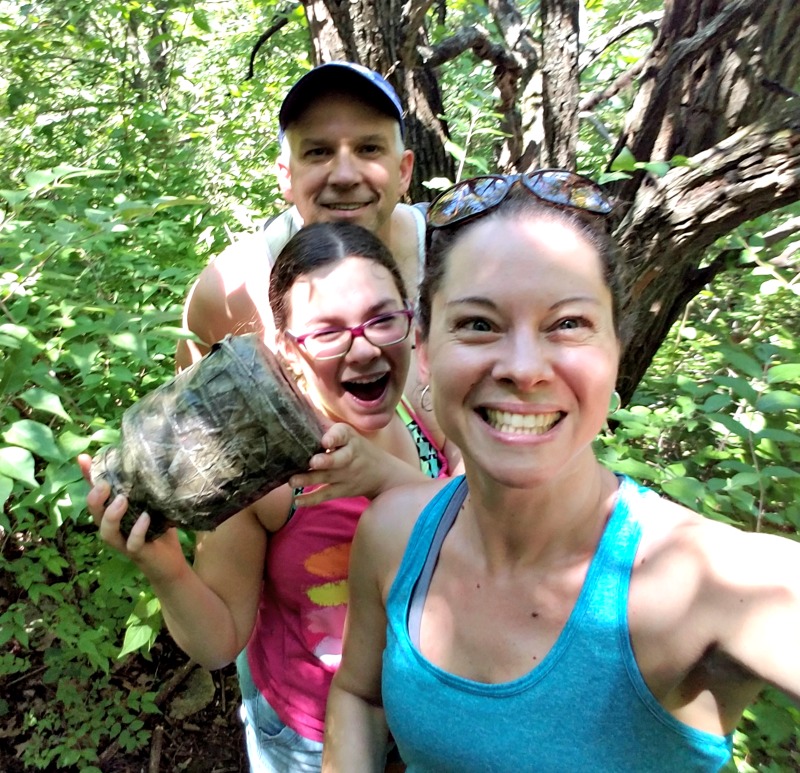 10. Go on a Treasure Hunt
Have you ever tried geocaching?
It's a fun family activity that's free to do. Just download an app for your phone or iPad (there are many free geocaching apps) or visit www.opencaching.com, type in your zip code and you can see which parks near you have hidden caches.
11. Take a Ride
If your park has paved trails, enjoy an afternoon bike ride together.
Or if there's a pond or lake at the park, jump in a kayak or canoe for a boat ride -- one of our favorite summer outings! Here are some great Tips for Kayaking with Kids to inspire you!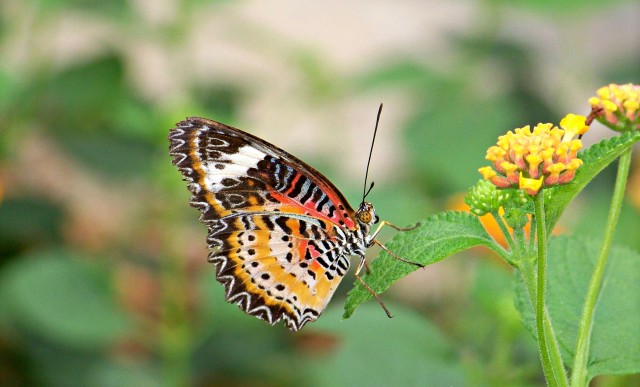 12. Volunteer
There are some great family volunteer opportunities in local, state and national parks. You can help keep the trails clean, take care of your local pond or assist during community event days.
You can also visit a park and participate in a Citizen Scientist program! These are super cool to do -- just find one that interests you (maybe it's bees or birds) and collect pictures & observations during your visit. Learn how to get involved --> 12 Amazing Citizen Scientist Projects for Kids
13. Read a Book
A few of our favorite 'park-related reads' include:
The Junior Ranger Activity Book: Puzzles, Games, Facts, and Tons More Fun Inspired by the U.S. National Parks!
is exactly as the title says -- puzzles, games and SO many nature facts about parks from around the US!
Kids will use the National Geographic Kids Guide to the National Parks to get up close and personal with the wildlife and natural wonders they will see and experience on park visits. This is a great book if you're trying to decide which parks are the best for your family.
We can't forget creative fun -- the National Parks Coloring Book published by Dover (the folks who do those awesome mini-sticker and detailed coloring books for kids!) not only has detailed park illustrations to color but also some wonderful facts about each of the parks!
And no matter which park you visit, the Journey Around Our National Parks gives readers an A to Z look at all the parks, historic sites and national lands along with the diverse experiences that exisit throughout the park system. It's a little nature, history & geography all wrapped in one book ;)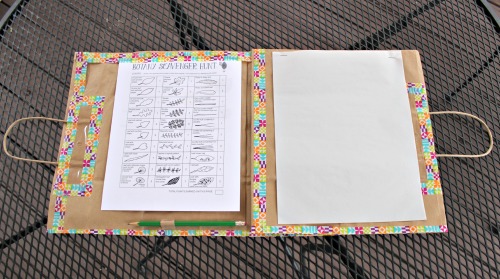 14. Bring along a Nature Journal
Whether it's a sketch book for drawing or a homemade nature journal, a park visit is the perfect time to learn about nature!
Choose from 70+ free printable nature activities & learn how to make your own DIY Nature Journal from a paper bag.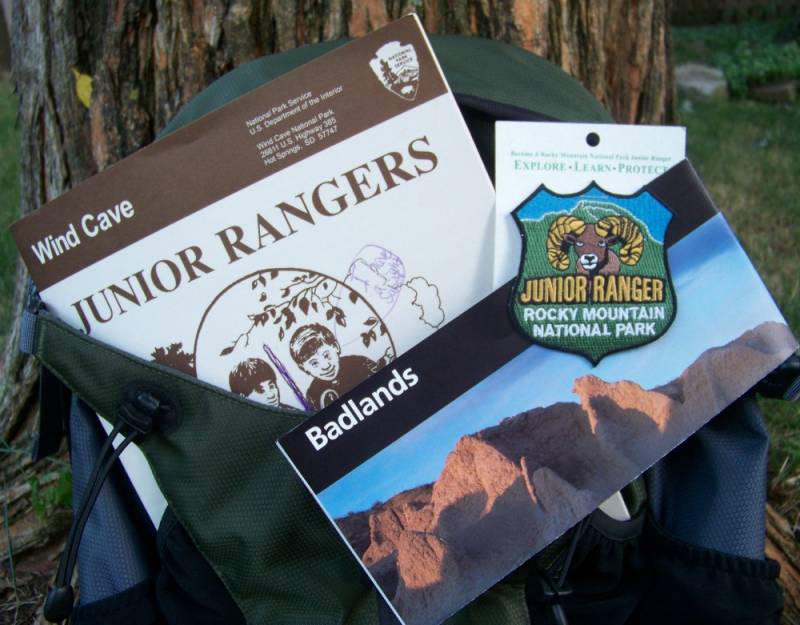 15. Become a Jr. Ranger
Most national parks and many state parks have Jr. Ranger programs -- your kids can download or pick up a booklet, complete some fun nature activities during your visit and earn a badge or certificate.
We've done more than a dozen of these as the kids have grown and each time we learn something totally new & different!
Check with the park ranger or your park's website to find out if a Junior Ranger program is offered before you go.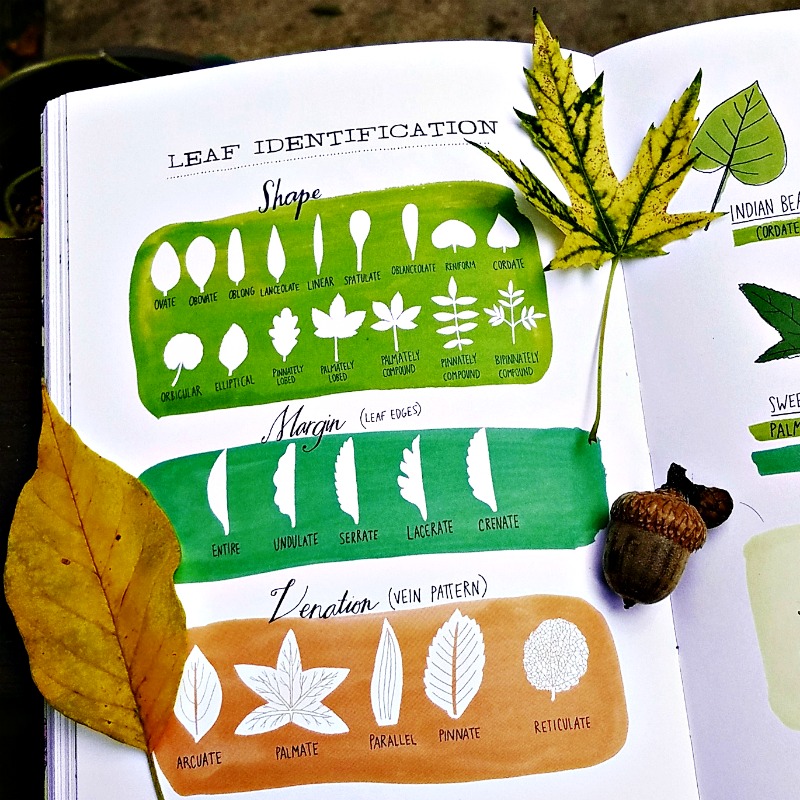 16. Explore the Trees
Parks are a great places to explore a variety of trees and learn a little science -- try this fun activity for Dendrochronology (the study of tree rings). You can view different types of leaves, tree seeds and talk about the various ways trees are used by animals.
Another one of our favorite books to bring to the park or on a nature hike is Nature Anatomy (pictured above) -- you'll be able to identify trees, insects, animals and more with this awesome handbook that's perfect for kids & adults!
17. Just Play
When kids are presented with large open spaces, they will always find something fun to do. Cartwheels, races, spinning -- just provide them with the room and they will play.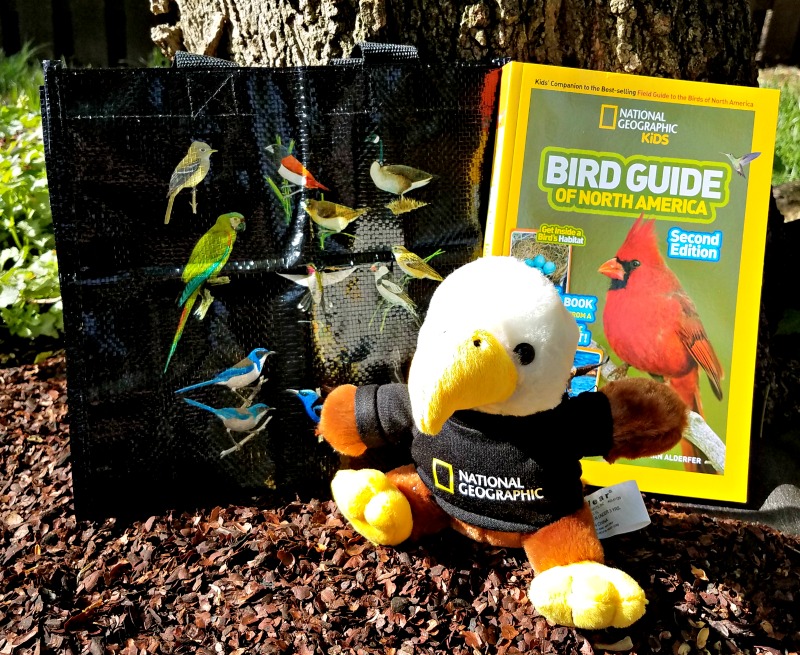 Enter the Kids to Parks Giveaway!
National Geographic Invites You to Celebrate the Year of The Bird!

2018 marks the centennial of the Migratory Bird Treaty Act, the most important bird-protection
law ever passed. To commemorate this anniversary, they've updated the Kids Bird
Guide of North America.
Enter to win National Geographic's Year of the Bird Give-Away which includes:
a copy of the National Geographic Bird Guide to North America
a birding bag and
a National Geographic plush Eagle to take with you!
TO ENTER:
Leave a comment below telling us about your favorite thing to do on a park visit!
Open to U.S resdients ages 18 and over
Entries will be accepted until 11:59 pm CST on May 12th, 2018.
One winner will be chosen at random using Random.org and notified by email.
Enjoy your next Park Adventure!
More Things to do at the Park:
30 Great Games to Play at the Park
20 Science & Nature Activities for a Day near the Pond