This easy science project shows kids how dendrochronology & tree rings give us a look into the past!
We like to do a lot of tree activities for a few reasons — trees are easy to find ;), the activiites you can do are super easy & inexpensive and trees can teach us so much about science topics, the environment and even history.
Today's project is going to allow your child to be a nature detective — and all you need is an old stump for this one!

Tree Rings and Dendrochronology: Science Project for Kids
First, let's address the elephant in the room, shall we?
Dendrochronology — yep, that's quite a mouthful especially for kids 🙂
But as I've said before, don't ever underestimate your child's ability or desire to learn.
So when we're talking about the idea of counting tree rings and dating a tree, we should use the correct scientific term for it.
Dendrochronology: The Science of Tree Dating
Den-dro-chronology is the scienfic process of using tree rings (or growth rings) to understand what happened in the environment during the life cycle of a tree.
If you're ever come across a tree stump, you'll quickly see that there are a number of circles beginning with smaller ones near the center of the tree and expanding into larger circles towards the bark. These are referred to as tree rings.
So the main item you'll need for today's science project is a stump 🙂
They're usually really easy to find — head to a park, a forested area or even your backyard if you've recently removed a tree.
Counting Tree Rings to Age a Tree
Here are a few cool facts about tree rings before you go:
A tree adds new layers of wood each Spring and Summer
Wood added in the Spring grows faster and is lighter
Wood added in the Summer (and Fall) grows slower and shows up darker
In order to date a tree, you should count the dark rings on a tree's stump once it's cut down
So once you find your tree stump, you'll want to count ONLY the dark circles to date your tree.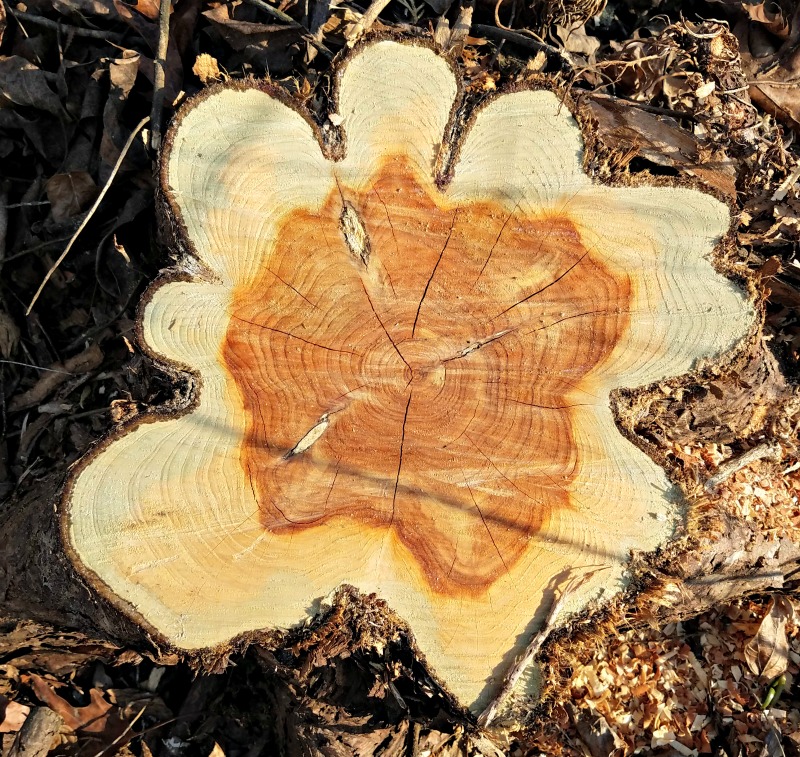 You'll notice that not all trees grow in perfect circles, like the one pictured above.
But all trees will product some type of tree ring as they grow so if you come across a funny-shaped stump, just be sure to count the rings at the widest area.
And do you see that dark center area of the tree?
That's the heartwood of a tree. It's actually dead layers of the tree that have filled with sap but it serves as a pillar for the tree — a stronghold that keeps the tree upright.
The lighter area is sapwood which is newer growth. These layers are how the tree gets water to its' leaves.
We analyzed a few different tree stumps to look at age and also to look at growth patterns. For example, when there is less rain, tree rings will be closer together.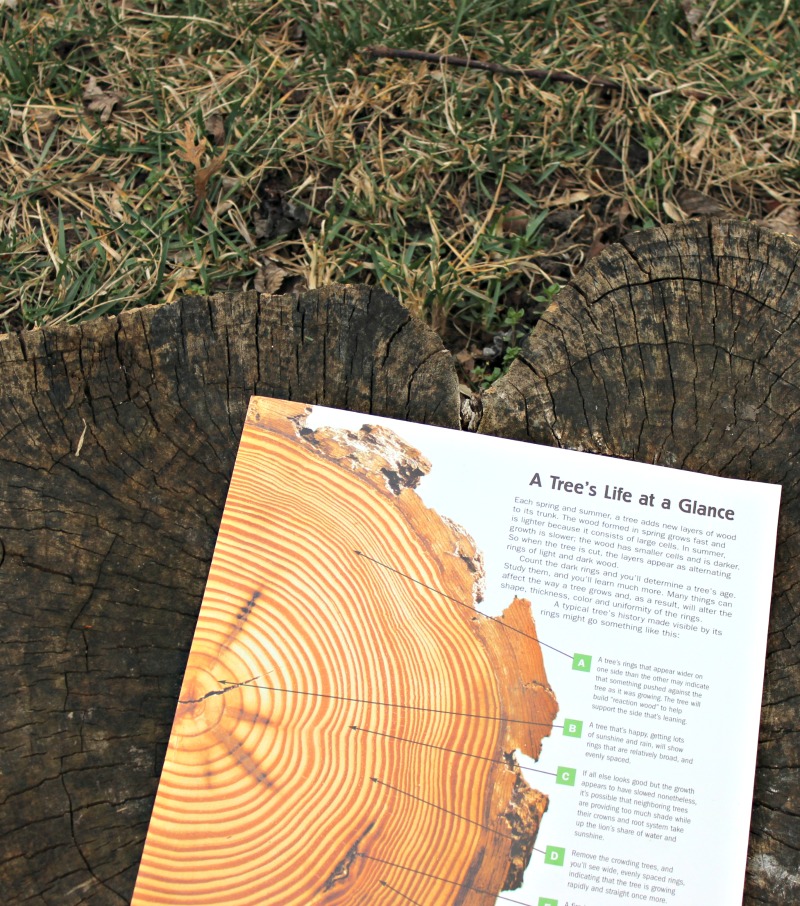 You can use this AWESOME printable tree poster from International Paper to get an indepth look at the life of your tree.
Print one off and take it with you to analyze the tree stump. You'll be able to learn the answers to these questions:
Did your tree survive a drought?
Was your tree leaning to one side when it was alive?
Was there a fire in the forest?
Was there better weather (more rain/moisture) when your tree was young or old?
How old was your tree?
In addition to tree rings, you can see markings on the stump of a tree that could indicate infectation of bugs, a crowded forest or ample amounts of rain in different years.
To explore more about trees, try these amazing books. I've included affiliate links so you can learn more about each one:
The Tree Book for Kids and Their Grown-Ups
is a guide that details how trees grow, the leaves and seeds of various trees and their inner workings. This is a great book for any tree identification activity you do with your kids!
Trees, Leaves & Bark (Take Along Guides)
is a fun field guide to take with you on a forest hike or camp-out. You'll find detailed illustrations of leaves, bark, cones and tree seeds for trees in North America along with extra pages where your child can do their own leaf or bark rubbings.
A Tree Is a Plant (Let's-Read-and-Find-Out Science 1)
is perfect for preschoolers and younger tree lovers! This non-fiction book walks the reader thorugh the life cycle of a tree and includes easy experiments to do (including one on tree rings!)
More Tree & Nature Activities:
How do Leaves Breathe? A Simple Science Experiment
DIY Nature Notebook with 40 FREE printable activities!
This post is part of the 28 Days of STEM Activities hosted by Left Brain, Craft Brain — be sure to visit for more than 50+ STEM Activities & Ideas your kids will LOVE!