These jingle bell crafts ideas and learning activities are easy, fun and perfect to use year-round!
There's just something magical about the sound of a jingle bell.
Honestly, I think they are one of my favorite musical instruments — not too loud, easy for everyone to use and perfect for most of those Christmas songs.
You may remember that we hunt for jingle bells every December, a unique family tradition that I've done with our kids. And we love to use them for crafting and activities too so today we're sharing a great list of ways to put those jingly guys to use!
23 Jingle Bell Craft Ideas & STEM Activities
Jingle bells are a great manipulative and craft material to use during the holiday season and throughout the year! They are perfect for math activiites and science experiments that test magnetism or our sense of sound.
And, of course, a wonderful musical accompaniment for those fun holiday songs too. We're including a variety of ideas along with affiliate links to some of our favorite items and books too.
We like to have various sizes (and colors!) of bells to use in our crafts and activities — our favorites include these classic silver bells and the blue/purple variety pack of bells (which we find are the perfect color for winter crafts).
Having a variety on hand means I can pull them out for a science activity, put the bells back when we're done and reuse them for a craft — and it also means when some go astray (read that: brought to school and given to friends 😉 we still have what we need on hand.
So enjoy making a little music with your craft or holiday learning this year!
Bell Craft Ideas
Christmas Jingle Bell Sticks || Pre-K Pages
Cinnomon Scented Jingle Bell Placecards || Edventures with Kids
Popsicle Stick and Jingle Bell Christmas Tree Ornament || Buggy and Buddy
Gold Ribbon Dancers || The Craft Train
Jingle Bell Bracelets || There's Just One Mommy
Jingle Sticks – Percussion Instrument Craft for Kids || Danya Banya
Jingle Bells Painting – Christmas Tree Ornaments || Emma Owl
Easy Jingle Bells Craft || The Joys of Boys
Polar Express Ornament || The Resourceful Mama
Egg Carton Bell Christmas Craft || Fantastic Fun and Learning
Jingle Bell Tree Ornament || Mosswood Connections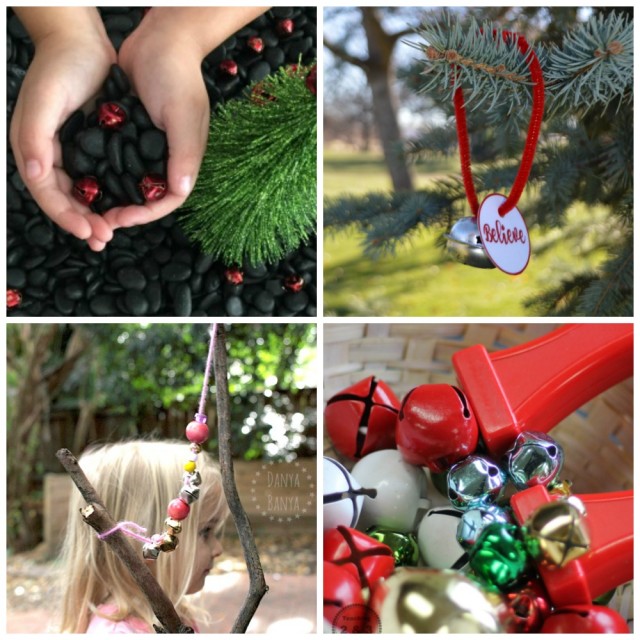 Jingle Bell Science & Math Activities
Christmas Science with Magnatiles & Jingle Bells || And Next Comes L
Preschool Magnet Science with Jingle Bells || Fun A Day
Christmas STEAM Challenges || Handmade Kids Art
Jingle Bells Discovery Bin || PLay & Learn Every Day
Holiday Party Games – Jingle Bell Toss || Playground Parkbench
Carol of the Bell || Every Star Is Different
Jingle Bell Candy Cane Tree Craft || Play Trains
Fine Motor Activities : Jingle Bell Drop || Kids Play Box
Jingle Bell Rock Sensory Bin || Modern Preschool
Jingle Bell Color Sorting || Teaching 2 and 3 Year Olds
Can You Quiet A Jingle Bell? || Little Bins for Little Hands
Plus a few wonderful books to pair with your jingle bell activities:
Being such a fan of classic books, I just adore the vintage feel of the illustratins in Jingle Bells: A Magical Cut-Paper Edition
and the pop-up ending is beautiful!
For younger kids, Llama Llama Jingle Bells
is a great holiday read!
And if you're looking for a book about Christmas Around the World, try Jingle Bells
which shares the traditional song along with fun activities from places like Sweden, Mexico, Italy & Kenya!
And don't forget to head outdoors to try a Jingle Bell Hunt too! You never know when Santa's sleight might have a few come loose and fall near your home 🙂
More Winter Activities & Crafts!
33 Winter Break Activities for Kids
29 Ways to Be a Fun Parent this Winter