Enjoy these fun games & activities kids can play at the park this month!
Spring is here which means Summer is not far behind so it's time to hit the great outdoors.
And you know how much we LOVE getting outdoors and exploring so we're helping the National Trust to celebrate Kids to Parks Days this month.
Today we're sharing some fun games & activities that are perfect for your next park visit. Then later in May, we'll be highlighting some of the awesome experiences your family can have during a park visit.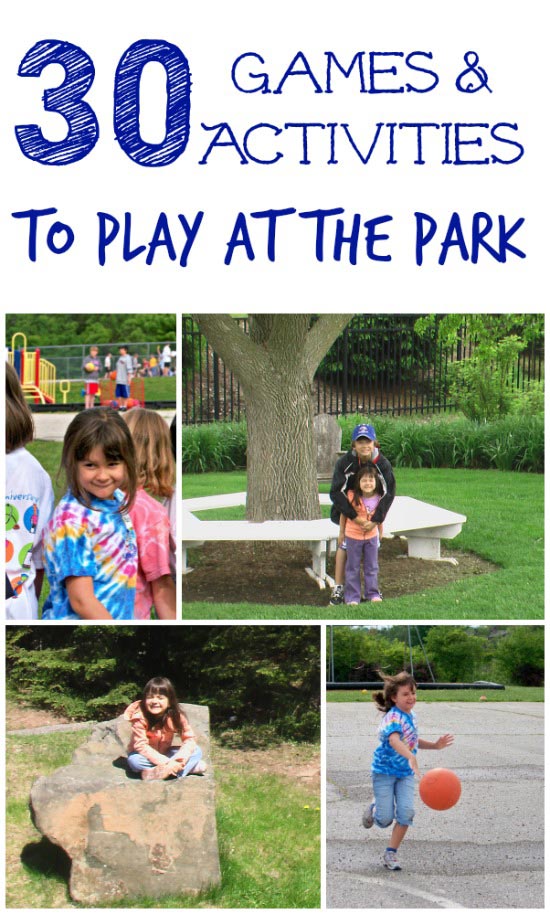 30 Games & Activities to Play at the Park
All parents know that there's quite a bit to do at the park — open green space often inspires kids to become amazingly active 🙂
I'm betting that the first thing your kids do when they see a huge open area is run — aimlessly and sometimes in circles — and then maybe fall down giggling, or start up a game of tag.
It's a magical thing to watch them enjoy the space.
For me, heading to the park is a time for all of us to unplug and enjoy nature.
Outdoor time brings families closer together and helps them to relax — and goodness knows we could all use a little more time to relax!
I've learned to always bring water, extra snacks and have a towel in the car (because someone always seems to find water or mud or get cold or want to sit 'picnic style' to eat snacks…)
You get the drift 🙂
And I've learned to have a few games in my back pocket for those "I don't want to play/run/do whatever" times so on your next park visit, try a few of these fun activities! We're including affiliate links for games that we love to use on our park visit and some that might not be widely known too.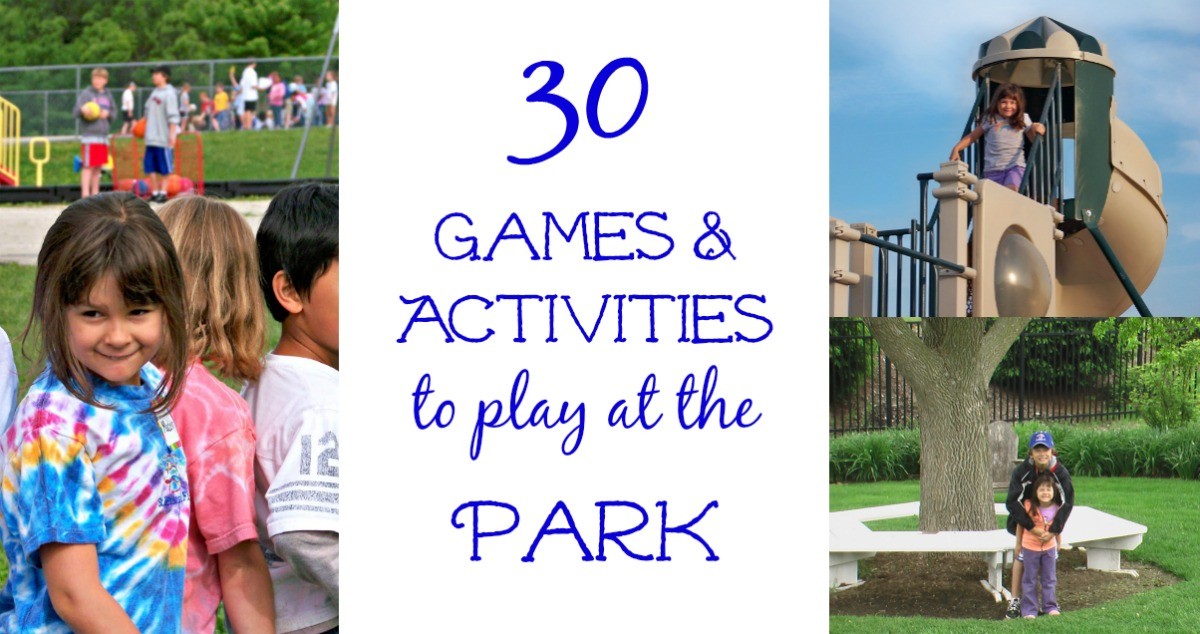 Games to Play at the Park

Send your kids on an Outdoor Photo Scavenger Hunt with this free printable activity!
Play Tag but mix it up! Play 'freeze' tag or Blob tag or you can only tag someone while running backwards 🙂
Play tic-tac-toe using sticks & rocks or acorns.
Try one of these 8 Fun Games you can play on the swings from Inspired Treehouse!
If you have a playground at your park, try some of these 20 Fun Playground Games too.
Take along one of your favorite backyard games to play:
We love Bocce Ball and it's easy to pack up & carry!
Jarts (Target Darts) is another easy-to-set-up lawn game
Grab a frisbee on the way out the door
Ladder Golf is also very popular and can quickly be put together once you get there.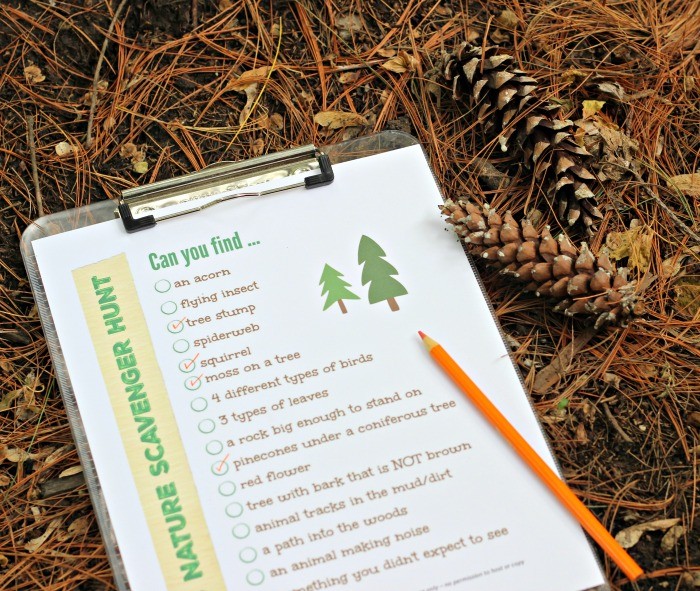 Play ABC's at the Park: Challenge your child to an ABC Scavenger Hunt and see who can find the most 'creative' letters!
Play Shark in the Park — a free printable ABC game from Juggling with Kids!
If there's a pond or lake, have a rock-skipping contest (tweens & teens love this!)
Plus here's 20 more ideas if there's a pond at your park!
If you have a BIG group, play age-old favorites like Red Rover or Red Light, Green Light.
Plan your own kid-sized Olympic Games with these fun tips.
Take along one of these 40 free printable Outdoor Scavenger Hunts to play together.
Get creative — Make up your own family game!
Fun Ideas for Park Activities

Enjoy some Yoga at the Park with these kid-friendly poses from Kids Yoga Stories.
Bring along some paper and crayons and make leaf rubbings!
Look for things to count with these great ideas from rubberboots & elf shoes
Go on a Tree Scavenger Hunt — The Seasoned Mom
If there's a playground at your park, go on a shape hunt with this free printable from Buggy & Buddy.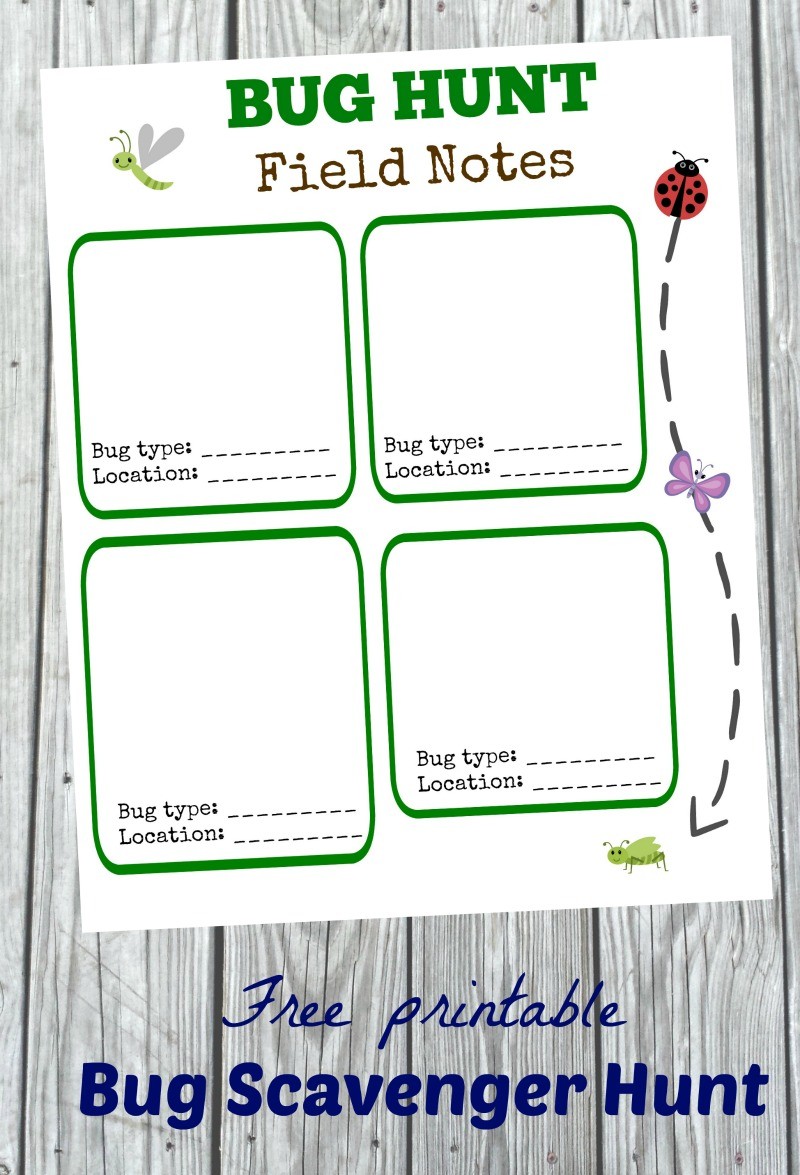 Scout out insects with this FREE printable Bug Scavenger Hunt page!
Go Birdwatching with this great list of bird identification apps from iGame Mom!
Build a Fairy House with this fun idea from Kitchen Counter Chronicles
Take along one of these free printable nature journal pages and draw/record your park visit!
Learn about wind science by flying a kite!
More Fun Park Activities:

18 More Ways to Enjoy a Day at the Park
20 Science & Nature Activities for a Day near the Pond
MORE OUTDOOR ACTIVITIES:
20 Summer Scavenger Hunts (with free printables!)
How to Turn Your Backyard into a Science Lab for less than $10
DIY Nature Journal for Kids (with 50+ free printables!)