One of the best ways to offer kids real life science opportunities is through Citizen Science Projects where they can learn firsthand what is happening in the world!
I know that the name 'citizen scientist' can sound kind of, well, super research-y but it's really not — there are hundreds of great projects that any of us can get involved with no matter what our age or background.
Today, I'm going to introduce you to a dozen family-friendly projects that you can do at home, in a classroom or in your own backyard while teaching the kids about nature, the environment and a little bit of science too!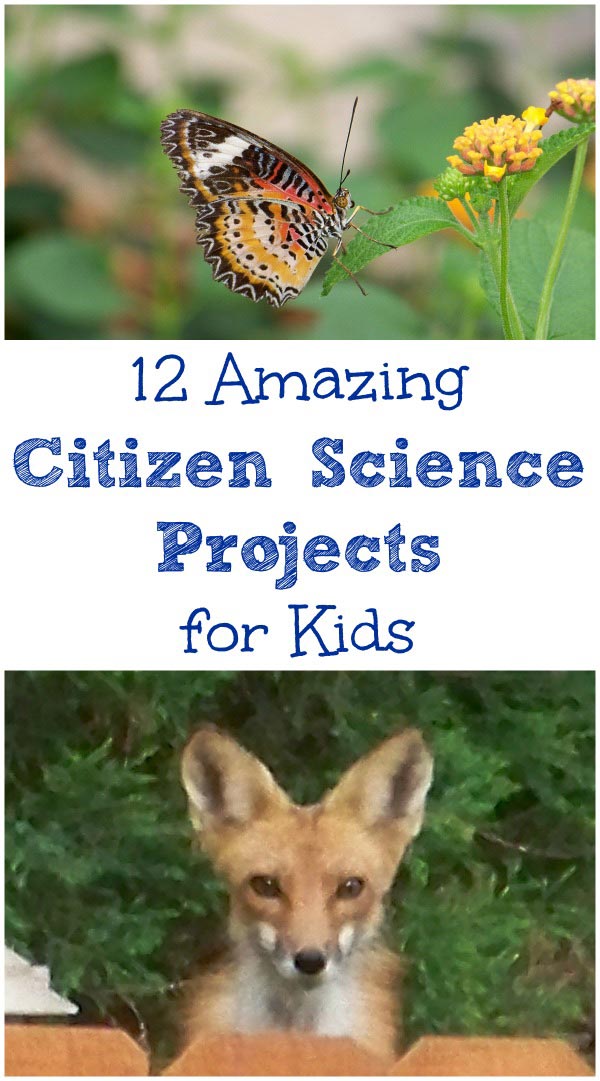 Hands-on Science for Kids: 12 Citizen Scientist Projects
The true definition of a citizen scientist project is one where everyday citizens help to collect and/or analyze data for an active science study or research opportunity.
These activities are wonderful to do for celebrations like Earth Day! Kids can learn about protecting nature, oceans, clean air and all the other great stuff we sometimes take for granted. An it's important to help our children find hands-on ways to experience what is happening to the world around us — it's how we raise critical thinkers, problem solvers and the next generation of scientists 🙂
There are a few super cool picture books that help to explain citizen science to kids!
Bat Count by Anna Forrester is a great story about how Jojo and her family help to count the dwindling bat population in her area and send their data to real scientists!
Bird Count by Susan Richmond is a colorful & creative story about a young girl who gets involved with the National Audubon Society's annual Christmas Bird Count. It's a great combination of STEM ideas and inspiration for any child or family who wants to get involved with a citizen science project!
If you want a more in-depth look at the idea of citizen science, check out Citizen Scientists: Scientific Discovery from Your Own Backyard (geared to kids ages 8 – 12 years old) or The Field Guide to Citizen Science (perfect for teens, adults or educators wanting to learn more!)
Getting involved is easy — each of the websites we're featuring today has an online form or an app where you can upload observations from your phone.
And there's so many great learning opportunities for kids as they get involved in REAL LIFE science work!
Some projects are seasonal while others take place year-round. Some projects are very location-specific while others collect data across the globe.
And there are literally hundreds of projects happening right now!

SciStarter: Real Life Animal Projects for Kids
You'll find a HUGE database of hands-on science projects where you can search by type of activity and location. Many of the projects can be done near you but some are focused on specific cities and countries around the world.
This site has some wonderful projects that actually ask participants to go out and collect data from observations they make in their hometown.
A few that peaked our interest: Test Vitamin C in your Food and a handful of Tree Mapping projects.
The Learn what Pets Can Do is a great one for families that have a cat or dog.
What Kids Learn: How data can vary depending on where you live! For example, the tree mapping project will show which trees are native to various areas of the world.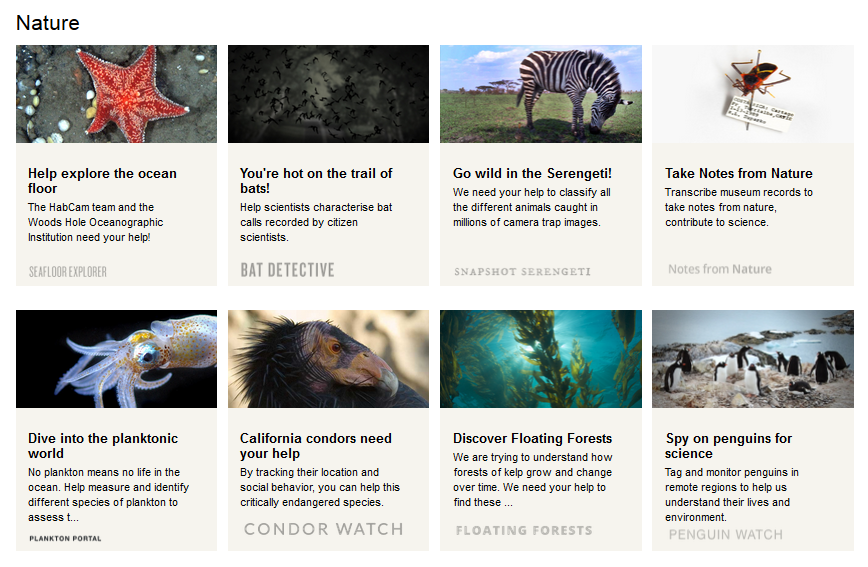 Zooniverse: Hands-on Nature and Space Projects
Zooniverse is another wonderful place to find a TONS of citizen science opportunities for kids and families. Many of these focus on the topics of space, climate and nature.
Space: Families can help classify galaxies using images from the Hubble Telescope that are shared at Galaxy Zoo.
Nature: Use webcams to watch burrowing owls and track their behaviors.
Nature: Identify wildlife showing up on hidden cameras in urban Chicago.
There are also great projects in the areas of biology & physics. This site is great for families — younger kids will really enjoy the animals projects while tweens & teens will enjoy some of the more challenging projects.
What Kids Learn: That a picture is worth a 1,000 words! Quite a few of these projects involve analyzing pictures of animals in the wild and celestial bodies.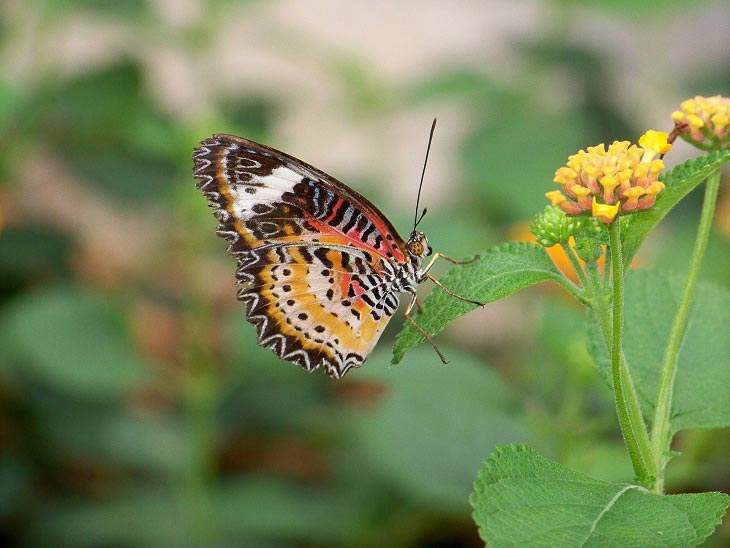 Journey North: Migration Science for Kids
Journey North has been asking people to help with citizen science projects for years! They are famous for tracking migration patterns of birds, butterflies, whales and other animals.
There are two things I really like about this site & it's projects: first, they offer live maps of migrations during each season and second, they have multiple opportunities to get involved with each animal. For example, the Monarch Migration projects include: seeing the first Monarch, measuring milkweed and spotting eggs & larva. They also have apps you can download for some of the projects.
A few key projects that the kids will enjoy include tracking Monarch Butterflies throughout the year and spotting Earthworms as they start to emerge. If you live near the ocean, you might also enjoy being involved in the Whale Migration Tracking. Most of the projects are focused on North America.
What Kids Learn: Migration routes are very important to many animals and having spotters along the way help scientists to keep track of the health of the animal populations.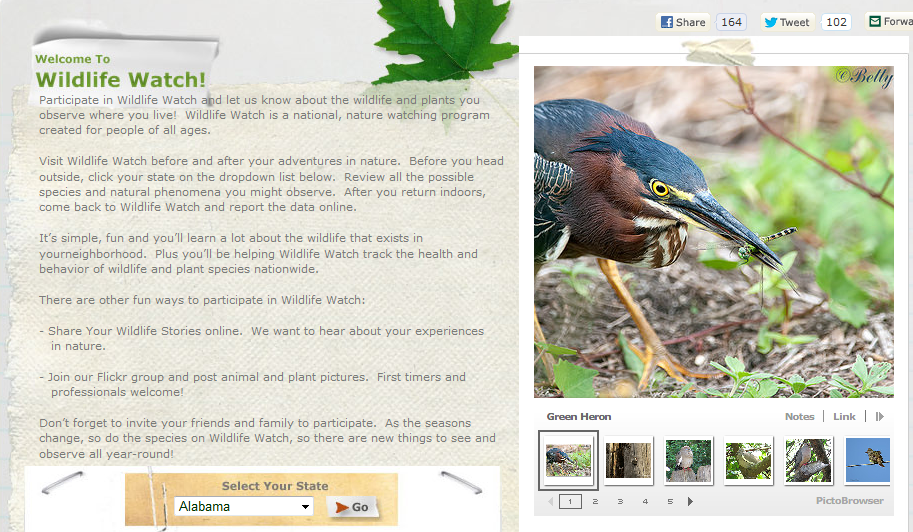 NWF's Wildlife Watch: Animal Observation for Kids

This is one that ANYONE can do because it's so broad and open! The National Wildlife Federation's Wildlife Watch asks citizens to snap a photo of any wild animal they see in their area and then upload the picture to their website.
In addition to animals, you can also share photos of plants, trees and any natural phenomenoa that you happen to see.
Once you choose your state from the drop-down menu, you can print a wildlife checklist to see which animals and birds are common to your area. Then just grab your cell phone, head to the park or your own backyard and snap a pic!
The site also shares data of which plants, animals and trees are shared for your area.
What Kids Learn: By observing their environment, kids will be more likely to notice how close we live to so many wild animals and plants — we all share the same 'home' so to speak!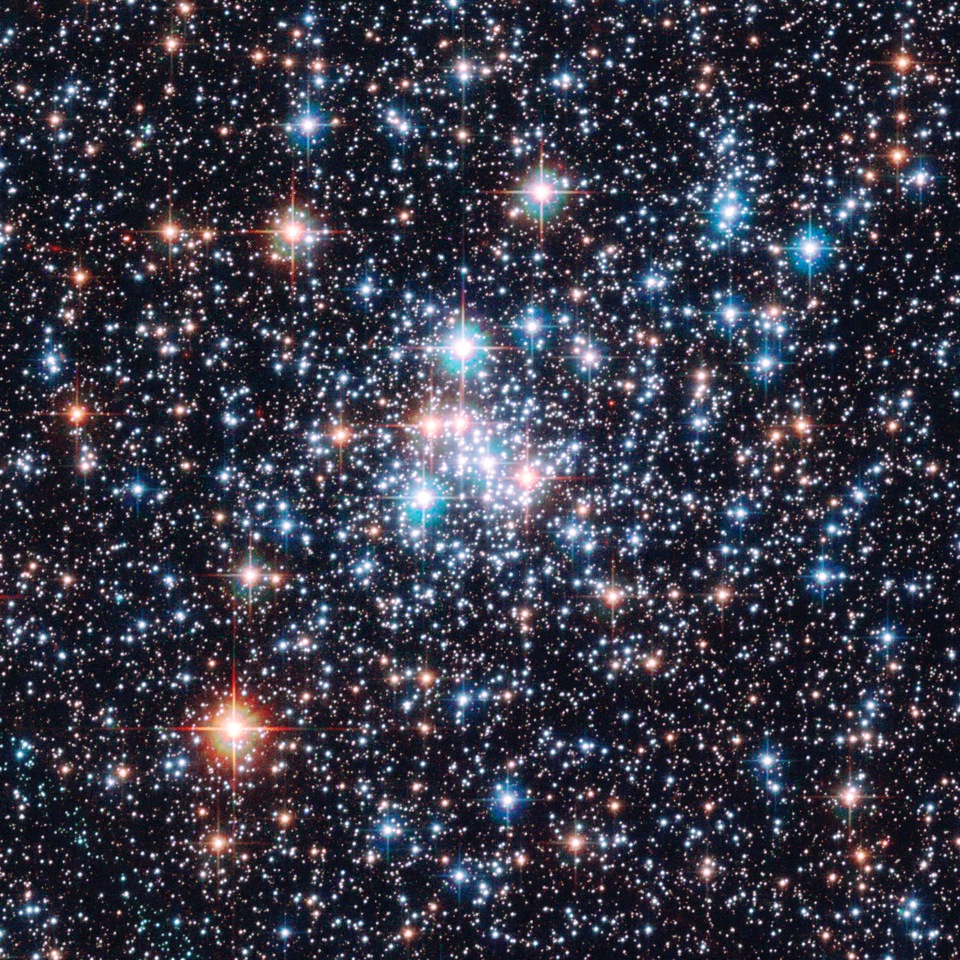 Globe at Night: Real Life Space Science

I really love the amount of learning that happens with the Globe at Night project! Each month of the year, the project website asks participants to look for a specific constellation in the night sky and report which stars are the brightest in that constellation. They even offer a print-out that you can take with you as you peek at the stars.
Here's where the extended learning comes in — constellations can be viewed from so many places so if you live in the city, go stargazing one night and report what you see. THEN, take a drive out of the city or head to a park where there are no overhead lights and look at the same constellation again a few nights later. How many more stars are visible?
What Kids Learn: Light pollution is a complex term for many kids but one that's made so understandable with this project. Kids can see first-hand how the light around us can affect our night vision.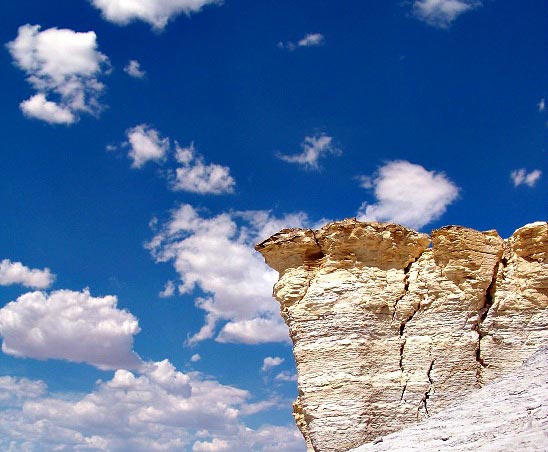 NASA S'cool: Hands-on Weather Project

Kids of all ages will love getting involved with NASA's citizen science program — Cloud Watching! Participants in this program are called Rovers and they collect data on the type of clouds observed, their height and other related information.
All you need to do is head out to go cloud-watching for the day!
Information is used to help verify satellite data and complete atmosphere observations in areas where satellites aren't able to view.
The NASA S'cool website will walk you though how to become a data collector.
What Kids Learn: How clouds can tell us more about the weather and the Earth's atmosphere.
More Hands-on Science Activities:
How Does a Leaf Breathe? Science Experiment
Measure the Weather: DIY Barometer