Take a peek at these awesome Chemistry Experiments for Kids and Teens to do at Home!
Have your kids ever mixed baking soda & vinegar to blow up a balloon or make a volcano explode?!!
Maybe they're fascinated by glow-in-the-dark experiments and LOVE the idea of using test tubes "like a real scientist".
Raising a scientist doesn't have to be hard — take a peek at these FUN chemistry activities & experiments that spin, glow & even use fire!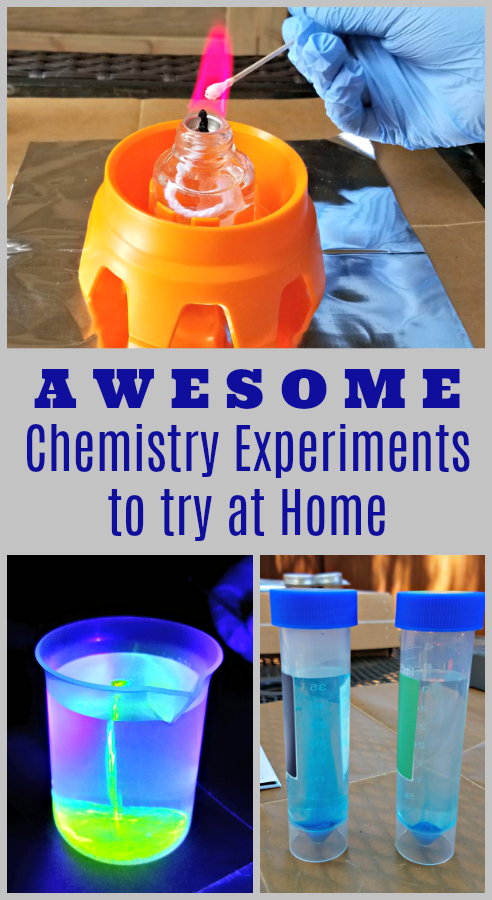 Chemistry Experiments for Kids to Do at Home
We are very BIG on doing science experiments & activities at home!
Whether we're enjoying some outdoor science experiments or trying an indoor science activity (like these 20 Experiments You can do in a Jar), I've quickly seen first-hand how science can build confidence, curiosity and the ability to think outside of the box for kids!
While both of our kids attended public school, I've learned that there is very limited time devoted to the science curricula at various grade levels and even when they are in specific science classes (such as biology & chemistry), there's only so much that a teacher can cover during a 42 minute class period.
My kids always come home with questions — and ideas on expanding the activity, frequently asking "Can we try this at home?" or the familiar "I wonder what would happen if …"
So when our affiliate partner Kiwi Co reached out and asked if we'd like to receive one of their *brand new* Chemistry Crates to review for our readers, we jumped at the opportunity!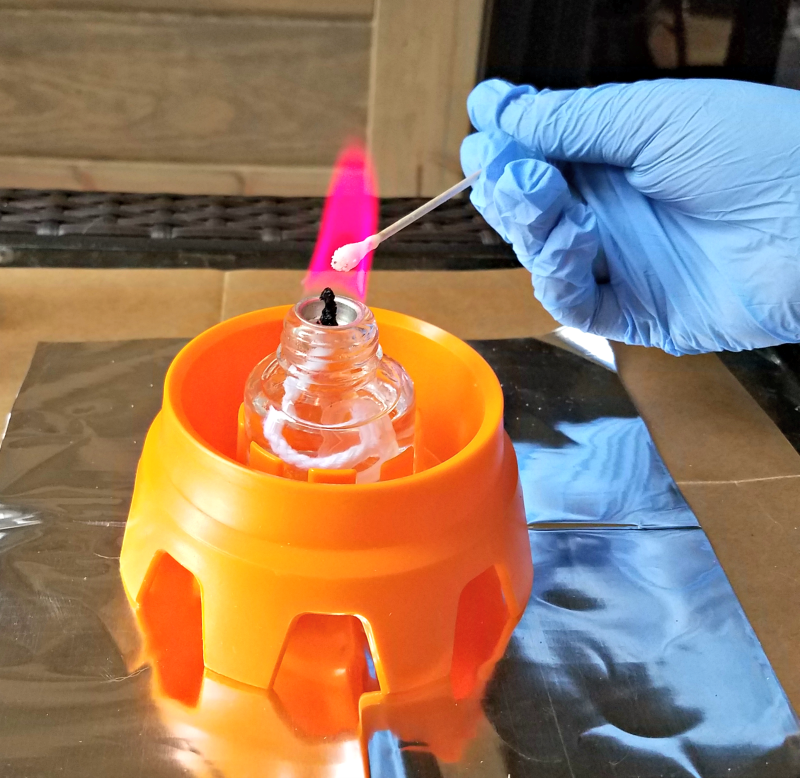 Tips for Choosing GREAT Science Experiments & Activities to do at Home
I'm very careful about our educational purchases — while I LOVE to encourage interest-led learning at home and have a variety of easy STEM activities on hand, we also have a limited budget.
So for us, if we make an educational purchase, there are three things I ask first:
1. Will we be able to use the items BEYOND the activity provided?
Basically, does the project include durable items that we can add to our science or learning areas.
2. Does the project include items that are difficult for me to obtain?
This is a biggie when it comes to science experiments — you can't just walk into Michael's or Home Depot and say "Can you tell me which aisle has the lithium chloride powder?" 🙂
3. Are there detailed instructions along with a 'what's behind the science' explanation that's clear for both kids & adults?
Let's be honest here — we all did science a LONG time ago. And some of that science has changed (like the periodic table — which now has more elements than when we were in school).
So like most parents, I want very clear details on how to do the project along with information that's going to explain why it works and answer all the questions my kids come up with while we're experimenting.
Not too much to ask for, is it? 😉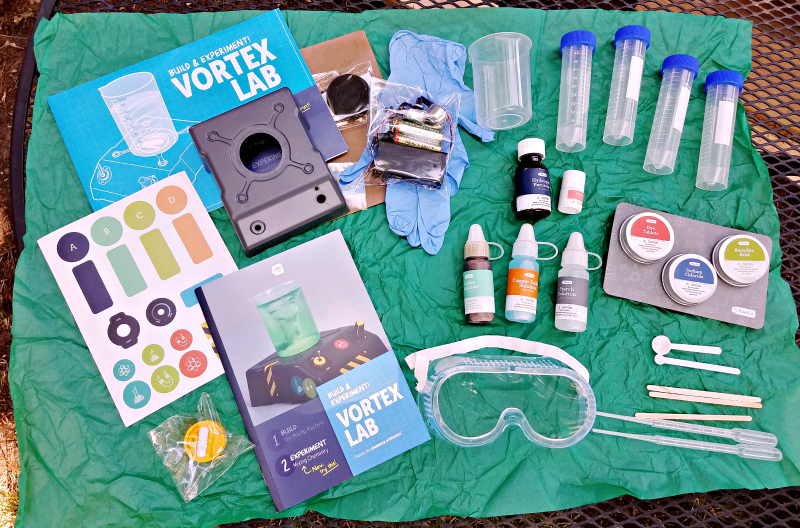 This is why we really love the Kiwi Co crate options — whether it's
— the activities & experiments ALWAYS go above and beyond our expectations!
Multiple science items you can use over & over?
Check!
Hard to find items included in the box?
Check!
Detailed instructions along with clear, science & STEM explanations?
Check & Check!
Let me give you a peek at the 3 different Chemistry Crate options available for kids & teens!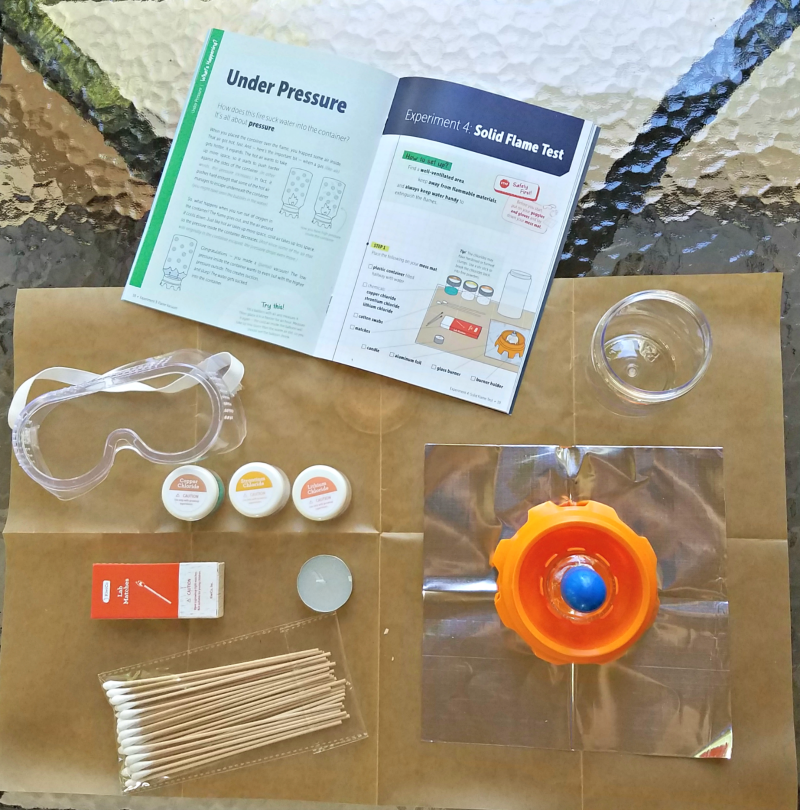 Chemistry Experiments with Fire
We're going to begin with the Kiwi Co Fire Lab kit since so many kids & teens as fascinated with flames — and this is a really cool way to capture that interest in a controlled environment 😉
First, let me tell you that we frequently do our science activities outside — it's just a thing with us. So many of the photos in this post were taken outdoors — HOWEVER, these experiments can be done inside or outside (I didn't want to confuse anyone with the pictures).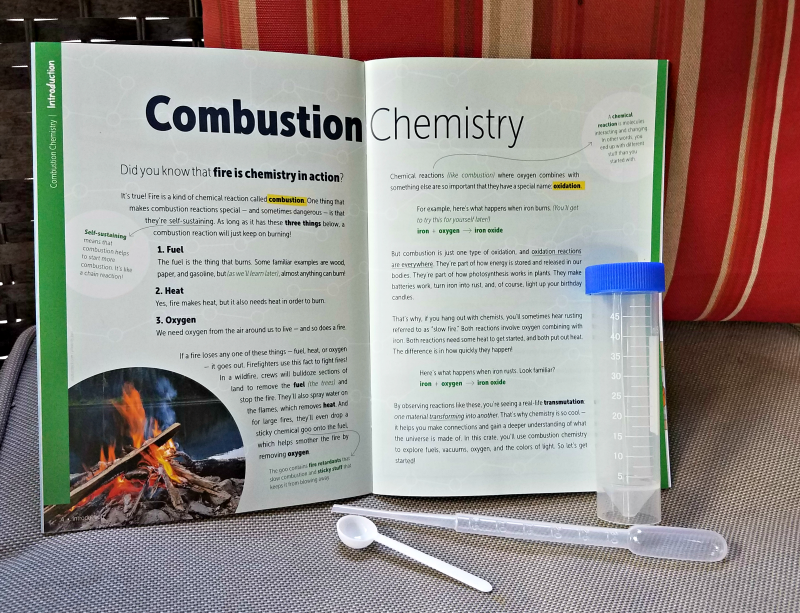 Here's an example of the detailed "behind the science" I referred to early in the post.
In every experiment and lab crate, you'll find:
a 40+ page full-color booklet that includes an introduction to the topic,
science vocabulary and definitions,
detailed instructions with pictures for each experiment and
some variations on the experiment to try too!
PLUS, there's also directions on how to set up and clean up each experiment — which my kids actually enjoy doing with these projects because there's cute pictures, jokes and graphics involved (who knew that's what got kids to clean up??!)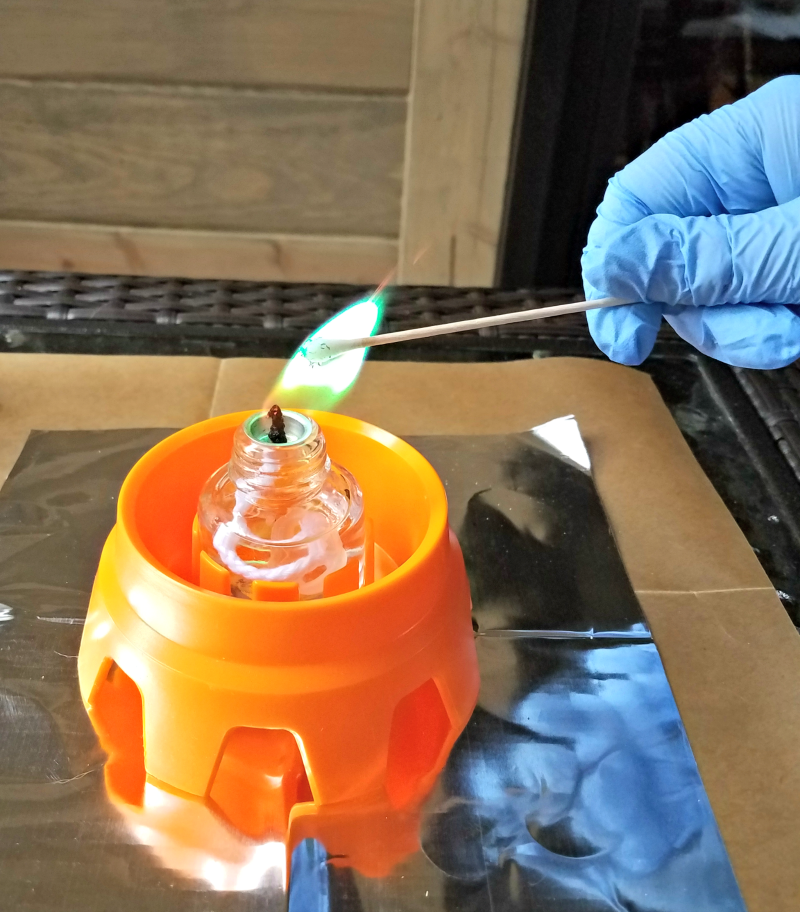 The COOLEST experiment we did from the Fire Lab was the Flame Test which is based on an actual test that's used in real chemistry laboratories!
Kids will see how various chemical substances look when put under a flame — they actually burn in different colors!
Using the chemicals in the kit, we saw a green flame, red flame and pink flame — even Dad came over to see what the heck we were doing when he heard all the ooh's and aaah's (it was like mini-fireworks 🙂
Another thing we really like about the crates is that there are enough materials & chemicals included that you're able to do the experiments more than once! A BIG bonus when something is popular with your kids.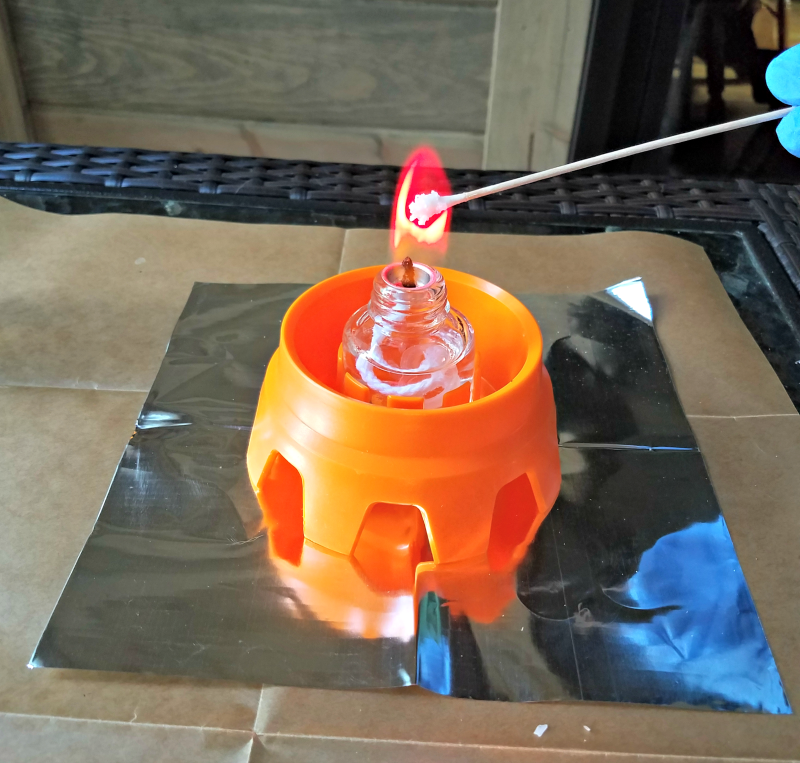 And just as important as the science, you can also see in the photos that kids will learn how to:
set up a science area with tools & materials and
follow proper safety precautions (including gloves, goggles & having water on hand)
7 flame & fuel experiments
durable science items that you can use again including a mini-burner & burner bottle, pipettes, test tubes and even extra chemicals
safety equipment such as a mess mat, goggles, gloves and more (safety items are included in every science box!)
ALL the materials you need for the projects are in the box — the only thing you'll need to bring to the table is water!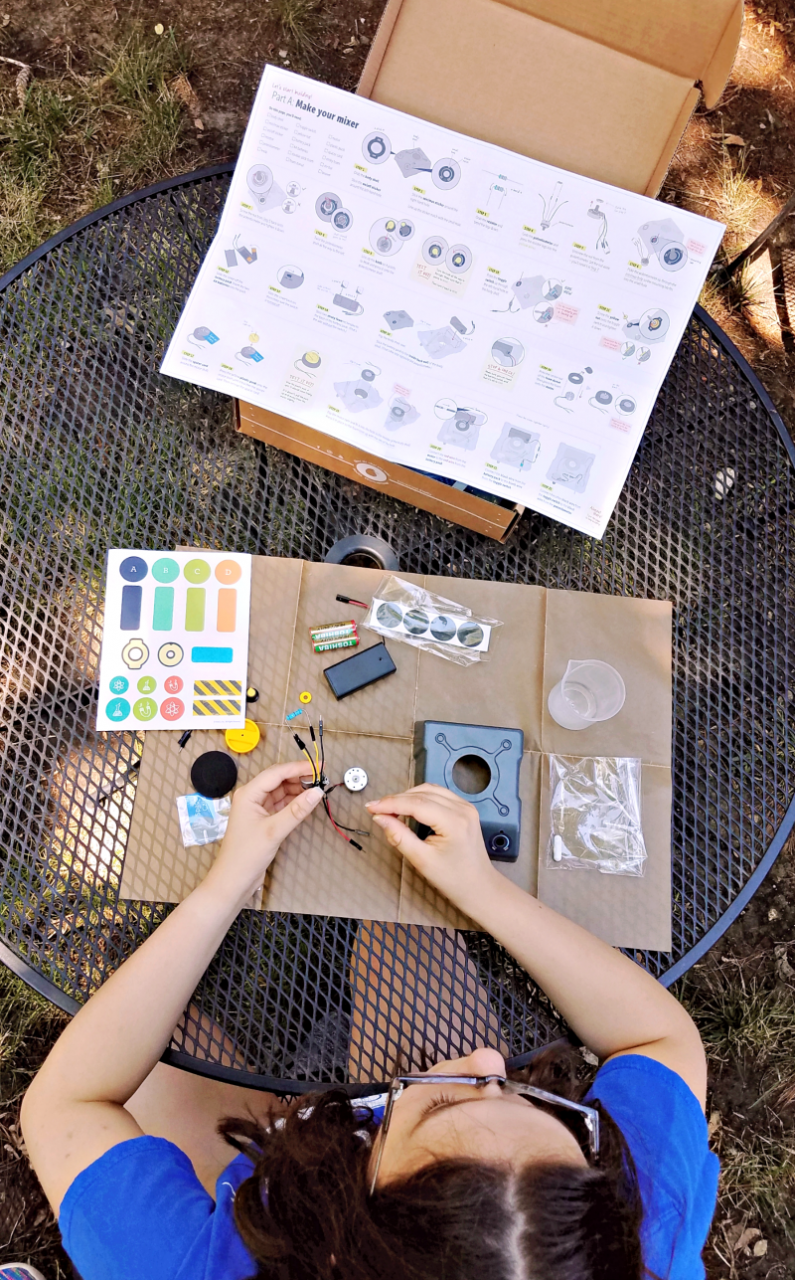 Science Experiments with Chemical Changes & Reactions
The Vortex Lab is part engineering, part chemistry with a little bit of electrical circuits thrown in too!
The focus is on chemical changes, kinetics and chemical reactions. You may have seen our CO2 experiments with baking soda & vinegar — this lab covers what many kids think of as "chemistry" — mixing substances together.
This crate includes:
5 experiments (including a bonus at home experiment)
an engineering project since kids have to build their own mixing machine
durable lab equipment that you'll use again including the mixing machines, beaker, 4 test tubes with tops and safety goggles + some cool chemicals too!
Kids will learn about chemical phases, solubility, oxidation and how heat can impact an experiment.
Many you will use again for other experiments & science activities!
My daughter's favorite part of this lab was the detailed directions that include pictures and step-by-step instructions with great visuals especially for engineering the mixing machine!
She had no problem putting it together and could easily start and stop the experiments without losing her place. The first thing she said to me when she opened the instructions was "why don't they use these at school labs?!" 🙂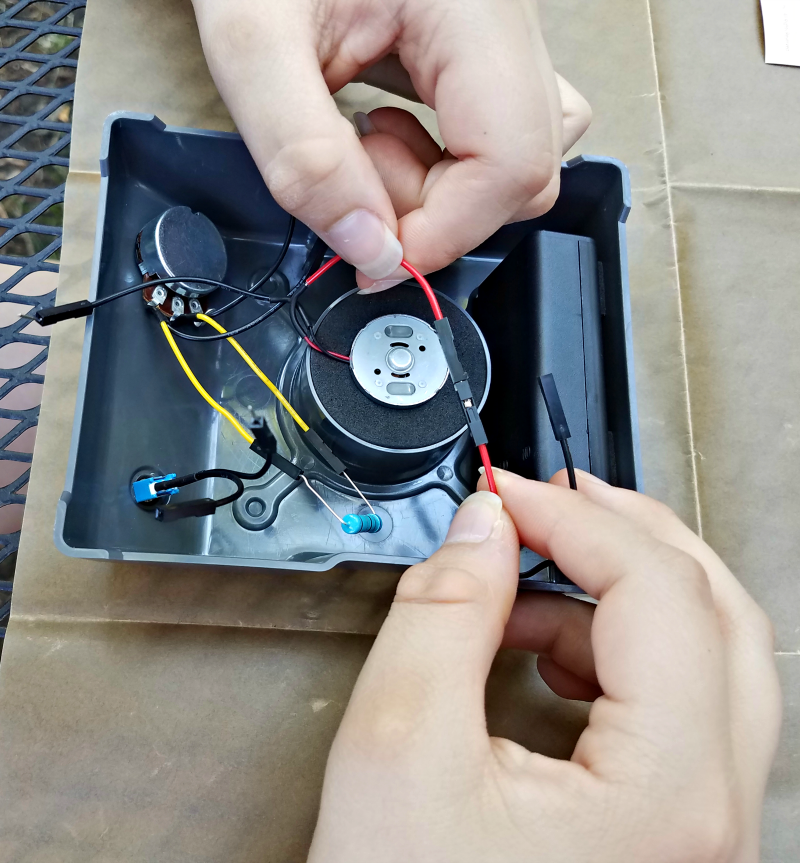 In addition to science experiments, many of the kits also involved some type of additional STEM (tech, engineering or math) component too. Here's an up close look at the electrical circuits that kids need to create when building the mixing machine.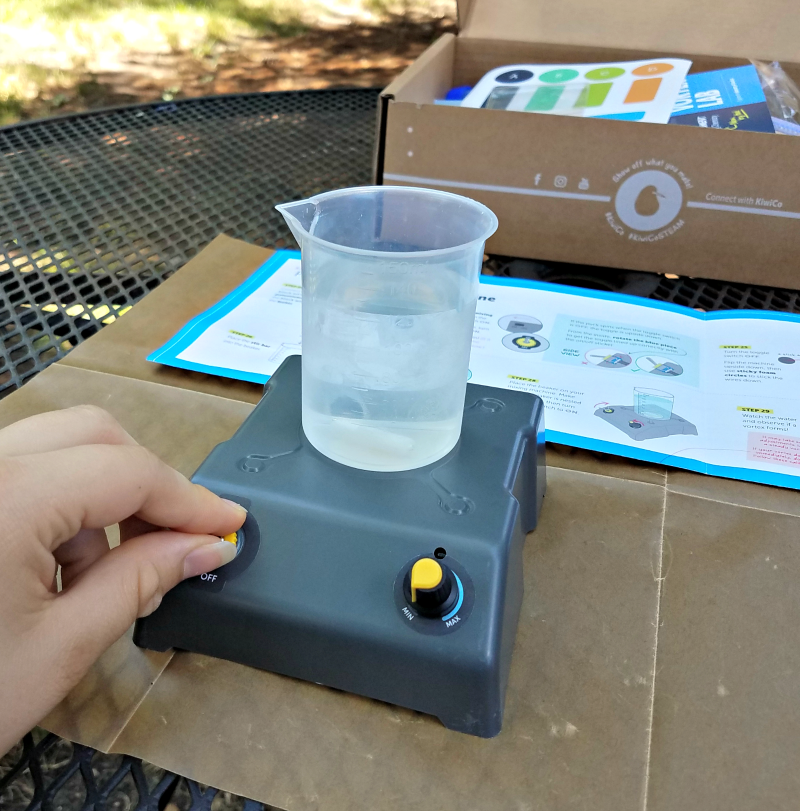 And the directions are very detailed not only in how to put things together but also how to test the equipment along with including trouble-shooting tips in case it doesn't work the first time.
Yes! It works!!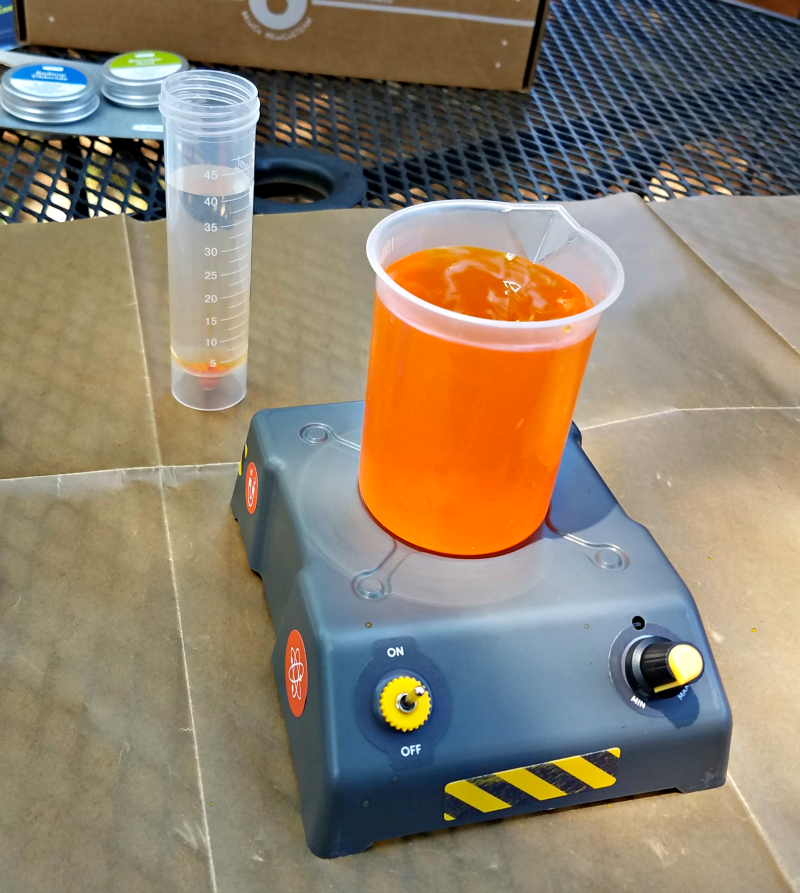 Once the mixing machine was up and running, we were able to work though a few of the experiments —
The Motion & Kinetics experiments allow kids to create a Vortex (ie. cyclone or tornado)!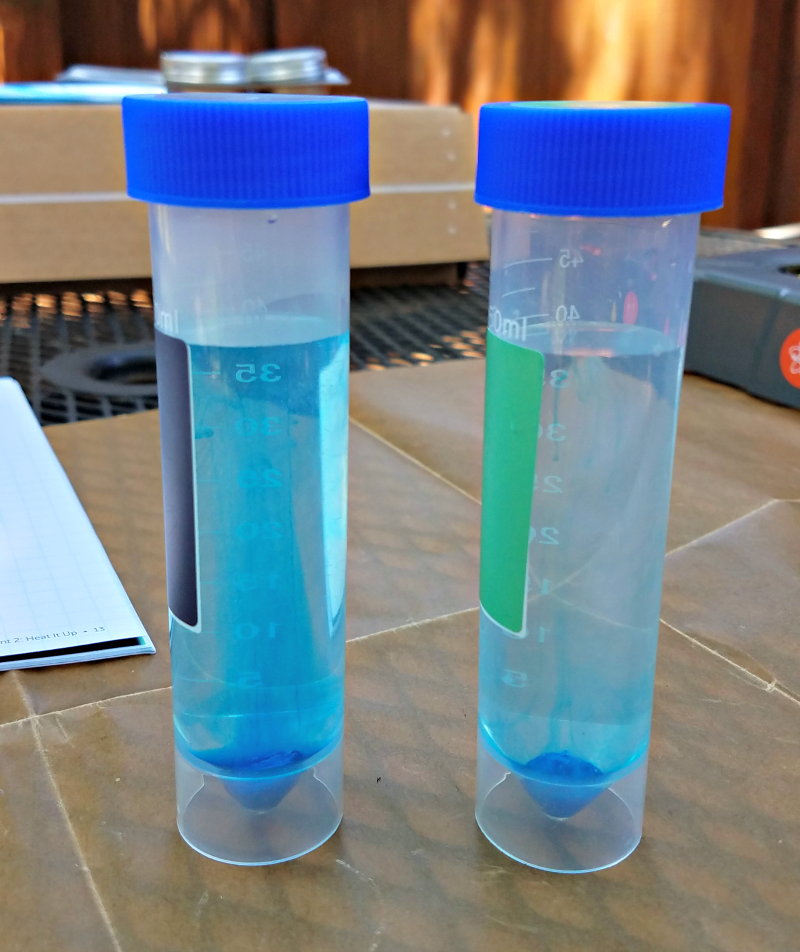 The test tubes are used for the Heat & Kinetics experiments — kids will test how various water temperatures impact solubility and then create a chemical clock too!
You can purchase each of these lab boxes individually or buy all four Chemistry Sets at a HUGE discount (which is awesome!)
Now on to the Glow in the Dark Lab!!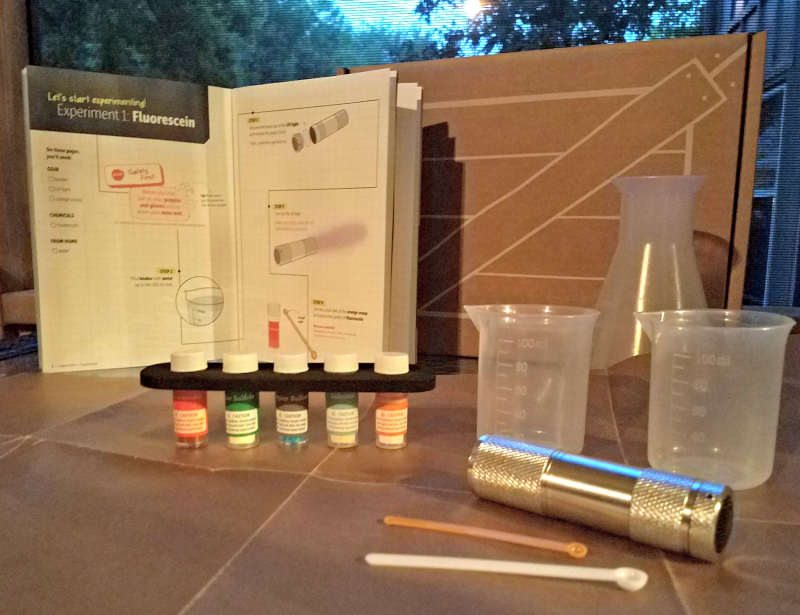 Glow in the Dark Chemistry Experiments for Kids
This is another AMAZING science lab!!
First, you don't have to take multiple trips to a variety of stores to find a black light and special chemicals — they are ALL included!
And so many kids LOVE the idea of florescence science!
It's something we touched on during our Layers of the Ocean science activity with the deepest part of the ocean but the idea is SO much easier to explain when you can do a hands-on science experiment and actually SEE it in action!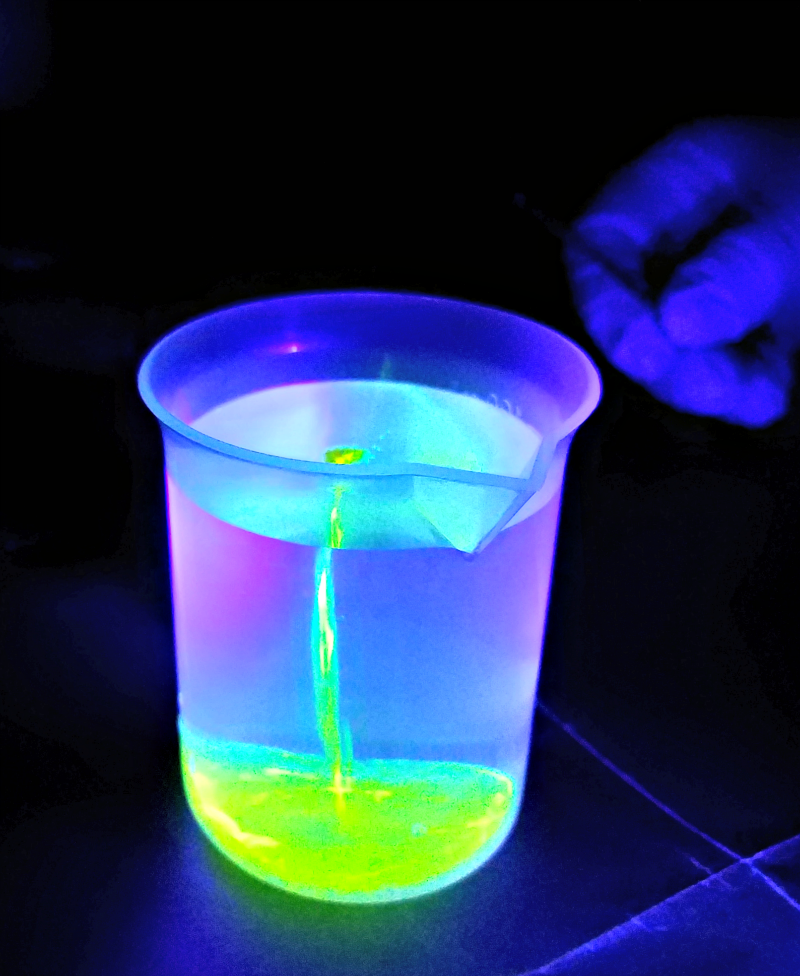 Using the black light and chemicals included, kids can make their own glow in the dark liquids!
The Glow in the Dark Lab includes:
3 different types of glow in the dark experiments
an engineering activity that teaches kids how to build a spiral stand
durable science items that can be used for other activities such as a black light, 2 beakers and an Erlenmeyer flask!
Plus all the chemicals, safety items, materials and booklet with instructions!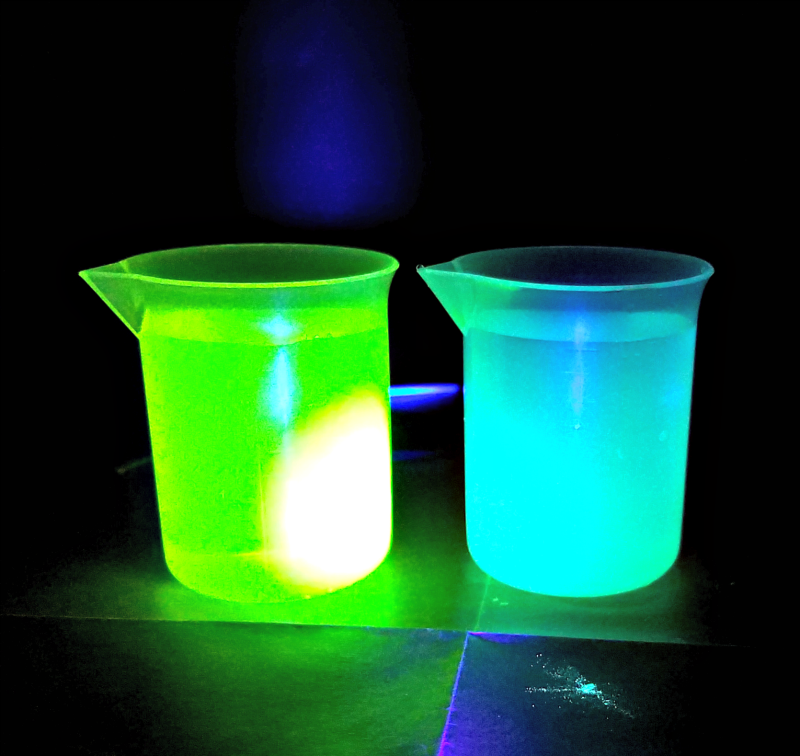 Here's one of the other experiments where we create & then compare florescence liquid and phosphorescence liquid (yes, there's more than one type of glow in the dark material 😉
The experiments are super in-depth and really help kids to grasp the scientific vocabulary and concepts covered in the labs!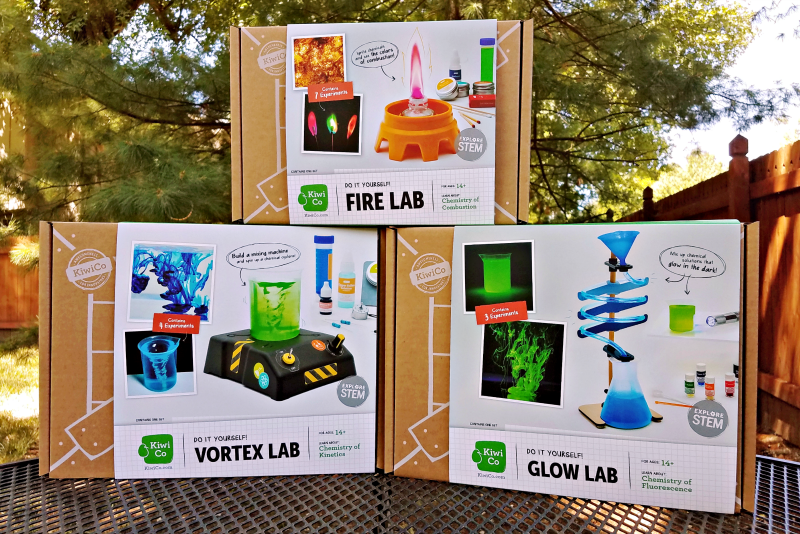 You can get just one of the lab boxes or grab all four of them (at a discount!) in the full Chemistry Crate!
And one more awesome thing about Chemistry crates —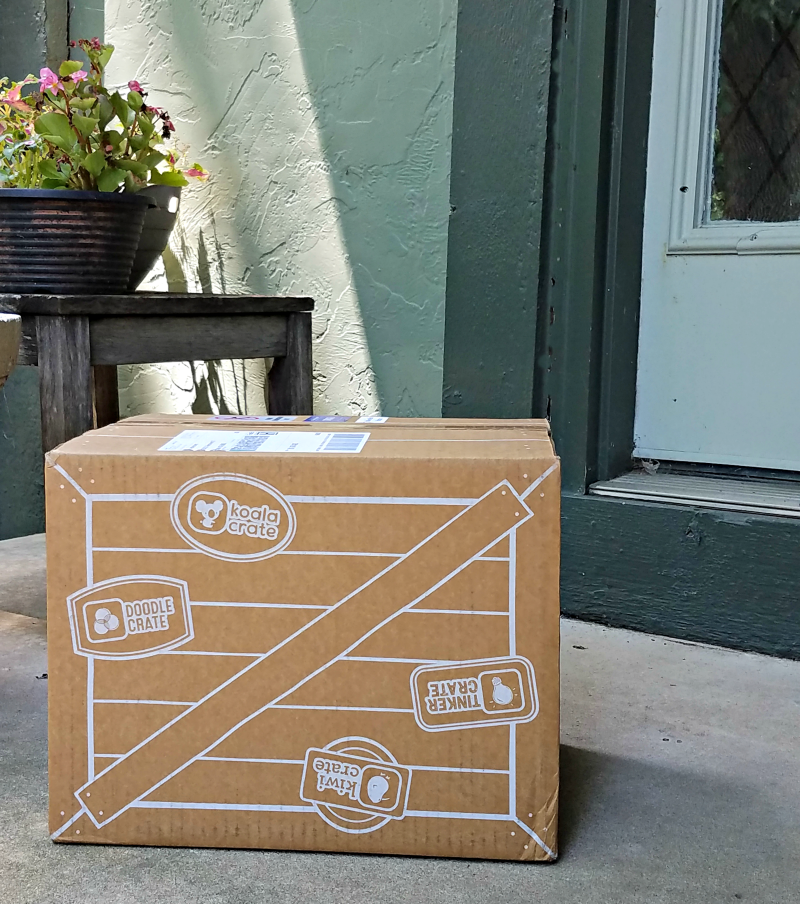 They're delivered via snail mail 🙂
So one afternoon, your kids will find this awesome box on the front porch and know it's time to burn, mix and create some amazing science!
More Science Experiments & Activities for Kids
27 Simple Science Experiments to Do in a Jar
Rocks & Minerals: The Vinegar Test