Grab this printable list of FREE Summer Activities for Kids and start planning for an awesome summer or staycation!
May is always that time I start planning for warmer weather and (this summer especially) hunting down some fun summer activities near me for both kids and our family.
If your family is planning to stick close to home this summer and you're looking for some FUN ideas for activities and experiences, we've got you covered with this HUGE list of ideas for creative activities, vintage fun and local places to visit for the best summer ever!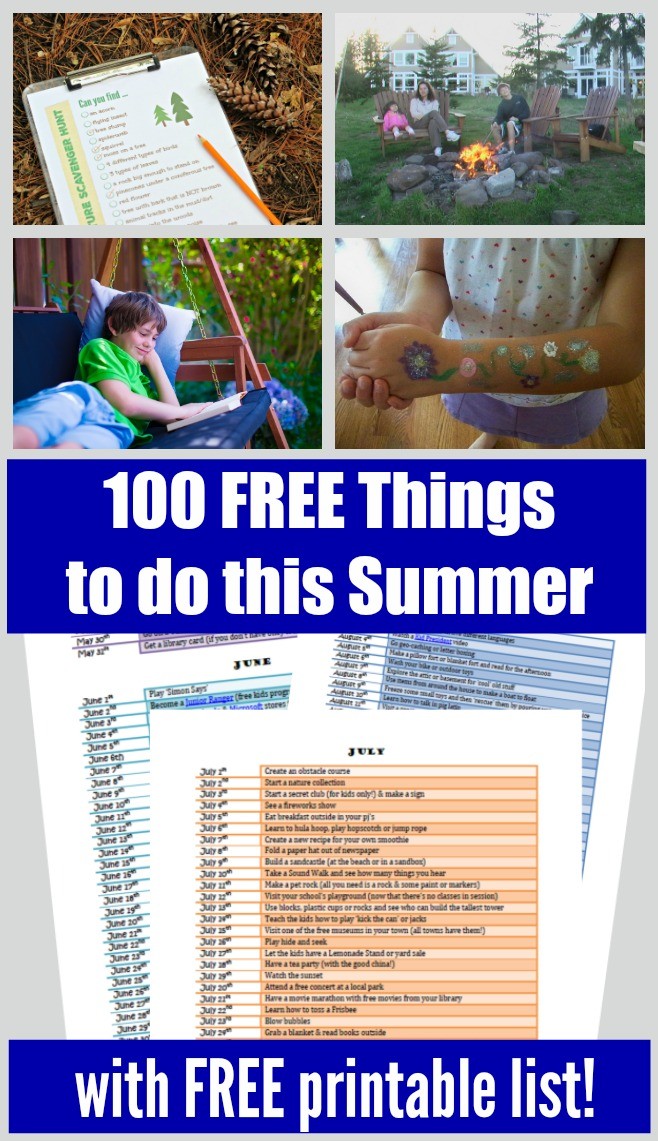 100+ Free Summer Activities for Kids & Families
Every year in early May, I start our 'Summer Activities' list -- a collaborative collection of all the fun things we'd like to do during the next few months.
This summer looks a little different for us, like many other families. We probably won't be traveling too far from home -- instead opting for local fun around our city and enjoying some of those throw-back, vintage-type activities that are perfect for summer days and nights.
Our main goal when it comes to summer fun is to make memories! We love to hear our kids recall some of the unique experiences they've enjoyed. And we've quickly realized that many of these memories are made without spending a dime.
Sometimes we get all caught up in the BIG stuff that we forget how memorable the small items can be too.
For example, have your kids ever flown a kite? Or gone on a creek walk?
Picked fresh fruit at a local farm or orchard?
Have you tried canoeing, kayaking, or camping in the backyard together?
I encourage you to start a list with your family (we call it a summer bucket list but label is whatever you'd like). Have everyone add their favorite activities and places to visit, and then also talk about new experiences that you can enjoy together. Be sure to check out all the Fun Summer Items for Kids & Families in our Amazon storefront too!
And then grab a copy of the FREE printable 100+ Summer Activities to do Near Me below and browse it for more great ideas to add to your list as you plan the BEST summer ever!
Free & Fun Things to do for Summer
There are a number of creative activities & classic experiences kids can do around the house and in their own backyard! Here are a few:
And be sure to check out all the Summer Fun Ideas for Kids & Families in our Amazon storefront and get your yard & house ready for the season too!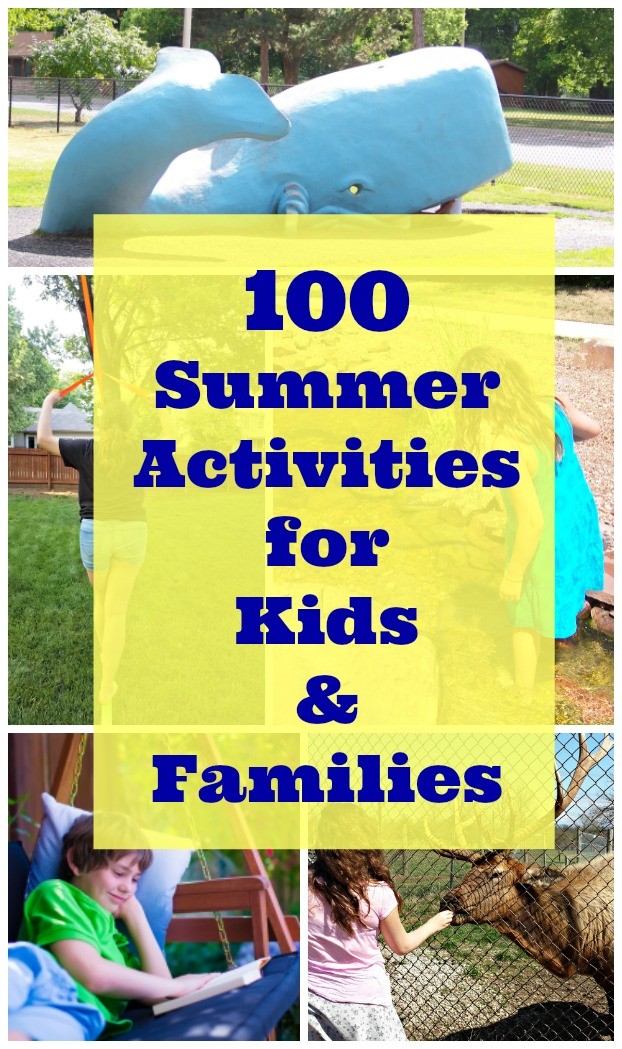 Fun Places to Go Near Me in Summer
There are so many local places to visit in the summer -- add a few of these to your list:
Walk at a local beach (here's a FREE printable Beach Scavenger Hunt)
Go on a creek walk
See if your town offers an outdoor book walk, tree walk or other experience (contact your parks & rec or local historic society)
Explore a tide pool
Hike to see a waterfalls near you
Visit a park and play a game (see these 17 Fun Things to do at the Park!)
Walk through a local arboretum
Explore a pond (20 Activities for a Day at the Pond)
Go fishing at a local lake
Visit kitschy road-side attractions around your town (most are located outside & you can see them from your car!)
Go to a drive-in movie (not free but definitely a cool summer experience!)
If you're able to travel a bit, try one of these fun Day Trip Ideas for families!
Favorite Summer Activities for Families
The free printable list also includes LOTS of ideas for things families can do together during those nice long summer days and nights:
Hike a trail (take along this FREE Nature Scavenger Hunt)
Visit the Farmer's Market
Go fruit picking at a local orchard or farm
Explore a National Park, Wildlife Sanctuary or Wildlife Preserve
Tour an outdoor historic site
Watch the meteor showers together
Learn a new (or revive an old) backyard lawn game
Go on a bike adventure (pack a snack & stop for a mini picnic before heading home)
Celebrate International Picnic Day on June 18th
Enjoy some fun things to do on a summer night
Believe it or not, that's only 1/3 of all the AWESOME ideas that are included on the free printable calendar. Make this a memorable summer and EASY summer for you - so many of these activities are low prep and planning! Because it's summer and who needs all the hassle, right?!!
Grab a copy of the full list of 100+ Summer Activities to do Near Me and have a wonderful summer!
More Summer Activities for Kids
20 Fun Things to do on a Summer Night