Get out & explore these 40 fun places to take kids near me – go with family, just the kids or plan a day trip!

If you have kids, you know it can be crazy to go anywhere!
Every trip – to the grocery store, the park or the beach – always seems to require huge amounts of stuff.
But summertime means day trips & family road trips – a chance to go explore some new places and let your kids see another part of the world or have a new experience.
So today, we're going to get your family ready for adventure by sharing a FREE printable list of 40+ fun places to go with kids and some great travel tips to get you out the door quickly!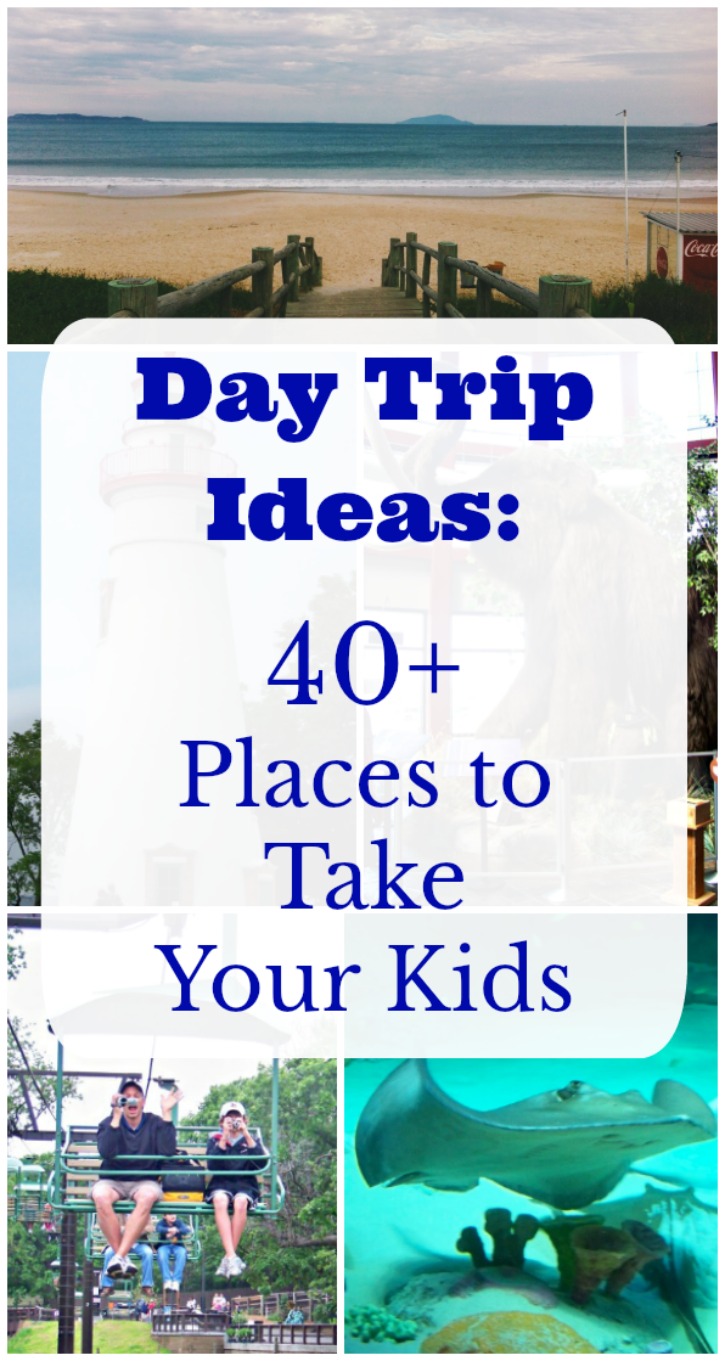 40+ Fun Places to Go Near Me: Day Trips for Kids and Families
Today's goals is to make day trippin' a little easier for you!
Trust me, I've been carrying, carting and traveling with my kids for 20 years to nature centers, factory tours, historic sites, etc.
We've had our share of Awesome! and not-so-great moments on the road (be sure to see our list of 27 Travel Hacks & Road Trip tips).
There was the time we drove 2 hours to see the sites and when I opened the back of the van, I realized that I forgot the snack bag (doh!).
My kids also remember when I locked my keys in the car during a visit to the Farmer's Market in mid-July.
And the day we took my son to a golf activity more than an hour away from home – my 3-year-old and I were set to explore the local kids center and nature area.
But guess who decided to take her shoes off in the driveway before she got into the car?
And guess who was in too much of a hurry to check and make sure both kids had on their shoes?
Yet every summer, my kids ask what fun places will we be exploring this year so I must be doing something right 😉
Here are some of our BEST tips, our favorite items to take with us along with affiliate links and a FREE printable list to inspire you to get out and adventure together!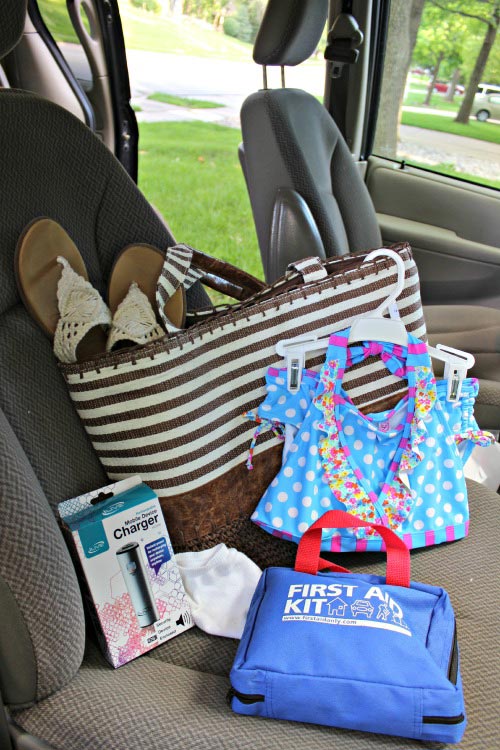 What to Pack for a Day Trip with Kids

We have been caught too many times without something that would have made our trip much easier.
So now we pack our 'what if' bag with items we MIGHT need for a great day –
Bathing suits – in case we find a water park or splash area and want to cool off.
Extra socks – we always seem to need them for a bouncy house or as a back-up when our first pair gets wet.
Flip-flops – at the end of the day, we'd all rather ride home in bare feet than our sneakers.
A change of clothes — if you have kids, you don't even need to ask why;)
Some Wet Wipes – these are my favorite because of the great scent!
Medications — a must if you'll be gone for a while.
My AAA card – in case I decide to lock my keys in the car again (my Dad keeps telling me to get one of these key hiders since this is a yearly thing with me 😉
First Aid Kit – aren't these in every bag you pack for the kids? Someone's always getting cut on our trips (half the time, it's my husband 🙂
An awesome insulated snack bag full of our favorite (healthy) snacks (more on what we bring to eat below)!
Oh yes, and a big awesome bag to hold all the 'what if' items!
You can also find a free printable Summer Bag list here!
Car Activities: Keeping Kids Busy on the Way to Fun Places

Many of our trips require a drive — let's face it, we live in the Midwest and most everything is more than an hour away!
And not all those 'fun places near me' are super close — so encourage your kids to pack things to do while you're on the road.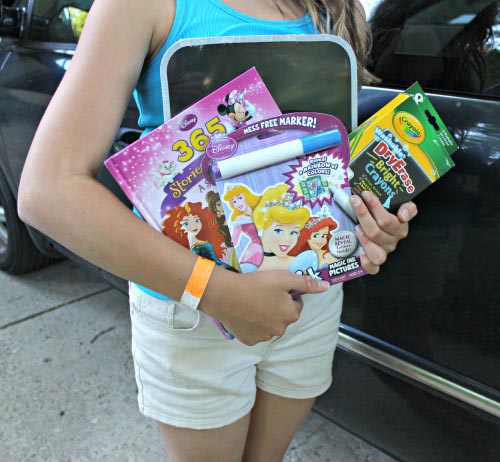 We limit the amount of tech time the kids get on trips — car rides are a great time to connect with each other which is really hard to do if the kids are always watching a movie.
For trips where we spend less than 3 hours in the car, we don't bring any DVD players or iPads.
Instead, our kids choose things like crayons, dry erase boards & markers, weaving, travel size etch-a-sketch and other creative activities they can do in the car. When they were younger, I loved having the Water WOW! activity pads for the car too.
I also love putting together a road trip binder with 40+ free printable games & activities — including printables for any fun places we might be stopping that summer (like National Parks or historic sites).
We also enjoy car games –
Another great life skill for older kids is to have them help you navigate on the trip! Keep a kid-friendly atlas in the car and teach them how to read a map & road signs while you travel.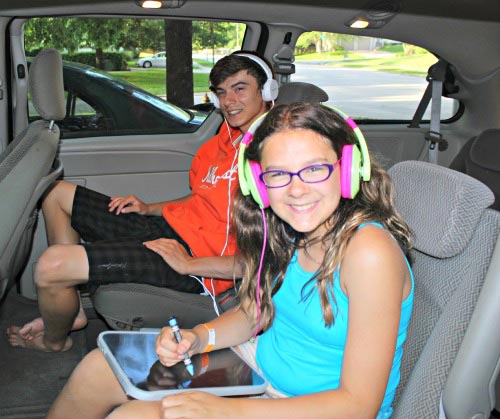 Headphones for kids are the first thing we grab since we all love music but we don't necessarily love each other's music;)
Plus, they work to block out other noises if kids decide to take a quick nap on the trip or want to read without all the distractions.
And we always pack some books – my kids are big readers so a few great books make the drive go by much quicker. We also love read alouds & audio books — Try Audible and Get Two Free Audiobooks
!
Travel Tip: Keep a crate in the back seat of your van or car and load it up with 'new' library books before each of your trips! A fun way to keep them reading 😉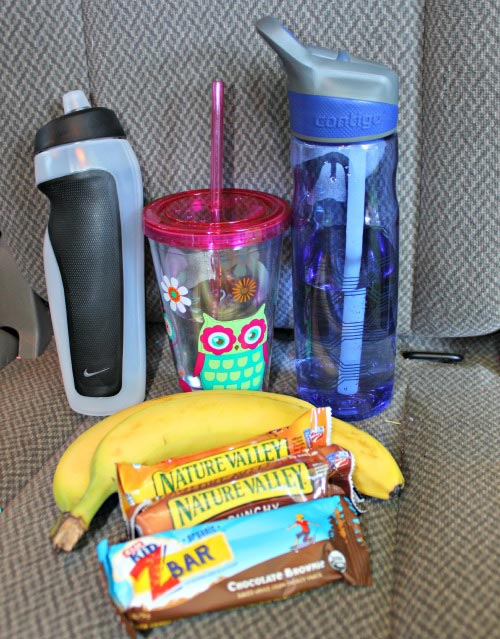 Road Trip Snacks for Day Trips

Oh yea! Totally gotta have snacks when you're traveling with kids.
Heck, my kids can't seem to ride from the house to the library without telling me how they're "starving" and need a snack.
And in all honesty, I usually get hungry every few hours so keeping Mom fed is a good thing too 😉
Water is the #1 item on any of our day trip/road trip lists – having a great reusable water bottle or drinking cup for each person is a must for our summer travels!
Travel Tip: Not only do we use water bottles in the car but since many of our day trips include places like nature centers, hikes and zoos, we always need to have water with us during the visit too so this saves us from purchasing extra drinks once we arrive.
As far as food items, we like to bring easy-to-eat pieces of fruit (bananas, apples, grapes) and quick snacks we can carry such as granola bars, protein bars or a healthy snack mix.
I also LOVE this Food'n Fun Car Organizer, Cooler & Play Station
which not only holds snacks but also gives the kids a flat surface they can use when traveling!
You can see more healthy snack ideas and get a FREE car trip cheklist here!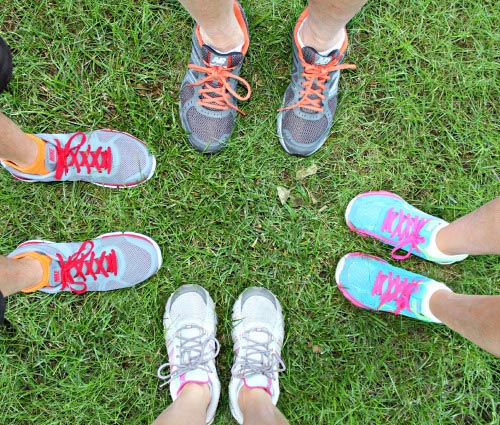 Footwear for Day Trips & Fun Places To Go Near Me

I know you'll be sitting in the car for a bunch of the trip but I'm sorry to say those flimsy flip-flops just won't cut it on hiking trails or among the wood chips on the playground.
We are a pretty active family so most of our day trips include some type of walking, hiking or climbing.
Sometimes it even includes a horse ride or wading through a creek too. We always make sure that everyone has sturdy & comfy shoes for our day trips.
Travel Tip: I've learned over the years, plan the activity that requires the most energy for the morning — then move on to the other things you'd like to do that day.
Especially during the summer, it's always better to fit in a hike or trip to the playground in the morning when it's cooler and then hit an indoor attraction in the afternoon.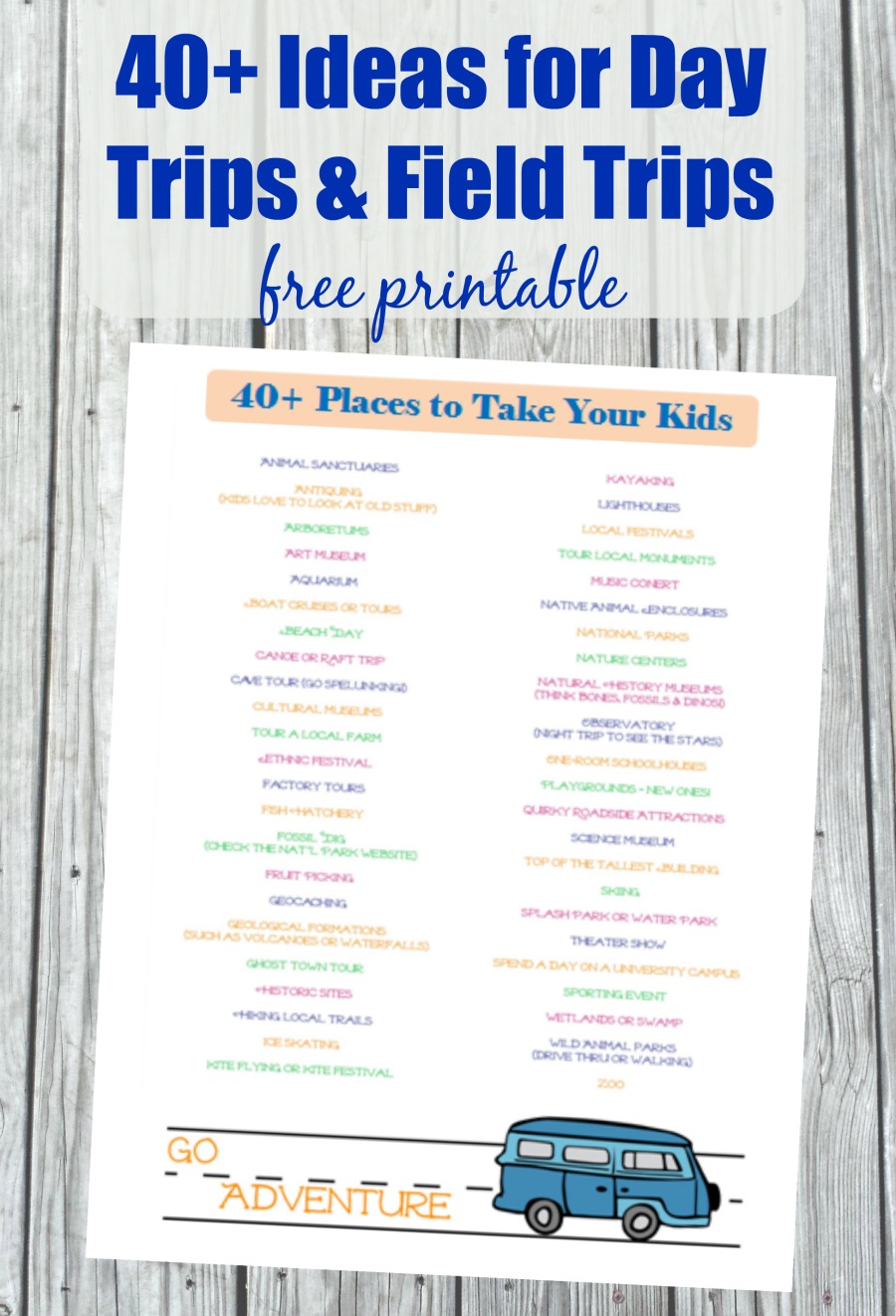 40+ Fun Places to Go Near Me

So now you have an idea of what to wear and what to bring on your next TOTALLY AWESOME day trip — but where can you go?
Get this printable list of Day Trip Ideas for FREE & get out and explore someplace new your kids!
More Road Trip Ideas:
15 Printable Road Trip Activities & Travel Games
10 Things to do Before Your Next Road Trip {with free printable checklist!}
Travel Journal Ideas for Kids {with free printables!}
More Fun Things to do Near Me:
20 Amazing Summer Scavenger Hunts
105 Activities that Make Awesome Summer Memories