Summer's here! Those run-barefoot-read-in-the-hammock-eat-popsicles-outside kind of days that kids just love. But that doesn't mean you can't learn a little something too.
Summer is a great time to have kids master a new skill. Most kids (and families) will have a lighter schedule now that school's out. And having a more laid-back schedule will allow the kids to focus on developing some new life skills or learning a skill they've shown interest in during the year.
There are 3 main ingredients for mastering a new skill:
Interest
This is a biggie – a child must show some type of interest in the activity if they plan to master it. Have you ever tried to teach a child to ride a bike when they would rather ride a scooter? It's painful, really painful. So if you're hoping that your child will learn how to swim this summer but they are currently uninterested, try reading a few books about swimming or famous swimmers. You might also encourage their interest by discussing all the fun things you can do once you learn to swim (like go down that cool water slide at the pool).
Time to Practice
This is what makes summer an ideal time for mastering a skill – lots of time to practice, fail and practice again. That's what mastering something is all about – trying a new activity, not doing so well at it when you first begin and then practicing so you become much better. Failing is all a part of the learning process.
Determination
That internal drive or voice that says "I'm going to do this". It's what helps us to keep at something until we get it right. This is the trait that helps kids overcome any fears they may have and gives them the internal encouragement to push on. Summertime also allows kids more down time to process through their frustrations if they just can't quite get it on the first try -- and almost no one ever gets it on their first try so make sure to reinforce their efforts.
10 Types of Summer Skills to Master
So, what might the kids want to master this summer? Browse this list of 10 categories for different types of life skills that they might be interested in working on during those long, lazy days.
Water Fun
Things like swimming, paddling a canoe/kayak, diving and learning to float are perfect things to work on over the summer. Take advantage of that pool time and make sure the kids know water safety and how to swim. You can look for family canoe and kayak classes at your local parks and rec department and the whole family can learn something new this summer.
Riding/Balance Activities
We are a society who needs to toss our kids outside more often and large motor skill development is one great reason to do this. Let them do handstands and cartwheels on the lawn, try rollerskating or skateboarding to improve balance. And of course bikes, scooters and big wheels are huge fun on summer afternoons. And yes, all this playing is helping them to build muscle and increase their stability.
Playing to be Cool
There are some things that kids enjoy and like to do to entertain others. Activities such as hula hooping, jumping rope, playing hopscotch, learning to pogo stick, and perfecting magic tricks would fit here -- great things to master before heading back to school and the playground :)
My daughter and a group of friends did a hula-hoop dance in their talent show a few years ago. It is not that easy to learn or teach but once kids get the hang of it, they're pretty proud of themselves. Here's a online video that shows some hula hoop tips for getting started.
You can also check out Today's Parent for 5 Easy Magic Tricks for Kids and here's a really good video from Babycenter if your child wants to learn how to jump rope (another skill that takes some time to master).
Personal Hygiene
Almost every parent knows it's easier to potty train a toddler when there are less clothes to take off ;) So if they're ready, give potty training a try. For older kids, learning to shower or shave, trying new hair care/styles for girls and having any 'you're growing up' conversations with the kids are great ways to help them learn to be more independent this year.
Sports Skills
It may look easy on tv, but some of those sports skills take time to perfect. If the kids are planning to play a sport in the fall, now is a great time to teach them some of the basics: dribbling a basketball or soccer ball, throwing a football, or hitting a baseball/softball will give them some prep time. Other fun sports to try during the summer months include archery, golf and backyard family games like frisbee.
Academics
If you're going to work on things like handwriting, reading or math facts this summer, make sure to do it in a playful, fun learning atmosphere. For handwriting, ask the kids to help make the grocery list. Summer programs at the library will help with reading skills. And being involved in everyday math will be fun and help kis to realize how necessary math is in their life.
Another great skill for older kids is learning to type with both hands when working on the computer (they'll need this as they hit high school and all their papers will need to be typed). Visit King School Library for a great round-up of free online typing games and practice resources! Your local library should also have some fun learn-to-type software that you can use too.
Crafting Activities
I love to see kids doing craft projects over the summer! Much of the work they do helps to increase their fine motor skills/dexterity and also increases their creativity. Not to mention, they can makes some great itesm. Sewing, knitting, paper airplanes and finger weaving are just a few summer fun crafts that can help with skill development.
Tinkerlab has some great suggestions and links to templates for making really cool paper airplanes.
Lines Across has an excellent Finger Knitting tutorial for kids -- they can make a snake or a scarf for their doll. Club Circacircle also has a finger weaving tutorial to make a scarf or belt for yourself with those potholder loops we all know and love from childhood.
Mama Smiles has a cute teddy bear sewing pattern just perfect for kids who are starting off. And visit Martha Stewart for some cute Bandana Clothes Crafts that kids can help sew and wear.
Food & Kitchen Skills
Give them some time in the kitchen and help the kids to master a few cooking skills. Learning to make a sandwich, crack an egg, make breakfast on your own (even if it's just cereal and juice), and baking some fun desserts will increase their confidence in the kitchen. Kids are also more likely to try new foods and eat healthier if they help with meals. And cleaning up the mess because you're not rushing out the door to get somewere makes it a more enjoyable experience.
Head over to Creative Kids Snacks for more than 50 great examples of healthy & fun things the kids can help make (most are very easy and fun to eat!). And if you're ready to move into some 'real' cooking, here are 5 Great Kids Cookbooks to get you started.
Art
If you have kids who love art, you might want to practicing some drawing or painting. My daughter thinks she isn't a good 'draw-er' (which just breaks my heart because she's too young to think she's not good at something), so we're going to try using some fun art books to learn basic skills.
For ideas, I would suggest visiting Artchoo to learn about 10 Great Drawing Games for Kids of all ages and Deep Space Sparkle has some great drawing projects for older kids (ages 8 and up). The Artful Parent has 60+ Painting Activities for kids to get you started too.
Blog Me Mom also has an adorable recycled Art Studio that you can make so the kid can show off their work!
Music
Summer is also a perfect time to start an instrument if the kids are interested. Have they told you they're interested in guitar or piano? Getting them started on a regular practice schedule is easier when you're day isn't so full and it's also fun to do some playing outdoors (you'll need a keyboard for pianists) when the weather is nice.
Another music activity that's fun to try are those clapping games we use to do as a kid (Miss Mary Mack, Mack, Mack...). The website Fun Clapping has some great clapping games and videos you can watch to learn a few.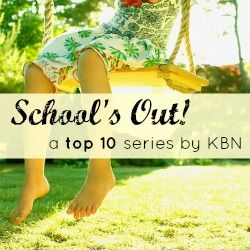 You'll find more amazing ideas for keeping the kids learning & enjoying summertimes in our School's Out: A Top 10 Series master list at This Reading Mama.
Here's a list of all the blogs devoted to helping you have a fun & educational summer with the kids!
Sunday ~ This Reading Mama | The Educators' Spin on It | Kitchen Counter Chronicle | Rainbows within Reach | Kindergarten & Preschool for Parents & Teachers |
Monday ~ Train Up a Child Learn as We Go | Housing a Forest | Royal Baloo | Living Montessori Now |
Tuesday ~ Toddler Approved | Play Trains! | 3 Dinosaurs |
Wednesday ~ The Outlaw Mom | Teach Beside Me | Hands On as We Grow |
Thursday ~ JDaniel 4's Mom | All Done Monkey | Fantastic Fun & Learning | KC Edventures | Playing with Words 365 |
Friday ~ Teach Mama | The Usual Mayhem | Nature and Play | True Aim Education |
Saturday ~ Creative World of Varya | Craftoart | My Buddies and I